Reuben in a bowl is a twist on the classic sandwich, minus the bread. Don't worry, this easy dinner recipe still has all the flavor an original Reuben. You won't even miss the rye bread! Let me show you how to make this easy Reuben in a bowl with leftover corned beef or pastrami.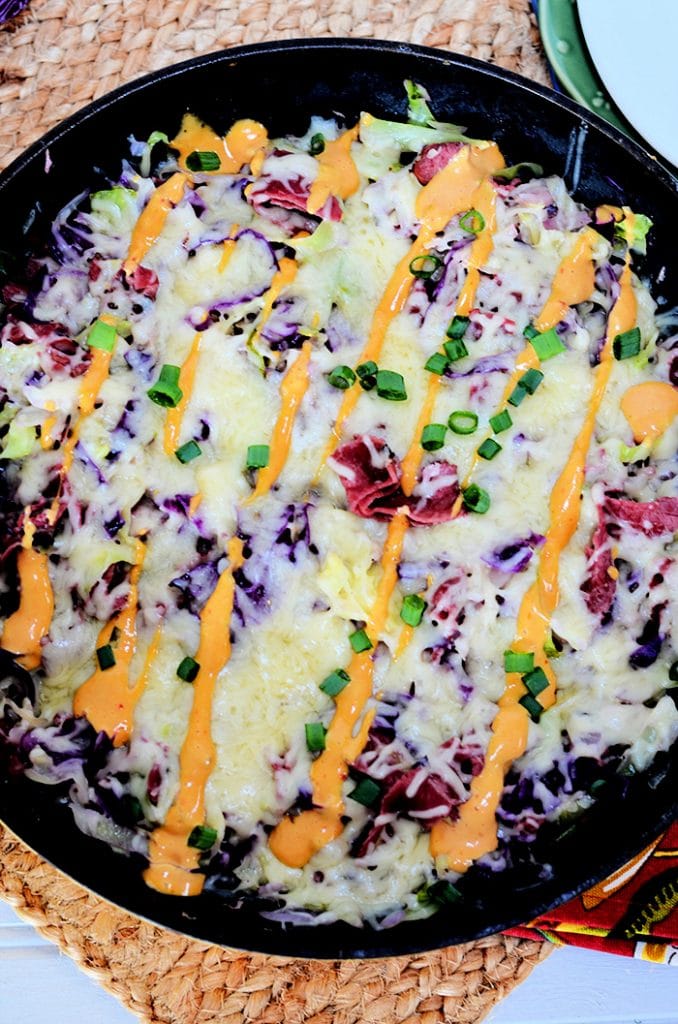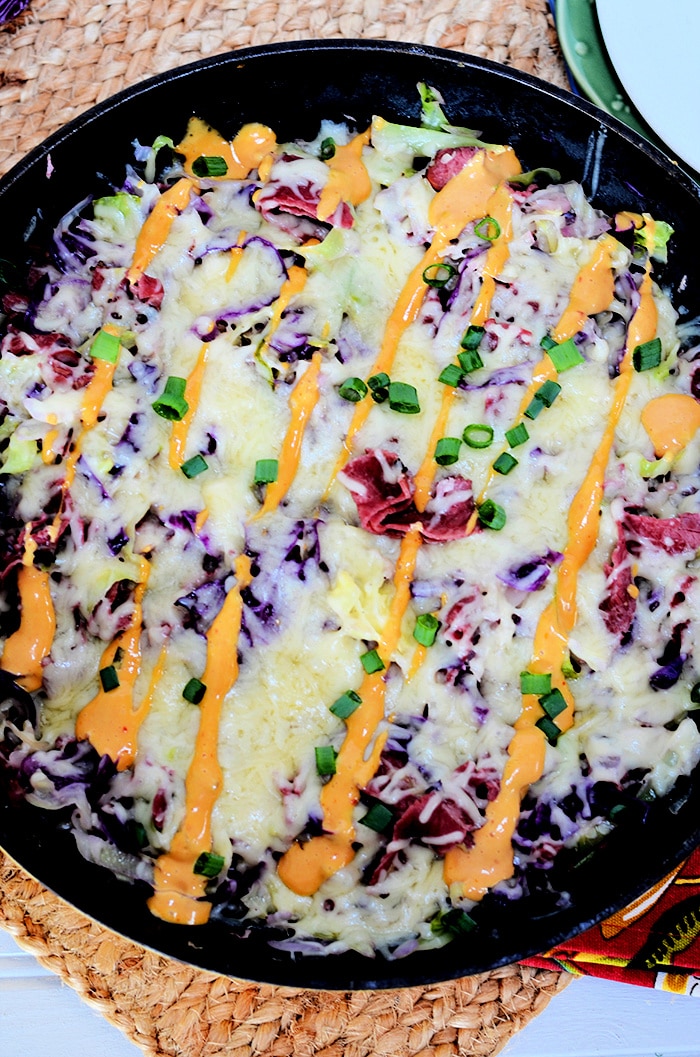 My husband has an unnatural love for all things cabbage. In his opinion, there are no other vegetables and if he does acknowledge them, they don't stack up.
The thing is – I have never been a big fan of cabbage. Growing up I would eat one dish that my great grandma made that had cabbage. Everything else? No, thanks.
Well, after 10 years together, I finally gave in. I can say that I do like cabbage. And this Reuben in a bowl is what converted me!
What is a Reuben in a bowl?
To answer that we need to talk about the classic Reuben sandwich. A Reuben is a sandwich comprised of corned beef, sauerkraut, Swiss cheese and Russian dressing on toasted rye bread. It is a common item on deli menus and has a dozen different variations.
Now a Reuben in a bowl takes the best parts of the iconic sandwich and turns it into a casserole of sorts. Minus the bread. Although you can toast a piece of rye bread and have it on the side.
This one pot meal is also low carb, gluten free and full of cabbage-y goodness. I love it because I use up corned beef leftovers!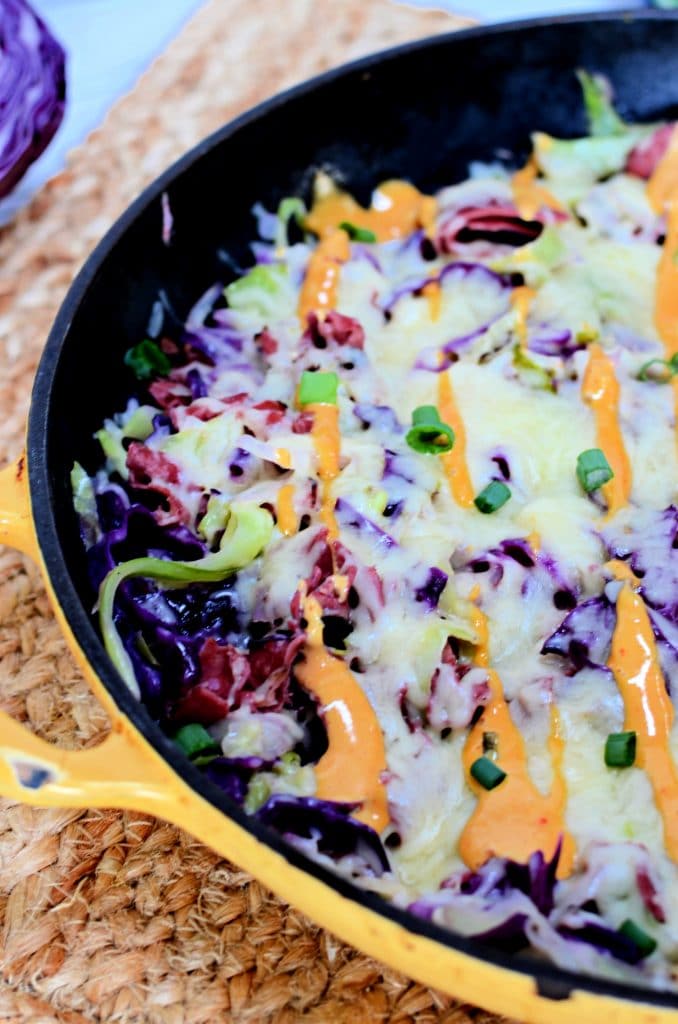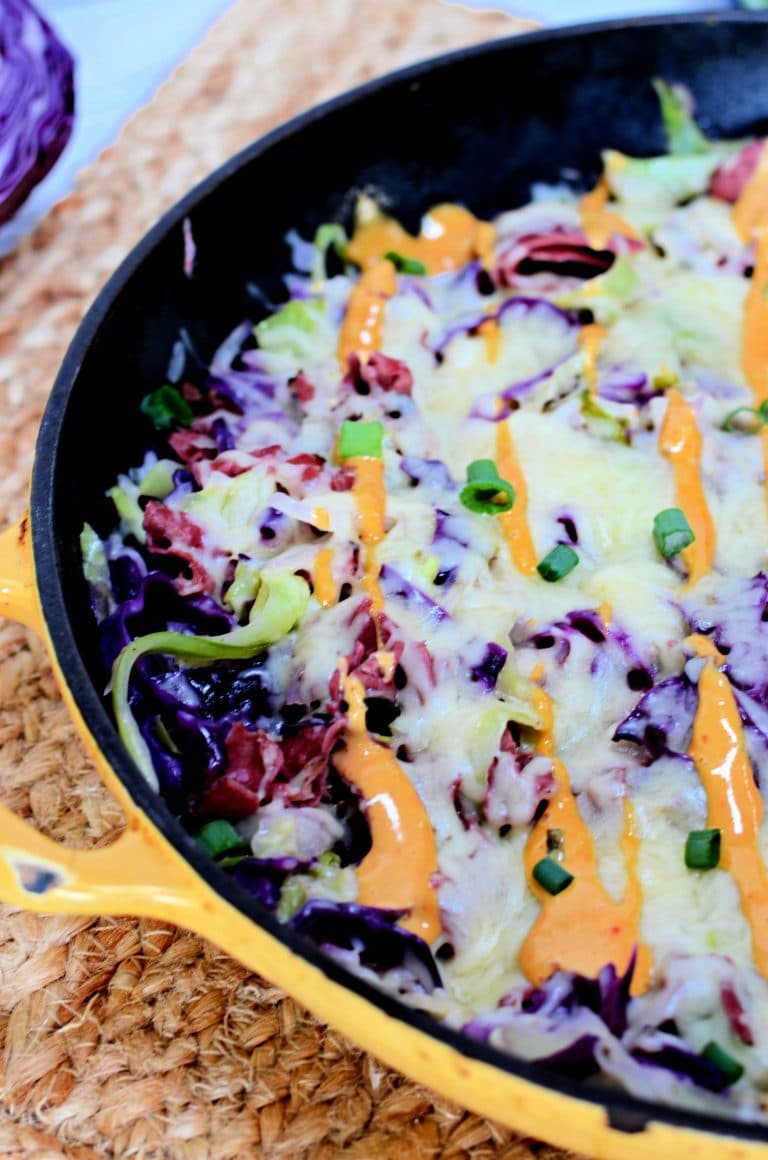 Reuben sandwich in a bowl ingredients
One of the best things about this easy dinner recipe is that you don't need a whole bunch of fancy ingredients. To make it you will need:
Onion
Corned beef
Cabbage
Sauerkraut
Swiss cheese
Russian dressing
Corned beef – You can use a few different things here. Use leftover corned beef, use pastrami deli meat or use roast beef. A classic Reuben uses corned beef but you can substitute it for whatever you have on hand or your preference.
Cabbage – You can either buy a head of cabbage or use a bagged coleslaw mix. I used 1/2 head of regular cabbage and 1/4 head of purple cabbage.
Sauerkraut – The sauerkraut gives this recipe a nice zip. You can use any canned or bagged sauerkraut or you can try homemade sauerkraut.
Swiss cheese – A traditional Reuben has melty Swiss cheese added to it. This Reuben is a bowl is topped with shredded Swiss for the same melty goodness! You can used pre-shredded Swiss cheese or buy a block and shred it yourself.
Russian dressing – A classic Reuben is topped with Russian dressing. Grab a bottle or try a homemade version! I actually used Thousand Island dressing on mine and it turned out great.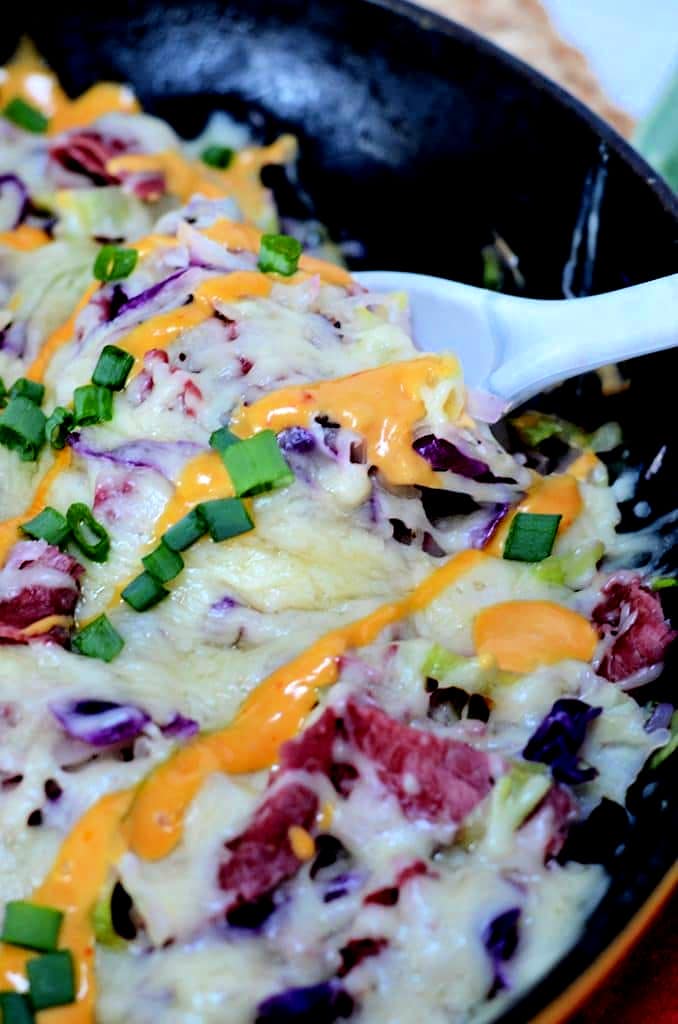 Recipe for Reuben in a bowl
This easy dinner recipe comes together fast. I'm talking 15 minutes fast. It's also made all in ONE PAN! Yup. It's like the ultimate weeknight meal.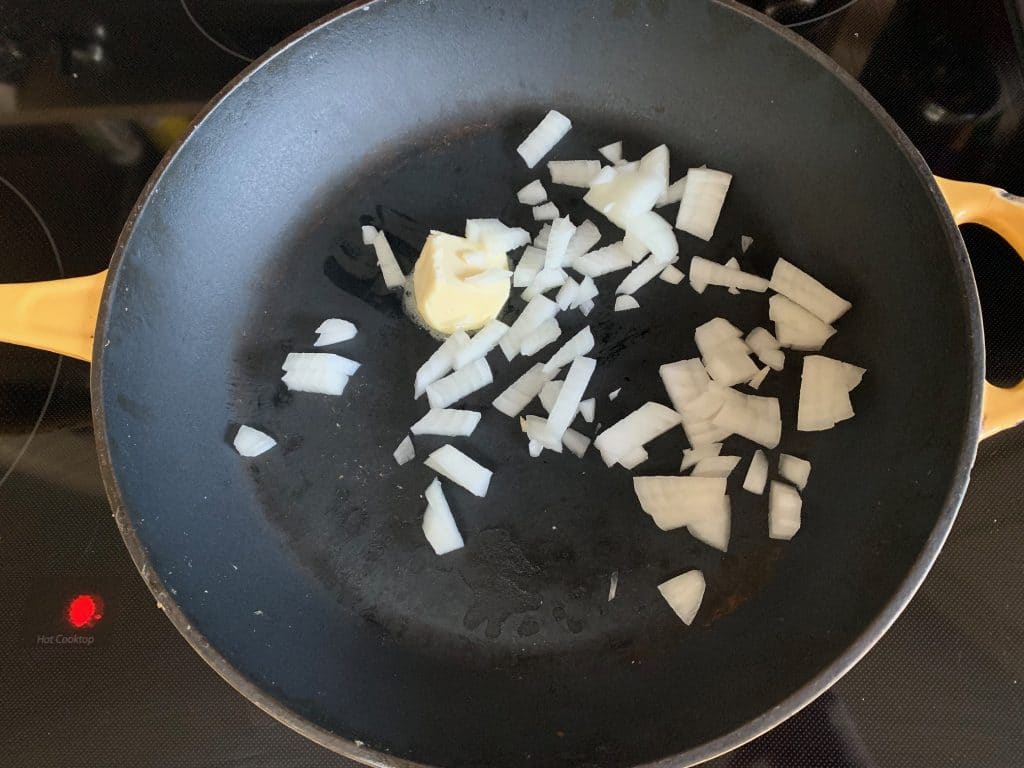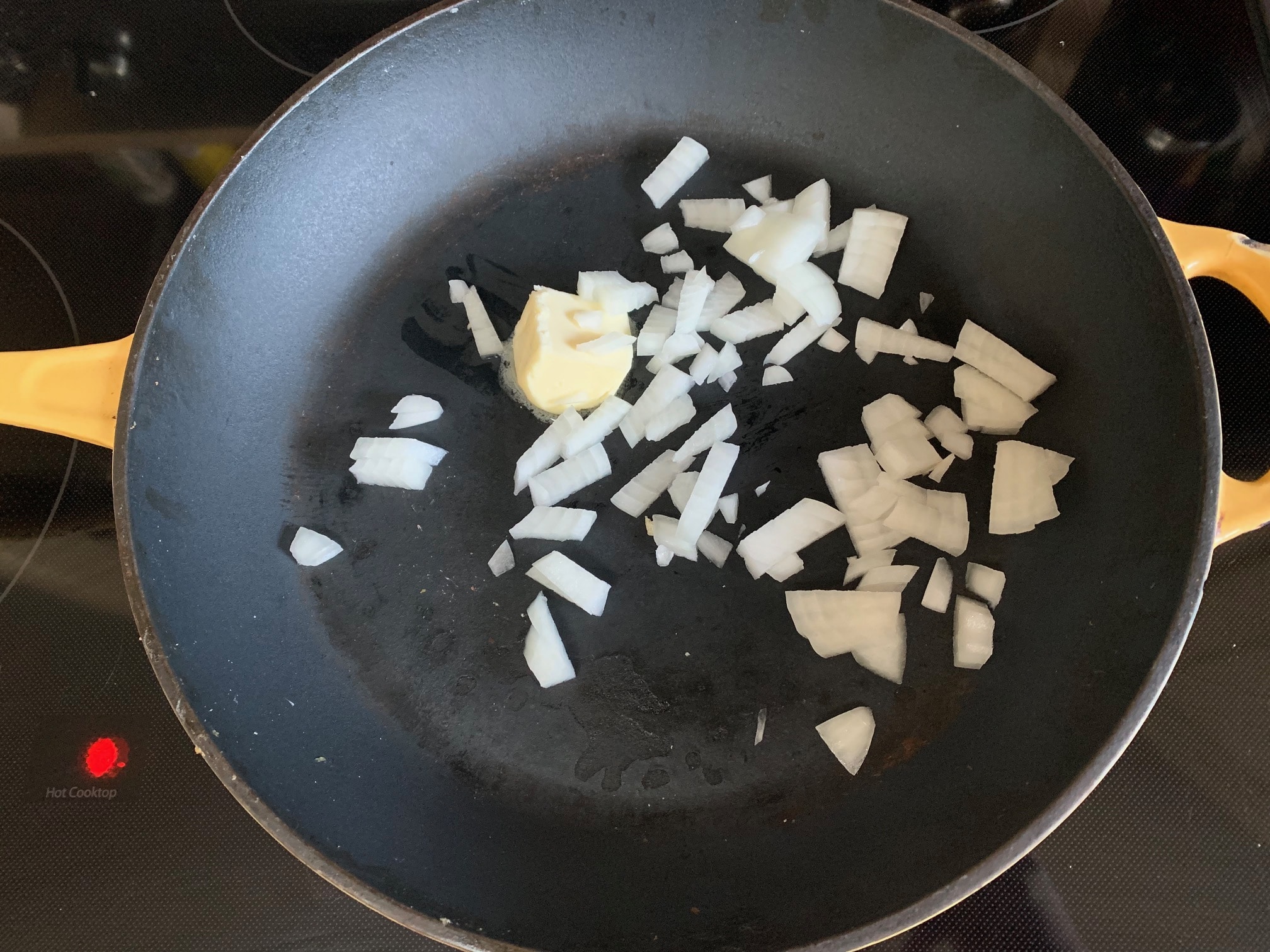 Step 1 – Add your butter to a skillet and saute your onion.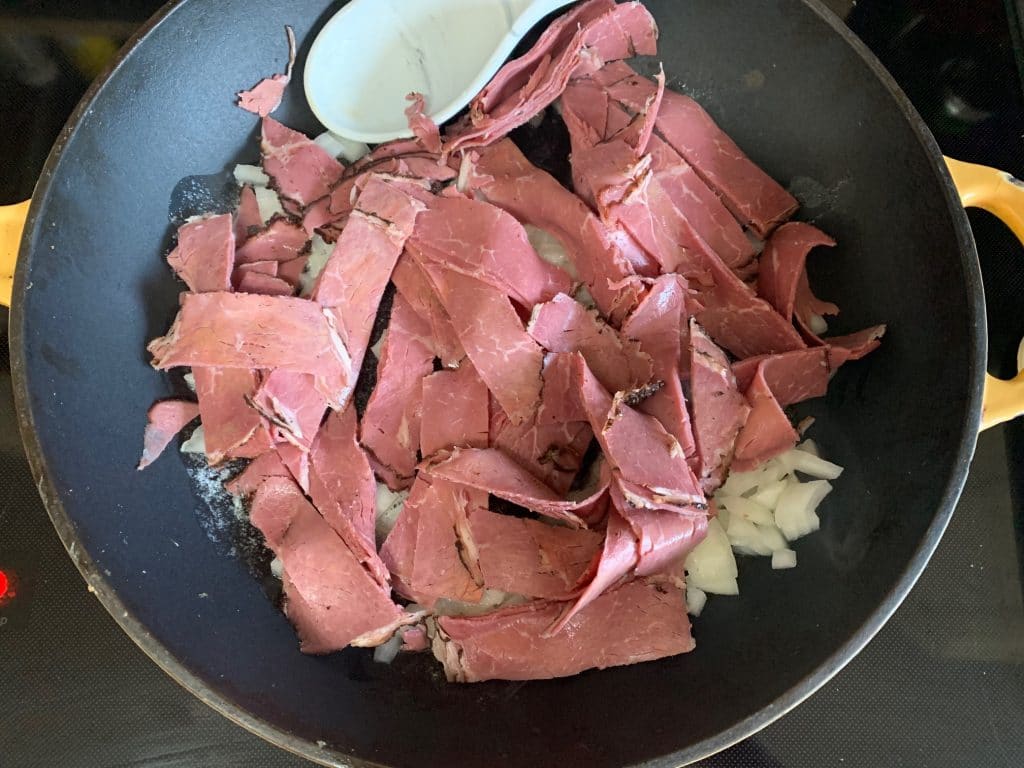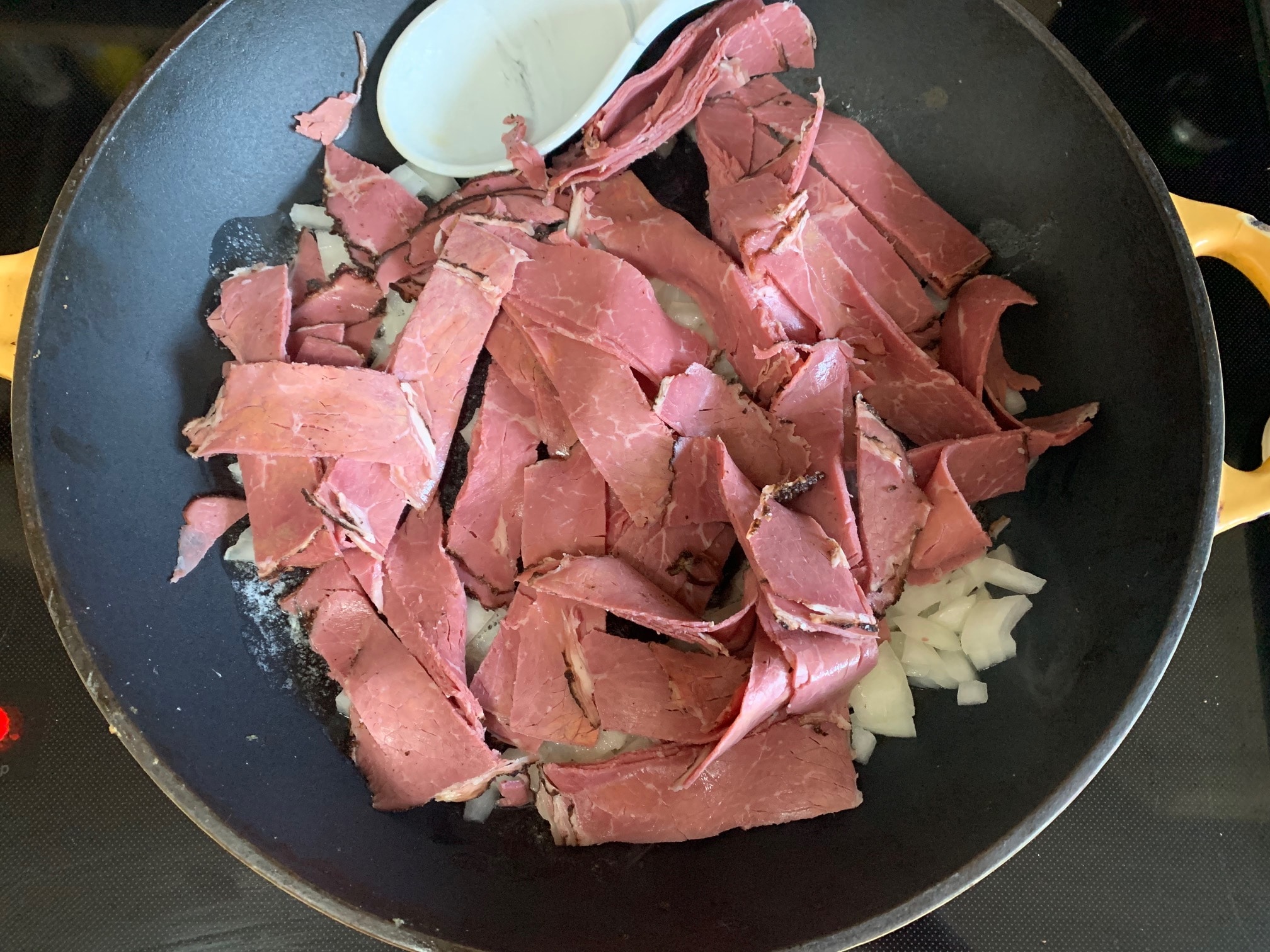 Step 2 – Add in your corned beef and cook for about a minute. You just want to warm it through.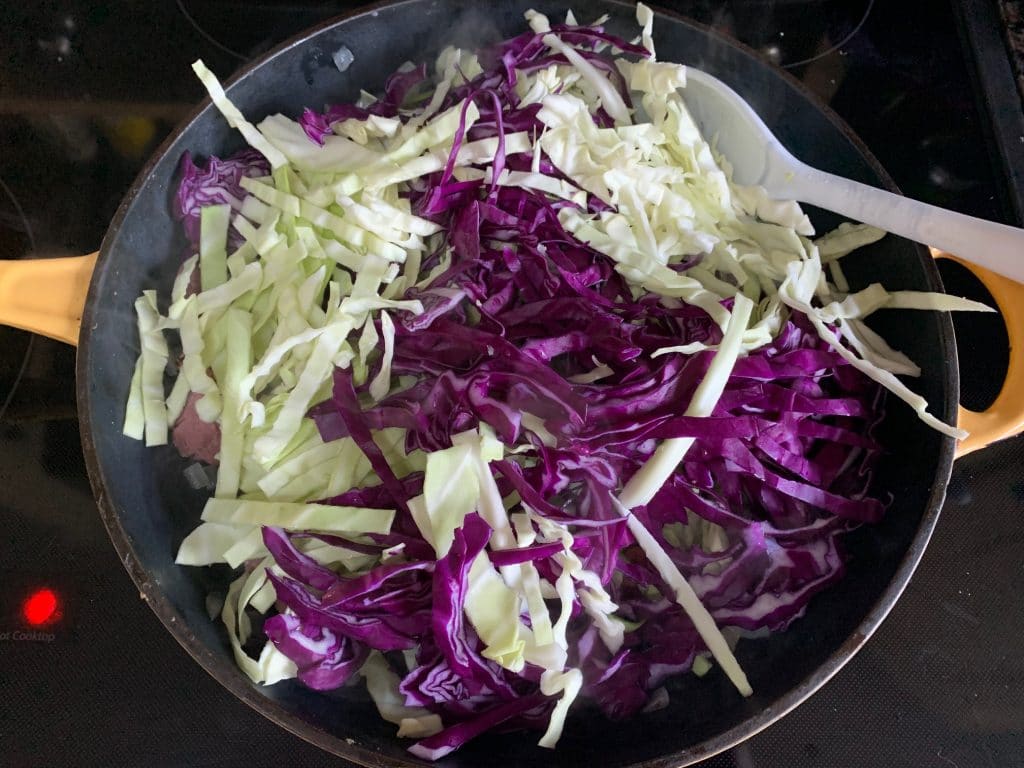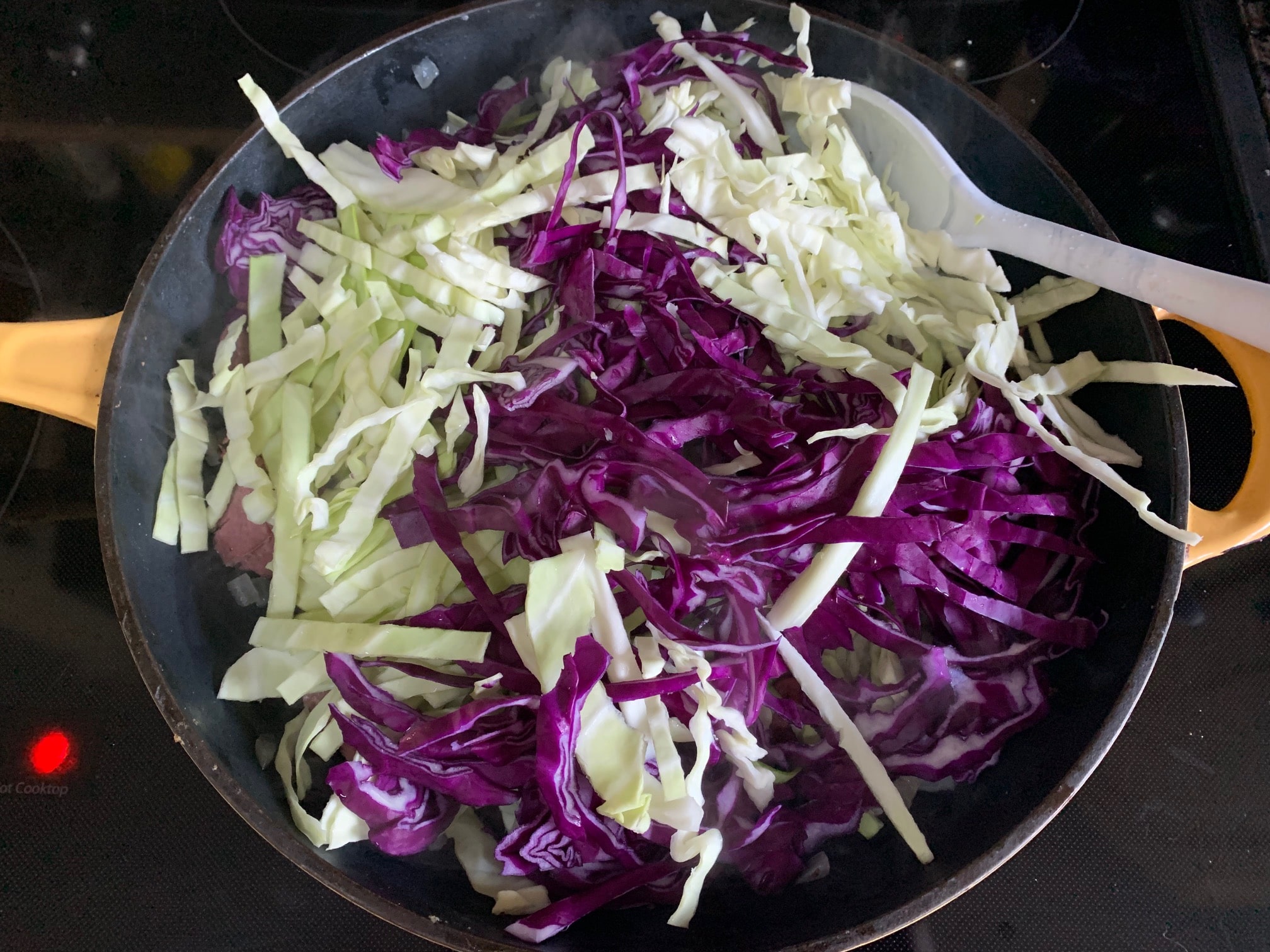 Step 3 – Add in your sliced cabbage. Remember, you can use a coleslaw mix here to cut down on prep time!
Saute for about 5 minutes or until the cabbage starts to become tender.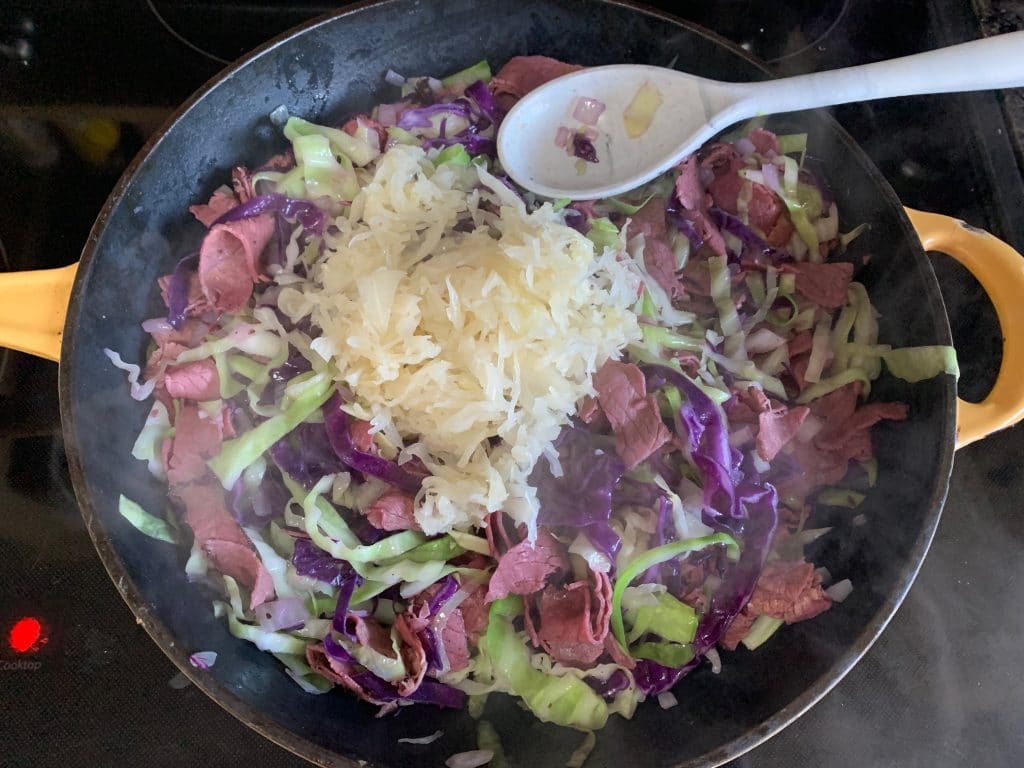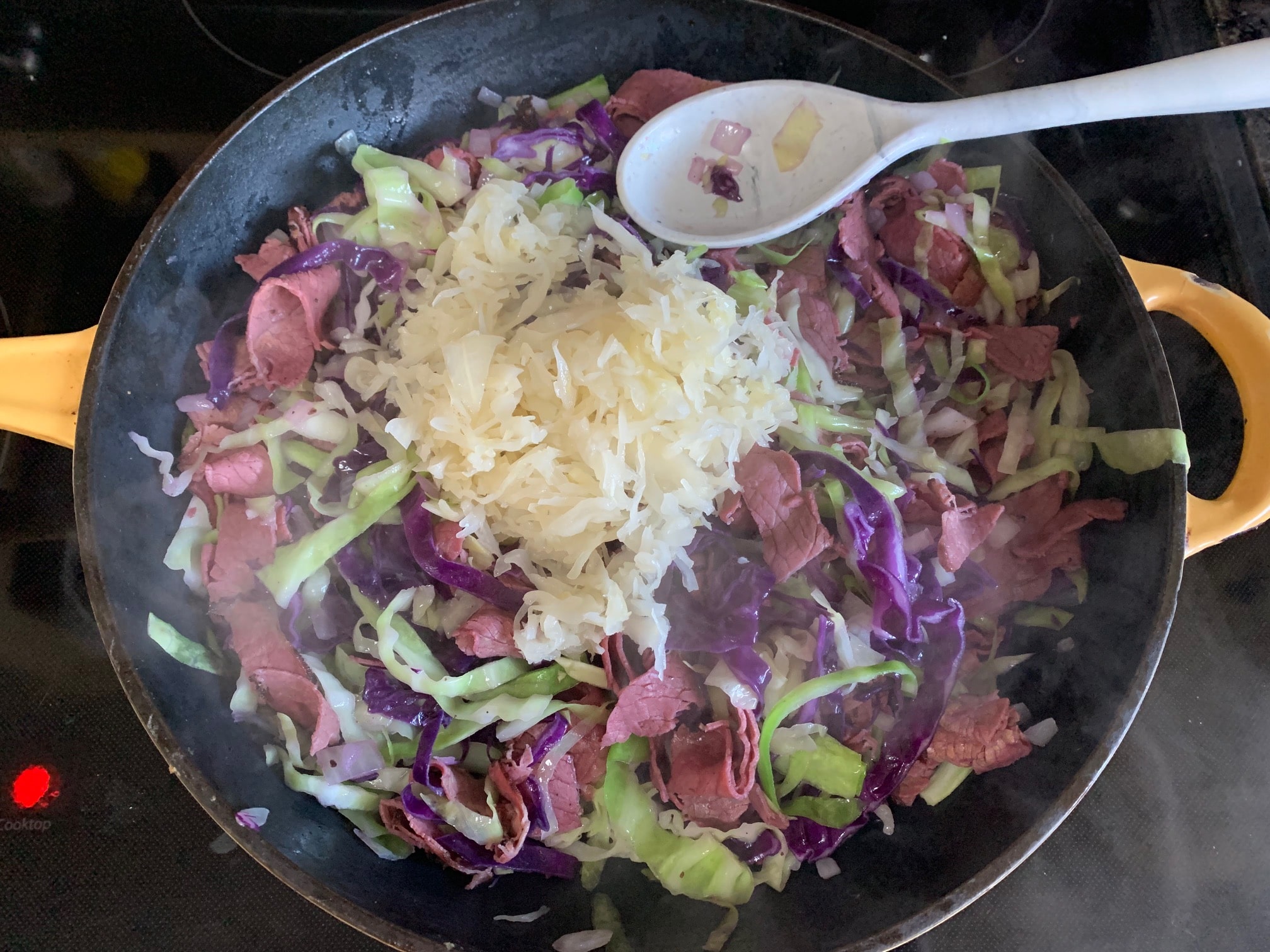 Step 4 – Mix in your sauerkraut and allow to cook for another minute. Again, you just want the sauerkraut warmed through.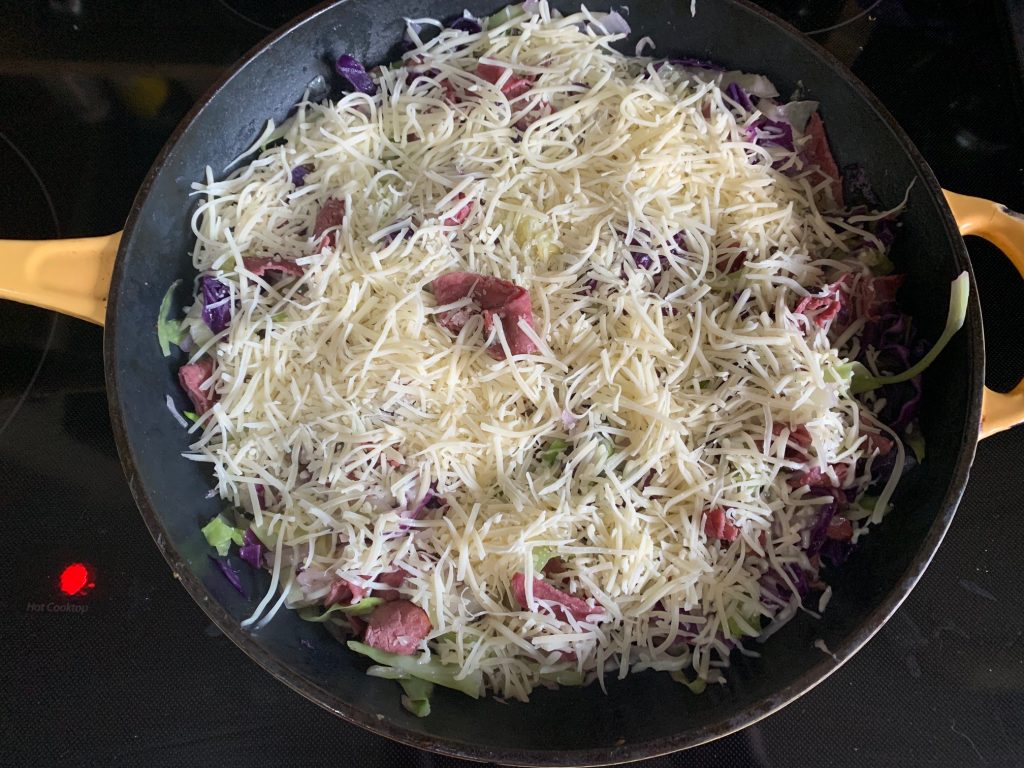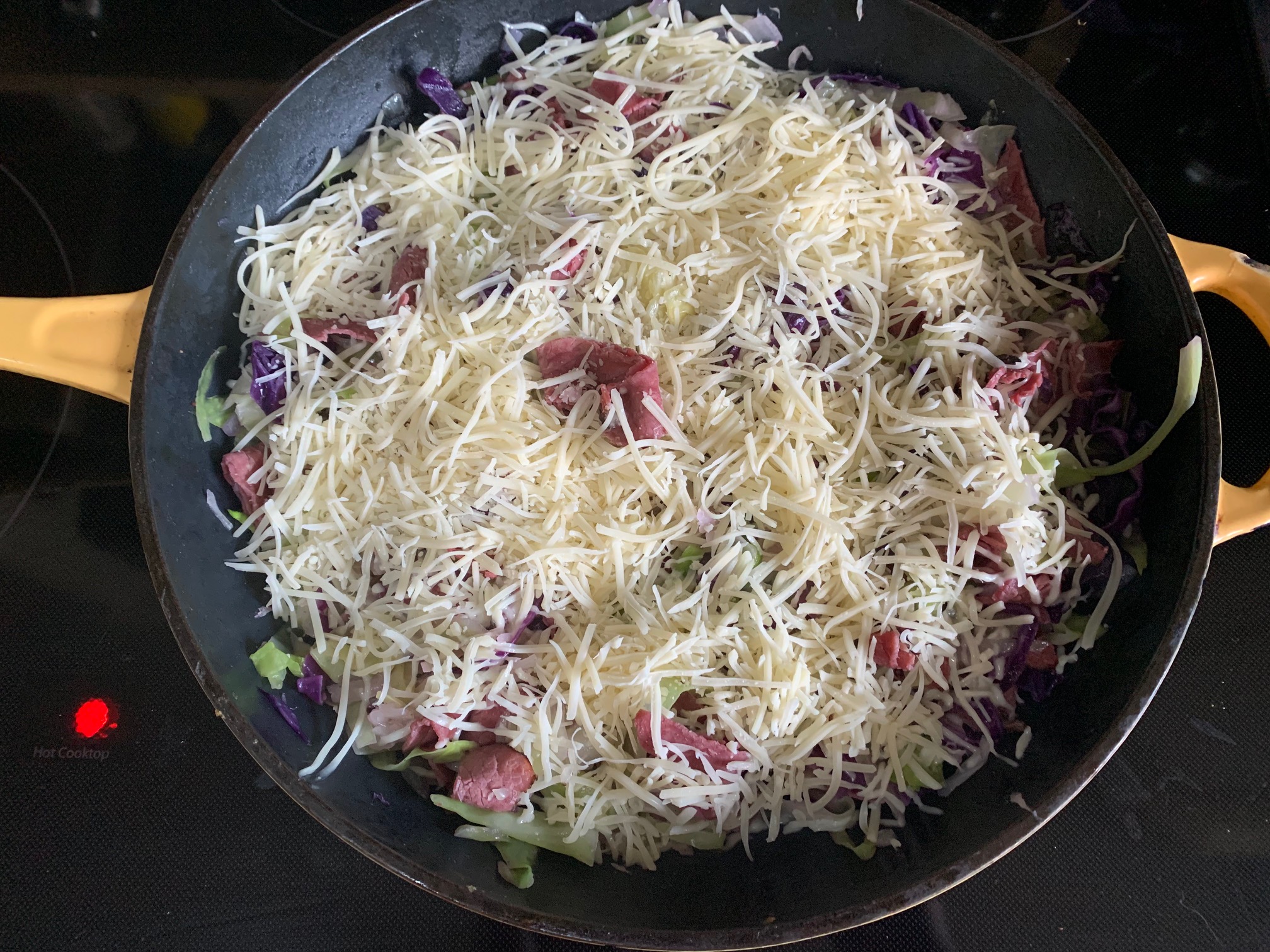 Step 5 – Top with shredded Swiss cheese. Remove from heat, add a lid and allow the cheese to melt.
Step 6 – Top with Russian dressing and fresh herbs.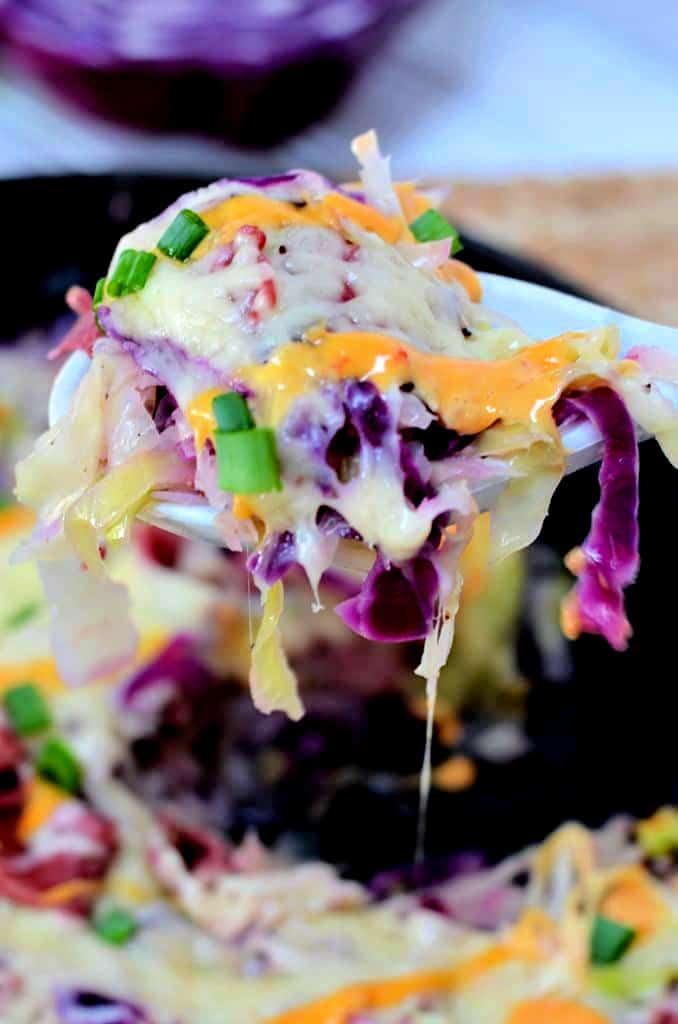 Is Reuben sandwich in a bowl healthy?
Yup! This recipe is low carb and full of vegetable goodness thanks to all the cabbage. But you don't have to tell your kids that!
How to store leftovers
Place any leftovers in an airtight container and store in the fridge. It should keep for 3-4 days this way.
Can I freeze my Reuben in a bowl?
You can! To do this you are going to want to cook the entire recipe and allow to cool. Place the cooled dish in a ziplock baggy and press out all the air. Allow to freeze flat. Will keep in the freezer for a few months.
You can also freeze the uncooked ingredients all together in a baggy and dump it in a skillet when your ready to cook it. I would freeze without the cheese and add that later.
Side dish options
Although this Reuben casserole is a total meal, you may want to add one of the following sides: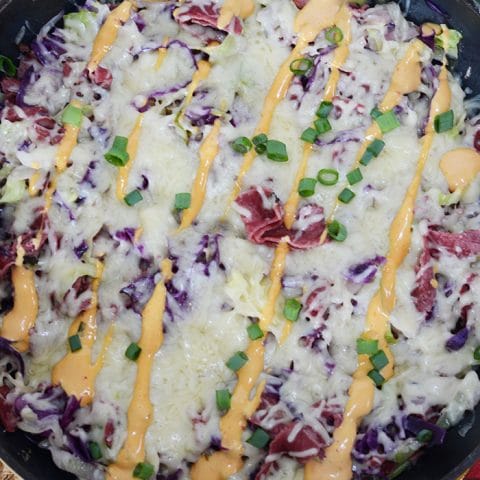 Reuben in a bowl
An easy one pot dinner that comes together in 15 minus plus is full of that classic Reuben flavor.
Ingredients
1 tbsp butter
1/2 onion, diced
1 pound pastrami, sliced
4 cups shredded lettuce
1 cup sauerkraut
2 cups shredded Swiss cheese
Russian dressing, for topping
Instructions
In a large skillet over medium heat add your butter. Saute your onion in the butter until translucent and fragrant - about 5 minutes.
Add in the pastrami and cook through - about a minute.
Add in your cabbage and mix together. Cook for 5 minutes or until the cabbage has started to soften.
Stir in your sauerkraut and heat through - about a minute.
Cover with Swiss cheese, remove from heat and cover to allow cheese to melt.
Top with Russian dressing and chives
Enjoy!
Nutrition Information:
Yield:

6
Serving Size:

1 cup
Amount Per Serving:
Calories:

297
Total Fat:

18g
Saturated Fat:

10g
Trans Fat:

0g
Unsaturated Fat:

6g
Cholesterol:

90mg
Sodium:

1123mg
Carbohydrates:

7g
Fiber:

2g
Sugar:

3g
Protein:

27g
Easy dinner recipes to try
Short on time? No problem! These easy dinner recipes come together quick for a flavorful family meal.
How to make the classic Irish meal in your crock pot. This one pot meal is easy to prep and results in a tender and juicy meal.
Like it? PIN IT!