I love Halloween!  I mean now that I have kids I love Halloween.  I stopped 'celebrating' in high school and I am excited to be able to share this fun time with my kiddos.  I changed up my mantel this weekend from
all things fall
to all things Halloween!  Eek!  I love it!
Seriously.. eek!  Bats, owls, pumpkins.. this mantel has it all!  And that little tree to the left?  My Ryley painted it for me.  
 
Ryley's tree, witches bottles, a grapevine wreath and the clock from our wedding.  I bought that little grapevine wreath from a garage sale for a quarter.  I wasnt sure what I was going to do with it but it fits in perfectly with my Halloween decor. 
I used Ball jars and my silhouette for the labels to create the witches potions.  The one in the back in standing up on a cat food can.  Gotta keep it real.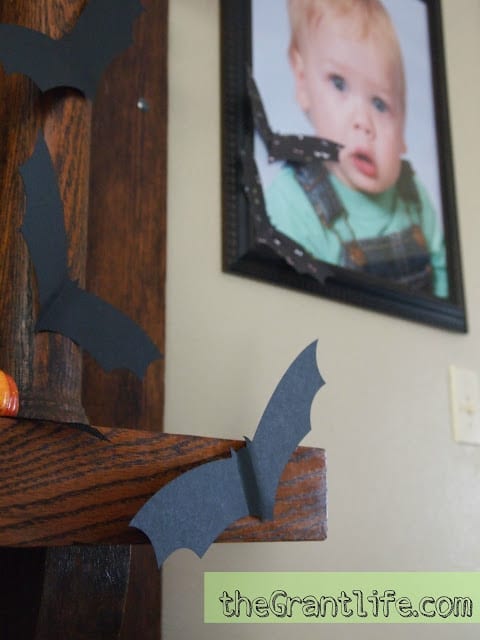 Even the kids got in on the decorating!  Or their pictures did.  I cut out some bats and folded them in the center to give them a 3D look.  Easy peasy.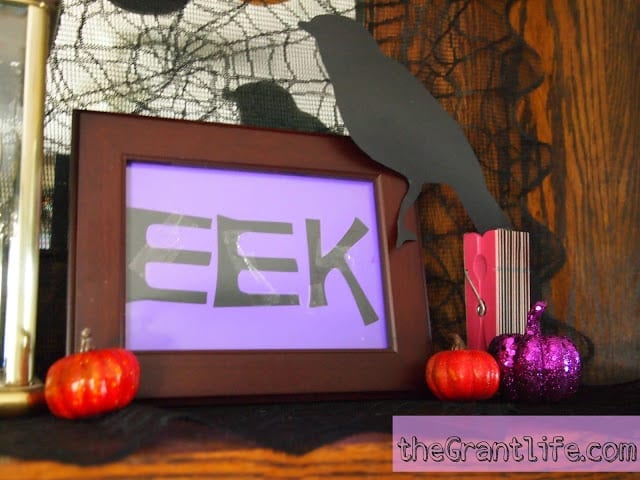 I think the clear tape over the letters makes it look old.. or thats what Im telling myself anyways.  A raven being held up on a giant paper clip covered in washi tape completes the scene. 
Eek!  I love it!  [Yes.. I know I already said that.] 
-[Lovely October Sponsor]-