Gingerbread cake pops are a festive treat that everyone will love. They are made with homemade gingerbread cake and dipped in white chocolate frosting. A dash of sprinkles complete these easy homemade cake pops. Let's make these gingerbread cake pops for your next holiday party!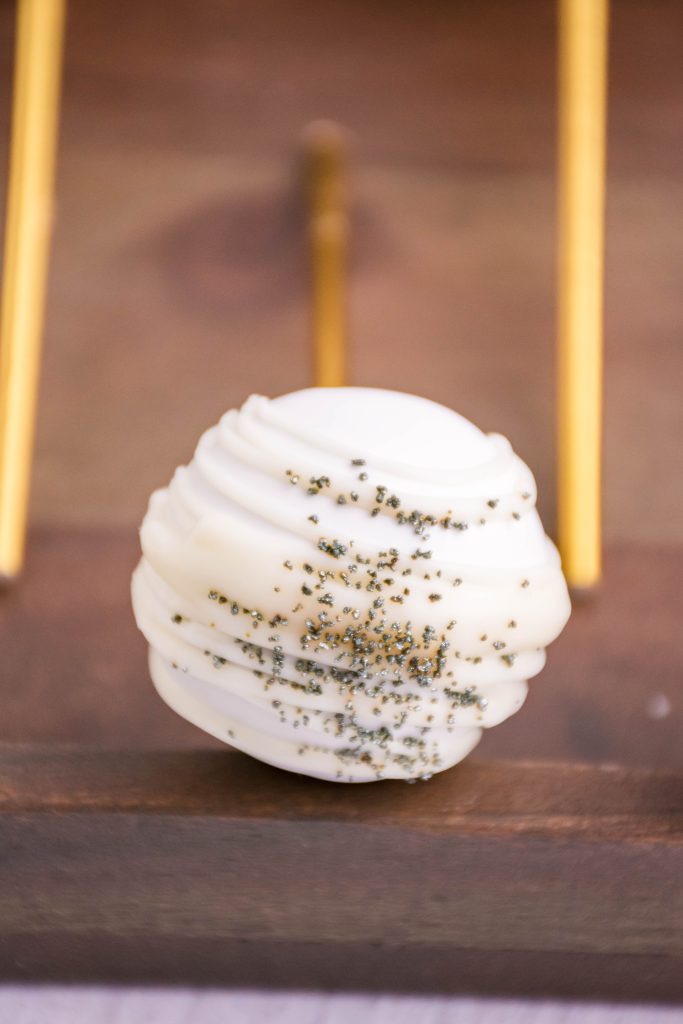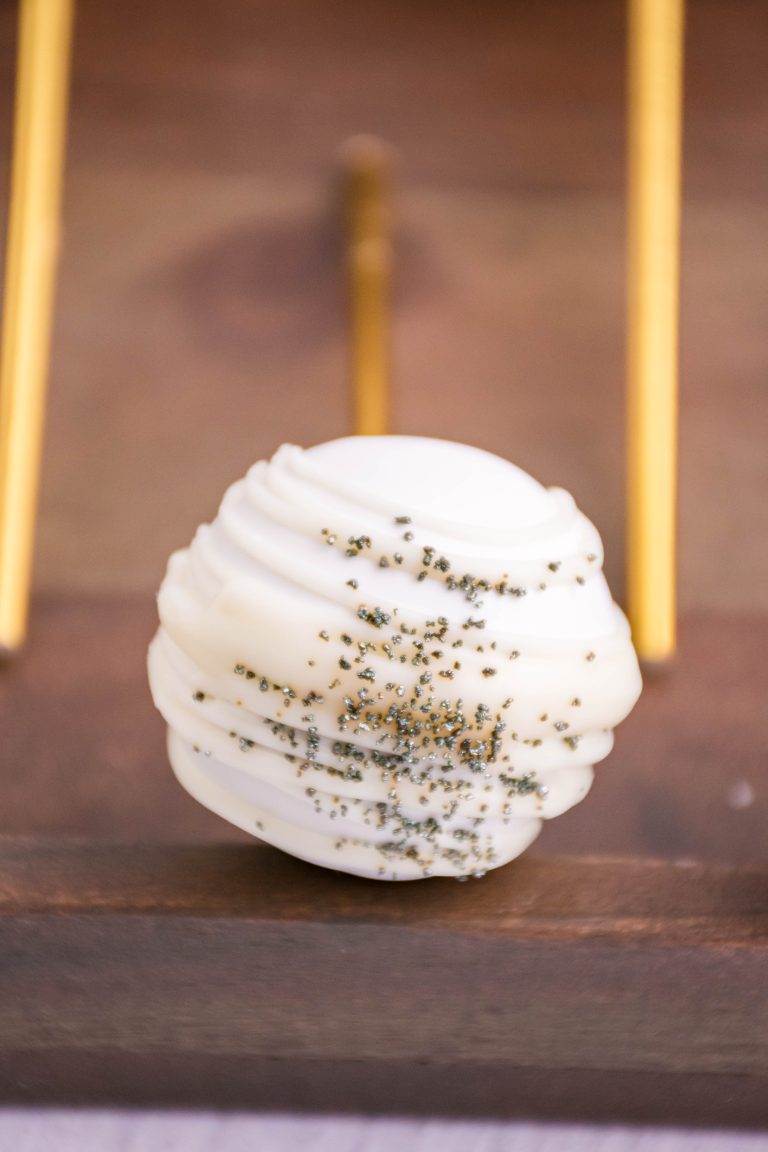 We love cake pops in our house. My kids always order them when we go to Starbucks, so I started making the birthday cake pops at home. The great thing about cake pops is that you can make them any flavor you'd like! These gingerbread cake pops are the perfect winter treat to share during the holiday months.
Gingerbread cake pops
These Christmas cake pops start with a homemade gingerbread cake that is full of festive flavors thanks to the ginger, nutmeg and molasses. The gingerbread cake is then mixed with cream cheese frosting and formed into bite sized cakes pops on a stick. The cake bites are then coated in white candy melts and topped with sprinkles. They are easy to make, great for sharing and great for the winter holidays.
Gingerbread bread cake pop ingredients
The ingredient list for these cake pops may be lengthy, but most of them are common and you properly already have them on hand. To make your own gingerbread cake pops you will need:
butter
brown sugar
granulated sugar
egg
molasses
buttermilk
rum extract
baking soda
cinnamon
ginger
nutmeg
salt
flour
cream cheese frosting
candy melts
coconut oil
sprinkles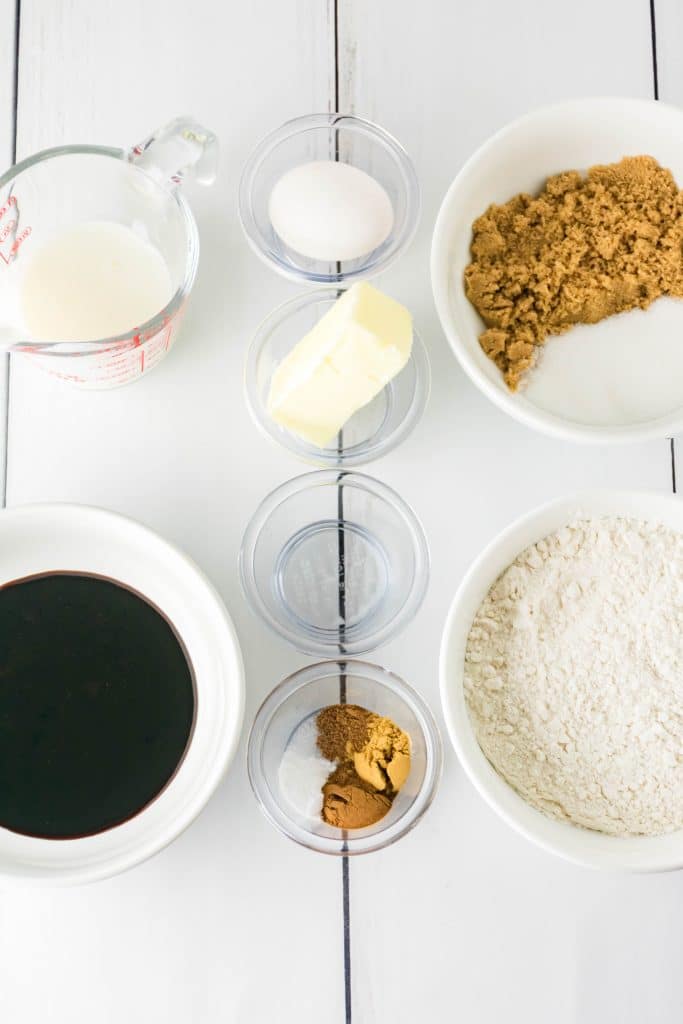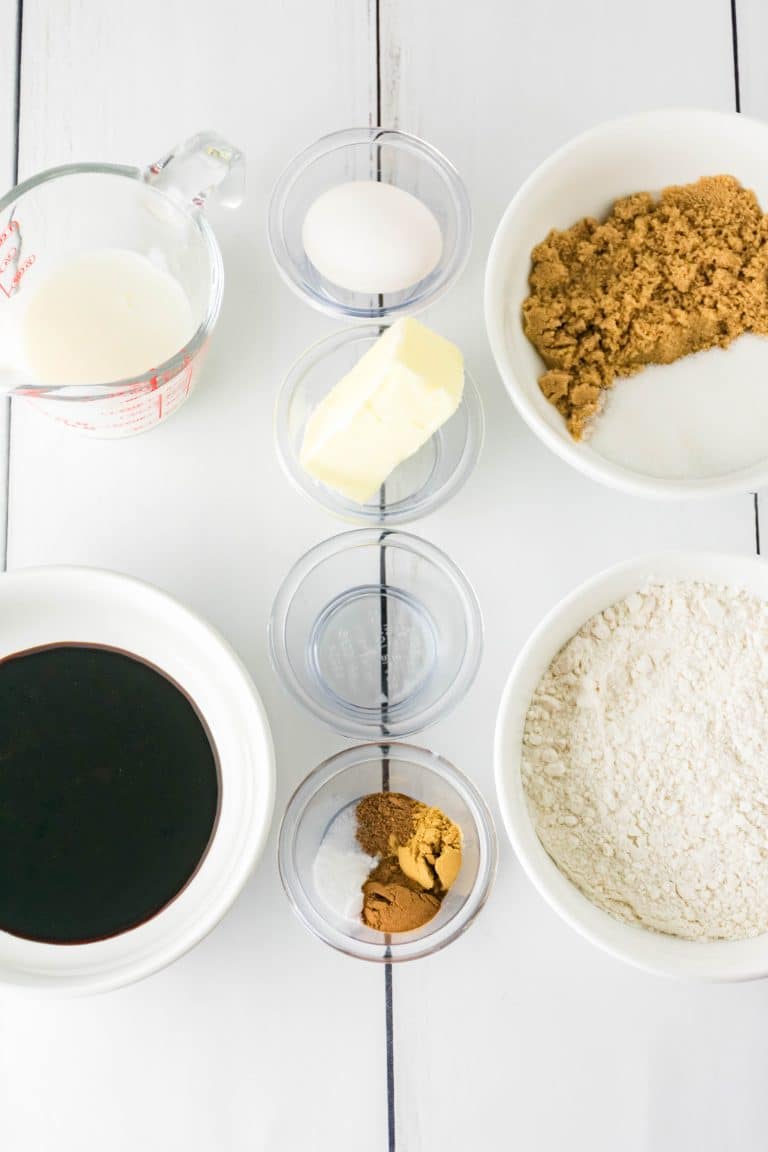 Butter – Make sure to use plain butter and not margarine. You will also want to leave your butter out to soften before starting these cake pops.
Sugars – You will need brown and white sugar for the gingerbread cake portion of the recipe.
Molasses – Molasses gives the cake and cake pops a great depth of flavor and keeps it moist.
Buttermilk – You will need 1/4 cup buttermilk for the cake. See notes below on how to make homemade buttermilk fast.
Rum extract – This can be found in the baking aisle near the other extracts. You can also buy rum extract online. Rum extract is common in Christmas time baking.
Spices – Ground cinnamon, nutmeg and ginger are needed for this recipe. They are also common winter time spices.
Cream cheese frosting – You can use a can of store bough cream cheese frosting or whip up some homemade cream cheese frosting.
White candy melts – These can be found in the baking aisle of most craft stores.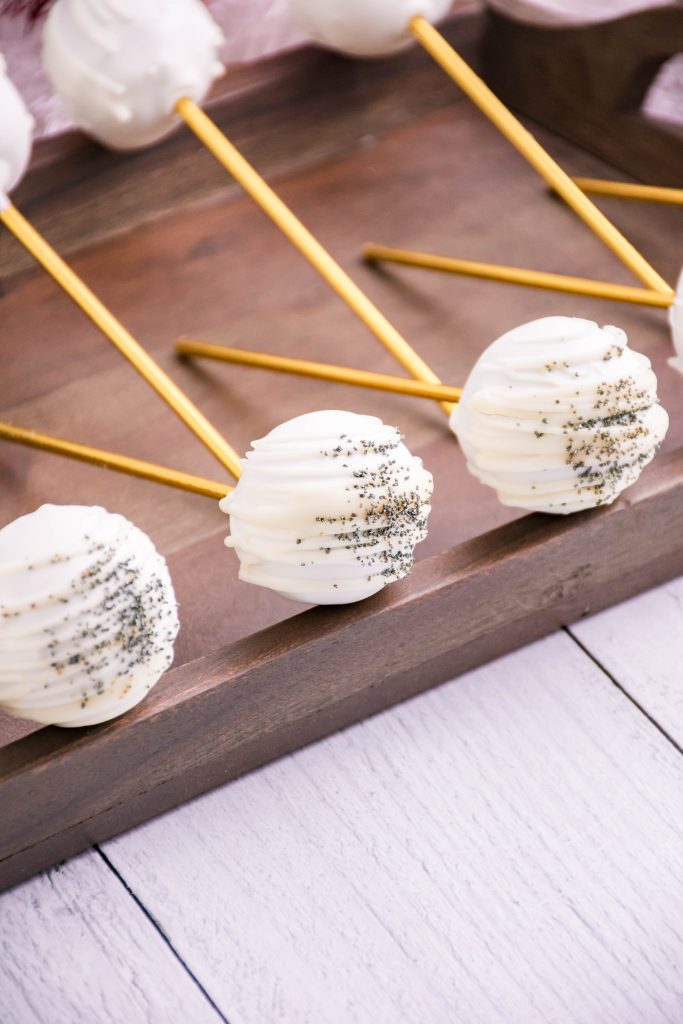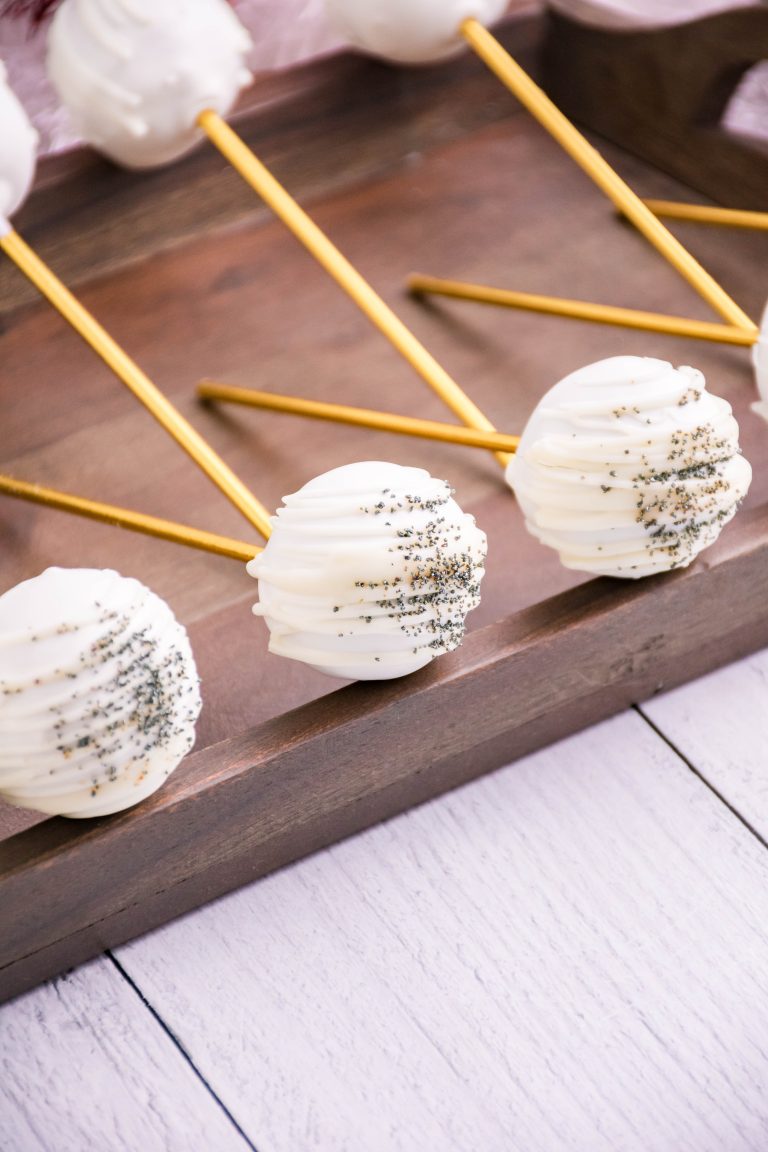 How to make gingerbread cake pops
Once you have gathered all of your ingredients, you will also need to grab:
Mixing bowls
Hand held or stand mixer
8 inch cake pan
Parchment paper
Candy sticks
Measuring cups and spoons
Step 1 Cream the butter and sugars In a large mixing bowl, cream together the butter and the two sugars. Blend until smooth and fluffy. Mix in the egg, buttermilk and molasses until combined.
Step 2 Add the remaining cake ingredients Add in the rum extract, spices and baking soda. Mix until combined. Stir in the water before adding in the flour in batches. Make sure the batter is smooth and everything is well combined before pouring into a prepared baking dish.
Step 3 Bake the cake and crumble Bake the gingerbread cake at 325 degrees for 35-45 minutes. Check that the cake is done with a toothpick in the center. Remove, allow to cool completely before crumbling the cake into a clean mixing bowl.
Step 4 Make the cake pops Mix in 1/4 of the can of the cream cheese frosting. You can use your hands to combine the cake crumbs with the frosting. Roll the cake pop mixture into balls and set aside.
Step 5 Assemble the cake pops Melt the white candy melts in a bowl. Place a dab of the white chocolate on the end of the candy stick. Place a gingerbread ball on top of the melted chocolate and allow to harden. Once they are ready, dip the cake pops into the melted white chocolate. Stick into a piece of styrofoam and add sprinkles and a drizzle of addition chocolate.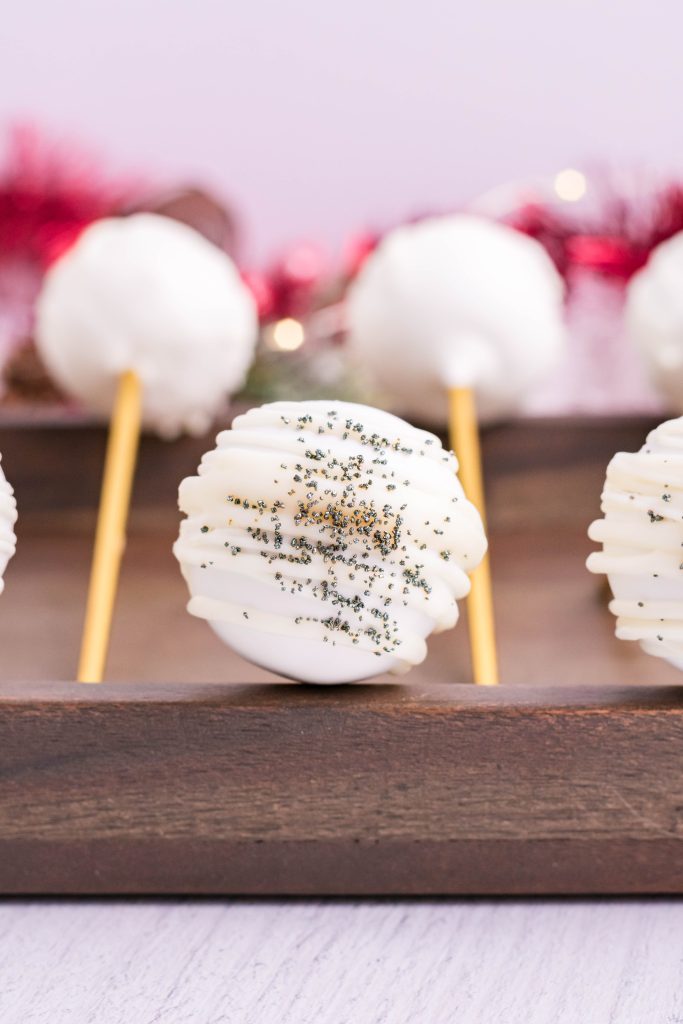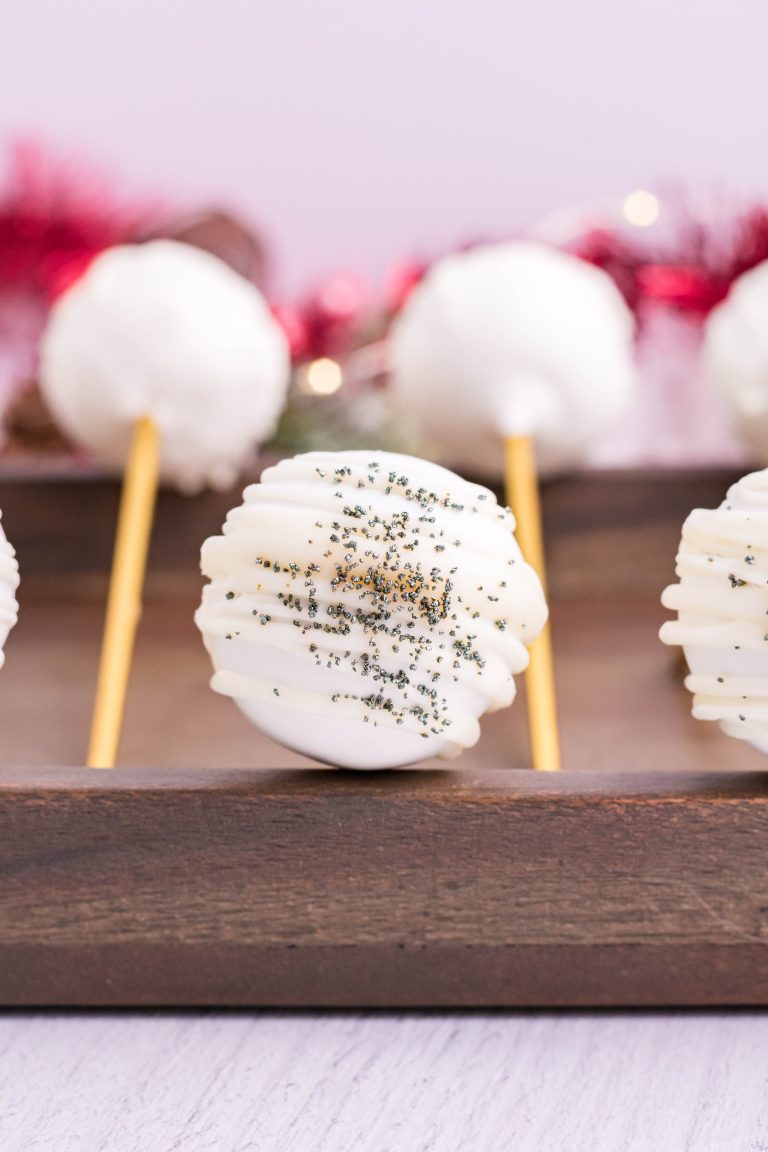 FAQs about this recipe
Cake pops are a fairly simple recipe, once you've made them. Some of the most common questions about making gingerbread cake pops are:
Can I use a gingerbread cake mix?
Yes, you can use a cake mix instead of making a homemade gingerbread cake. Feel free to use what gingerbread or spice cake mix that you prefer. You can also use a classic white cake mix and add the molasses, buttermilk and spices to it.
Can I use homemade cream cheese frosting?
Homemade is always better! You can use a homemade cream cheese frosting instead of the canned frosting. You can also use a classic vanilla frosting or even a caramel frosting would work with these cake pops.
Where can I find white candy melts?
You can find these candy melts at most craft stores, such as Joann's, Michaels or Hobby Lobby, in the baking section. You may be able to find them at your local grocery store or Walmart. You can also buy white candy melts online too.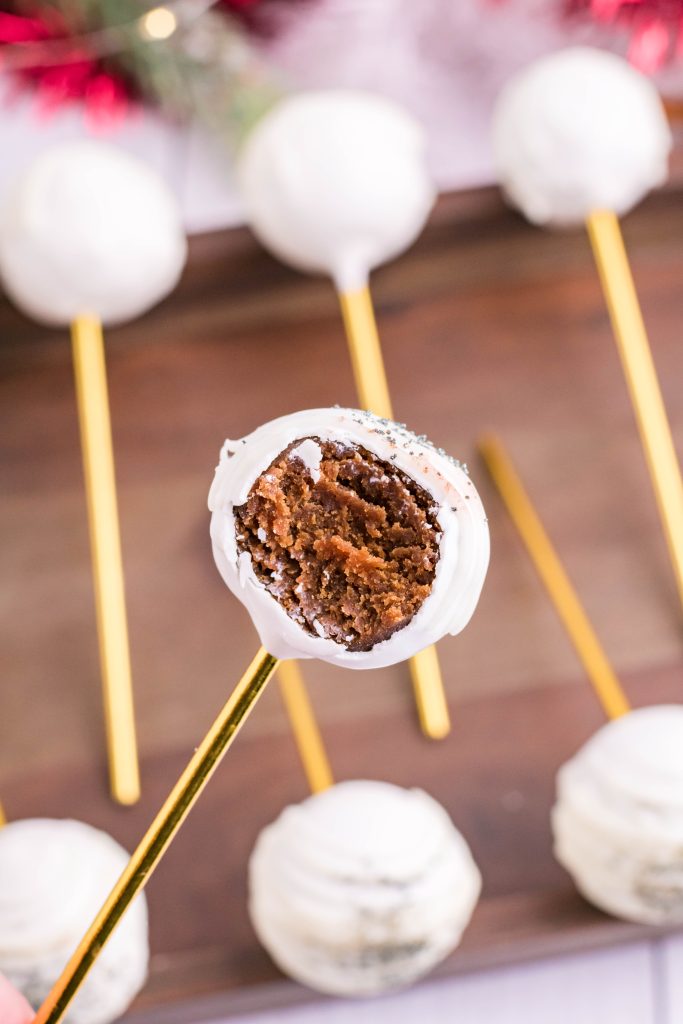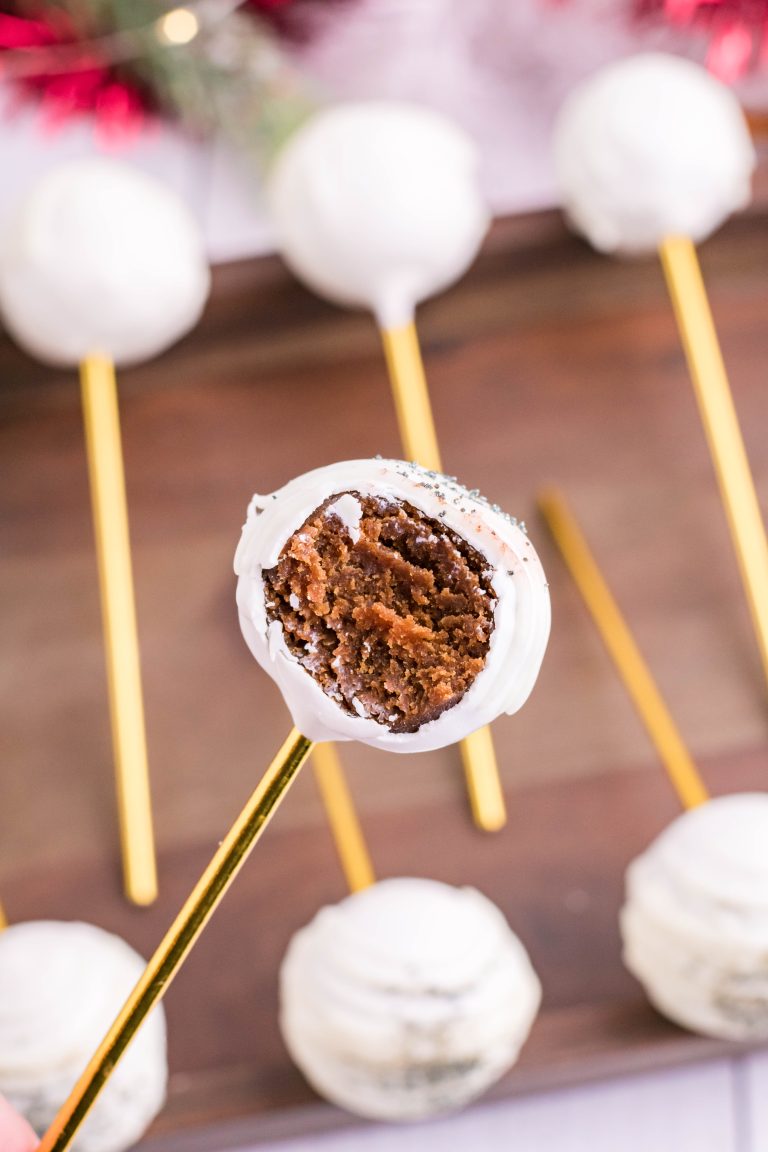 Cake pop tips and tricks
Want to make the best gingerbread cake pops? Check out my tips and tricks below before you start baking.
Use a hand held or stand mixer to mix together the gingerbread batter. Scrape down the sides with a silicone spatula to make sure everything is combined.
Use your hands to mix together the gingerbread cake crumbles and the frosting.
The cake balls have enough frosting when they look wet and will stick together when rolled.
For the best results to get similar sized cake pops, use a food scale and weigh out cake mixture. (I used 40 grams for each cake pop.)
For the most even coverage of chocolate, slowly turn the pop while tapping off excess chocolate. (This will also level out the chocolate.)
If you don't have candy sticks – no worries! Make these cake pops into gingerbread cake balls! Use two forks to dip the ball into the white chocolate and place on parchment paper to harden.
Feel free to use whatever sprinkles you'd like! Red and green sprinkles would be a festive addition as well.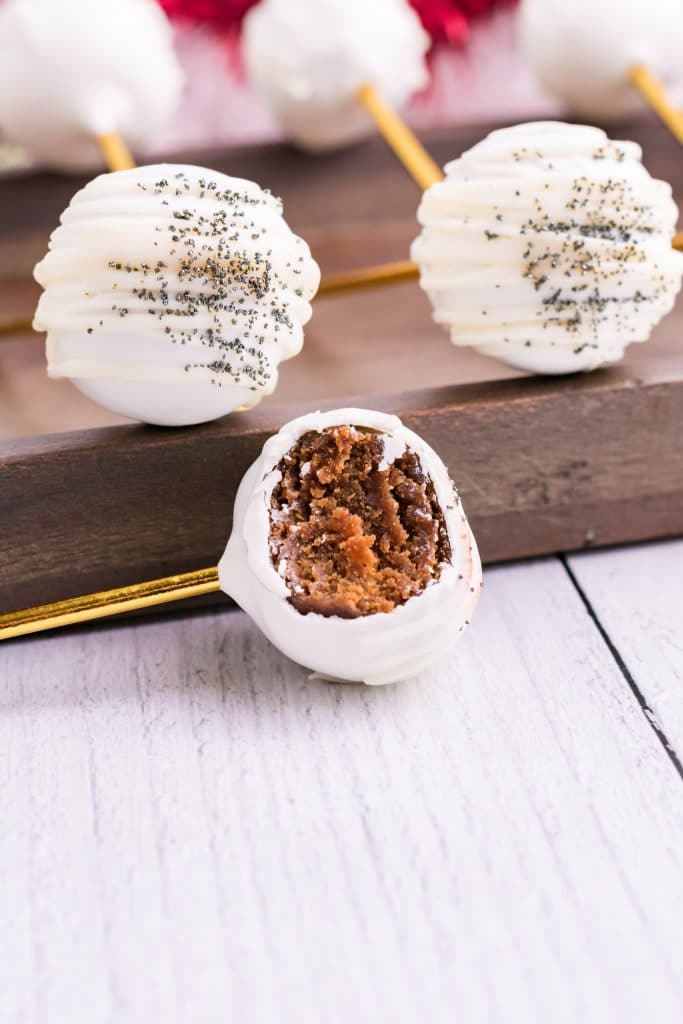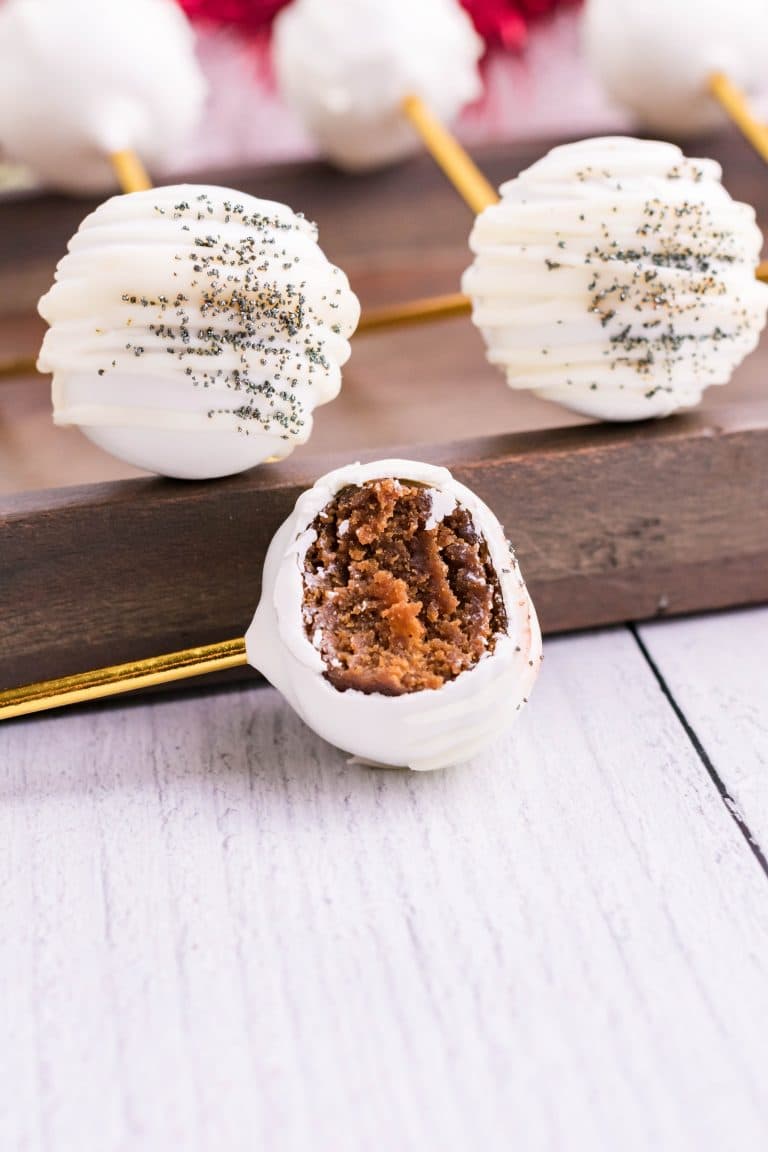 How to store leftovers
You will want to place any leftover cake pops in an airtight container in the fridge. They will probably be fine on the counter, but to ensure that the chocolate coating doesn't melt, place them in the fridge. They will stay fresh for 3-4 days.
Can I freeze cake pops?
Yes! You absolutely can freeze these gingerbread cake pops. Prepare the cake pops are directed and then place them in a Ziplock bag. Remove all the air and put the cake pops in the freezer. They will stay fresh for up to 3 months. Freezing them is a great way to make these cake pops ahead of time and have them for your Christmas parties or get togethers.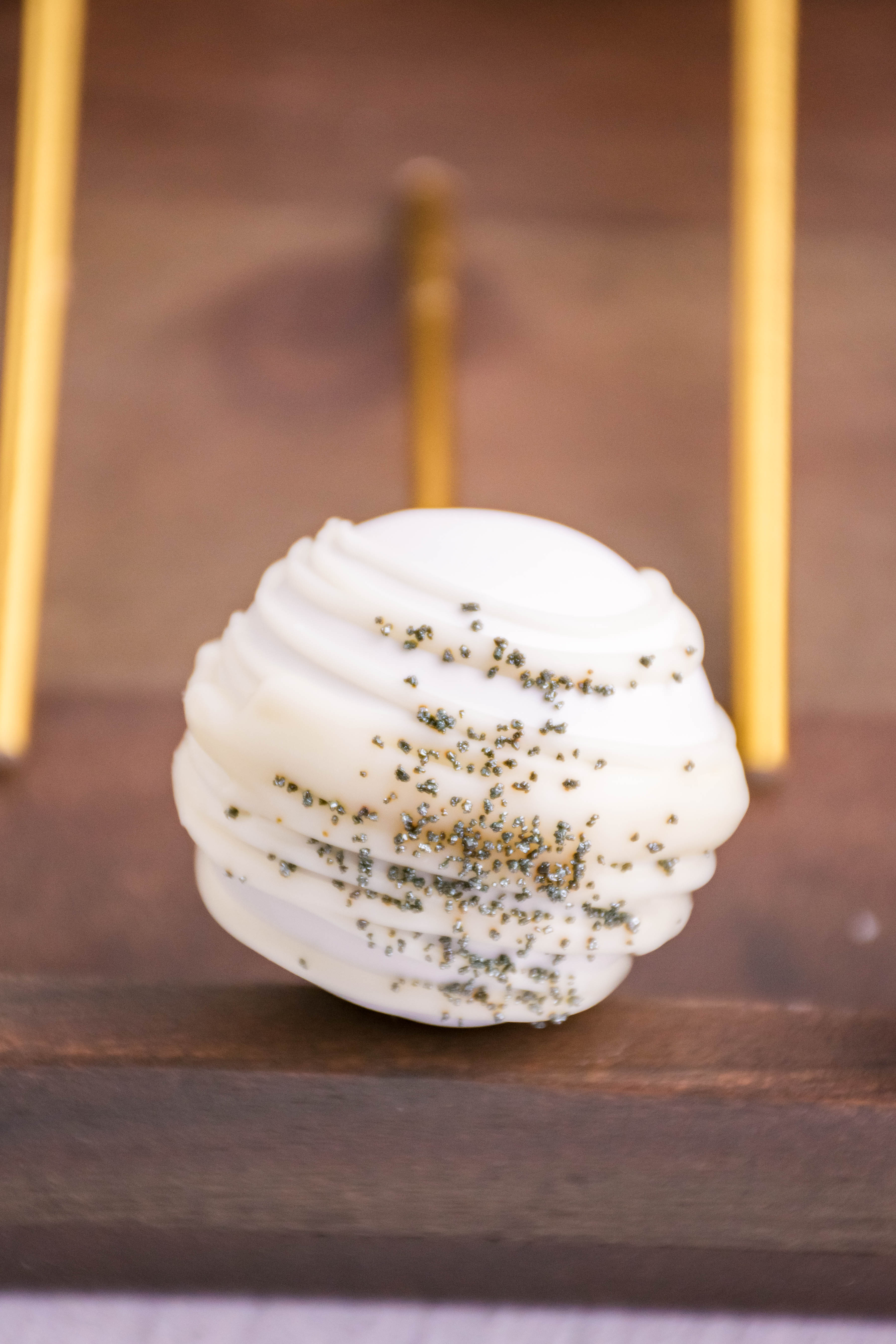 Gingerbread Cake Pops
Total Time:
1 hour
50 minutes
Make these festive cake pops for your holiday parties and get togethers!
Ingredients
1/3 cup Butter- room temperature
¼ cup Dark brown sugar
3 Tbsp. Granulated sugar
1 Large egg
1/3 cup Molasses
¼ cup Buttermilk
½ tsp Rum extract
½ tsp Baking soda
1 tsp Ground cinnamon
1 tsp Ground ginger
¼ tsp Ground nutmeg
A pinch of salt
1 cup All-purpose flour
½ cup Water
¼ cup Cream cheese frosting
2 cups White candy melts
1 tsp Coconut oil
Instructions
Preheat oven at 325 degrees Fahrenheit.
Begin with creaming the butter with the sugars (dark brown sugar and granulated sugar) until smooth.
Add in the egg, molasses and buttermilk being sure to mix between adding each ingredient.
Continue with adding the rum extract along with the baking soda and all of the spices (cinnamon, ginger, nutmeg and salt).
Add in the water and mix.
Finish with adding the flour ¼ cup at a time.
Mix until all ingredients are well combined.
Prepare an 8in. cake pan with parchment paper.
Add in cake batter.
Bake for 35-45 minutes, checking with a tooth pick to be sure cake is fully cooked.
Once fully cooked, take out of the oven and allow to cool completely.
Once cooled, place cake into a bowl and crumble.
Add in ¼ cup of premade cream cheese frosting.
Combine until cake mixture is able to hold shape and looks wet.
Take about 1-2 Tbsp. of the mixture and roll into a ball with the palms of your hands.
Once all of the mixture is used, melt around 10 candy melt chips.
Dip the ends of the cake pops sticks and stick into cake ball about half way.
Chill for 30 minutes.
Melt the rest of the candy melts with 1tsp of coconut oil into a tall skinny glass.
Dip chilled cake pop into the melted chocolate.
Tap off access chocolate.
Place cake pop into a stand or into a piece of Styrofoam.
Once all of the pops have been dipped, chill once more for 10 minutes.
Once chilled, decorate with a white chocolate drizzle and sprinkles.
Serve and enjoy!
Other cake pop recipes to try
Cake pops are not just from Starbucks anymore! You can easily make cake pops at home anytime you'd like. Some of our favorite cake pop recipes are:
Did you make this recipe? I'd love for you to leave a review in the recipe card above or in the comments below.
Want to make them later? Pin the image below to your favorite dessert board. Either way, THANK YOU for the support!