It's crawfish season in the South! You are going to want to make this easy etouffee recipe.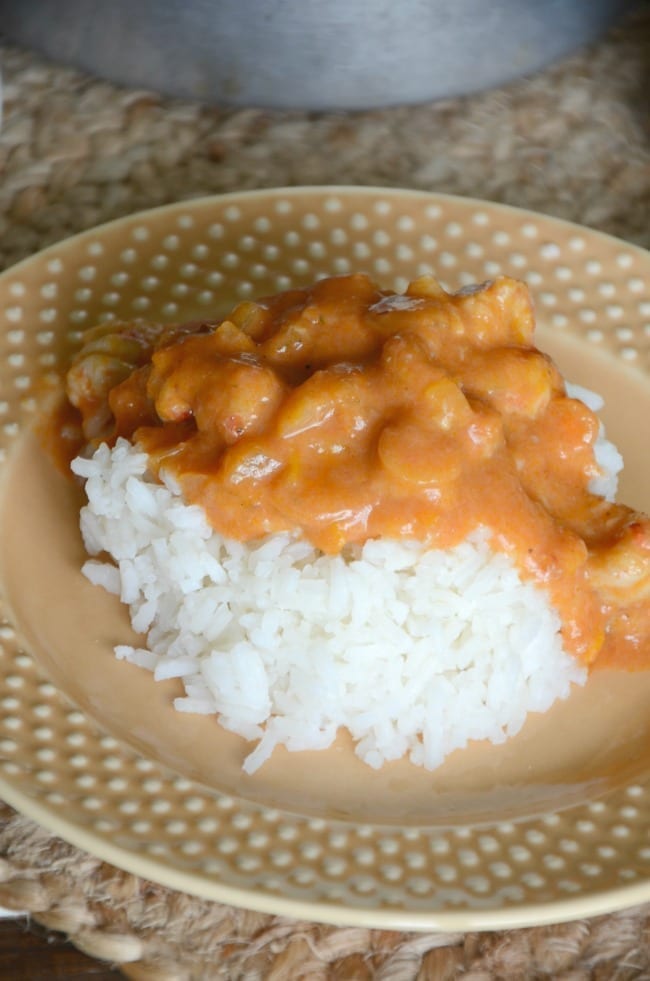 Hey there! So here is the honest truth – I did not grow up eating crawfish. I know, that's weird since I live in a coastal area where crawfish (or crayfish or crawlfish) abound. But I had no interest in the things that people called "mud bugs" and that looked like a mini lobster.
I had been to big crawfish boils before but kept to the corn and potatoes that was served. I would watch in horror as people sucked at the heads and tossed the empty shells down. Again, no interest.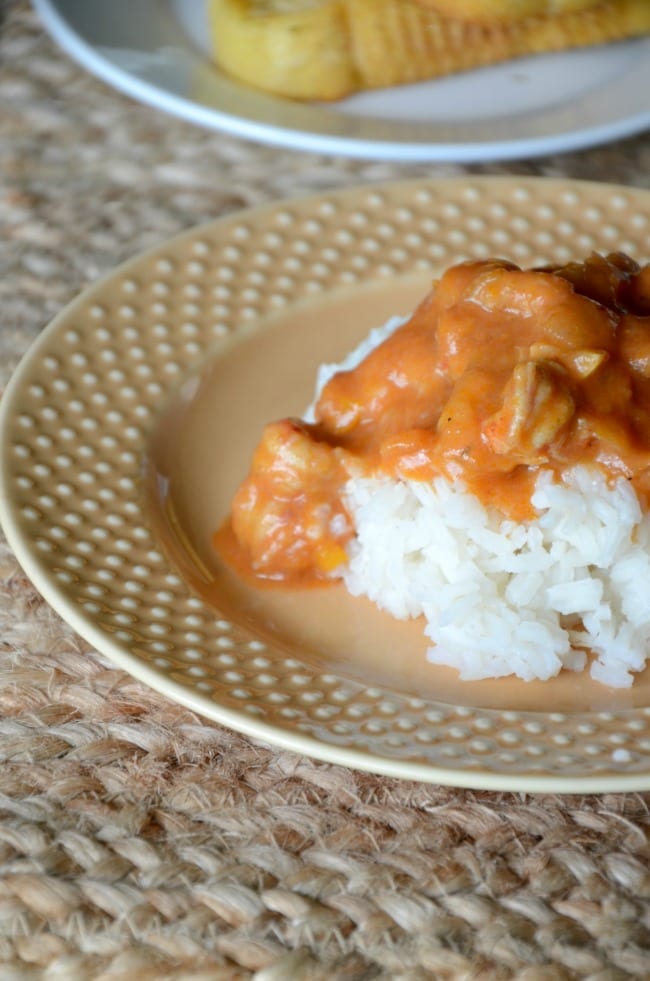 Fast forward a few years and a few kids later and nothing really grosses me out anymore. You want me to put a mini lobster head to my mouth and try and get all the meat out? Sure thing, boss. Hold my beer.
Now we have an annual crawfish boil each year for Avery's birthday. We did it last year and it was a HUGE hit so we did it again this year for his party. Even the kids love it. They get to play with the crawfish before we cook them and have fun trying to find the biggest one.
They also run around with them and try and make the crawfish pinch their friends, but ya know, it's all in good fun.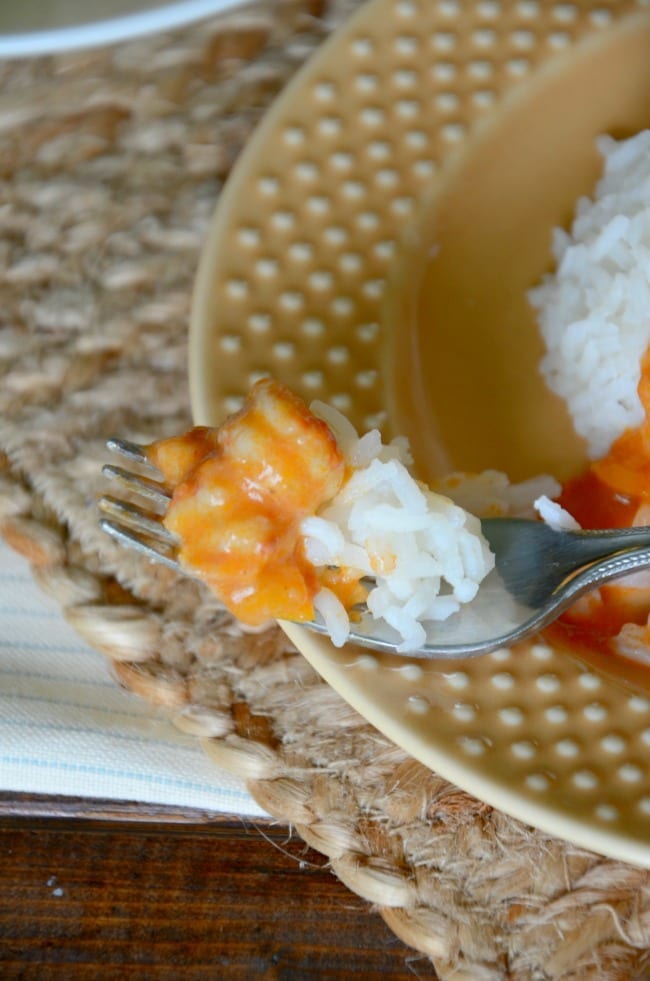 Last year we did not have any crawfish left. None. We had a few pieces of corn and that was it. This year we bought the same amount of food and had SO MUCH leftover! We ended up with 6 gallon sized bags of just the crawfish.
SIX.
We were able to send 2 home with friends but the next day we had 4 completely full bags to peel. Ryon and I sat on the back porch and peeled crawfish for a loooong time. The kids played outside, the baby napped and we peeled. And peeled.
So much crawfish yall.
The good news! Crawfish etouffee is an amazing way to use up leftover crawfish. So, so good. And it's pretty simple too. Etouffee sounds like a fancy word but it really just means smothered sauce. It's crawfish sauce. And it's delicious!
A few hints about making this easy crawfish etouffee recipe:
Yes, you do need to peel the crawfish before you make this recipe. You are going for those little pieces of tail meat. Or if you have some big clawed mud bugs you can use the claw meat too.
You can add celery to this recipe if you wish. Ryon prefers it without so we did it that way. Make your etouffee as you like!
It re-heats really well. After making and storing the etouffee it re-heats well the next day. Ryon and I both had it for lunch and it was just as tasty.
Serve it over rice, potatoes, bread. Whatever you prefer! We did rice one night and taters the next. It's all goooood.
No, you don't need a whole can of tomato paste. I know. We froze the left over and will be able to use it again.
Allow the etouffee to thicken just a bit before you remove it from the heat. It will thicken once it cools as well. If it's too thick you can add a bit of water or more stock.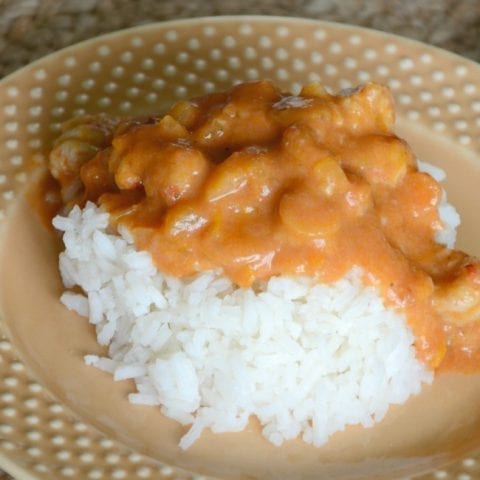 Crawfish etouffee recipe
Ingredients
1 stick of unsalted butter
1 small bell pepper, diced
1 small onion, diced
1/2 cup of carrots, diced
3 gloves of garlic, minced
4 ounces of tomato paste
5 -6 tablespoons of flour
32 ounces of chicken or vegetable stock
1 cup crawfish, cooked and peeled
1-2 teaspoons of creole seasonings (such as Zatarain's or Tony Chachere's)
Instructions
In a large sauce pan, melt the butter. Add in the bell pepper, onion, carrots and garlic. Bring to a simmer and allow to cook until the vegetables are soft and fragrant. About 15 minutes.
Stir in the tomato paste. Combine well with the butter and vegetables.
Add in the flour and combine well. Allow to cook for about a minute.
Whisk in the stock, slowly adding it in and making sure to combine it well with the other ingredients. Whisk until smooth.
Reduce heat, add in the crawfish and the spices. Allow to simmer for at least 5 minutes.
Serve over rice or potatoes.
Enjoy!
Be sure to check out these other great easy dinner recipes too: