This chocolate cheesecake pumpkin pie will be the star of any dessert table.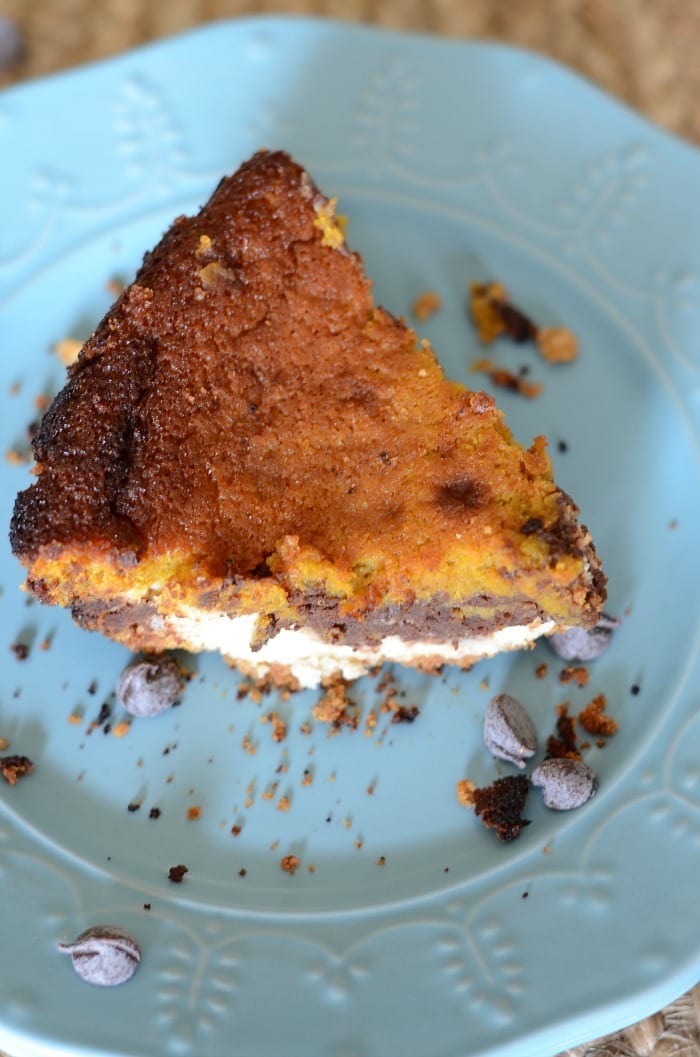 Oh this pie. Yall seriously this pie has to be the BEST pie for Thanksgiving. It's like you take all the pies at the dessert table and squish them together to make this dreaminess. I have been making this pie for 6 years now. I found the recipe in a Better Homes and Garden when Ryon and I first moved to Michigan. I thought two things when I saw it – one being that looks delicious and I must make it and two that looks delicious and I must make it to impress my future in-laws.
You see when Ryon and I first moved to Michigan I still hadn't broken out of my cooking shell. I very rarely cooked and it was mostly boxed stuff. I remember one time though we had everyone over at our apartment for pizza and game night. I made like 6 pizzas (with a roll out crust) and promptly burned at least 4 of them.
So I was determined to make this pie work for one of our first Thanksgivings together.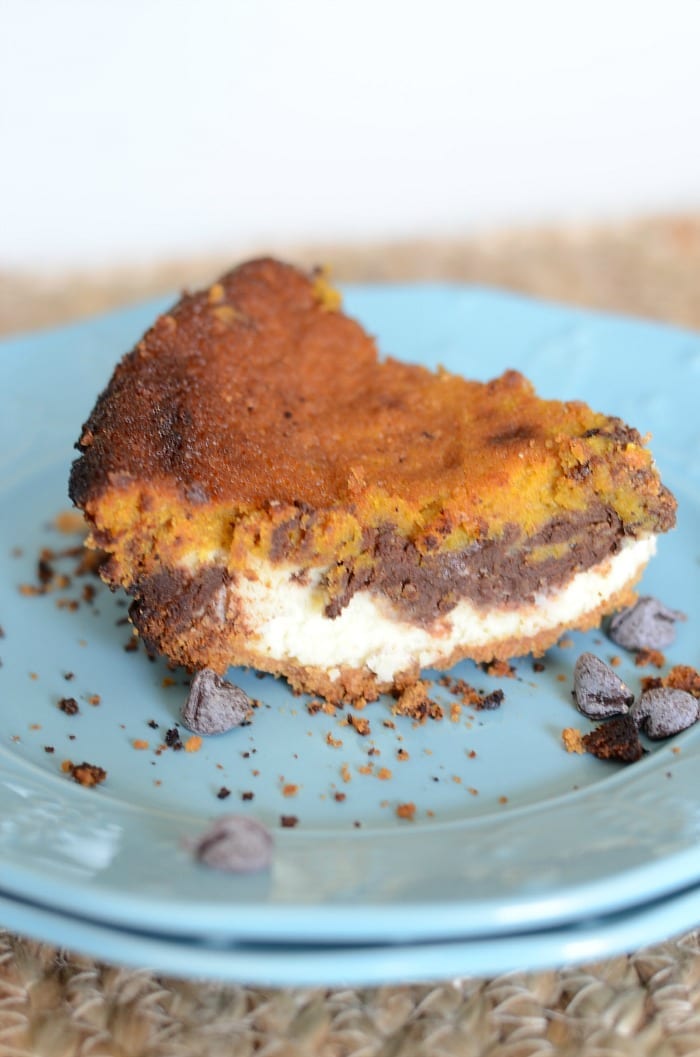 I was so nervous making this pie. I had never made a cheesecake OR a pumpkin pie before. Ever. This was my first time making both and per the recipe you make them together. I remember just worrying and telling Ryon "It doesn't look right! Why is it so jiggly??" He said no matter what happened he would eat it anyways. Such a good future husband!
Thank the sweet heavens, the pie came out perfectly. I proudly took it over to my in-laws house and showed them my beautiful pie. I don't remember their reaction but I'm sure they were impressed with my buddy baking skills. Or they thought "Thank goodness she is finally feeding our son." Either way – it was a hit!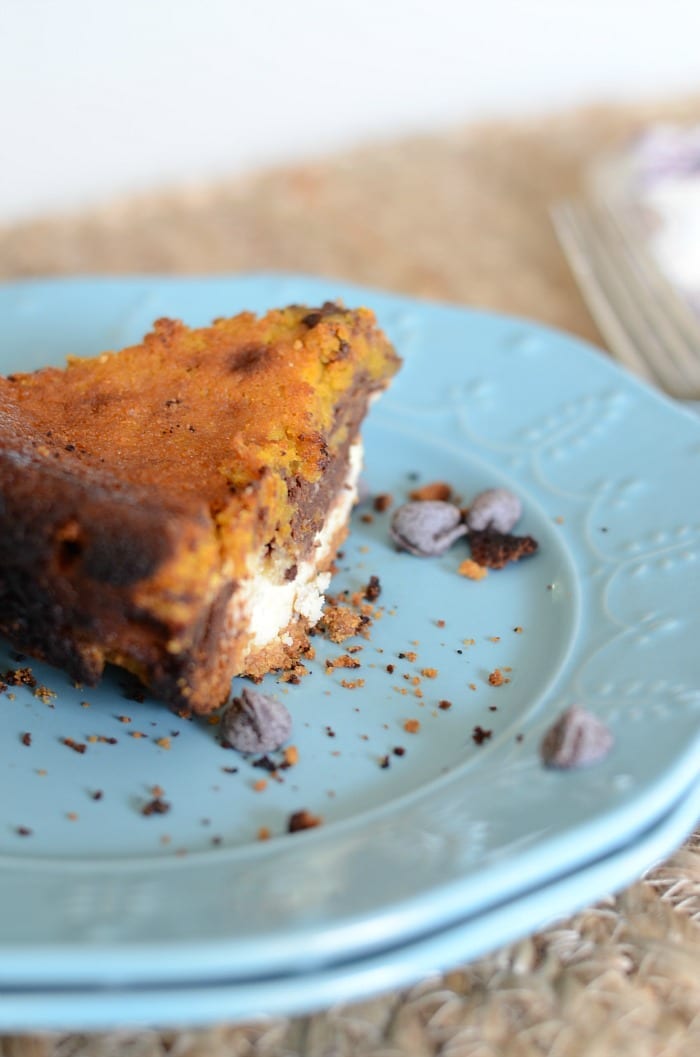 And it was delicious too! I have made this pie every Thanksgiving dinner since. It's has become my go-to Thanksgiving pie and everyone asks to make sure I'm going to bring it with me. I do. And I can remember every Thanksgiving since the first one that I have brought this pie to. The first and second were spent in Michigan with my in-laws. Then we moved back to Texas and I was able to show off my chocolate cheesecake pumpkin pie to my family.
I remember taking it to our big family Thanksgiving at my cousins house. My aunt kept asking me "What did you make? What kind of pie is that?" I can still see her face when she took that first bite. Slightly confused and then pleasantly surprised. She had two slices and declared it the best Thanksgiving pie ever!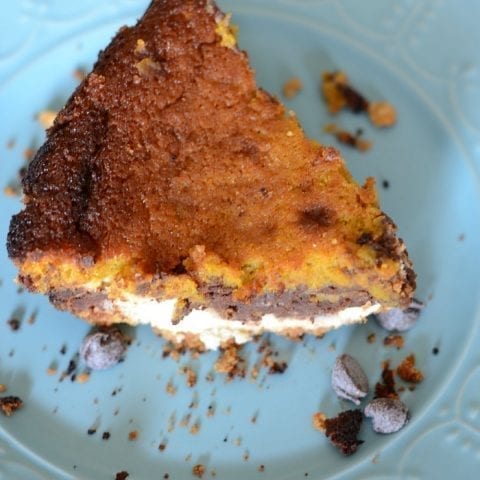 Chocolate cheesecake pumpkin pie
Ingredients
1/2 cup butter melted
2 cups graham cracker crumbs
8 oz cream cheese
1/4 cup sugar
1 egg
3/4 cup chopped chocolate chips
7.5 oz can pumpkin
2/3 cup packed brown sugar
2 teaspoons pumpkin pie spice
3 eggs
3/4 cup half and half
Instructions
Preheat the oven to 450.
Mix together the butter and graham cracker crumbs. Press them into a pie plate that has been slightly sprayed with cooking spray.
Combine the cream cheese, 1 egg and sugar. Beat until smooth. Pour it over the graham cracker crust.
Cover the cheesecake layer with your chocolate chips.
Mix pumpkin, brown sugar and pumpkin pie spice. Mix in the 3 eggs. Slowly add the half and half to the mixture.
Pour the pumpkin mixture over the chocolate chips. (You may have extra pumpkin pie mix, reserve for a separate pie or toss.)
Bake for 60 - 65 minutes or until a toothpick comes out clean from the center.
Allow to cool and enjoy!
And a big thank you to Lone Star eggs for sponsoring today's recipe! I am happy to partner with brands that I love and share them. All opinions are my own. I had posted this chocolate pumpkin cheesescake recipe WAY back in the day with horrible photos and instructions. I'm excited to share the updated recipe and photos! I hope yall enjoy!
Like this recipe? Be sure to check out: