Nothing says summer like the perfect salad!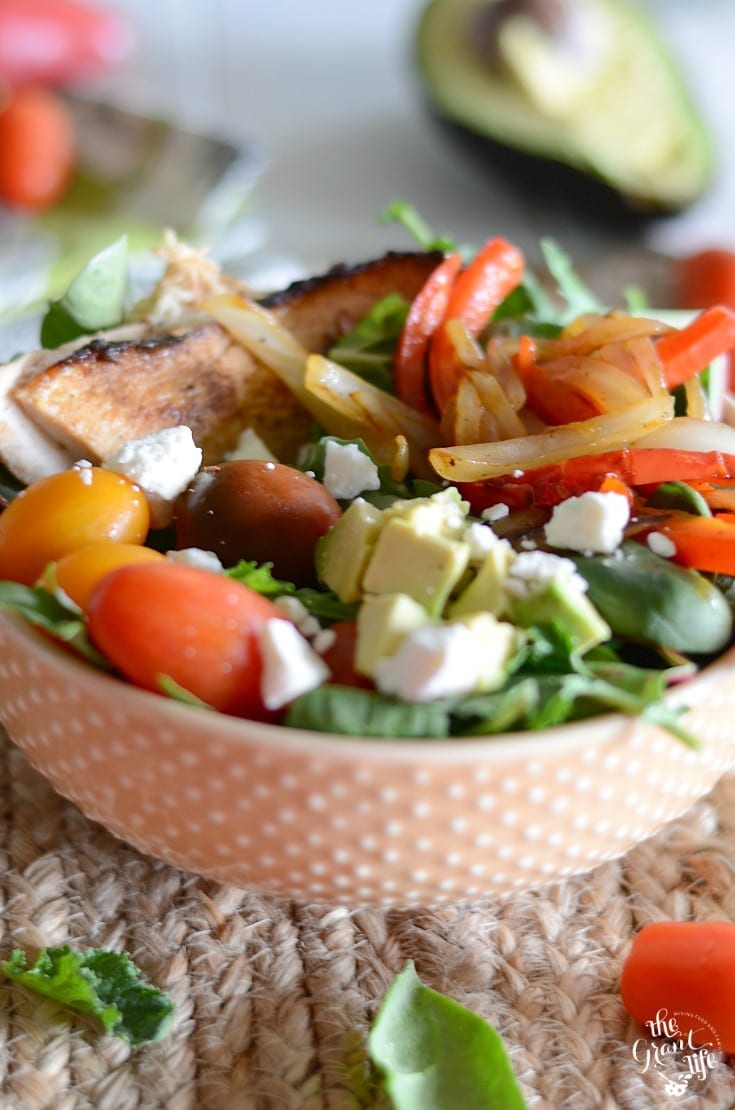 Hey friend! This salad is the brain child of having to eat leafy greens per my baby doctor. I have had low iron levels most of my pregnancy so I was instructed to eat more greens. I was taking an over the counter iron supplement and even that wasn't doing the trick. (She promised me she would never make me eat liver. Phew!) So leafy greens and a script for more iron it is!
At the time this salad was born I had eaten salads full of spinach for 3 days. I needed something NEW and of course delicious. Plus, quick. Because, duh. I'm pregnant and hungry all.the.time.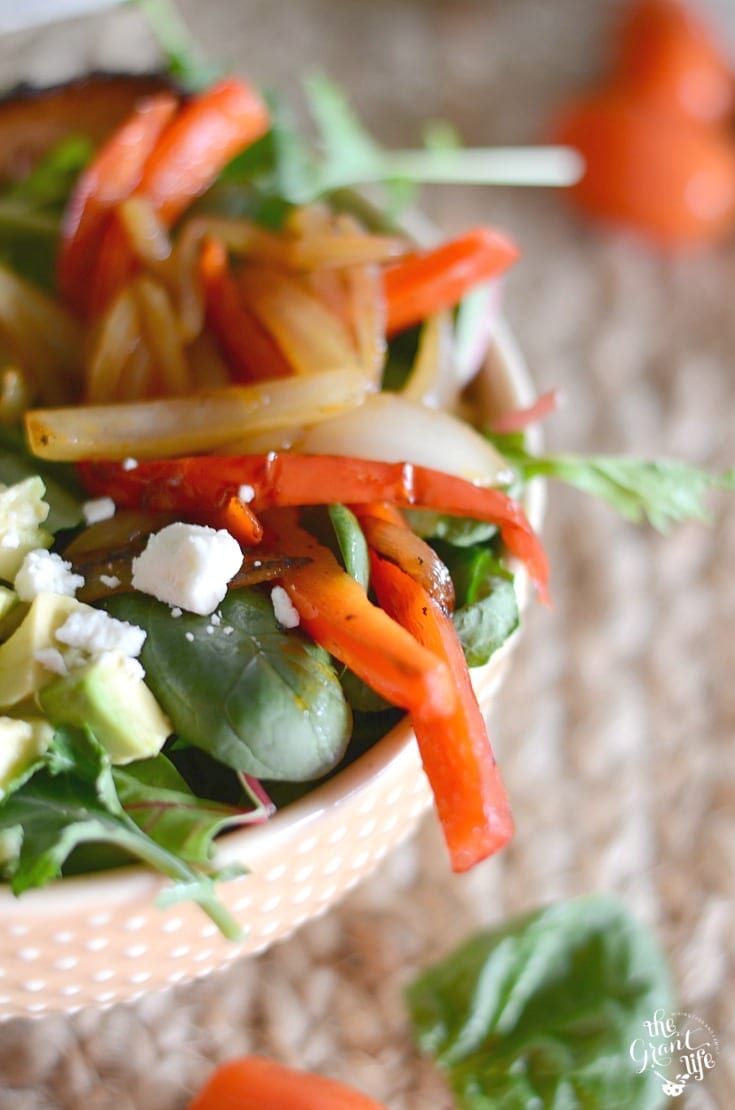 And mine was extra fast because I had leftover chicken to add to the salad. Yessss. If you don't have leftover chicken, no big deal. Just add about 10 extra minutes to this salad and you are set. If you are REALLY hangry (like me), you can even omit the chicken and still have a deliciously healthy and totally iron-y meal.
Oh the iron-y. Giggle.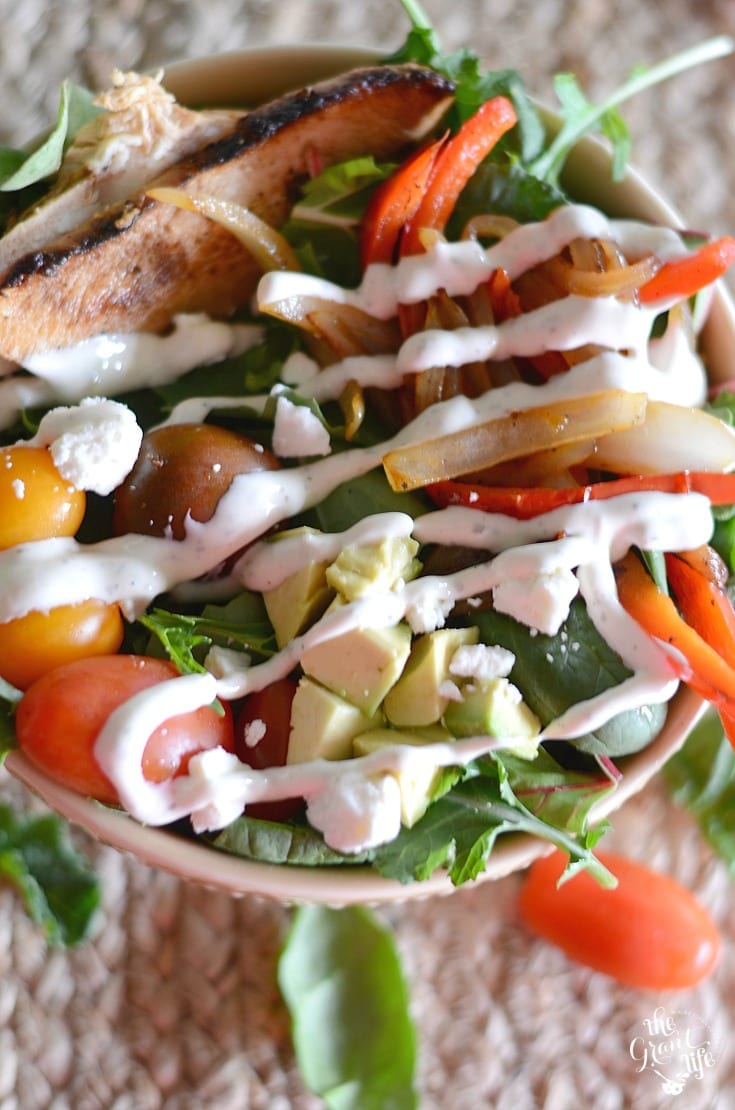 I also saved time because I used store bought dressing. Gasp! A food blogger using store bought ingredients. The horrrrror. Yup. I used Hidden Valley cilantro lime ranch to top of this chicken fajita salad. And oh my gosh – best decision ever. (And if you want a homemade version, try this one!)
I go back to my baby doctor next week and she is going to test my iron levels again. I am hoping with the addition of iron rich foods and the new iron supplement that they are back up. I will report back once I talk to her so you can see how iron-y I am. (Giggle.)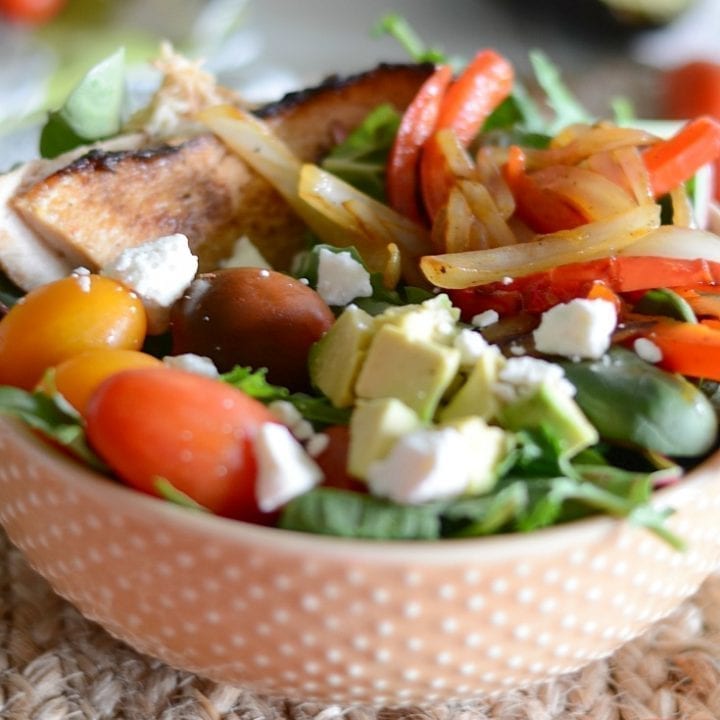 Chicken fajita salad
Ingredients
1 onion, sliced
1 bell pepper, sliced
2 tablespoons of butter
1 clove of garlic
1 avocado, diced
1 cup of tomatoes, washed and dried
1 large chicken breast, cooked and sliced
2-3 cups of spinach or mixed leafy greens
queso fresco for topping
salad dressing of choice (I used cilantro lime)
Instructions
In a large skillet, heat the butter and add the garlic. Saute for 3 minutes and then add the sliced onion and bell pepper. Cook until onion is translucent and bell pepper is soft. (Not mushy.) Remove.
In two large bowls (or one tupperware), add your lettuce. Top each bowl with tomatoes, avocado and bell pepper/onion mix.
If your chicken is cooked, add it to your salad. If you need to heat it up, toss it in the hot skillet for a minute or two on each side.
Crumble queso fresco on top and add your dressing.
Enjoy!
Like this post? Be sure to check out these other great recipes:
Like this recipe? PIN IT to your salad board!