Buttermilk crumpets, an easy homemade recipe that will warm your house and your belly!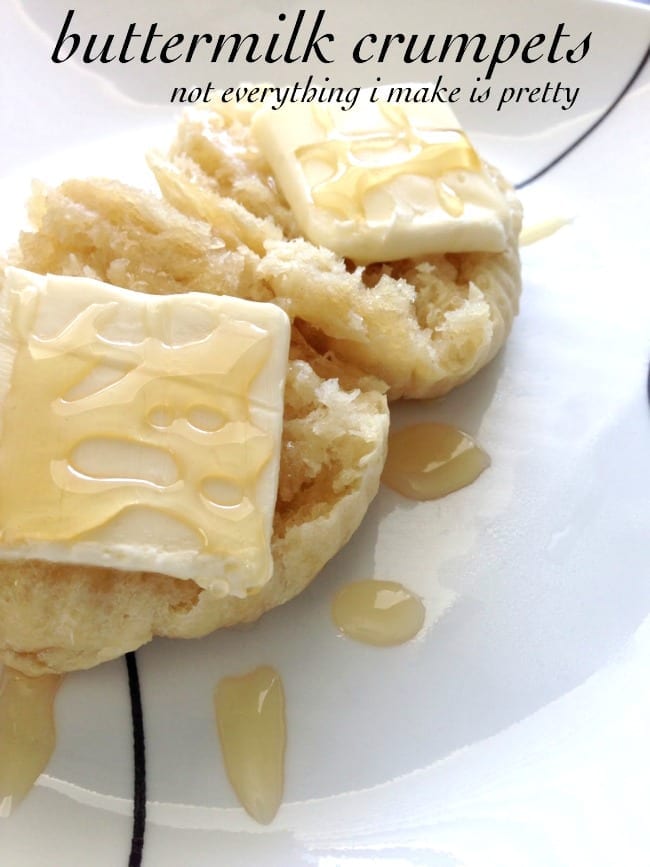 Hey yall! I have Elizabeth from Not everything I make is pretty back today to share another delicious breakfast recipe. Tomorrow is Ryley's 5th birthday so I'm busy running around getting last minute presents and cake supplies. And I'll also be in the corner crying because MY BABY IS TURNING 5! Holy cow! I'm not even sure how that happened. But while I'm busy with party prep, here are some super easy buttermilk crumpets to make everything better.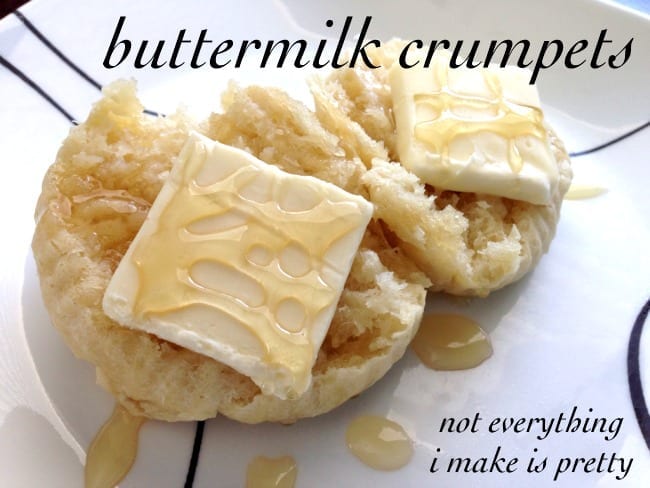 I spent a few months with my Aunt and Uncle the Summer after my Junior year of high school. My Uncle moved to Australia after college (a while ago), met a lovely woman from Tasmania, they have two kids and now three grandchildren. It may have been my summer but in Australia it was winter. School was in session and it was chilly compared to my typical California June to August.

I spent a few weeks in a local school and when I would come home in the afternoon my Aunt would put on a pot of tea. She would have toasted crumpets topped with a little butter & honey and we would eat them together while watching an Australian Soap Opera. On weekends we would explore Adelaide but I enjoyed those simple afternoons warming ourselves with tea & crumpets. I can't believe it's taken me so long make them myself. The shape wasn't uniform but none of my taste testers even took a moment to notice before the crumpets disappeared into their bellies.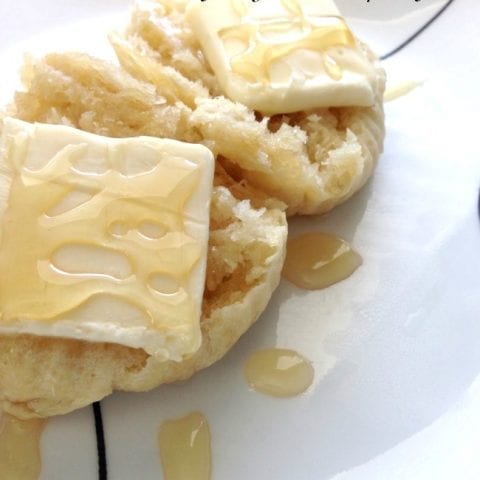 Buttermilk Crumpets
Ingredients
2 Cups Flour
2-1/2 tsp Yeast*
1/2 to 1 tsp Sugar**
1-1/2 Cups Buttermilk, Lukewarm
2 Tbsp Butter, Melted
1 tsp Salt
1 Tbsp Honey
*This is the equivalent of just under 1 Tbsp or a prepackaged packet of yeast.
** You can base this on how well things rise in your house, a little more sugar will help kick start the yeast.
Instructions
Whisk Flour, Yeast & Sugar together.
Combine Buttermilk, Butter, Salt & Honey.
Fold the wet ingredients into the dry until just combined. (Don't over-mix! It will make your batter flat and dense.)
Allow the batter to rise for at least an hour.
Scoop roughly 1/4 Cup of batter into lightly oiled silicon cupcake tins or ring molds placed on an oiled baking pan or silicon baking sheet. (So many options, basically you want to choose something that will help the crumpets hold their shape, one recipe ever recommended using mason jar lids.)
Bake at 300 degrees for 25-30 minutes, until batter is cooked thru and firm. The tops will be lightly browned.
Cut in half, top with Butter and Honey, or Jam, or Syrup, or Nutella, or Chocolate Sauce, or…. anything at all that sounds delicious.
Like this easy recipe? Be sure to check out:
And sign up for our recipe updates!