Ripe bananas and blueberries are covered by a cinnamon crumb topping in this blueberry banana bread.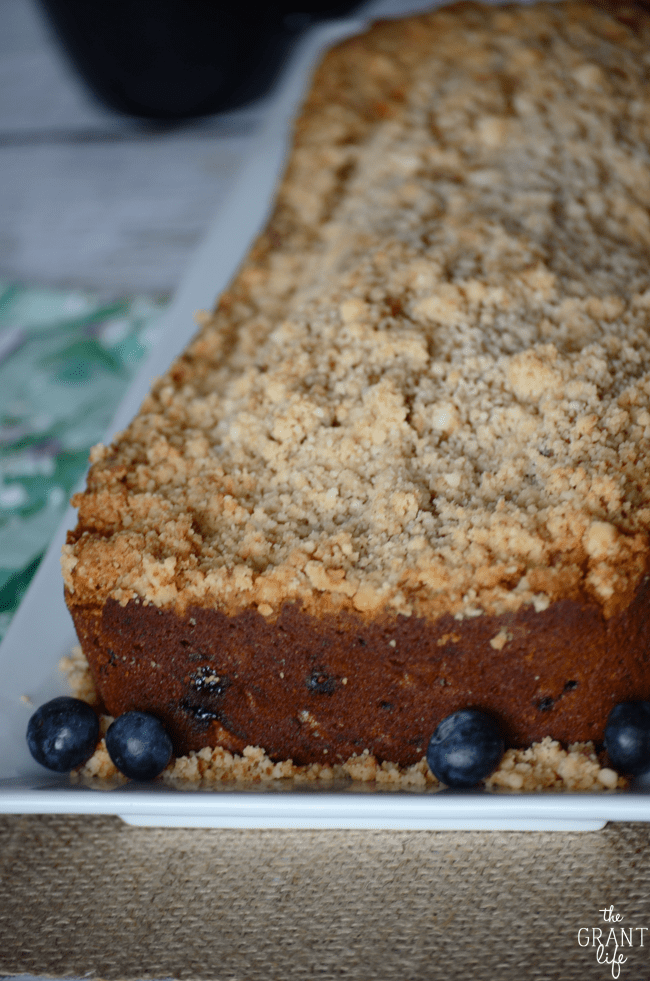 Yesterday marked day 2 of Spring break for the kiddos. It also marked the second pajama and movie day at the Grant house as well. For some reason I thought I would be all kinds of productive while the kids were out of school this week. I even planned a few crafts and some recipes for us to do. I'm here to tell you that pretty much none of that has happened.
I did however binge watch the full first season of the Unbreakable Kimmy Schmidt with Avery. So I'll count that as a win.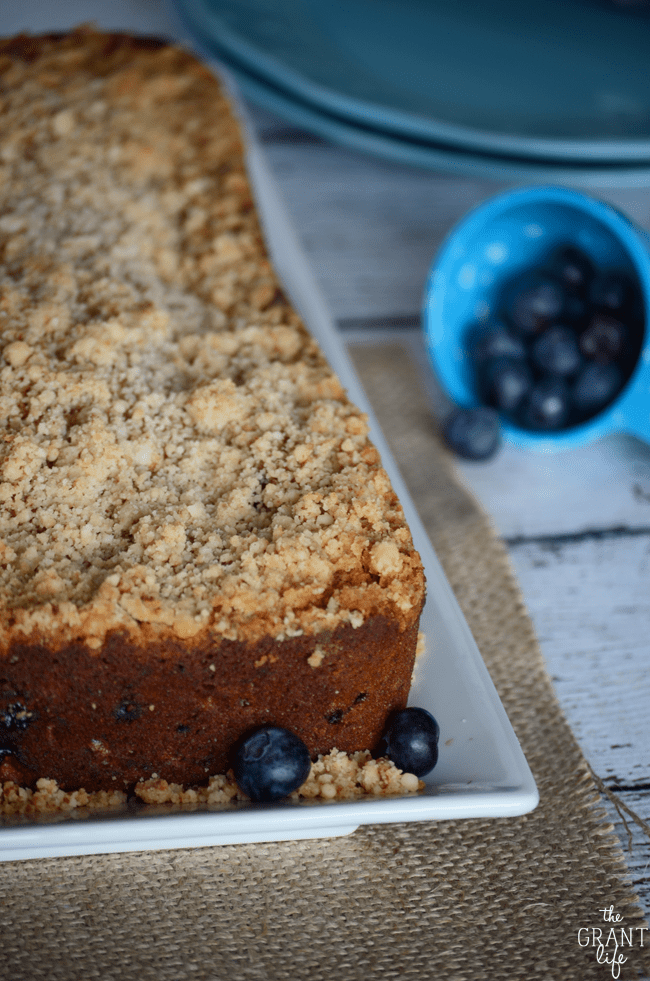 Ryley asked me "Are we going to school today?" I said no, not today. You would have thought I told her all her Shopkins disappeared. She was super bummed that she had to spend another day away from school. She doesn't understand yet that Spring break is a whole week. I don't have the heart to tell her that part yet.
She just keeps naming all her friends in class between watching cartoons and torturing her brother.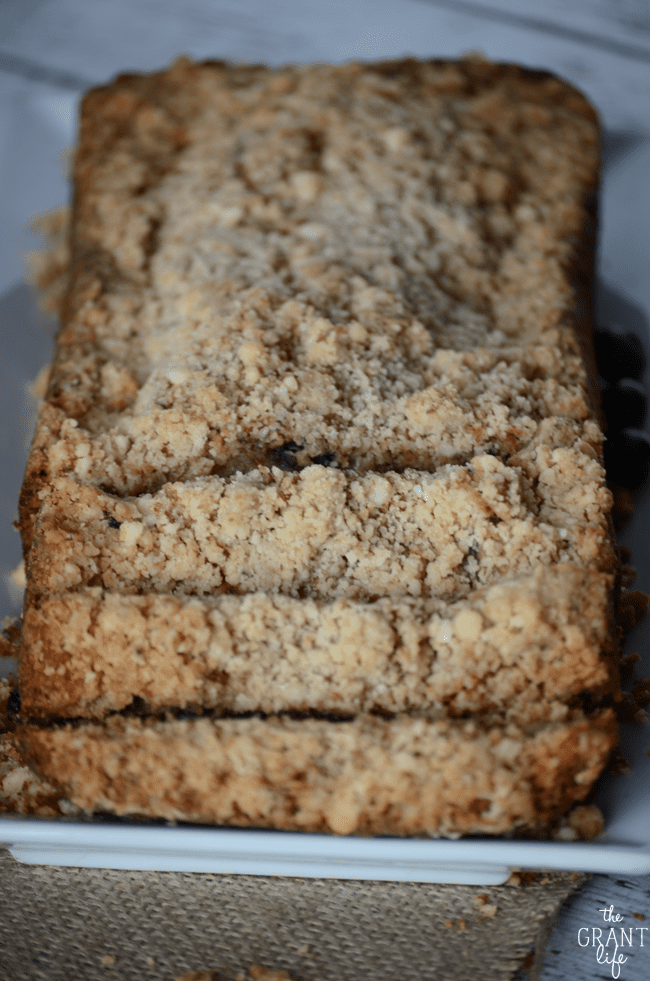 I know it's silly but I didn't realize how much we all got used to our little routine. And by routine I mean wake up late, brush the kids teeth/hair, and toss them breakfast as we are walking out the door sometimes without shoes. (cough Avery cough). I'm not a morning person so we tend to toe the line on being on time and late in to school most days. I just assumed that I would still be as productive during the week minus the rush of getting everyone out the door.
That's totally not the case at all.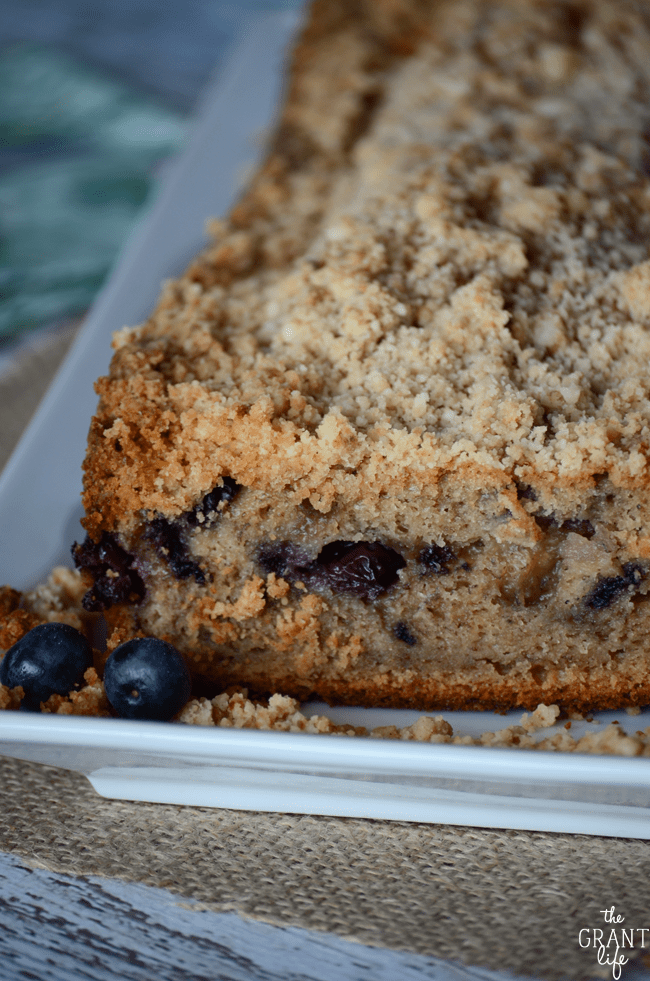 Not having to wake up at a certain time has just made us all lazier and groggier. If that is even possible. I'm actually looking forward to getting back into our crazy morning routines next week. I mean, I'll have to wear real pants again, but at least I might have some hope of being productive.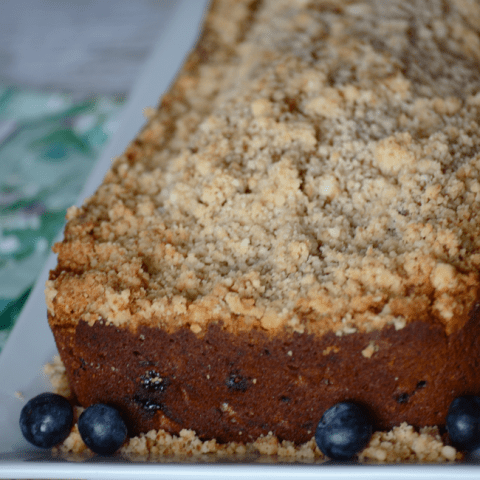 Blueberry Banana Bread
Ingredients
1 cup mashed bananas
1/2 cup vegetable oil
1/2 cup plain yogurt
2 eggs
1 teaspoon vanilla
1 1/2 cup flour
1 cup sugar
1 teaspoon baking powder
1/2 teaspoon salt
1/2 teaspoon baking soda
1 cup blueberries
For the crumb topping:
½ cup powdered sugar
½ cup flour
4 tablespoons butter, melted
½ teaspoon cinnamon
Instructions
Preheat the oven to 350 and prepare a loaf pan with cooking spray.
Mix together the mash bananas, vegetable oil, yogurt, eggs and vanilla until smooth-ish.
In another bowl whisk together the flour, sugar, baking powder, baking soda and the salt.
Fold the wet ingredients into the dry ingredients and pour into the prepared loaf pan.
Mix together the powdered sugar, flour, melted butter and cinnamon for the crumb topping using a fork or your fingers.
Sprinkle the topping over the batter.
Bake for 1 hour, or until a toothpick comes out clean.
Let cool for 1 hour before removing from the pan.
Enjoy!
Like this easy bread recipe? Be sure to check out:
And sign up for our recipe updates!