Looking for menu inspiration? We've got you covered!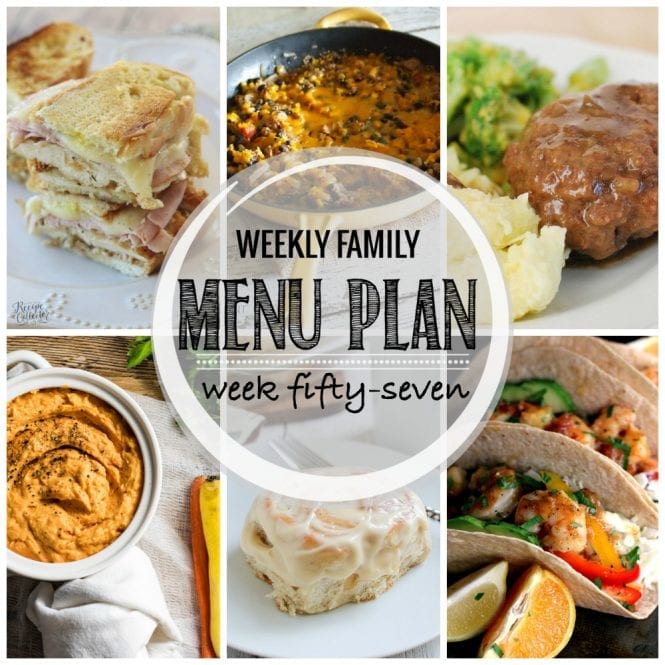 Hey friend! I have been in a daze the past week. Ryder is going through his 6 week growth spurt and holy cow, boy likes to eat. He nursed all day long the past week. Plus he pretty much boycotts naps during the day. Thank goodness he is such a good night time sleeper! He goes for a few 4 hour stretches at night and we both totally need that sleep.
Although I have been soaking up the extra nursing cuddles, I wasn't able to get much done last week. At first I was frustrated. And then I felt bad for being frustrated. I took a deep breath and said "Self, if you get ONE thing on your to-do list done each day you are doing fantastic." I gave myself a much needed pep talk and calmed down.
Sometimes the only thing on my list that gets done is "make dinner" or "laundry" but that's ok. Things are a lot slower with little man always on my hip but I LOVE IT. I absolutely love having a baby in the house again and a constant companion. Not that the older two aren't always on top of me as well. I constantly have a troupe of 3 kiddos where ever I go. And most of the time everyone gets along. Either way I wouldn't change it for the world.
Onto the menu!
Main dish – Chicken Cordon Bleu panini
Main dish – Rosemary citrus shrimp tacos
Main dish – Slow cooker Salisbury steak
Main dish – Chipotle quinoa skillet
Side – Roasted garlic mashed potatoes and carrots
Dessert – Pumpkin cheesecake skillet brownies
Snack/Appetizer – Oven baked pickle chips
Breakfast – Caramel apple cinnamon rolls
And the free >> grocery list<< to with this weeks menu.