Do you know what the easiest part of creating recipes is? Eating them. Closely followed by making said recipe. The hardest part? Photographing it and writing a story to go with it. Sometimes the stories come as natural as the recipe and sometimes I have a hard time saying anything. This southwest pizza recipe? Easy. Finding the right words to convey that? Hard. Doing it anyways? Priceless. [Just kidding, but it sounded good, huh?]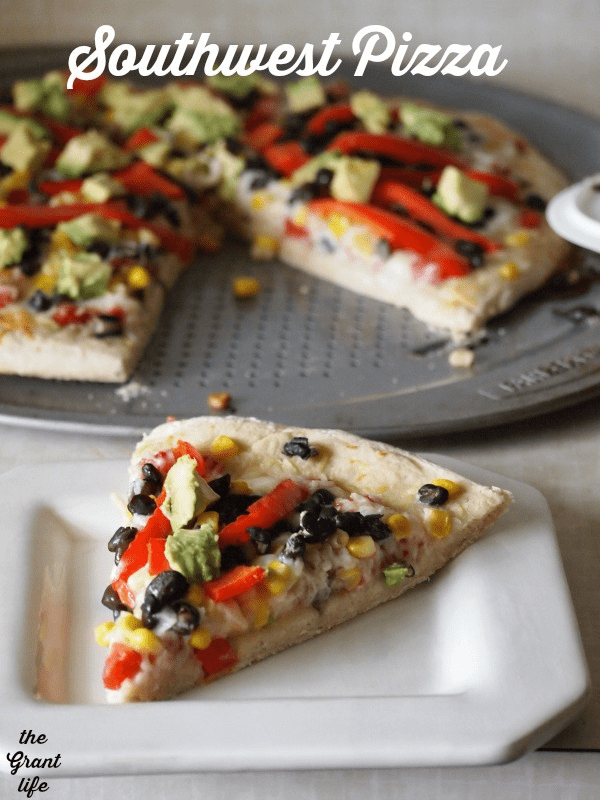 The problem with writing is that I create the recipes in advance. When I first started blogging I literally would do a craft or make a recipe and write it up real quick and hit publish. The same day! It was stressful and crazy to say the least. Now, I create recipes in days, sometimes weeks before I actually post them. It's easier to stay on top of things that way, but the witty banter or cute story doesn't always come so easy.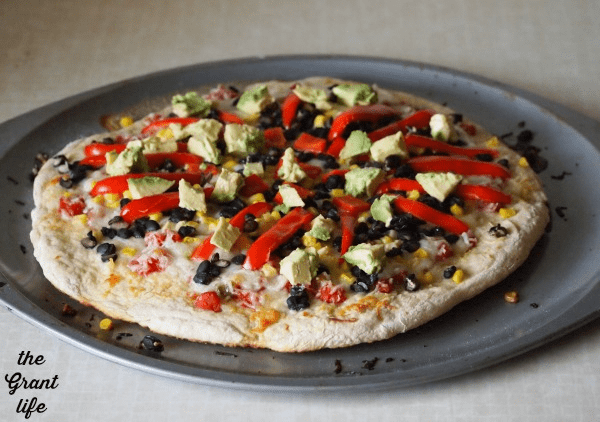 So what was going on the day I made this southwest pizza? Well I remember the kids were in school and I was hungry. I looked in the fridge and saw a red bell pepper that I needed to use and half a can of black beans. The rest of the pizza just came together. I used the same ingredients I've used for most of my chipotle dishes so I knew it would be tasty.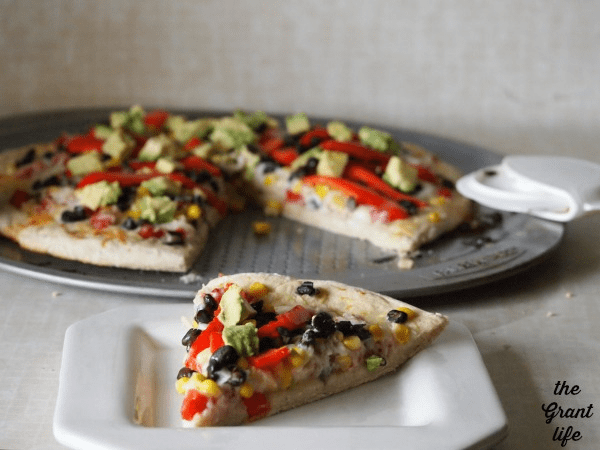 Nothing really exciting about that. The pizza was good. [really good] but I ate it alone in her quiet and saved the leftovers for dinner. Nope, nothing exciting at all. Just another day in the Grant life.
To make this pizza start with my basic pizza dough recipe. [You can add basil or any other herbs, but the dough recipe stays the same.]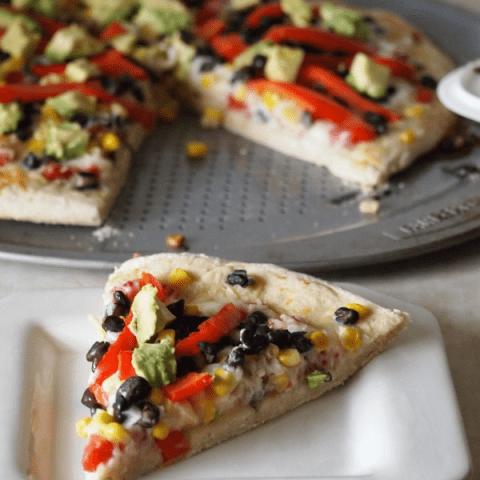 Southwest Pizza
Ingredients
Homemade or premade pizza dough
1 bell pepper, chopped
1/2 can of black beans
1/2 can of chipotle or southwest corn
1/2 of an avocado, cubed
1-2 cups of cheese
1 tablespoon of olive oil
Instructions
Prepare the dough.
Preheat oven to 400.
Spread the olive on the dough.
Add the cheese and put the toppings on top. [Except the avocado]
Bake for about 15 minutes, or until the crust is golden brown and the cheese is all melted.
Let cool.
Top with avocados and enjoy!
Nutrition Information:
Amount Per Serving:
Calories:

1140
Cholesterol:

178mg
Sodium:

1612mg
Carbohydrates:

37g
Fiber:

10g
Sugar:

10g
Protein:

48g
Like this recipe? Be sure to check out:
And sign up for our emails and have tasty recipes delivered right to your inbox!