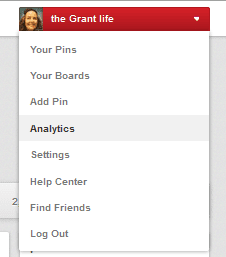 Once you're verified you will see 'Analytics' under your profile picture.  It will bring you to the analytics page for your site.

And this is where the fun happens!  You can see:
Pins – average of pins from your site
Pinners – average of people who pin from your site
Repins – average numbers of pins that were repinned
Repinners – average number of people who repinned
Impressions – average times your pins appear on Pinterest feed, search results or on a board
Reach – average number of people that saw your pin
Clicks – number of clicks that came from Pinterest to your site
Visitors – number of people that visited your site from Pinterest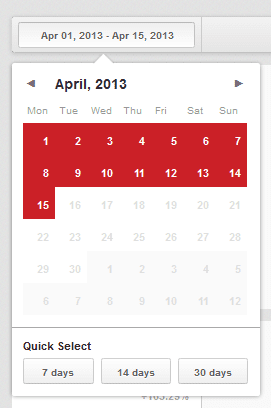 You can do this daily or click on the date and do blank blank or a seven day period.  So if most of your Pinterest comes on Tuesday at 8 PM, then that's the time you want your pins to be front and center for your followers.  Use the analytics to be decide your pinning strategy. 

Next, click one of the tabs up top to find out your most popular pins.  My most popular pins are my 100 avocado recipes, my tutorial on starting a vegetable garden and my.  What does that mean to me though?  It means that people love avocados as much as I do and want to know more about gardening.  I can take this information and write a post (or a series of posts) about both topics.  Then pin/repin my posts on Tuesday at 8PM and everyone is happy. 

Analytics is such a great new feature for businesses and brands on Pinterest.  It can show us when to pin, what to write and what not to write.  [That post that we thought would go viral and only has 3 pins?  Ya that one.]
Have you tried out analytics?  What do you love about it?