These mummy rice krispie pops are easy to make and everyone will love them! [Adults included!]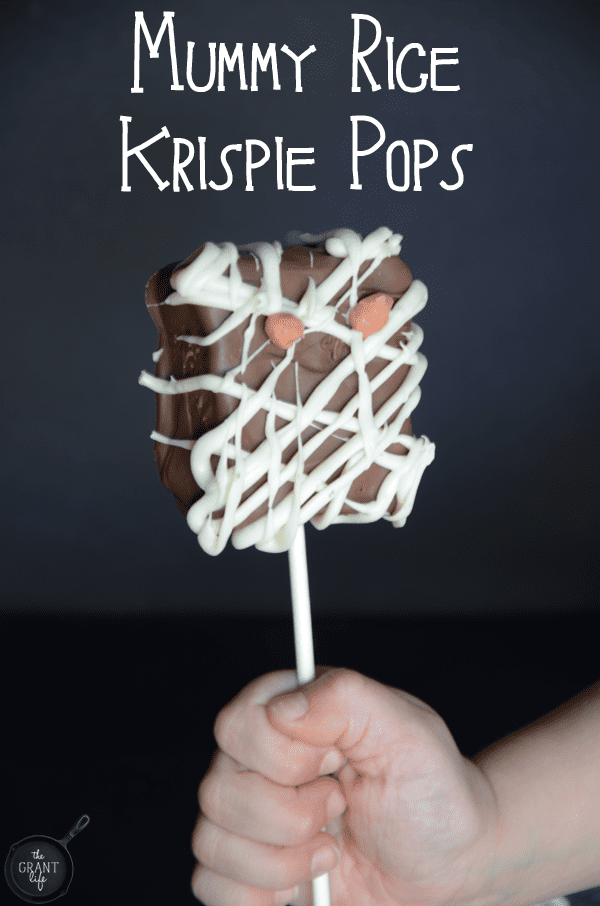 I feel like I should tell you – that I'm "one of those moms". The let's eat organic, no soda, no food coloring type of mom.
Well, before you look at these rice krispie pops and say "yea right", I try to be that mom. Food coloring is my arch nemesis. And my kids just love it. It's everywhere and in everything. I cringe every time they pick up a brightly colored cereal. You can't really explain to a 3 or 4 year old that the cereal with a funny cartoon character on it, isn't as good for them as they think.
Well you can. They just choose not to listen.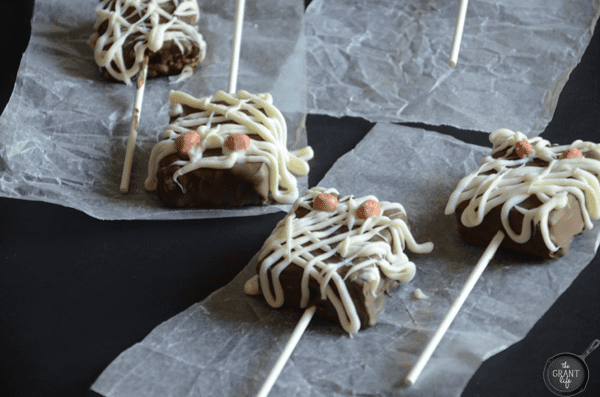 And I'm not trying to preach to anyone or tell you whats right and wrong for your family. For us, artificial colors and dyes just isn't for us. It wasn't always like that. The kids picked any cereal they wanted and drank the brightly colored drinks. And after they did, I was able to immediately see a change in their behavior.
They would run around like wild banshees after eating anything that contained artificial food color. Followed by a crash period where they were inconsolable and kind of mean. I didn't like it.
So we started reading ingredient labels and anything with Red no. 40 or yellow no. 6 was put back on the shelf.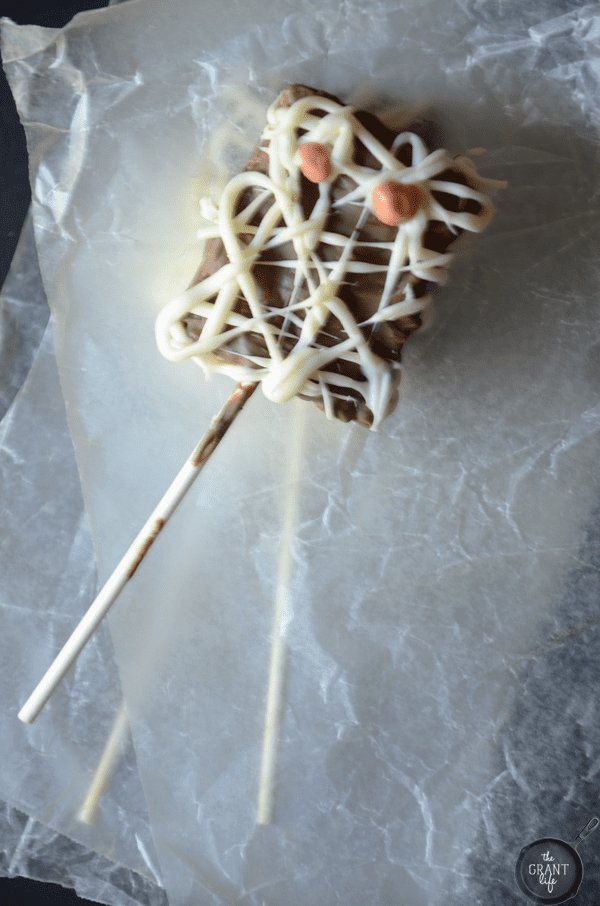 And at first I felt bad. I wanted the kids to be able to have the food they wanted. I wondered if I would ever be able to make them a fun colored birthday cake without artificial food coloring. I sort of looked into natural food coloring but then let it slide.
I ran into Sprouts one afternoon and stumbled upon this Color Garden natural food coloring. I was ecstatic! Seriously, Ryon was wondering why I was so excited about food coloring. But I was!
I scooped it up and have had it in the pantry for a few months, waiting to be used. I pulled it out to make the eyes on the mummy rice krispie pops.
Can I just say that it was torture to make these pops while the kids were home? They wanted to grab at them every five seconds. (One also has a bite mark on the corner from a certain 3 year old turkey.) I kept telling the kids they could have one after I took pictures. Because you know, I'm one of those moms.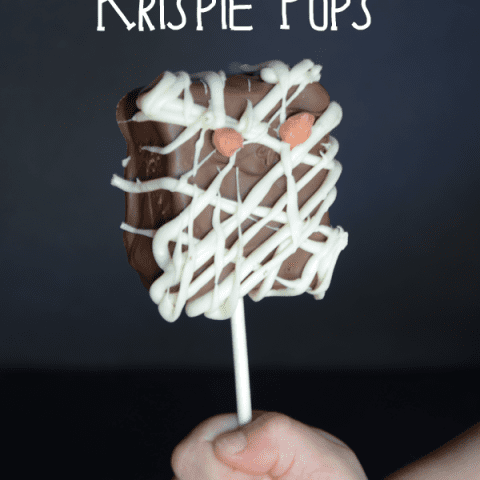 Mummy Rice Krispie Pops
Ingredients
4-5 Rice Krispie Treats, unwrapped
4 bars of chocolate bark (approx. 5 oz each)
4 bars of white chocolate bark
few drops of red food coloring
cake pop sticks
Instructions
Melt the chocolate bark in the microwave or in a double boiler. If using the microwave, cook for 30 seconds, stir, cook for another 30 seconds and stir. Continue until the chocolate is smooth.
Dip a cake pop stick into the chocolate and insert in the bottom of a rice krispie treat. Allow to cool.
Then cover the entire rice krispie treat in chocolate, set aside and allow to cool.
Meanwhile, melt the while chocolate.
You can either place it in a frosting bag, plain plastic baggie or drizzle with a spoon. I placed mine in a plastic baggie and cut off the tip.
Drizzle the white chocolate all over the chocolate covered rice krispie treat.
While the white chocolate is still wet, mix a little red coloring with some leftover white chocolate. (I used a little chocolate left in my bowl and it was starting to harden so it was perfect.)
Roll into balls and place them on as eyes.
Allow to cool and enjoy!
Notes
All natural plant based food coloring - http://amzn.to/ZreZaI
Nutrition Information:
Amount Per Serving:
Calories:

6559
Cholesterol:

100mg
Sodium:

3215mg
Carbohydrates:

971g
Fiber:

19g
Sugar:

584g
Protein:

90g
Be sure to check out: