Hey yall! Welcome to week 2 of the Learning to blog series. And thank you for the positive feedback from last week's post on getting started! It's nice to see so many people interested in starting their own blogs. Don't forget to join our Facebook group so you can join in the conversation with us! Ok, on to today's topic – picking a name!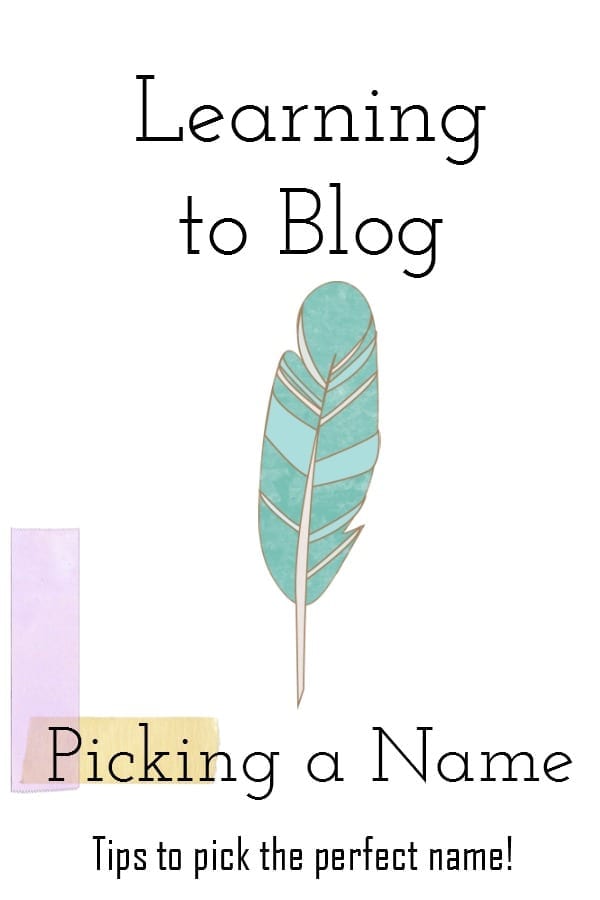 I feel like the name of your blog is almost as important as the content you choose to write about. It sets a picture in peoples minds on what you expect when they come to your site. No pressure, right?!
I spent a lot of time in the beginning thinking about my blog name. I had a handful of names and I tossed them around for 2 weeks or so. I asked my husband what he thought, I asked my mom, I asked anyone who would listen really. Which was smart because I avoided some names that I thought were great but didn't convey my topic properly. In the end I went with the Grant life, and almost 4 years later I'm still happy with it!
The name of your blog is almost as important as the content you choose to write about
Like I just mentioned, I spent a lot of time thinking about my name – and you should too! Think about it, toss around a few names and ask for opinions. I would suggest giving yourself at least a week before you settle on one. (Unless you have a totally awesome name and then in that case, ignore me and go with your awesome name!)
I know a few people that have changed names multiple times in their blogging journey. It happens. People change topics they want to blog about or they are just wanting to start something new. Either way, when you change your blog name you have to switch over URLs, blog designs and social media accounts. It's a lot of work to change over everything! I'm not saying this to scare you – I'm hoping to help avoid some frustration down the line.
So how do you pick the perfect name? Here are some tips to get you started:
Make it unique. – There are millions of blogs out there and probably hundreds of thousands in the niche you are writing about. So how do you stand out? With a unique name and content. Make it something that reflects you or what you will be writing about. Things not to do – find a blog you really like and make a play on their name. Or copy their name completely and just change the .com to a .net or something of that nature. Not cool and not unique.
Make sure its available. – Do a quick Google search to see if the blog name you are thinking about is taken. Check social media and then see if the domain URL is available. (If you plan on having your own custom domain.) It would stink to fall in love with a name only to find out a week later, it's taken! Do the research up front and see what's out there.
Think long term. – There are a lot of fads that come and go and that can be reflected in some blog names. Once the fad is over the name seems irrelevant and out of date. Make sure you think long term when you are considering your blog name. Think 2 or even 3 years down the line. It will save you from having to change it later!
Think it over. – Like I mentioned, give yourself some time to mull over your new name. If you are serious about blogging, then you have to be serious about a big part of your blog. Ask friends and family and give yourself a week or two before you decide.
Sounds pretty easy, right? Now it's time for some homework! The fun kind though.
Week 2 Homework – write down 10 different names that you are considering. Add new ones to the list or delete ones that don't work or are taken already. Try and come up with a name you think will work long term and do a quick search to see if its taken.
One other tip – buy a blog notebook. Its great for brainstorming posts and ideas that you think you will remember but don't. (Maybe that's just me?!) I have a small one I keep in my purse and two or three big ones at the house. They really help!
Ok so next week I'll do a quick tutorial on how to register your domain and social media accounts! Want more blogging tips? Be sure to sign up for our emails and have them sent to your inbox! And don't forget to join or Learning to Blog group!