If you are new to James Avery jewelry or you are an old collector of their pieces, you are sure to find something for mom here. Let me share with you my favorite James Avery gifts for mom.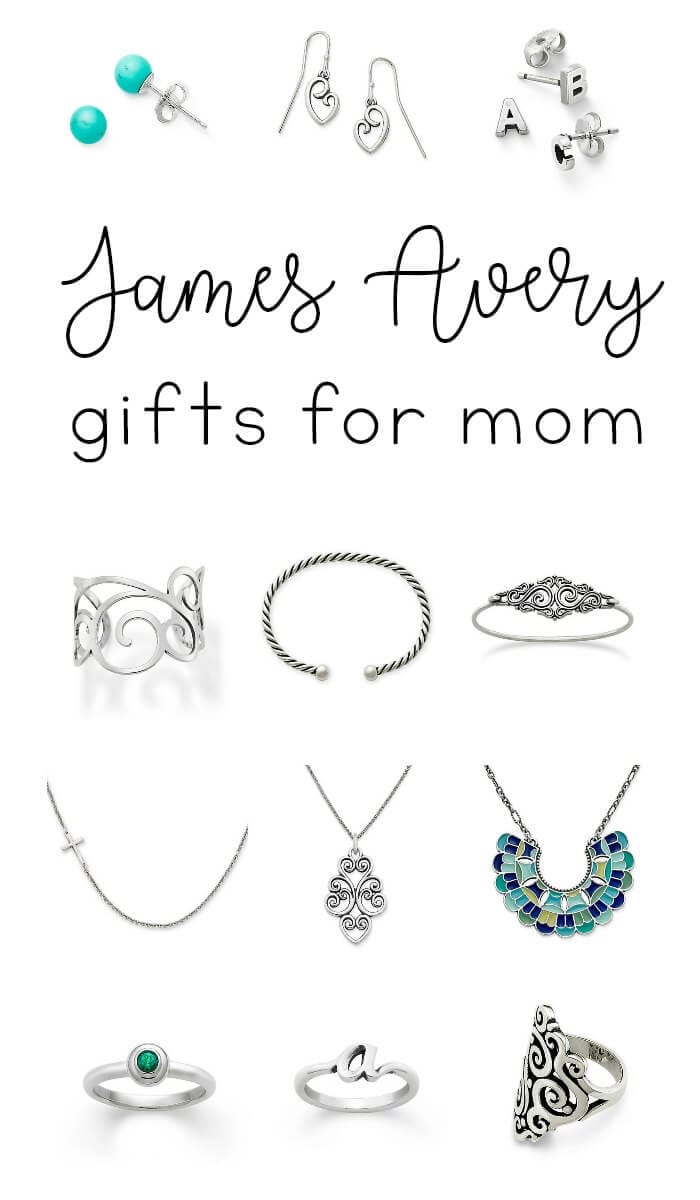 For years I have been a fan of James Avery jewelry. Before we were married and had kids, when I was still a youngin' myself, I was in love with James Avery. I remember just walking into the store to browse with my friends and just staring at all the beautiful jewelry in the cases.
When we got married, our wedding bands were from James Avery. After we had each one of our babies I was gifted a new remembrance ring for them. When I want to celebrate the special people in my life, I buy them James Avery. I always have and always will be a James Avery fanatic.
I want to share with you my favorite James Avery gifts for mom. They have a whole Mother's Love line that is amazing, but they also have some other great pieces that mom is sure to love. I've broken my favorite pieces into categories and shared a little bit on why I love them.


Earrings for mom
Single initial post earrings – Mom will love these tiny little initial post earrings! Pick what the letters for her or let her choose.
Turquoise ear posts – These have become my every day earrings! They are so delicate and pretty, but easy enough to be wore day to day.
Mother's love dangle earrings – The Mother's Love collection includes these beautiful dangle earrings. Grab these and start her own Mother's Love collection today!
Joy of my heart ear posts – Another fun way to honor mom is with these Joy of my Heart earrings.
Heart strings ear posts – Mom will love these heart string post earrings. They are great to wear everyday or to dress up when she goes out.


Rings for mom
Stack-able remembrance rings – I am so IN LOVE with these stack-able rings! You can add as many as you would like together, the styling possibilities are endless. James Avery also has a great remembrance collection with other great pieces too.
Script initial ring – These are awesome because you can stack them too! You can even mix and match the initial rings with the remembrance rings!
Mother's Love ring – This is the ring my momma bought me after I had my first baby! Just thinking about it brings back so many memories from when Ryley was born. I love wearing this beautiful ring.
Victorian beaded band – This ring is so dainty and beautiful. Ryon bought me one for our upcoming ten year anniversary! I love how light it is and the beaded detail.
Long Sorrento ring – If you are looking for a bigger ring that can still be worn everyday, this one is it! My best friend in college had one and she wore it every day. It's big and makes a statement.


Bracelets for mom
Twisted wire cuff bangle – I love how simple yet striking this bangle bracelet is. The details are just awesome.
Petite infinity bracelet – I can tell that this light weight infinity bracelet will be your moms new favorite!
Sorrento hook on bracelet – This beautiful bracelet matches the Sorrento ring mentioned above. It is so pretty and can be dressed up for a night out or worn day to day.
Cascade cuff bracelet – This bracelet is definitely a dress up type of jewelry. It's perfect for wearing out to dinner or to a girls night out.
Classic charm bracelet – Or you can buy mom a charm bracelet and start adding charms for each holiday! The great thing about James Avery is that they add the charms on themselves and will fix them whenever you need!


Necklaces for mom
Changeable charm holder necklace – If you do want to start buying charms for your mom, get her this necklace! She can change out the charm on it whenever she wants.
Horizon cross necklace – Your mom would be super trendy with this cross necklace. It is very light and perfect for every day wear.
Mother's Love pendant – Of course I have to recommend the necklace I got my mom last Valentine's Day! This pendant is huge and such a sweet gift. (Just FYI – the chain is separate.)
Jubilant heart pendant – Another beautiful necklace that mom is sure to love! This heart scroll is one that mom will cherish.
Enamel byzantine necklace – Bring out the big guns with this over the top enamel statement necklace! The beautiful details are sure to make mom smile.
Want more gift ideas for mom? Check out: