Easy to make and perfect for a crowd, these Italian steak kebabs are a family favorite!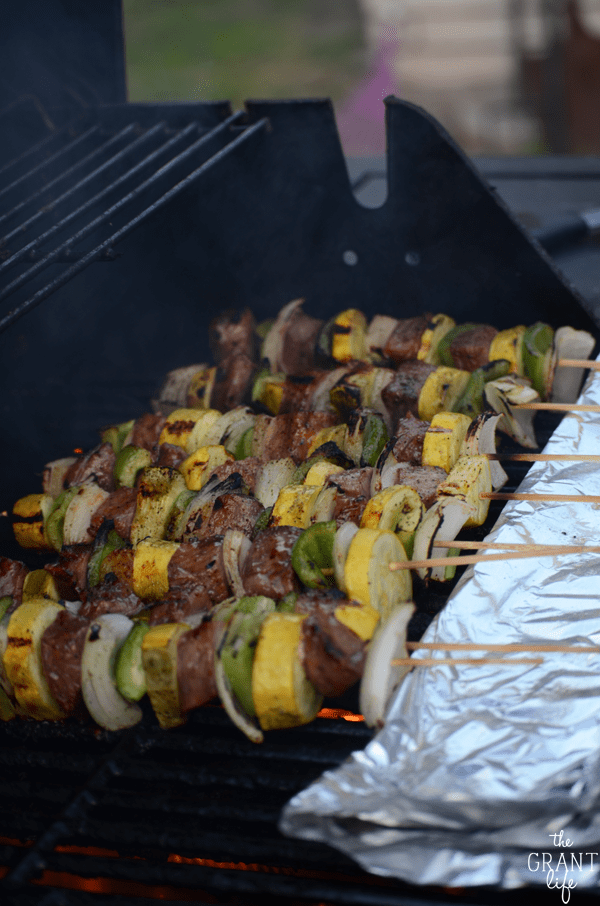 I know what you're thinking – its a little cold to be thinking about grilling, Kelley. In most places that is a true statement. In South Texas – not so much. We keep our grill outside, uncovered, all year round. We do steaks and chicken and even kebabs most weekends. Even the "winter" ones.
Side note – kebabs or kebobs? I feel like I say kebobs but kebabs is the correct spelling. Kebabs makes me think of Barbara Streisand. Babs. Ke-baaaabs. Yea. Ill stop now.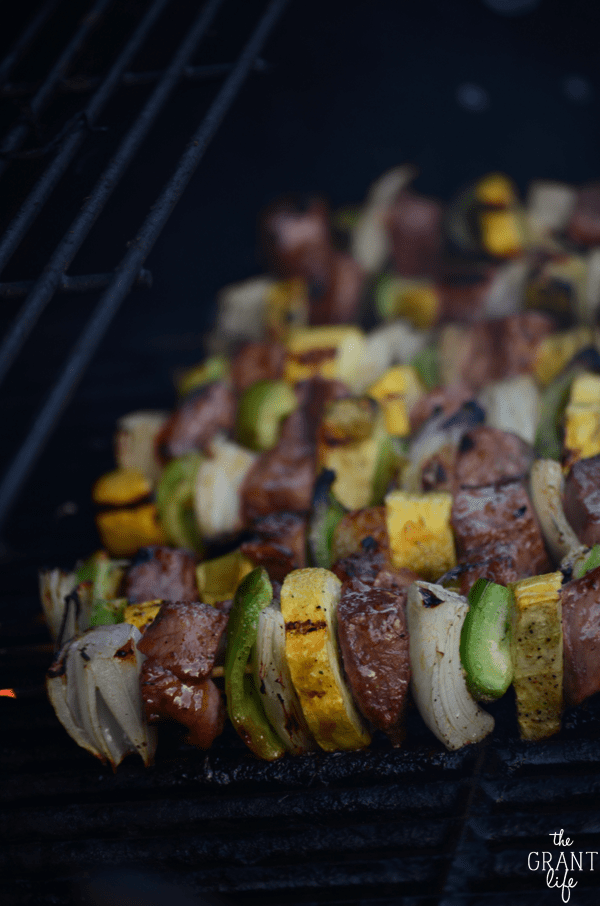 Funny story – Ryon and my dad have the same grill. A few years ago I took my dad with me to help me buy a new grill for Ryon for Father's Day. It was on sale and was a really nice grill. [Don't ask me the brand now.. I couldn't tell you to save my life.] We got the last one and there was a huge hole in the box. I made sure that the hole didn't mean dented or scratched metal and loaded it up in the truck.
I paid first and then had the guys at the store load it up. Is what I should have said.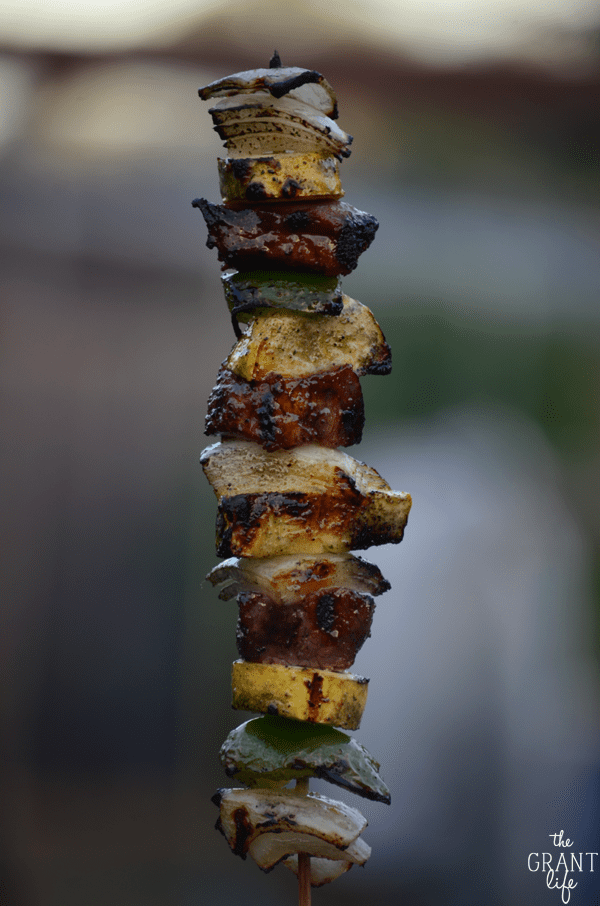 Turns out my dad really liked the grill and needed a new one. Guess which one he picked? The same one that we had just bought for Ryon. So they are grill twinsies now. [Don't tell them I said that, I'm sure guys don't appreciate that kind stuff.]
We actually use the grill at parents house more then we use the one at our place though. My brother moved to California about a year ago and needed to sell his huge smoker pit before they left. Our friend said he'd buy it so one weekend Ryon drove to Dallas to help my brother pack and came back home with the smoker. [Such a good guy that Ryon Grant!] The pit now sits at our house and we fire it up for big events and birthday parties and such.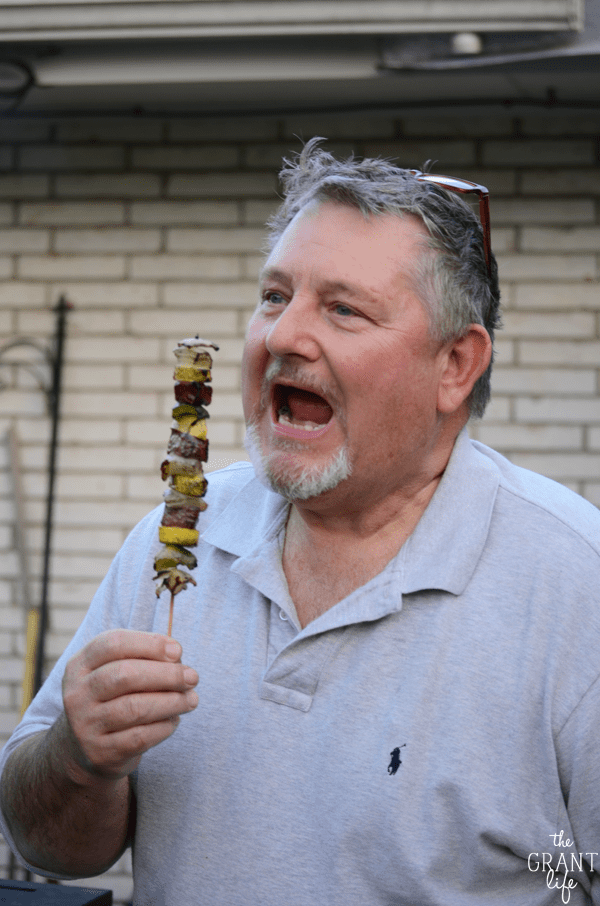 Yes, that's my father. Please don't tell my mom I put this picture of him up – she'll probably cringe with embarrassment. But he wanted a picture with the kebab so I obliged. Plus, he was the one who made them so I figured it was only fair.
This has also been the first year in 3 years that we haven't been in Michigan around this time. I downloaded the Timehop app and it keeps showing me pictures of the kids in the snow up there. Gah, I miss it. Even though we are able to grill year round down here – I love the change of seasons. And the snow. Yes, I even like the snow.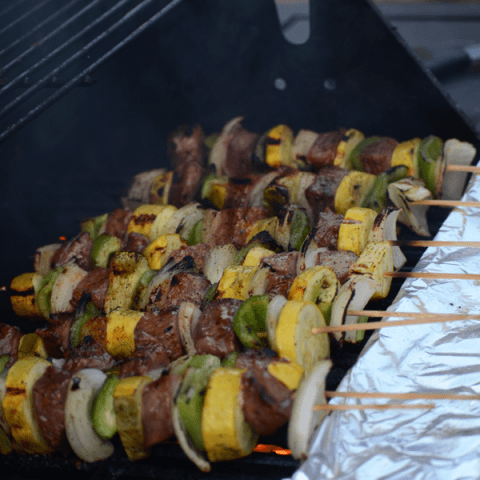 Italian Steak Kebabs
Ingredients
2 cups Italian dressing
1-2 pounds cubed steak
2 yellow squash, chopped
1 large onion, chopped
1 green bell pepper, chopped
salt and pepper to taste
Instructions
Pour the Italian dressing in a dish and add the steak. Allow to marinate for a few hours - or overnight in the fridge.
Layer your steak cubes, squash, onion and bell pepper onto bamboo skewers.
Sprinkle with salt and pepper.
Place on a hot grill and let cook for 10-15 minutes.
Flip and cook on the other side for another 10-15 minutes.
Remove from grill, allow to cool and enjoy!
Notes
Feel free to use any vegetables you like!
Nutrition Information:
Amount Per Serving:
Calories:

2723
Cholesterol:

531mg
Sodium:

5337mg
Carbohydrates:

70g
Fiber:

5g
Sugar:

48g
Protein:

194g
Like this recipe? Be sure to check out: