Make these individual apple crisps for a party or as a quick weeknight dessert!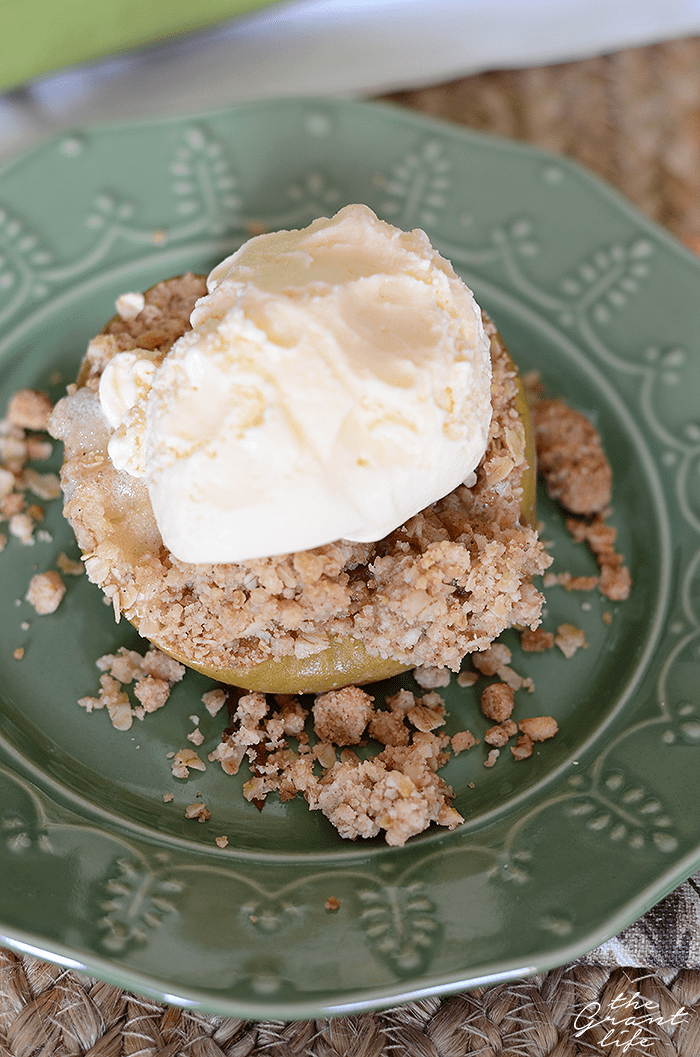 Remember that one time that we had 8 puppies? Well now we have.. SEVEN! One of my friends adopted one of our pups this week. Yaassss! A few weeks ago I had a puppy open house and invited my friends over. I may have bribed them with food and stinky puppy kisses.
Whatever works, right?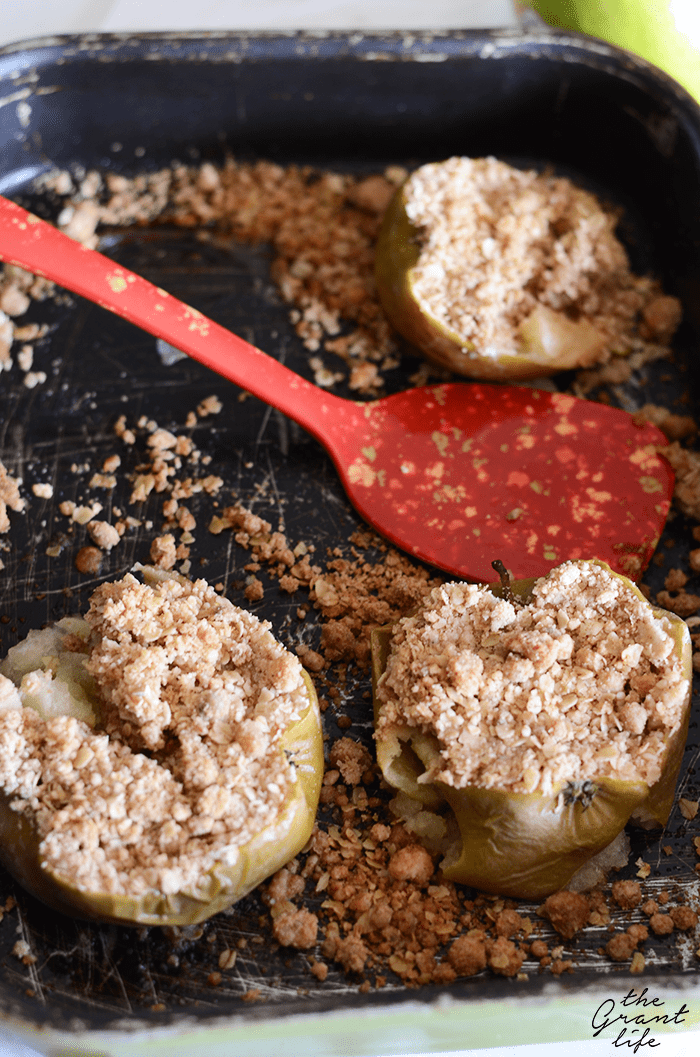 One of my friends said they liked one of the girls who we had been calling Ginger. I went over to their house yesterday and I maybe kinda sorta brought Ginger with me. Just to see if she got along with their other dog. Pinky swear. I was ok with taking her back home with me to the pile-o-puppies.
But she got along great with their other dog. She was a little clingy but she ventured through out the house and finally took a puppy nap on some dirty socks she found. Ahhh home sweet home Ginger.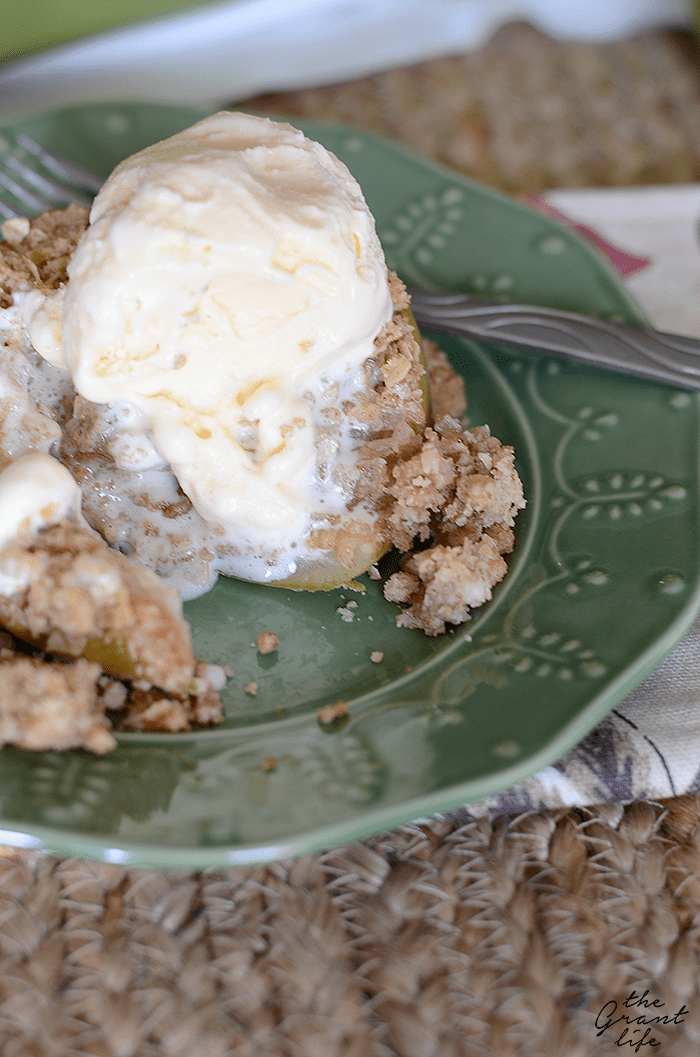 They decided they wanted to keep her! Hooooray! I am so happy that she has such a good home. My friend has two little girls who love all over her and other animals to play with. I'm sure she'll miss her brothers and sisters here but she gets all the cuddles now.
On the way home Ryley started crying. She didn't want to leave Ginger, she loved her she said. About broke my momma heart. I tried to explain to her that she went to a good home, we could visit her and there was NO WAY we could keep all the puppies. She finally came around to the idea and made me promise we could visit.
Ok sweetie. We can visit. I may have to bring over desserts like these individual apple crisps though. People don't really let you barge into their house just to see a puppy. That's ok – these crisps are super easy to make and perfect for bribing your way into someone's house. I think. I haven't tried yet. I will keep you updated on that last part.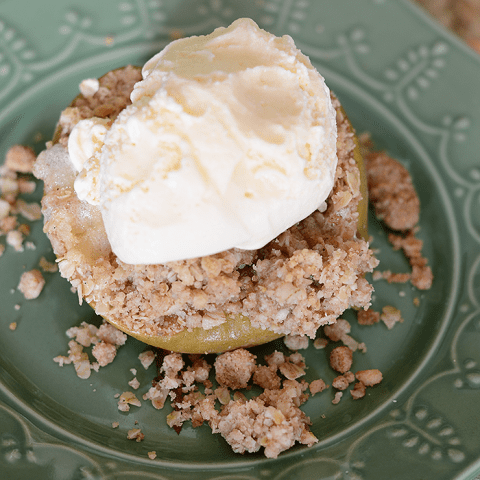 Individual apple crisps
Ingredients
2 large apples (I used Granny Smiths)
1/4 cup powdered sugar
1/4 cup flour
2 tablespoons butter, melted
1/4 teaspoon cinnamon
4 teaspoons of butter, softened
Instructions
Preheat the oven to 350 and spray and baking dish with cooking spray.
Slice the apples in half and scoop out the center. Scoop out about a baseball size portion but leave it thick enough to hold the crumble.
To make the crumble mix the powdered sugar, flour, melted butter and cinnamon together. Roll between your fingers to make larger crumble pieces.
Add about 1 teaspoon of butter to the bottom of the hollowed out apples and then cover them with crumble.
Bake for 25-30 minutes or until the apples are soft and the crumble turning slightly brown.
Remove, allow to cool, covered with ice cream and enjoy!
Like this post? Be sure to check out: