These cookie dough bites are gluten free and are the perfect way to satisfy your sweet tooth.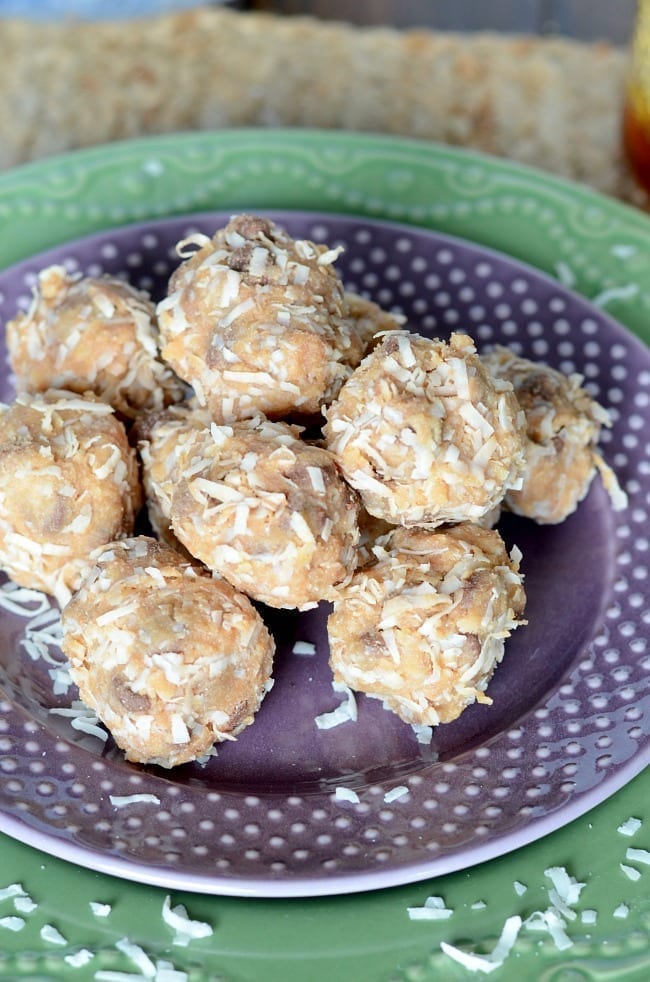 Let me tell you how these gluten free cookie dough bites came about. I am one of those weird people that like to grocery shop. I enjoy making a list to keep me on track but I also enjoy browsing every aisle to see if there is something new. Or on sale. I especially like finding new things on sale at the grocery store. That's the best.
I found these chocolate chip cookie dough bites while shopping one day and I was hooked. They were gluten free, paleo, vegan and non-GMO. I loved them so much I decided to recreate them at home so I could have them all the time.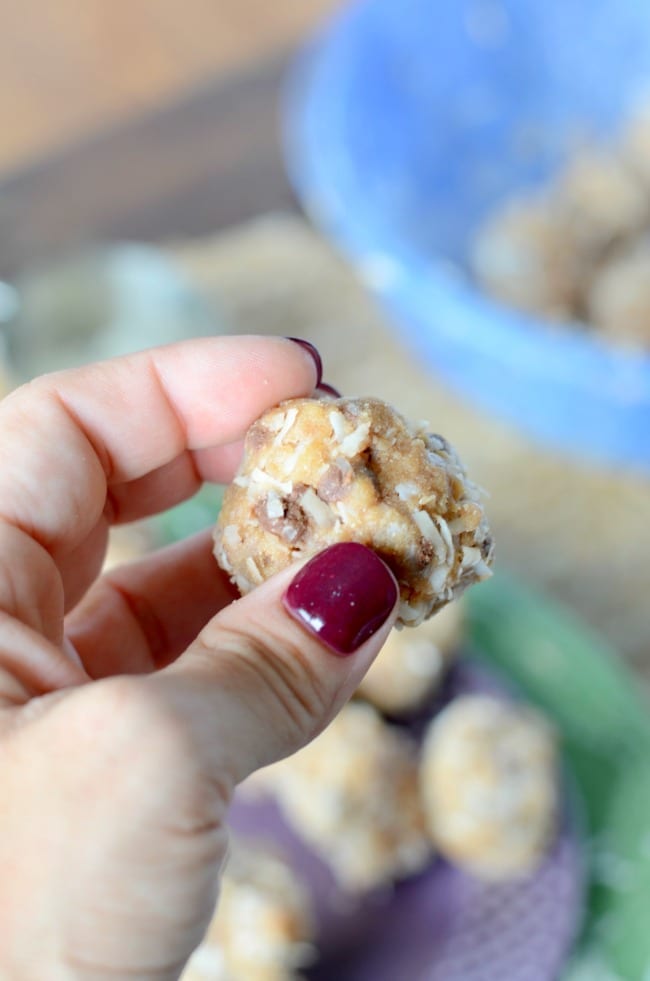 Gluten free cookie dough bites
A few months ago I went gluten free. My Crohns had been acting up and I decided to remove gluten from my diet to see if it helped. It has helped out so much so I have stayed gluten free even after I started to feel better. I found that I enjoy finding new gluten free products to try at home so when I found these cookie dough bites I excited.
The thing is – I wanted them all the time! They are that good! A quick look at the ingredients revealed that I had almost everything I needed to make them at home.
What you need to make cookie dough bites
The great thing about these bites is that they have pretty common ingredients. I didn't have to go to specialty store or anything. To make your own cookie dough bites you will need:
honey
vanilla
chocolate chips
salt
I used coconut flour to make my bites but almond flour works just as well. These are two great gluten free flours that I always have in my pantry. I have also used Krusteaz gluten free flour and it worked really well. Feel free to test out your favorite gluten free flour for these cookie dough bites!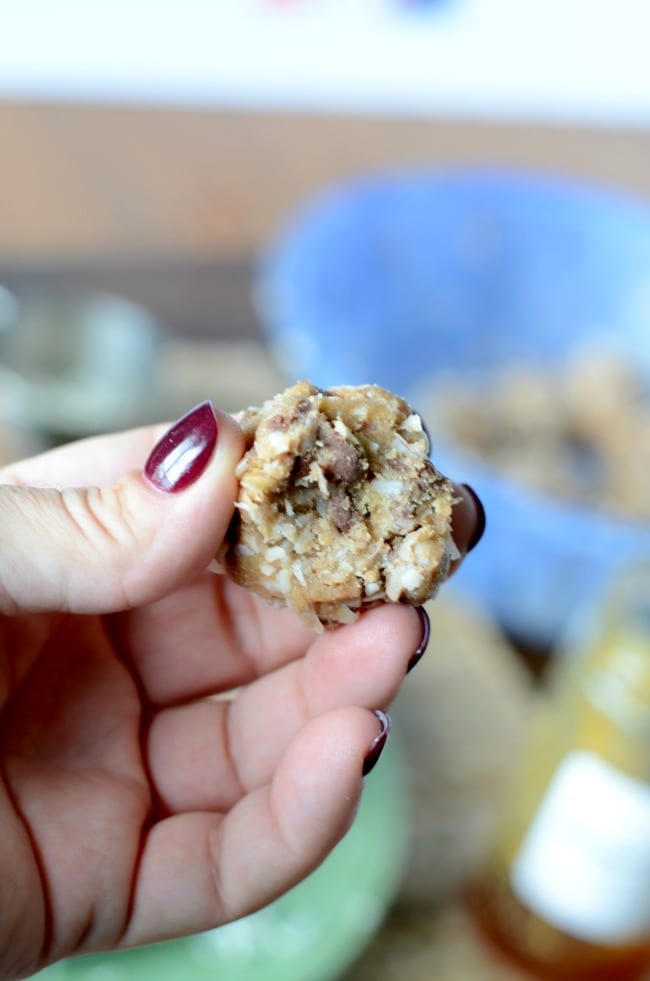 Cookie dough bites
Since these bites are full of good for you ingredients they are great to have on hand for:
breakfast
lunches
snacks
desserts
After I make a batch of cookie dough bites, I keep them in the fridge for easy snacking. My kiddos loves grabbing one of these for a quick snack or a healthier dessert at night.
Cookie dough lactation bites
These would also make a great snack for nursing moms. They already have coconut which is a natural milk booster and ground flax seed and brewers yeast can easily be added to the bites. Just make sure the brewers yeast you choose is gluten free if you want to keep these bites wheat free. Oat mama has a great brewers yeast that supports a healthy milk supply for breastfeeding mamas.
If you want to turn these into lactation bites, add a tablespoon of brewers yeast and 2 tablespoons of ground flax seed to the recipe. I would also suggest using dark chocolate chips as those help with milk supply as well. Everything else in the recipe is the same. Easy peasy!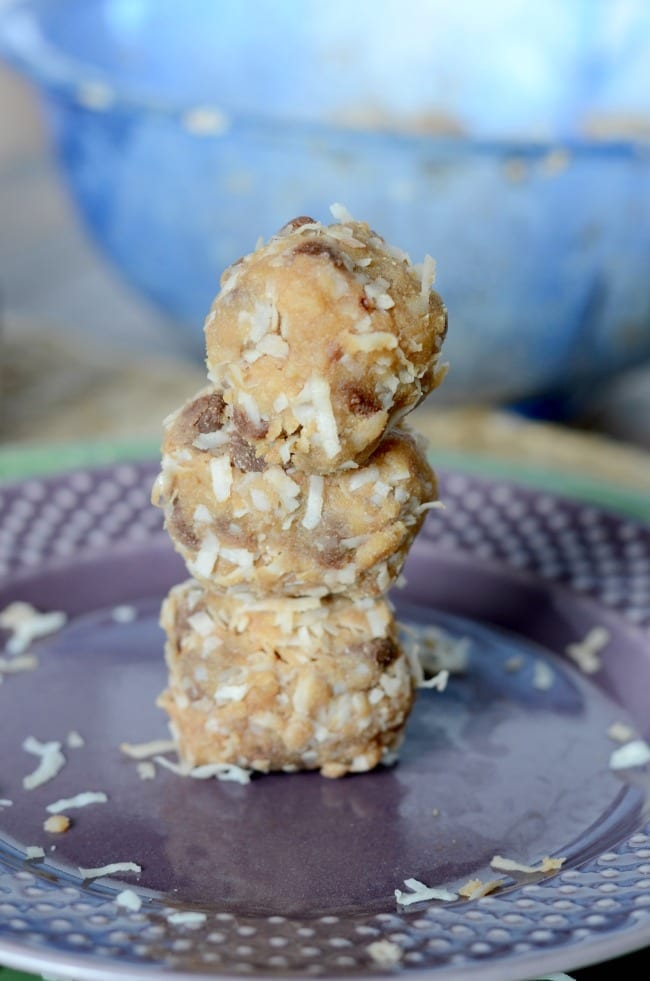 How to make these cookie dough bites
This is really a "mix it all together in a big bowl" type of recipe. I started out using a spatula to mix but ended up using my hands to make sure everything was well incorporated. The one thing is that you need enough liquid to have these cookie dough bites take form. In this case, enough honey and coconut oil.
Start with the recipe as in below and add in more coconut oil as needed to make these bites into ball form. You are going to have to press them together pretty firmly in your hands to form balls. You may have some coconut oil drip off the bites as you are pressing them into balls. That's normal and has happened every time I have made these cookie dough bites. Once you have a ball shape, stick them in the fridge. The coconut oil and honey will solidify and the cookie dough bites will harden.
Once you are ready to grab a cookie dough bite as a snack or dessert, let it thaw for just a few minutes outside the fridge. That can be in your hand or on the counter. Keep them in an airtight container in the fridge for up to two weeks. But I promise, they won't last two weeks once you try them.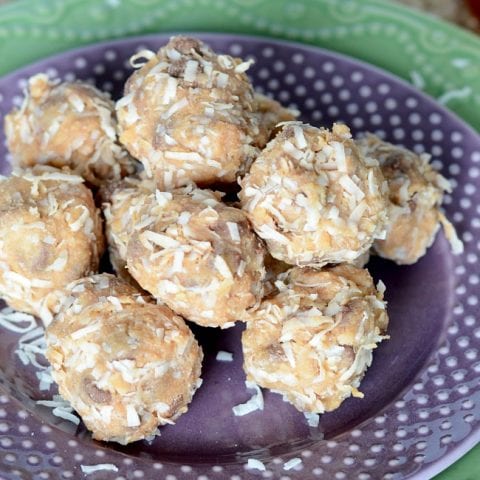 Gluten free cookie dough bites
An easy "mix everything together" snack or dessert recipe that everyone in the family will love.
Ingredients
2 cups unsweetened shredded coconut
2 cups coconut or almond flour (or gluten free flour of choice)
1/2 cups chocolate chips
1/2 cup honey
1/4 cup melted coconut oil
1 teaspoon vanilla
pinch of salt
Instructions
In a large bowl, mix together the shredded coconut, flour and chocolate chips.
Add in the honey, coconut oil, vanilla and salt. Mix together with a spatula or your hands.
Press the mixture together tightly in your hands to form a ball. If the mixture doe not come together and is flaky, add more coconut oil until a ball forms.
Make tablespoon sized balls with the mixture, pressing firmly to form.
Please in the fridge to harden.
Remove, allow to thaw slightly and enjoy!
Notes
Will keep for two weeks in an air tight container.
Nutrition Information:
Amount Per Serving:
Calories:

139
Cholesterol:

1mg
Sodium:

18mg
Carbohydrates:

11.4g
Fiber:

2.6g
Sugar:

8.5g
Protein:

1.3g
Other great no bake treats: