I am so not a morning person. I like to stay in bed until I absolutely have to jump in the shower and run out the door. Ryon is the complete opposite. He is up bright and early every morning, has coffee, reads the paper and tinkers around the house. Before we had kids I don't think I cooked breakfast very often but now I have 3 people who stare at me with puppy dog eyes for breakfast. Which is fine by me because I love a good breakfast. And if Im able to sneak some vegetables in first thing in the morning – well my momma job is done. [Who doesn't love watching their kids devour something with hidden veggies?] Enter the breakfast pot pies. Its an easy homemade recipe that fits all of the above; quick, easy and filled with veggies. Ill call that a breakfast win!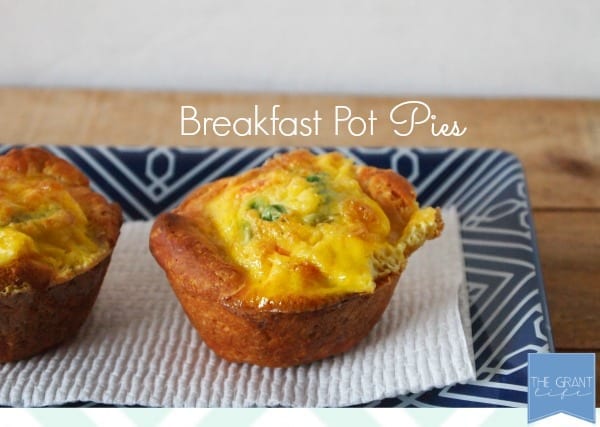 To make our breakfast pot pies we used:
1 can Pillsbury Grands! Flaky Biscuits
5 eggs
1/2 cup of frozen veggies
1/4 cup of cheese
I used the Pillsbury Mini Chicken Pot Pie recipe as inspiration. I used cheese and eggs instead of chicken and soup.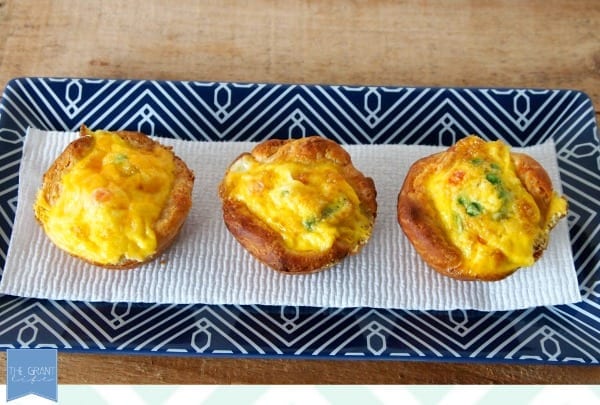 To make the mini breakfast pot pies I flattened out the biscuits and added them to a greased muffin tin. The flatter the better because they will hold more. I mixed the eggs and the frozen veggies together and poured the mixture into the cups. Top with shredded cheese and bake for 15 minutes. Let cool and enjoy!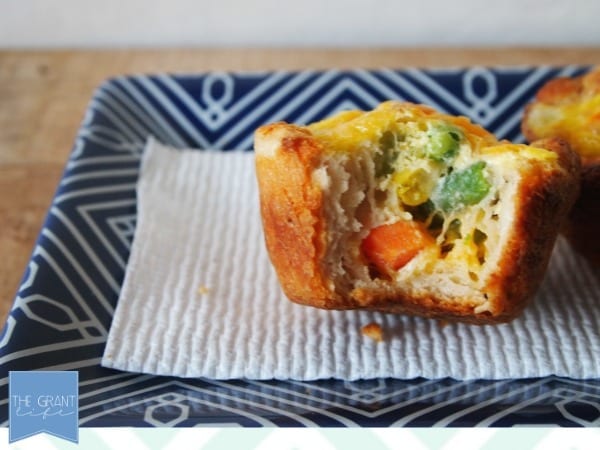 The little guys were so tasty and didn't take long to make. I think the best part is that we have some left over that we can reheat for another breakfast. Maybe one where I get to sleep in? I should make a huge batch of these and let the masses fend for themselves while I snooze. Naw. Ill take a delicious breakfast over sleep any day of the week.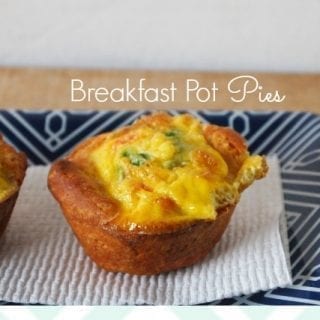 Mini Breakfast Pot Pies
Ingredients
1 can Pillsbury Grands! Flaky Biscuits
5 eggs
1/2 cup of frozen veggies
1/4 cup of cheese
Instructions
Preheat oven to 400.
Grease a muffin tin.
Flatten your biscuits.
Add them to the muffin tin.
Mix your eggs and frozen veggies.
Add the mixture to the cups.
Top with cheese.
Bake for 15 minutes.
Let cool and enjoy!
Notes
The flatter you can make the biscuit the better. It holds more!
Nutrition Information:
Amount Per Serving:
Calories:

886
Cholesterol:

963mg
Sodium:

1159mg
Carbohydrates:

59g
Fiber:

5g
Sugar:

3g
Protein:

49g
If you're looking for more breakfast ideas check out: