Ready for a delicious sandwich idea? I have just the one for you!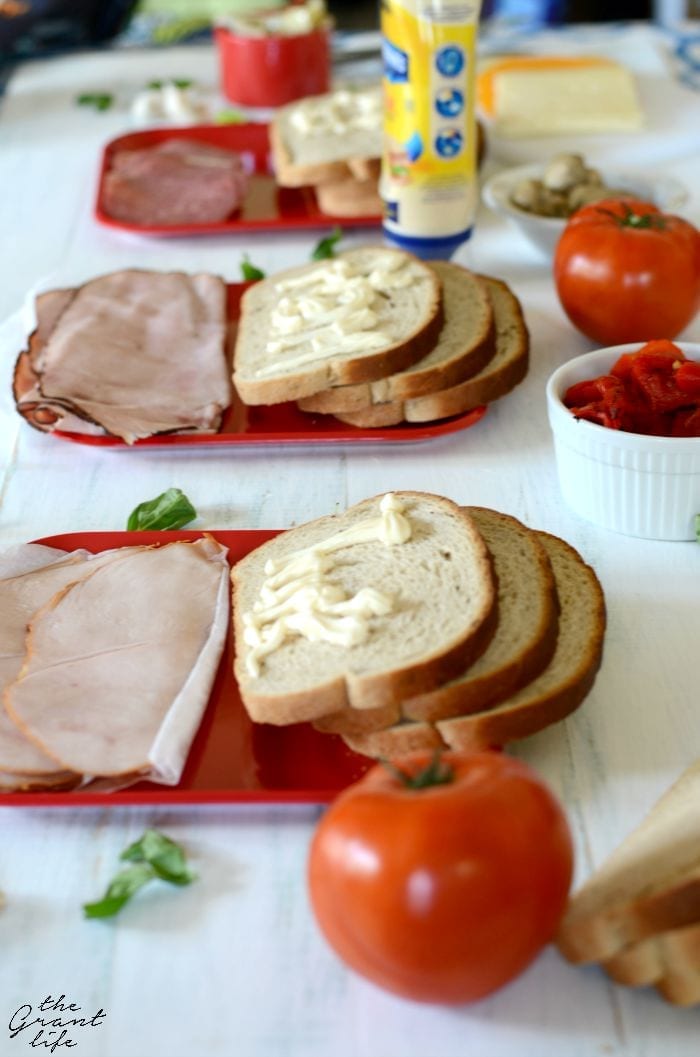 I half think that my friends hang around because I love to cook. And not only do I love to cook but I love to share what I cook with my friends. (See? It's a win-win already.) It's fun to create new recipes and taste test them yourself, but when you can see someones eyes light up when they take the first bite – that's the best part of the job.
I'm not saying all my meals are home runs but I have a secret weapon. I make dessert first so if the meal is a flop, no one goes home upset if you feed them dessert. It's a rule.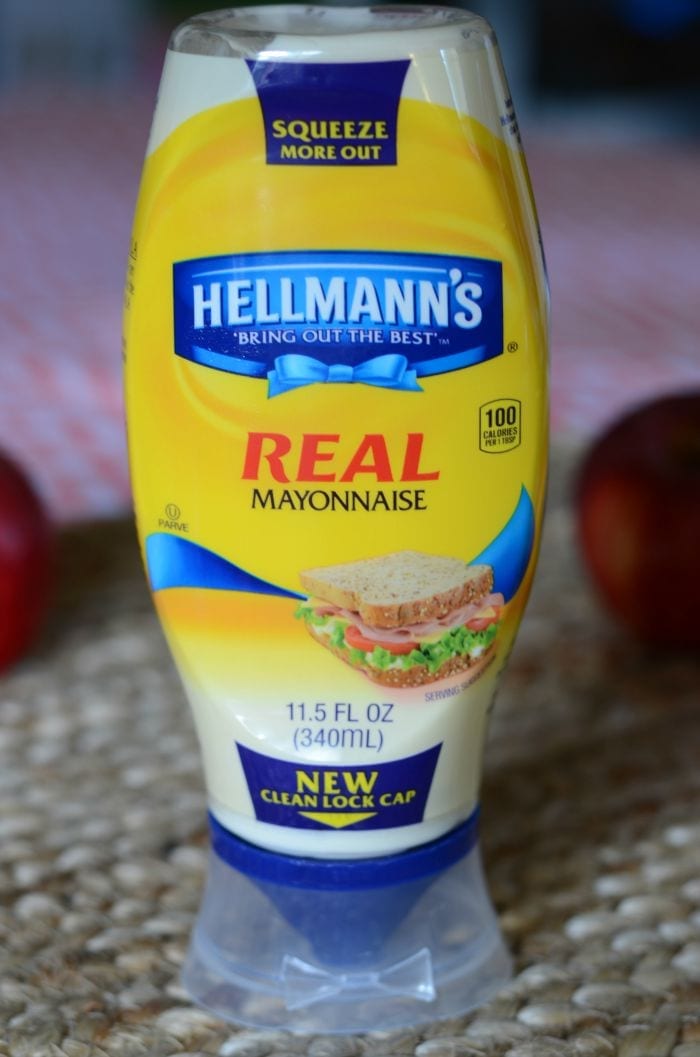 And the very best friends don't care how fancy the meal is, as long as they are in good company. So if I decide to toss together a sandwich bar one day, then they are a-ok with that. The sandwich bar was actually a huge hit with everyone. I set up different meats, cheeses and a ton of add-ons. I did an Italian theme so I had artichokes, marinated mushrooms, sun dried tomatoes. The works.
And I had a bottle of the new Hellmann's squeeze bottle that allows you so much more control over where you put your mayo. Boom.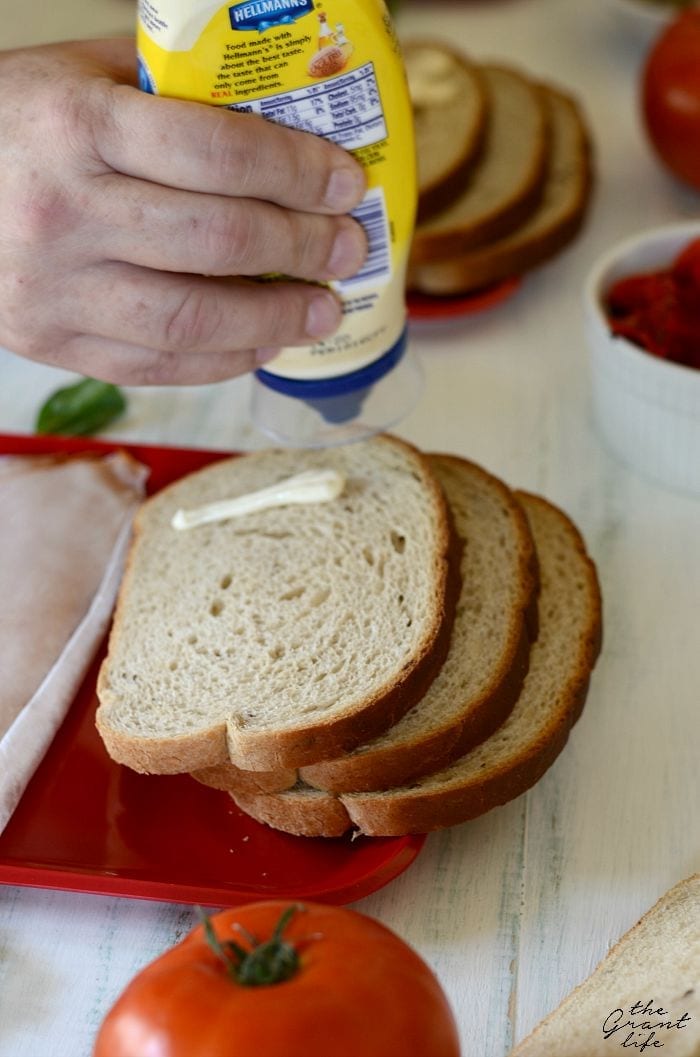 Of course I had to have fun with the mayo that I can WRITE WITH! (Yes I got a little excited about that.) I used the mayo to label the various meats that we had to offer on the sandwich bar. The precision tip made it super easy to write on the bread. We had ham, salami and turkey. Plus 3 different cheeses and all the fixins'.
And then when we got low on bread, the one that we labeled was up for grabs. (Spoiler alert – I took the ham one.)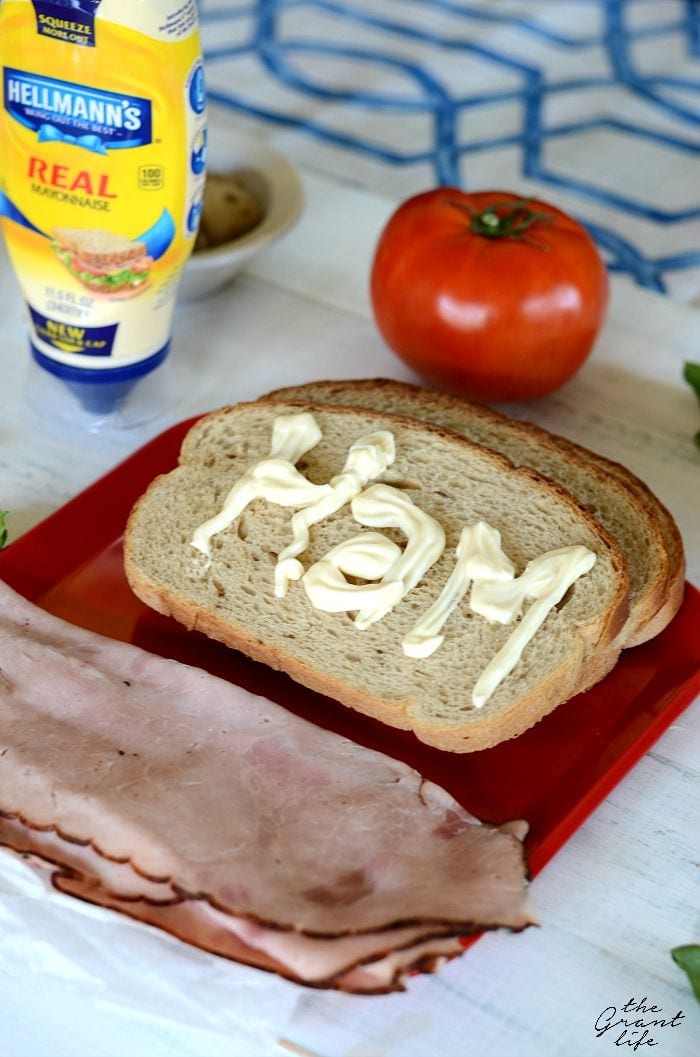 I know you aren't suppose to "play with your food" but I don't really follow the rules. I'm a foodie rebel. I do what I want. I used mayo to write on bread and I like it. Don't try to stop me.
But seriously. How cool is it that you can doodle on bread with Hellmann's mayonnaise? There are endless possibilities! It would be fun to leave a little love message for your kiddos lunch boxes. I have a bunch of cool doodling ideas running through my head now!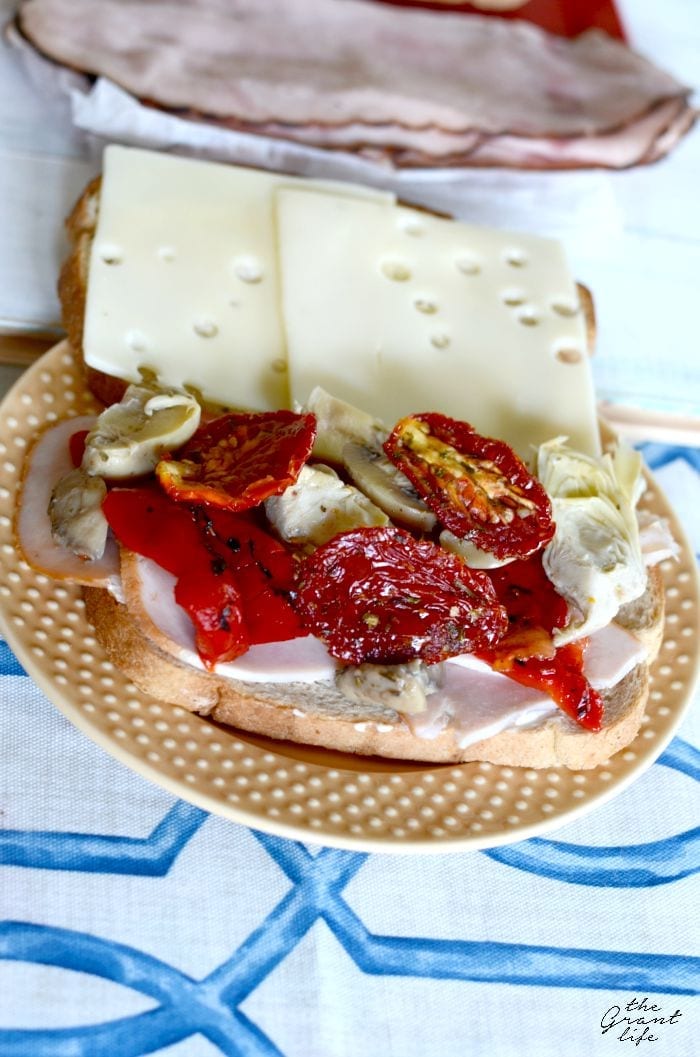 And I know you are dyyyyying to know what kind of sandwich I made, right? I made a delicious turkey, Swiss and all the fixins' type of sandwich. I call it my antipasto salad sandwich. Artichokes, roasted bell peppers, mushrooms, sun dried tomatoes. And a few perfectly doodled lines of Hellmann's mayo.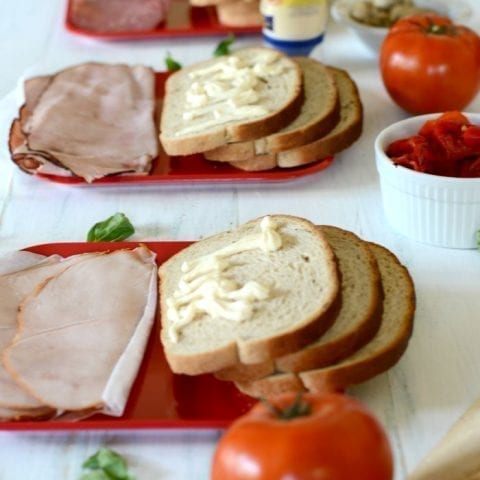 Antipasta salad sandwich
Ingredients
2 slices of bread
2 slices of turkey
2 slices of salami
2 slices of Swiss cheese
marinated mushrooms, sliced
2-3 sun roasted tomatoes
2 slices of roasted bell peppers
2-3 pieces of marinated artichoke hearts
Hellmann's mayo
Instructions
Layer all your ingredients on one of your slices of bread.
Use your Hellmann's mayo to write a message on your other slice of bread.
Place your sandwich together.
Enjoy!
Like this post? Be sure to check out: