Have a Star Wars lover in your life? Check out this list of fun and unique gifts for every budget!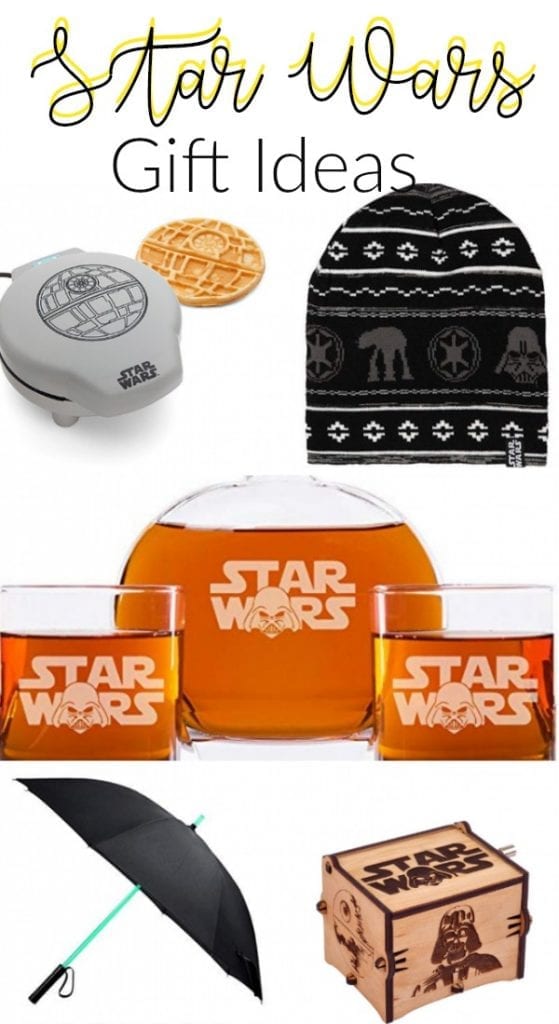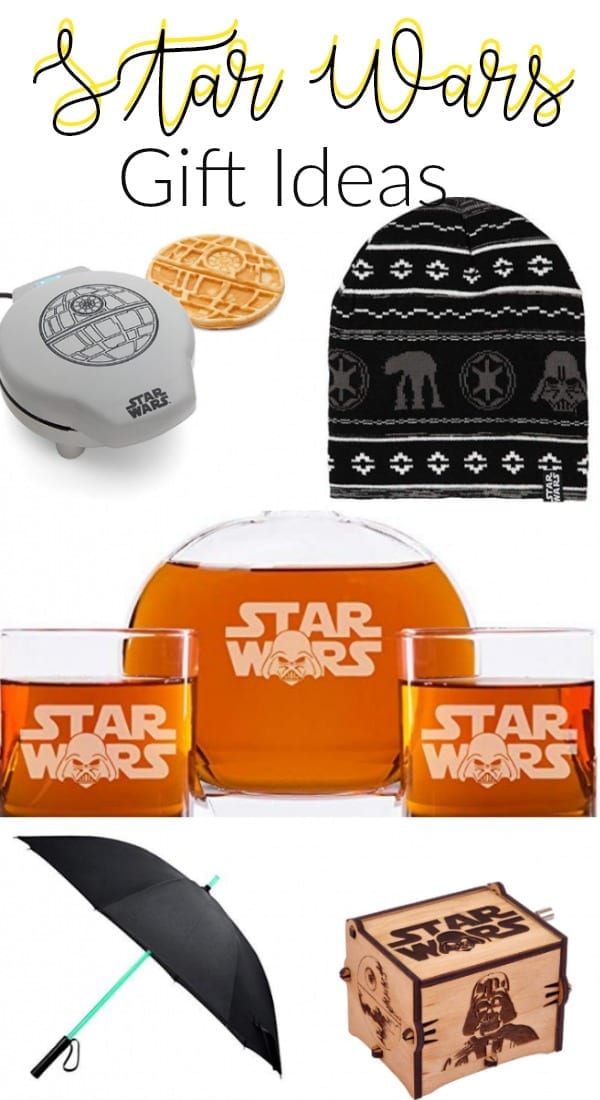 I have to admit, I wasn't much of a Star Wars fan when I was younger. It wasn't until Avery started watching the movies that I got into them. He seemed to understand the plot lines even at a young age, and I was asking him to tell me what was happening!
Now we enjoy watching the movies together. He is a huge Star Wars fan and was even Boba Fett for Halloween! Do you have a Star Wars fan too? Check out these awesome gift ideas (for any budget) for your Star Wars fan.
Star Wars Gifts Under $15
Han Solo's Lucky Dice – these will look great hanging from the rear view mirror of any Star Wars fan!
Light Up Death Star Beach Ball – the beach or pool will never be the same! This Death Star beach ball is super fun for a Star Wars pool party.
Lightsaber Mug – hot liquid makes light sabers appear on this otherwise inconspicuous mug. This is great for a coffee loving Star Wars fan.
Death Star Herb Garden – this is a unique gift for the cook who loves Star Wars.
Star Wars Bop It – R2D2 looks just like any other toy but he's really a fun game. This is great for tweens and teens.
Wookie Cookies: Star Wars Cook Book – your recipient will learn how to make Star Wars specialties like Boba Fett-Uccine and Princess Leia Danish Dos in this fun cook book.
Porg Mug – porgs may be the cutest little guys to hit the Star Wars movies in a few years.
Star Wars Gifts Under $25
3d Illusion Night Light: Death Star – this fun night light changes 7 colors and 3 Star Wars shapes.
Star Wars Toaster – because who doesn't want a little Star Wars at breakfast?
Words of Wisdom T Shirt – Yoda offers some free words of wisdom on this fun tee shirt.
Millenium Falcon Tie – make any fancy outfit fun with this super cool tie!
2 Quart Star Wars Slow Cooker – great for keeping dips warm at parties!
At At Beanie – keep your favorite Star Wars fan's head warm with this beanie.
BB8 LED Light – 3D vision effect is awesome for kids rooms.
Star Wars Gifts Under $50
LED Light Saber Umbrella – you'll be wishing for rain with this fun umbrella.
R2D2 Charging Station – let R2D2 charge your device with this cute charging station.
Star Wars Multi Tool – 4 Hex Keys, 2 Screwdrivers, and an Adjustable Wrench make this tool useful for a handy Star Wars lover.
Death Star Waffle Maker – pair this with the toaster above and the force will always be with you at breakfast.
Star Wars Wall Art – these prints are out of this world! Includes Darth Vader, Boba Fett, and the second Death Star
Boba Fett Apron Set – slay dinner like Boba Fett in this cute set.
Star Wars Music Box – enjoy the Star Wars theme whenever you want!
Under $100
Jedi Challenges Augmented Reality Experience – light saber battles and more are part of this virtual reality!
Cross X Star Wars Pen – a beautiful pen for someone who loves Star Wars but isn't the tie type. Available in three iconic characters: Darth Vader, Stormtrooper, Millennium Falcon.
2 Hand Painted Glasses – gorgeous hand painted glasses are a great addition to the cupboards of any Star Wars lover.
Engraved Decanter and Glasses – Exquisite bar ware perfect for the socialite Star Wars lover.
Etched Pint Glasses – Another gorgeous Star Wars gift that would be loved by a beer lover.