One of things that we have been doing is researching our food products more. We are trying to cut down on processed foods and eat better in general. But its tough and sometimes we just want our comfort foods. The kids are no exception. They are good eaters and eat what we do most of the time, but sometimes they just want some mac and cheese. Or lucky charms. [Chucky charms as we call them in the Grant house.] I can't make cereal from scratch appear, so I have to find an alternative. A healthier alternative that doesn't contain all kinds of junk. Here are some simple food swaps for kids that make our lives and our bodies happy. [And my kiddos love!]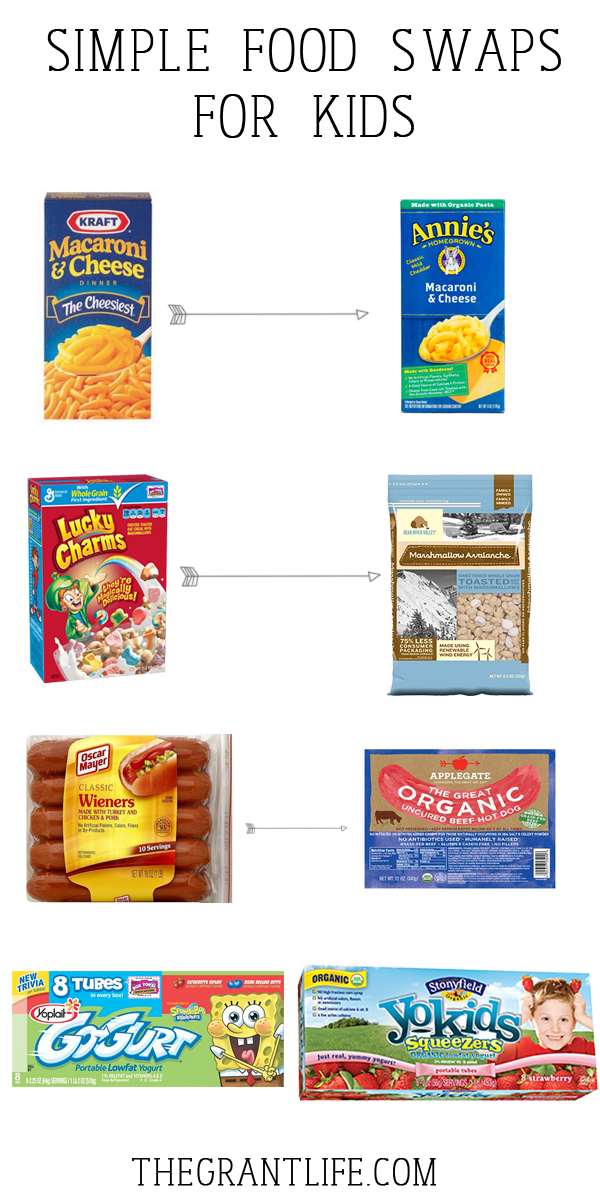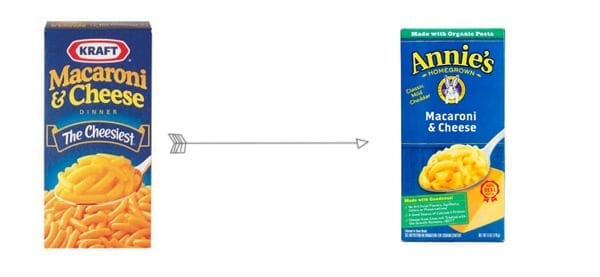 Macaroni and Cheese:
Swap -> Kraft Macaroni and Cheese
First, it took me awhile to even find the ingredients on the Kraft website. And I can see why. Their mac and cheese is chocked full of processed and dyed ingredients. Dyes are a no go for me. I've read various reports that link them to childhood illnesses and I just don't see why they need to be added to our food. And if you really want a reason to ban Kraft from your house read this article about a warning label they use for overseas products. Its not pretty. And it really bums me out that its so overly processed. I grew up on Kraft!
Kraft Classic Macaroni and Cheese – Enriched Macaroni Product (, WHEAT FLOUR, NIACIN, FERROUS SULFATE [IRON], THIAMIN HYDROCHLORIDE [VITAMIN B1], RIBOFLAVIN [VITAMIN B2], FOLIC ACID) , Cheese Sauce Mix (, WHEY, MILKFAT, MILK PROTEIN CONCENTRATE, SALT, SODIUM TRIPOLYPHOSPHATE, CONTAINS 2% OR LESS OF: , CITRIC ACID, LACTIC ACID, SODIUM PHOSPHATE, CALCIUM PHOSPHATE, MILK, YELLOW 5, YELLOW 6, ENZYMES, CHEESE CULTURE)
For -> Annie's Macaroni and Cheese
A few basics and sodium phosphate as a preservative. No dyes, non GMO wheat. And it tastes good too!
Annie's Classic Macaroni and Cheese – ORGANIC WHEAT MACARONI, CHEDDAR CHEESE (CULTURED PASTEURIZED MILK, SALT, NON-ANIMAL ENZYMES), WHEY, NONFAT MILK, BUTTER, SALT, CULTURED WHOLE MILK, SODIUM PHOSPHATE, ANNATTO EXTRACT FOR COLOR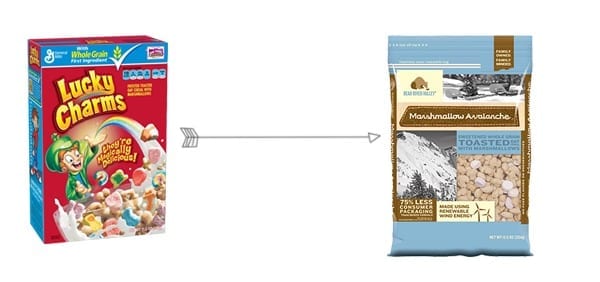 Cereal:
Swap -> Lucky Charms
Again, with the food dyes. This is more obvious though since we know the marshmallows are different colors. And I'm going to get really real about this one. Like talking about poo real. My kids poo a rainbow after eating lucky charms. Its not pretty and I can tell it upsets their little bowels.
Lucky Charms (Oats, (Whole Grain Oats, Flour), Marshmallows (Sugar, Modified Corn Starch, Corn Syrup, Dextrose, Gelatin, Calcium Carbonate, Yellow 5 & 6, Blue 1, Red 40), Artificial Flavor, Sugar, Corn Syrup, Corn Starch, Salt, Calcium Carbonate, Artificial Color, Trisodium Phosphate, Zinc And Iron (Mineral Nutrients), Vitamin C (Sodium Ascorbic), A "B" Vitamin (Niacinamide), Vitamin B2 (Riboflavin), Vitamin B1, Thiamin Mononitrate), Vitamin A, (Palmitate), A B Vitamin (Folic Acid) Vitamin B12, Vitamin D, Vitamin E (Mixed Tocopherols) Added To Preserve Freshness.)
For -> Bear River Valley Marshmallow Avalanche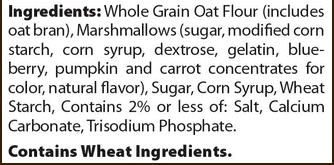 Still the same basic cereal but without the junk and the food dyes. Its flavored and colored with fruit. I love that. And my kids love this cereal. [So do their bowels. TMI.. I know.]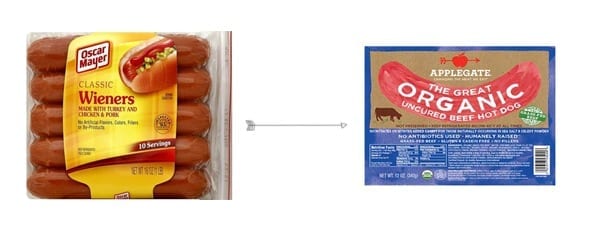 Hot Dogs:
Swap -> Oscar Meyer Classic
My first question is – why do we need corn syrup in a hot dog product? Answer – we don't. And mechanically separated means its a big pile of parts thrown into a processor. And all those sodiums at the end are for flavoring, to retain color and to kill fungus and bacteria. You can read more about all that here.
MECHANICALLY SEPARATED TURKEY, MECHANICALLY SEPARATED CHICKEN, PORK, WATER, CORN SYRUP, CONTAINS LESS THAN 2% OF SALT, SODIUM PHOSPHATES, SODIUM DIACETATE, SODIUM BENZOATE, SODIUM ASCORBATE, FLAVOR, SODIUM NITRITE
For -> Applegate Organic Beef
Real beef, real spices and no sugar. That's what a hot dog should be. [In my opinion.]
Organic Grass-Fed Beef, Water, Sea Salt, Organic Paprika, Organic Dehydrated Onion, Organic Spices, Organic Nutmeg Oil, Celery Powder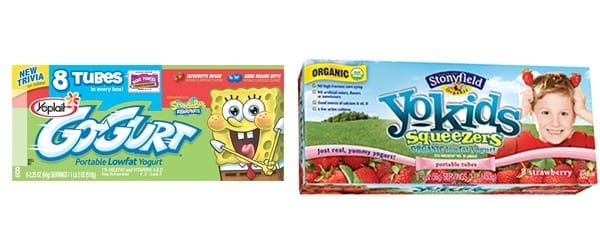 Portable Yogurt:
Swap -> YoPlait Go-Gurt
There is so much in these that I'm not sure where to start. Sugar as the second ingredients means there is a lot. [The first ingredient on any food shows what it contains the most of in the product. So milk is number one ingredient and sugar is number two.] And again with the food dyes.
Cultured Pasteurized Grade A Low Fat Milk, Sugar, Modified Corn Starch, Kosher Gelatin, Tricalcium Phosphate, Natural and Artificial Flavor, Potassium Sorbate Added to Maintain Freshness, Carrageenan, Red 40, Vitamin A Acetate, Blue 1, Vitamin D3. Berry Blue Blast: Cultured Pasteurized Grade A Low Fat Milk, Sugar, Modified Corn Starch, Kosher Gelatin, Tricalcium Phosphate, Potassium Sorbate Added to Maintain Freshness, Carrageenan, Natural and Artificial Flavor, Blue 1, Red 40, Vitamin A Acetate, Vitamin D3
For -> Stonyfield YoKids
Stonyfield is all organic, even their sugar. I'm not saying that its best, but its better. Not having dyes is what is the winner for us.
CULTURED PASTEURIZED ORGANIC REDUCED FAT MILK, ORGANIC SUGAR, ORGANIC TAPIOCA STARCH, ORGANIC STRAWBERRY JUICE FROM CONCENTRATE, ORGANIC CAROB BEAN GUM, NATURAL FLAVOR, PECTIN, CARRAGEENAN, ORGANIC NATURAL VANILLA FLAVOR, ORGANIC BEET JUICE CONCENTRATE (FOR COLOR), VITAMIN D3.
That's a lot of information, isn't it? And this is not meant to scare anyone. I didn't go out one day and buy all of our swaps and say "done, never going back." I slowly started adding the new things into the kids diets one product at time. The price difference really isn't that huge and now I don't even notice it. [At first going from 99 cent mac to almost 2 mac was huge. Now, its what I pay to keep my kids healthy.]
A few things that I like to note:
I had the hardest time finding nutritional information on our pre-swapped foods. Its like its hidden on their website away from us. The swap foods? Easy to find and very up front.
Most of the foods that we swapped and are currently eating are smaller companies. They don't advertise as much or even at all. They keep their prices low that way. I had a finance professor tell me once that you should never invest with a company that has TV ads, because you end up paying for those commercials in fees. And its sort of the same with food. You get what you pay for.
Also, I'm not a doctor or a nutritionist or anything of the sort. I'm just a mom who wants to know what the heck is going on. Take my advice with a grain of salt. Do the research your self and find out what works best for your family.
Want more posts like this? Be sure to sign up for our emails.