I love to bake and Ryley is old enough to help me in the kitchen every now and then.  My moms birthday was last week and I needed to make her an extra special cake.  So, as I was browsing through my Martha Stewart Living I saw an article on cake creations.  I got excited.. but didnt think my mom wanted a puppy, fish or teddy bear shaped cake. 
Then my little hamster started moving and a light clicked.  A rainbow cake!  She has loved rainbows since she was little and I knew this would be special.  Off to pinterest I go looking for the image that had popped in my head.  There are a ton of rainbow layered cakes, but it wasnt what I wanted.  I wanted a single layer cake in the shape of a rainbow. 
So I created my own!  I used Martha's
sheet cake recipe
but used 3 different sized circle pans instead.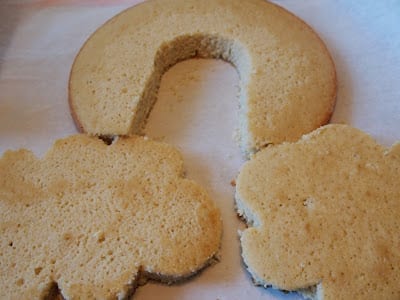 I left the cakes out for the night (covered of course) and started cutting them the next day.  I cut out the center to make a big 'U' with a paring knife.  I used some construction paper to draw out the clouds and then cut around the paper.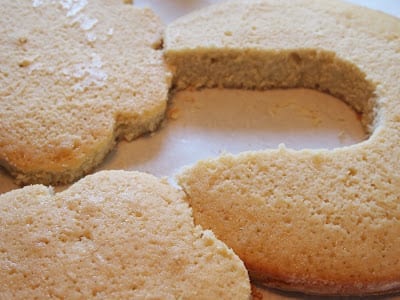 My rainbow wasnt level with my clouds but the icing covered all that up.  Icing solves everything.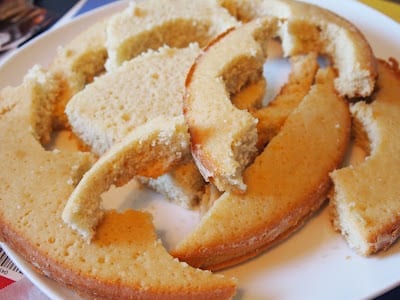 I used these leftovers to 'taste test' the icing.  I sent my hubby to HEB to get icing and I wasnt specific on what kind I wanted, I just told him white.  He came home with a butter cream and cream cheese.  Let me tell you this friends.. Pillsbury butter cream icing is ahhhh-mazing!   Hubby did good!   
I frosted the entire cake with the butter cream and made sure to level out the section between the clouds and the rainbow.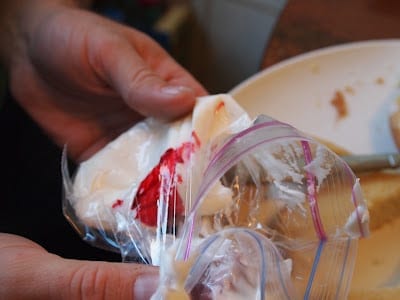 Next we dyed the cream cheese icing.. the colors of the rainbow!  I started with red and worked my way in.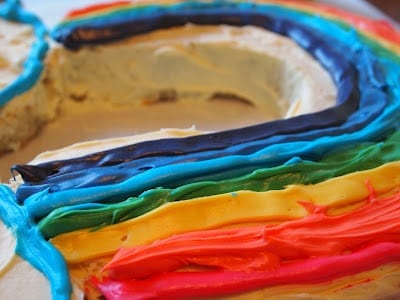 Anytime I see/think/hear/taste a rainbow I immediately think ROY G BIV.  Im just cool like that.  The colors turned out great for using plastic baggies for the piping.  Im classy like that.  Cool and classy.. thats me.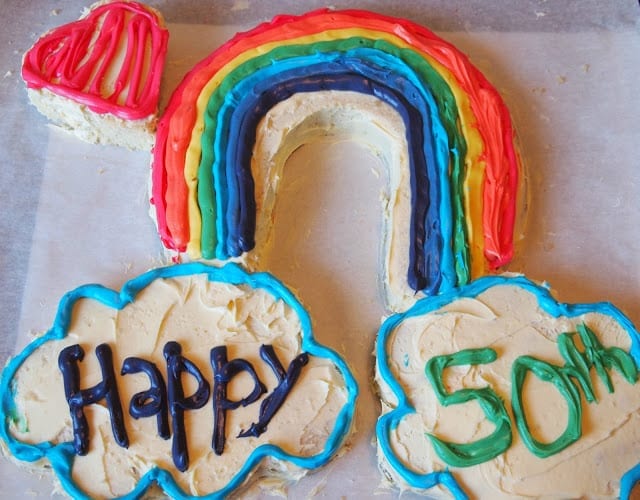 Ta-da!  A rainbow cake!   Hubby made the little heart from left over cake parts.  (That sounds.. odd.  Just go with it.)  A big cake for a big birthday!  And yes, I left it on the wax paper.  I was too scared to move it.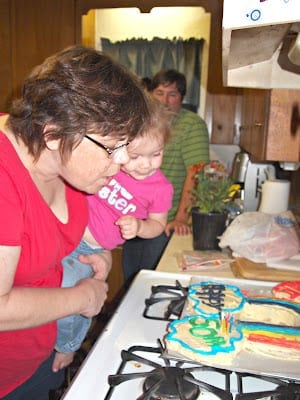 And of course my mom loved it!  (Ryley helped blow out the candles.)   Ya know how after a birthday the cake stays around forever and you end up throwing it away?  Not this cake!  The
Martha Stewart recipe
was super moist and Ive already told about the frosting.  (
ahhhhhh-mazing!)
  Defiantly worth making again.    And again.  And.. 🙂 
Dont judge me.. I love cake.