I want to introduce yall to another great friend today.  
Liz
is super sweet, talented, and funny.  Shes basically super everything!  

Hello Grant Life followers!  This is Liz from
According to L
!  I'm super excited to share this recipe with you today!  I hope you like what you see, and have one less dinner to plan because of it!
Pork tenderloin is a fabulous meal.  There's even usually a coupon in the Sunday paper for those Hormel packages.  Thanks to my summer bucket list of those
50 Grill Packets
, we have a new glaze to try on this favorite grilling fare.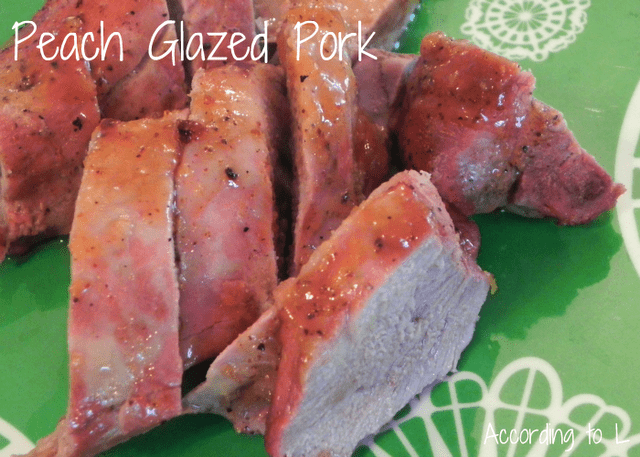 Very easy, with a one unique ingredient:  peach preserves.  Not your typical PB&J makings, but definitely worth seeking out in the jelly aisle to have for this dish!
Gather up your ingredients:
1/4 c peach preserves
1 Tbsp stone ground brown mustard (French's has an inexpensive version)
1/4 tsp hot sauce (I used Tabasco)
pork tenderloin cut (mine was a little over 1 lb)
salt and pepper
Combine the first three main ingredients into a pretty orange sauce. Season the tenderloin with the salt and pepper, then coat each side with the sauce.  Wrap up into a little foil packet (this is about my 10th packet, they get easier to make with practice!)  Grill over high heat for 18 minutes, turning once.  Obviously, cooking time will depend on the thickness of your loin (that's what she said – sorry, I couldn't help it!) so make sure everything is a safe temperature before pulling from the heat.
Any Food Network Star will tell you – LET IT REST.  Give the meat time to reabsorb the juices before you cut into it.  Ten minutes is good.  Fifteen is better.  I promise, it'll stay plenty warm – but if you're worried, keep it wrapped in it's foil cocoon before trying to carve and serve.
When I make this again, and I will be making this one again (unlike those horrible salt-roasted potatoes) I'm going to double the glaze recipe and use half in the packet and warm the other half to serve with the meal.  The meat tasted amazing, but I think a little sauce on the side can only make things prettier (and tastier)
—
Yall.. this looks seriously delicious!  I love this recipe!  
–[Lovely June Sponsor]–