Hello sweet friends and welcome to July!  Aka.. hello cool a/c and swimming pool.. Ill see ya in the fall outdoors.  It has been ridiculously hot here lately and its only going to get warmer in the months to come.  Not looking forward to it!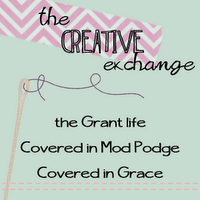 Did you see the big announcement about our first craft swap?!  Super excited to be co-hosting such a fun event with two lovely ladies – Michaela and Brooke!  Make sure you sign up by this Sunday the 8th to get in on the fun!
Oh yes.. those happened this week.  Cinnamon roll waffles.  Quick + easy + sugar = happy momma and happy belly.  [Angry thighs though.. wah wah]  
 This weeks menu is going to be kinda boring.  My older brother and his fam are coming down Tuesday night for the week!  Lots of family dinners for us.. and the most amazing bbq you ever tasted.    [I may eat bbq all week.]  Well starting after big brother cooks it.. so Wednesday through the weekend.
Breakfast:
Grilled Cheese Egg in the Hole
Lemon Poppy Seed Pancakes*
Bacon and Eggs
Finnish Pancakes
Caramel French Toast*
Lunch:
Leftovers
PB&J Roll-Up
Lunch with family x 3
Dinner:
Italian Meatloaf
Baked Mac N Cheese
Dinner with family x 3
I know.. kinda lame right?  Ahh well.  Maybe your menu is more exciting?  Id love for you to share it below.. or a yummy new recipe!  Before [or after] you do that make sure you enter my June Group Giveaway!  [And then sign up for the craft swap!  Whoa.. Im kinda bossy today.]  Happy linking, happy eating and good luck friends!


–[Lovely July Sponsor]–