This Loaded Baked Potato Casserole boasts the same flavors and textures of a classic loaded baked potato, in casserole form – perfect for feeding a hungry family, a holiday side dish, or for your next potluck!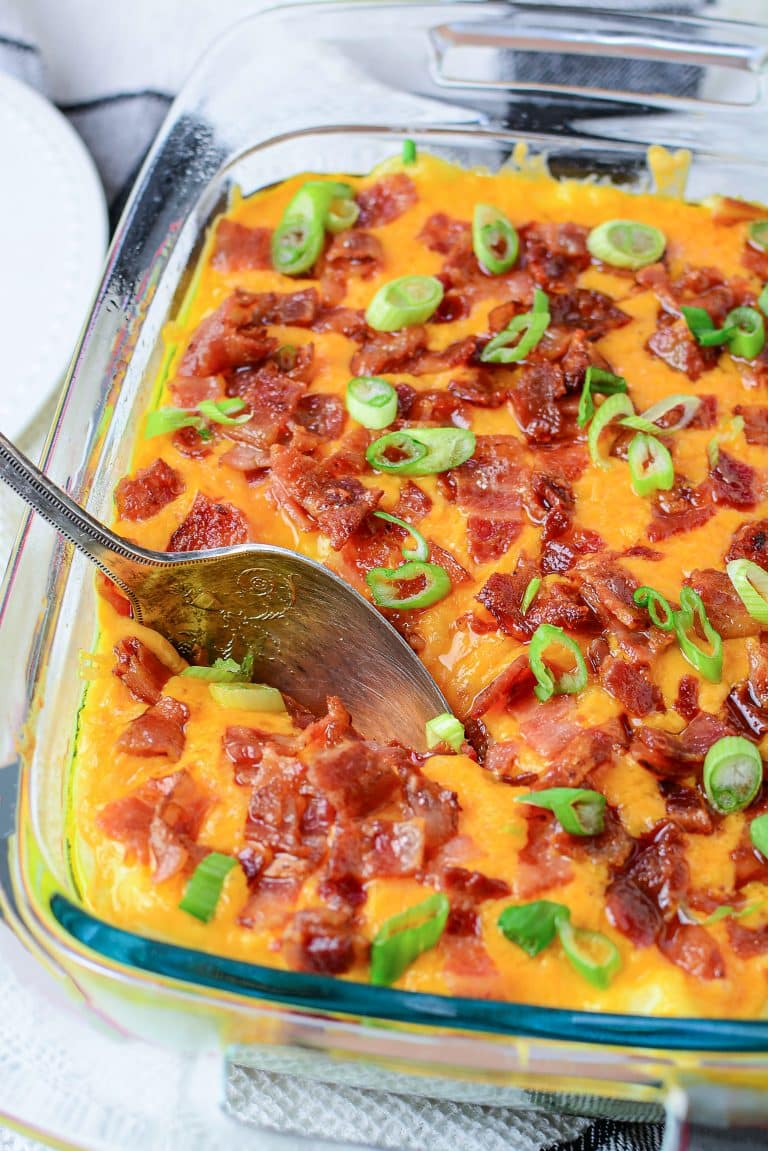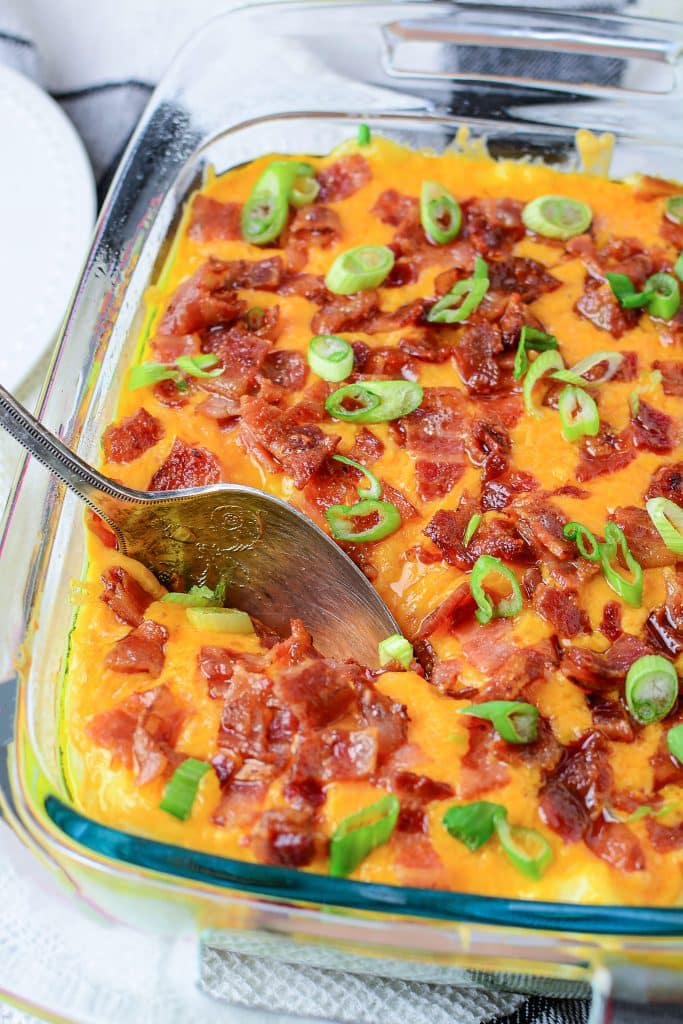 This loaded baked potato casserole consists of a creamy and buttery layer of mashed potatoes with crumbled bacon and onions, topped with shredded cheese and extra bacon.
Garnish this freshly baked potato casserole with sliced green onions and serve alongside your favorite choice of protein for a hearty and balanced meal! Check out my easy dinner recipes for inspirations on a main dish!
What Is Loaded Baked Potato Casserole?
Loaded baked potato casserole is essentially a loaded baked potato in casserole form!
It's a comforting casserole consisting of mashed potatoes mixed with crumbled cooked bacon that's added to a casserole dish and topped with shredded cheese and extra bacon. The casserole is baked in the oven before serving with freshly sliced green onions as garnish!
Loaded Baked Potato Casserole Ingredients
Potatoes – Russets work best in this recipe, but you can use whatever potato you have on hand.
Bacon – This will be cooked and crumbled to add to the top of the casserole. Cook it while the potatoes are boiling!
Onion – Use your favorite onion here.
Garlic – Fresh or from the jar.
Butter – Omit the salt if you use salted butter.
Sour Cream – Cut a few calories and use light.
Cheddar cheese – Save some time and buy pre-shredded.
Green Onion – Optional, but are always a great topping.
Salt and pepper
Oil
How to Make Loaded Baked Potato Casserole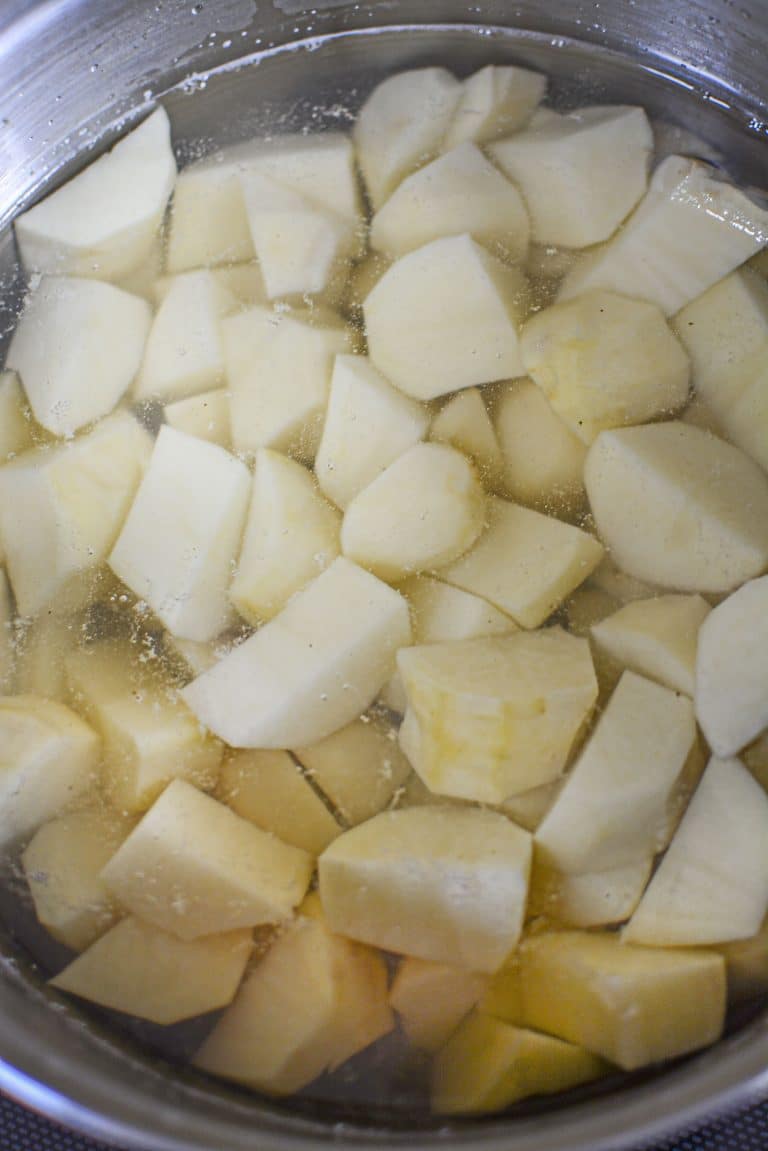 Step 1: Make the potato mash by boiling the potatoes and then mashing them once drained with butter and sour cream.
Step 2: Cook the chopped onions and garlic in a heated skillet, followed by ½ of the bacon crumbles to heat through.
Step 3: Combine the skillet mixture with the mashed potatoes and then transfer the mashed potatoes to a lightly sprayed casserole/baking dish.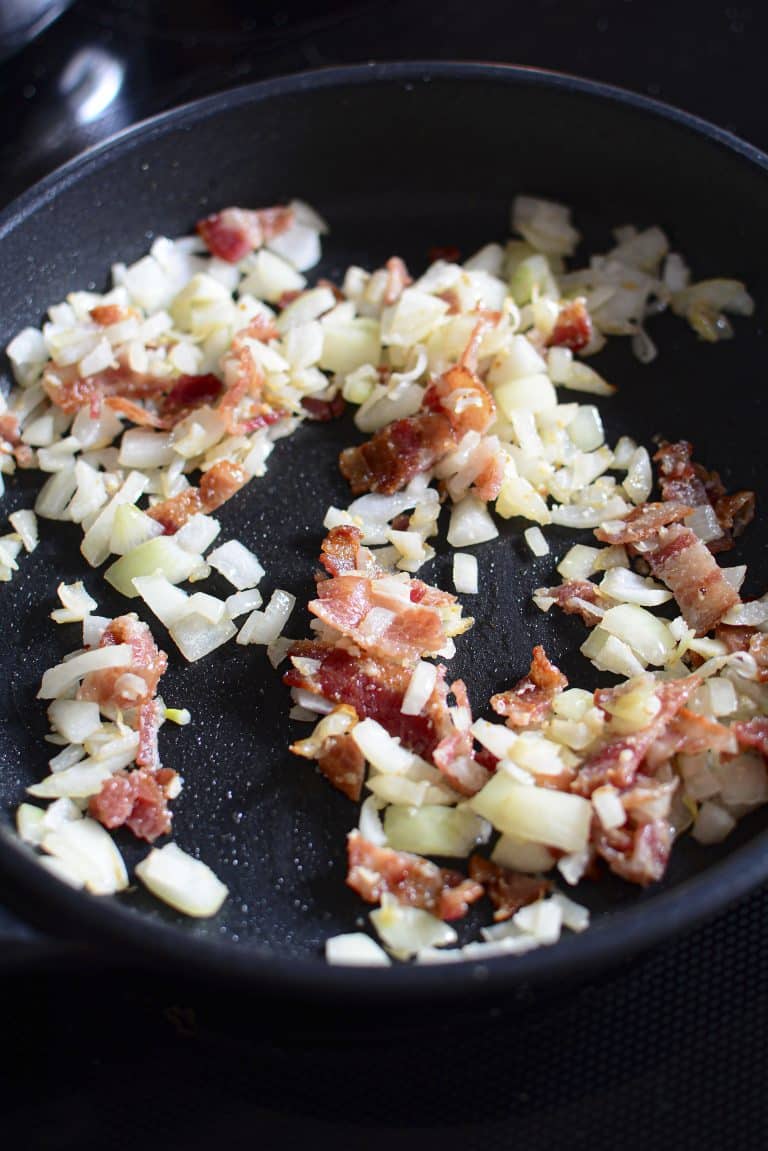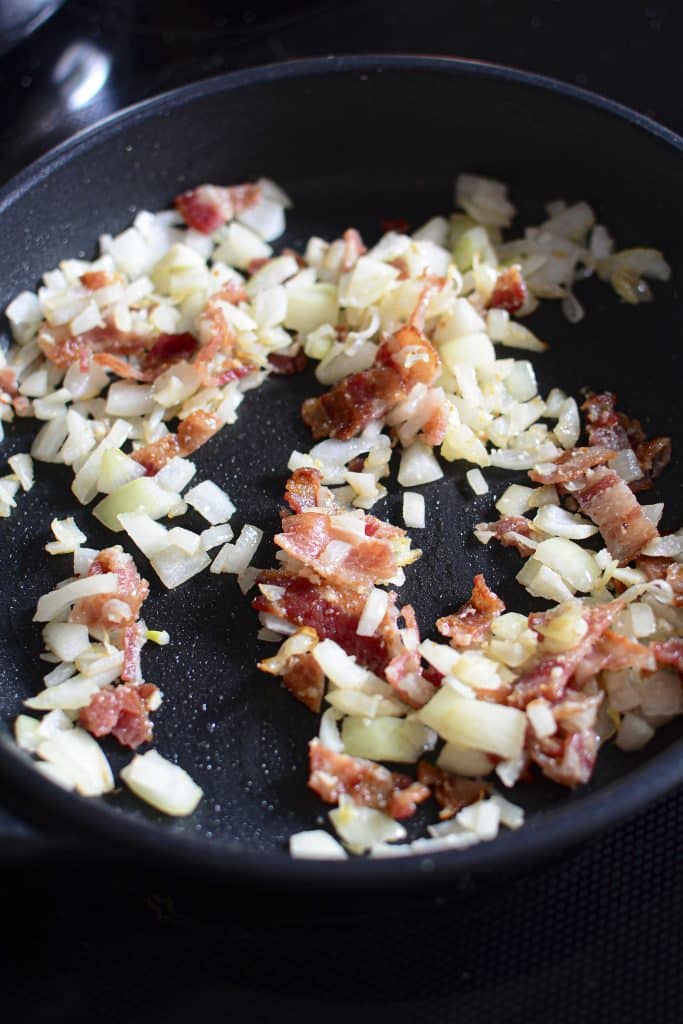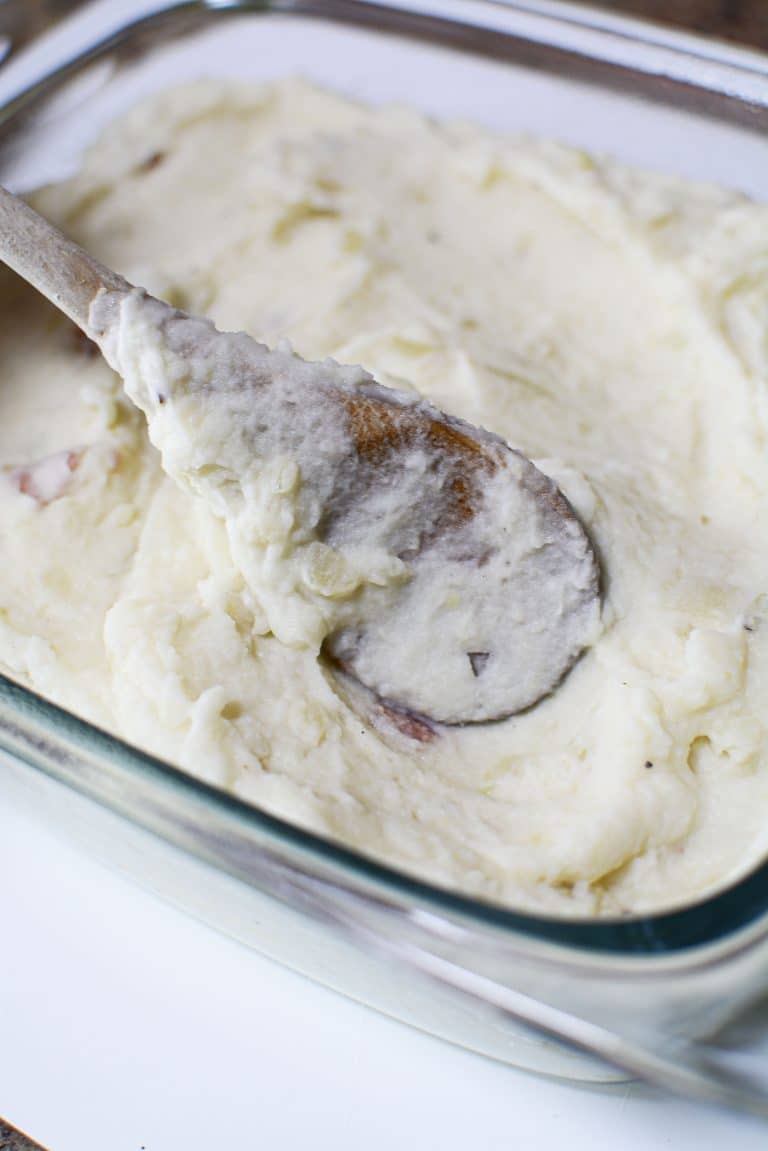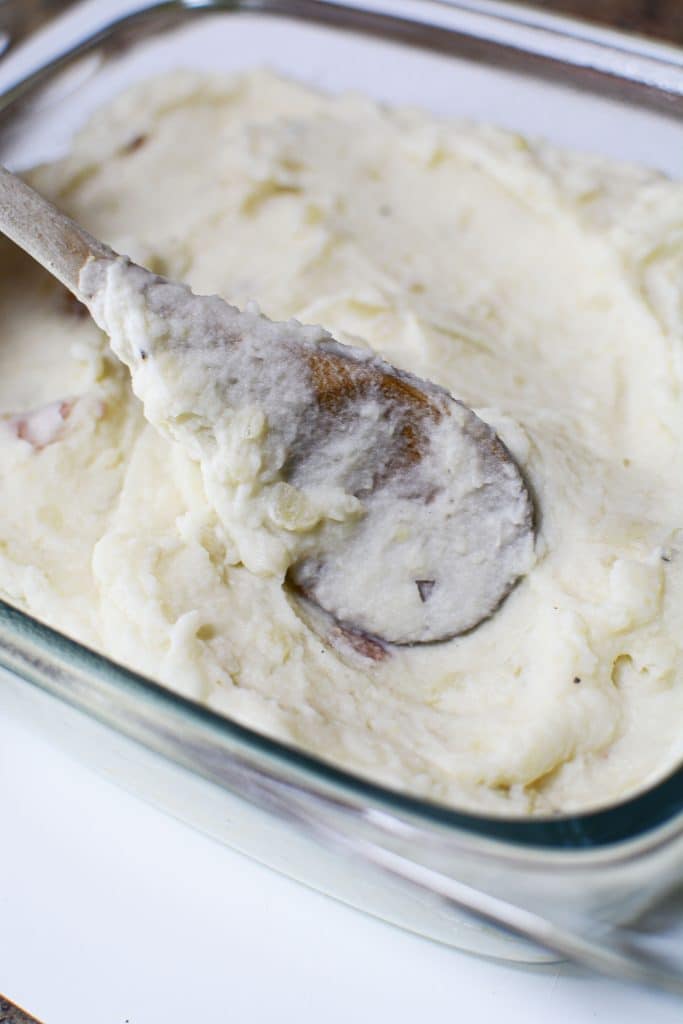 Step 4: Top the casserole with shredded cheese and the remaining bacon crumbles and bake for 10 minutes or until the cheese has melted and the bacon is crispy.
Step 5: Remove the casserole from the oven and allow it to cool for a few minutes before garnishing with sliced green onions. Serve and enjoy!
More Potato Recipes to Try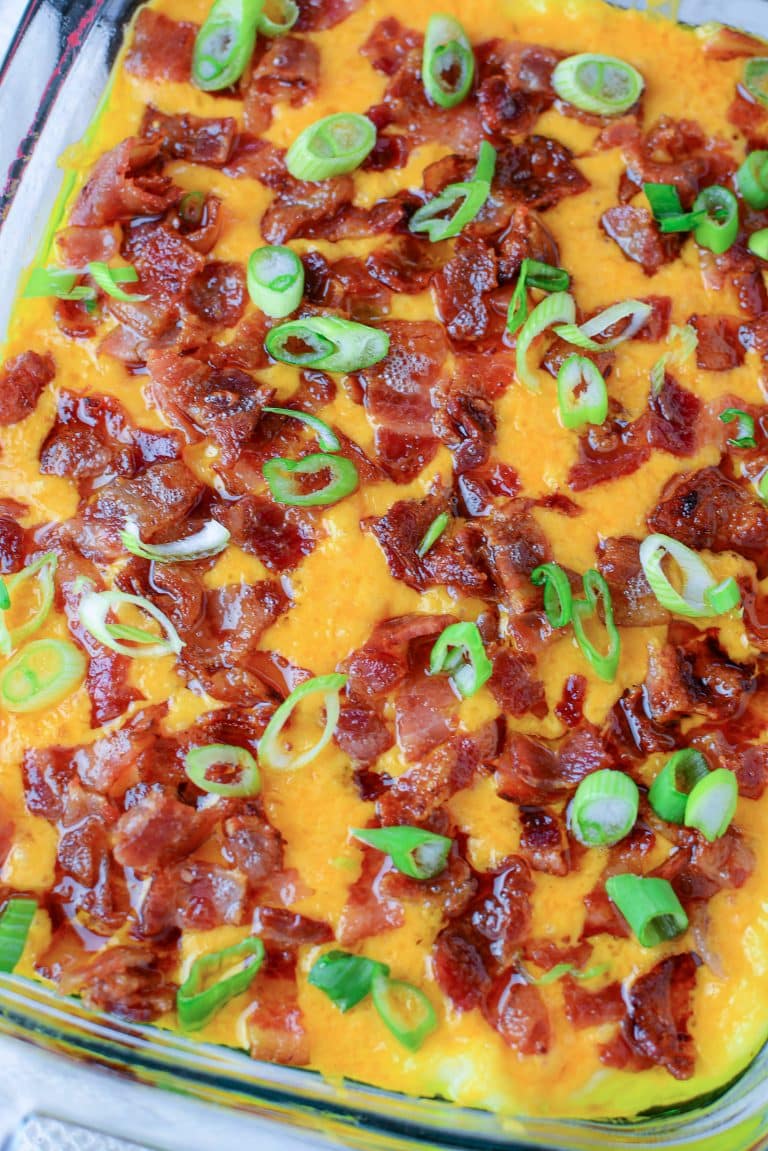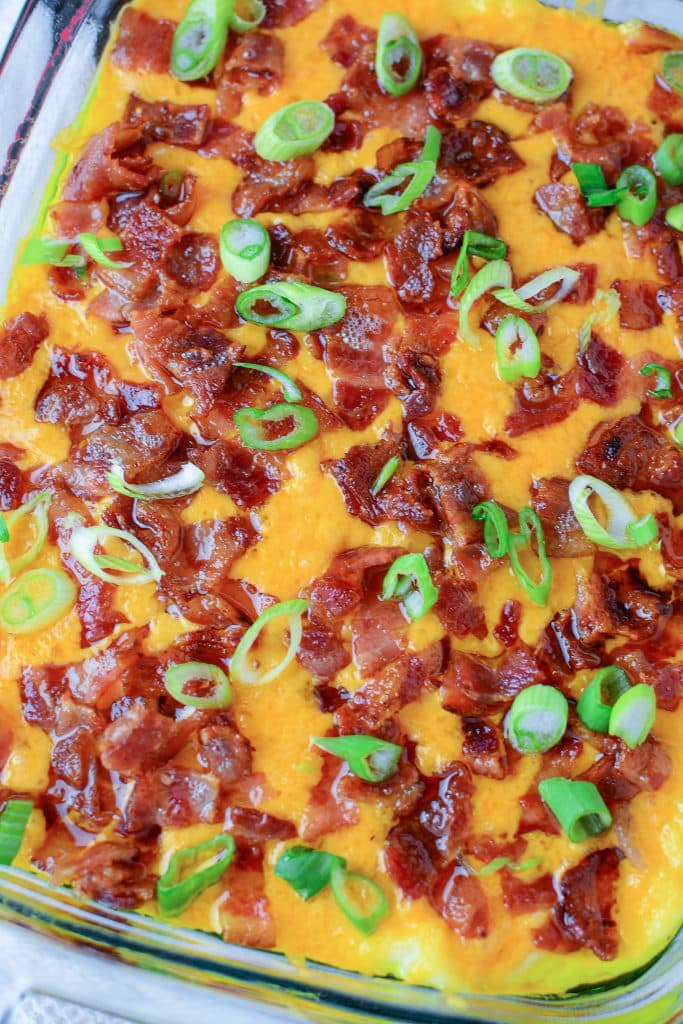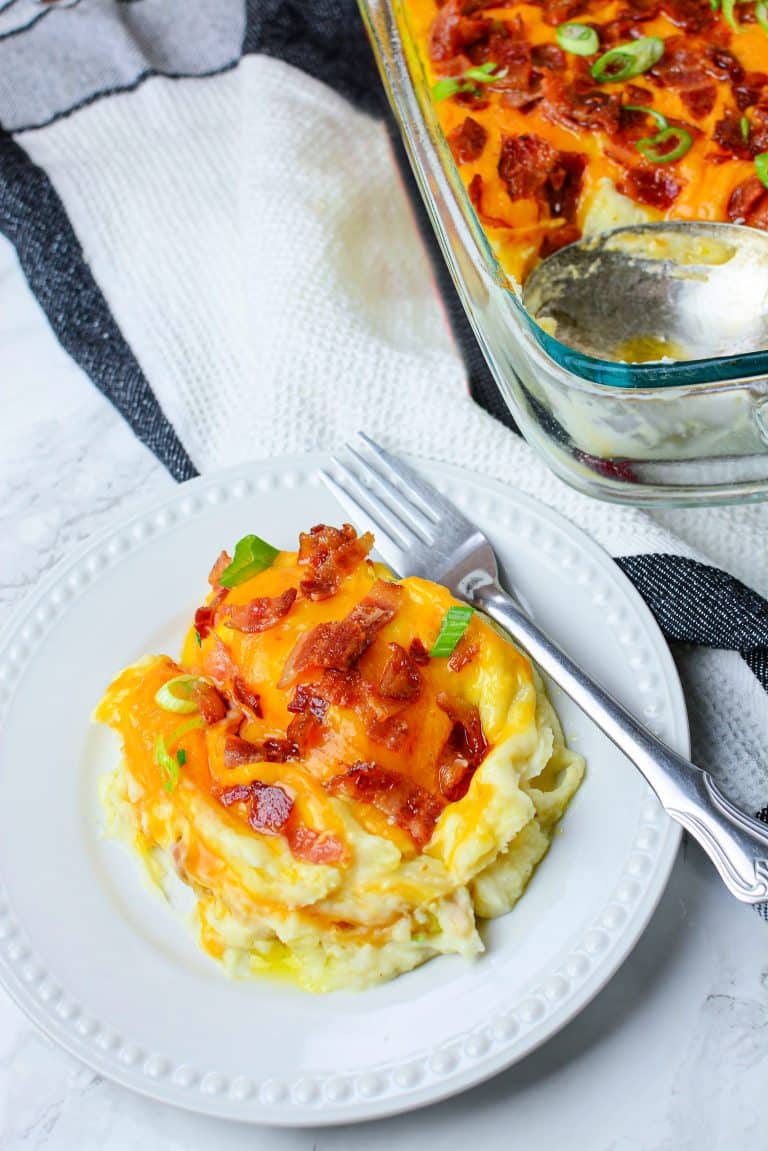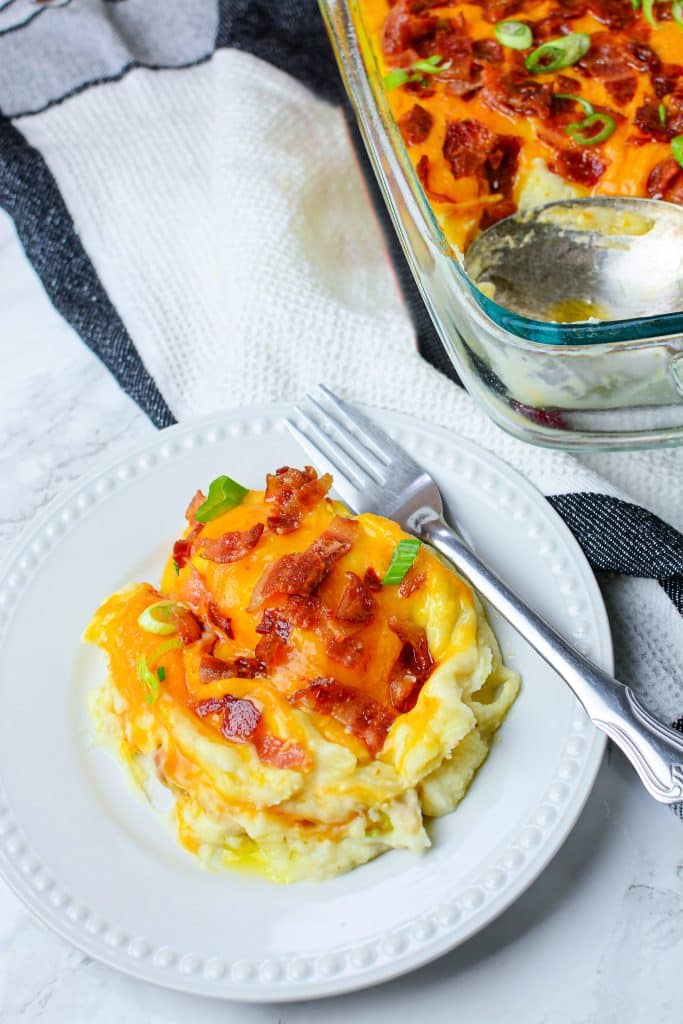 Recipe FAQs
What Types Of Potatoes Are Best For Making Baked Potato Casserole?
Russet Potatoes are one of the best types of potatoes to use when baking. The high starch content in these potatoes results in a creamy texture that's perfect for baked potato casserole or a similar mashed potato dish.
What Variations Can I Make to This Recipe?
I've used shredded cheddar cheese but you can use another cheese that you prefer as long as it melts well.
You can reduce the calories in this recipe by omitting the butter and using light sour cream.
Feel free to add your favorite baked potato toppings to your casserole!
What Do You Eat with Loaded Baked Potato?
Just like classic loaded baked potato, you can enjoy this loaded baked potato casserole alongside other side dishes such as coleslaw, roasted vegetables, green salad, grilled or roasted chicken, fish, or steak. Some great quick and easy dinner options include: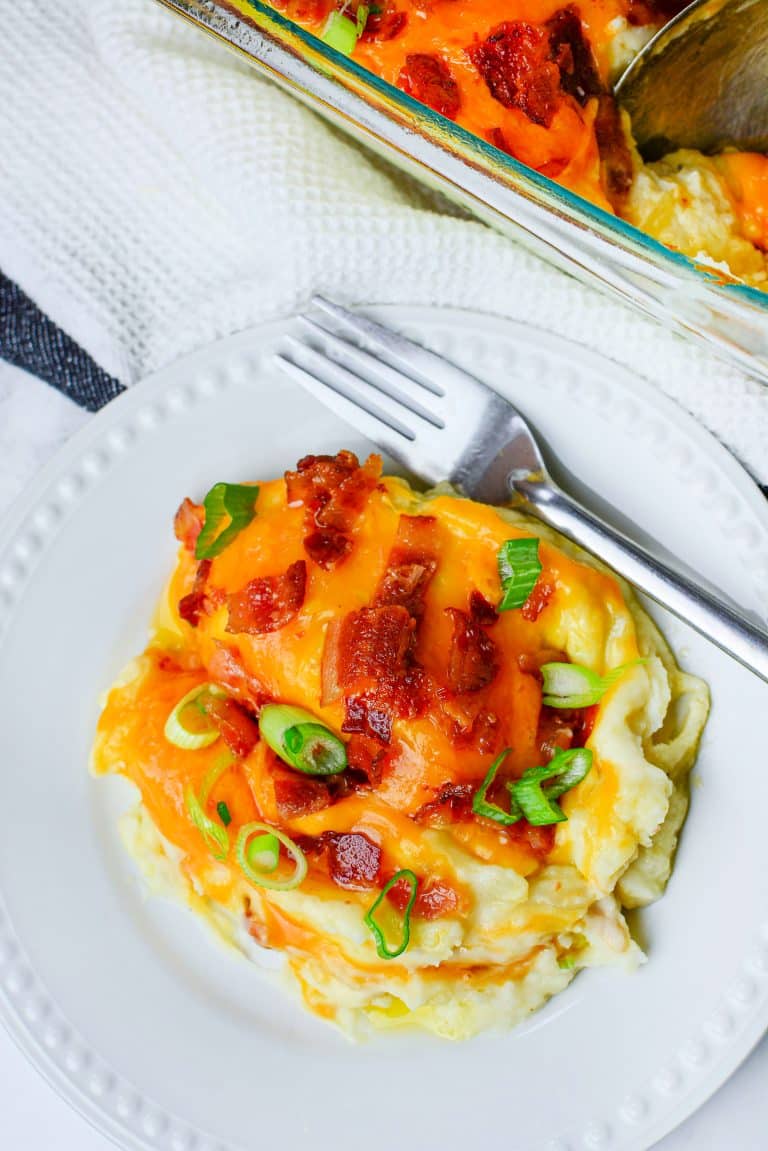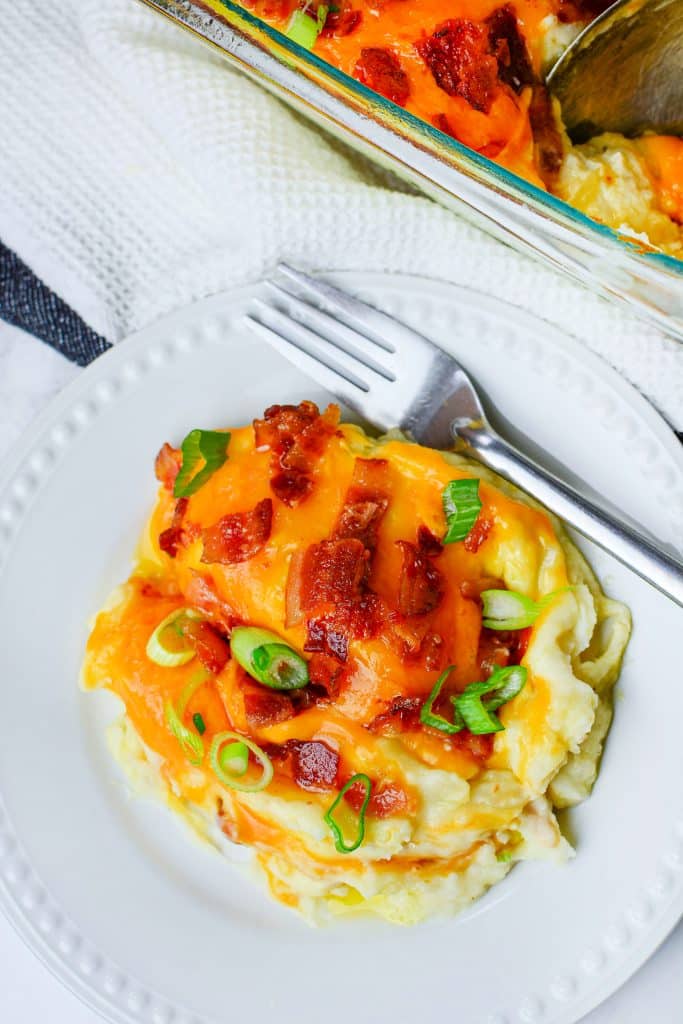 How to store Leftovers
Leftover loaded baked potato casserole can be stored in an airtight container or in the casserole dish, covered tightly with plastic wrap, in the fridge for 3-4 days.
You can also freeze this casserole for up to 3 months. Thaw it overnight in the fridge and reheat in the microwave or oven.
Can I Make This Casserole Ahead of Time?
Absolutely! You can make and assemble the entire casserole a day or two in advance and store it in your refrigerator, wrapping the baking dish tightly with plastic wrap. You can also freeze it (unbaked) for longer – ready to be thawed and heated in the oven before serving.
Be aware that making this casserole ahead of time and storing it in the fridge will require you to add a few minutes onto the baking time. If you are concerned that the shredded cheese topping will burn before the entire casserole heats through, cover it initially with aluminum foil.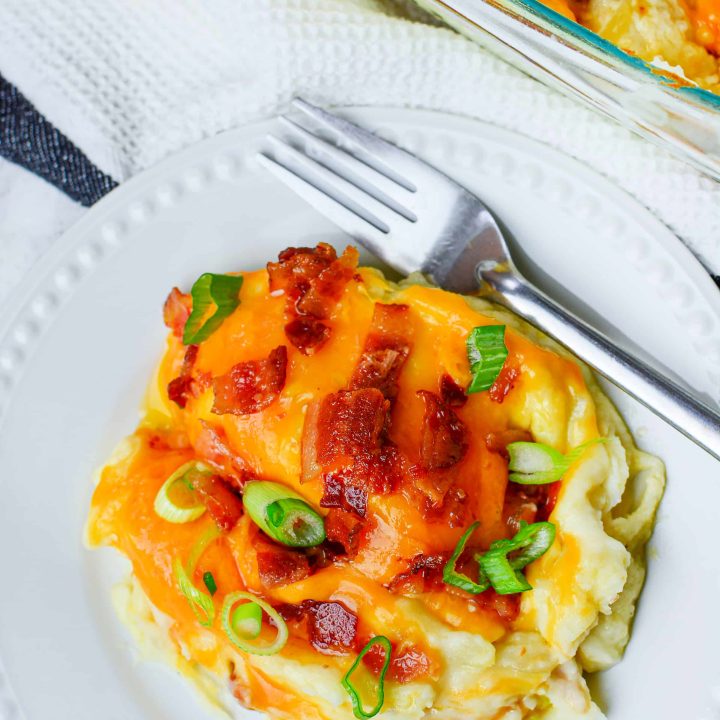 Loaded Baked Potato Casserole
Make the best baked potato casserole loaded with your favorite toppings!
Ingredients
3 lbs potatoes, peeled and cut into bite size pieces
8 oz Bacon, cooked and crumbled
1 Onion, medium, chopped
1 teaspoon garlic, minced
¼ cup butter
1 cup Sour Cream
4 oz Cheddar cheese, shredded
¼ cup Green Onion/Scallions, sliced
As desired, salt and pepper
1 tsp Oil for frying.
Instructions
1. Boil the potatoes until a fork goes through the potatoes easily. Drain and transfer back into the pot.
2. Add the ¼ cup butter and sour cream. Mash the potatoes.
3. Add the oil for frying to a skillet, then and add the chopped onions and
garlic. **Optional step, lightly salt the onions to help draw out the natural
sugars to help with sautéing.
4. Add ½ of the bacon crumbles and heat through. Add the skillet mixture to the
mashed potatoes and mix all together.
5. Transfer the potatoes to a lightly sprayed 9 x 7 baking dish.
6. Cover the potatoes with the shredded cheese.
7. Sprinkle the remaining bacon crumbles over the top.
8. Bake in the oven for about 10 minutes or until the cheese is nicely melted and the bacon is crisped.
9. Remove from the oven and let sit for a couple minutes.
10. Garnish with the sliced green onions and enjoy.
Other Casserole-Style Meals You'll Love
Love a good casserole? Me too! Try one of our other favorites:
Did you make this recipe? I'd love for you to leave a review in the recipe card above or the comments below. Want to make it later? Pin the image below to your favorite board.