Hey yall! Welcome to the next installment in the Learning to blog series – buying a custom domain! Dun dun dun! To a new blogger it sounds complicated and mysterious, but it's actually super simple and slightly addicting. Hi, my name is Kelley and I am a domain hoarder! [Hi Kelley!] I'm going to show you how to buy your own custom domain for your blog in a few easy steps. Here we go!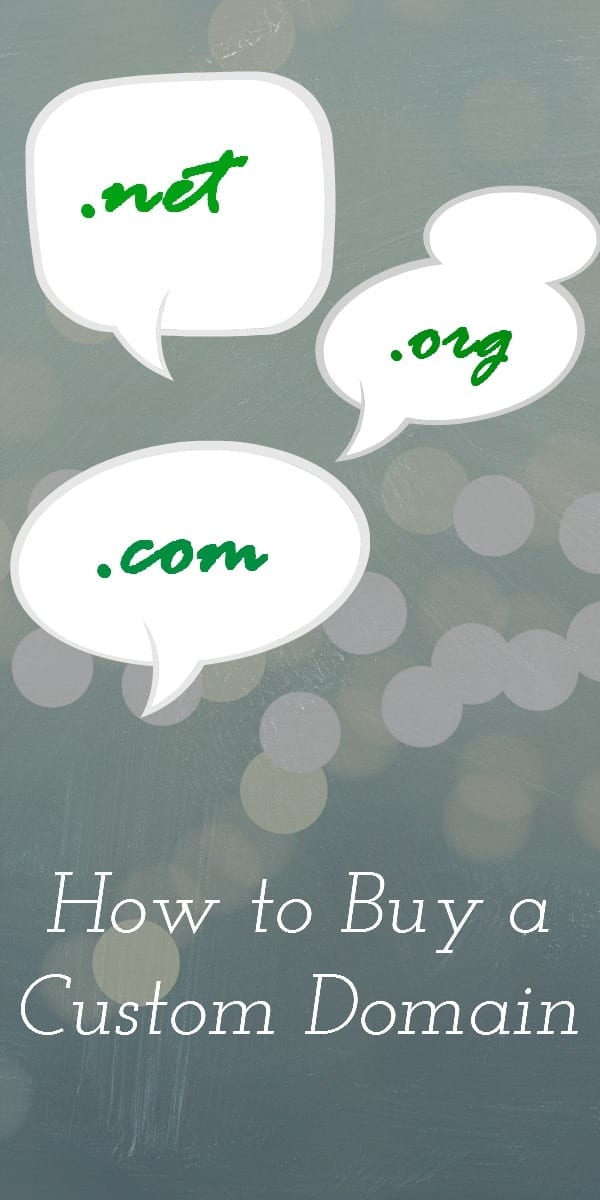 1. Pick you name – First things first, make sure you have picked a name for your blog. [Here are some tips for picking the perfect name!] That was easy, right? Onward!

2. Check availability – You can use any domain registering service you like, but I prefer GoDaddy. The commercials may not be my style, but I love how easy the site is to navigate. And their customer service is pretty good too. Head over to GoDaddy and type in your potential blog name in the box up there and search.
If your URL is available – great! Add it to your cart. If not, try a few different variations. So if you are trying to register FoodWebsite.com and it says its unavailable, try myfoodwebsite.com or thefoodwebsite.com or even foodwebsiteblog.com. Get creative with it!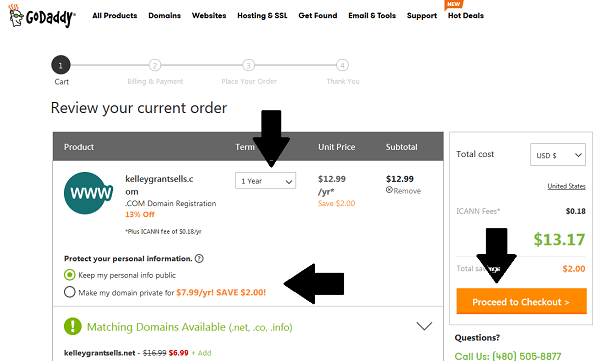 3. Buy it – Once you have your custom domain in your cart you will see a screen like the one above. I want to point out a few things before you actually buy. Make sure you term is set to 1 year or however long you want. GoDaddy automatically sets it for 2 years when you add it to your cart. If you feel comfortable buying for more then one year – go for it! But I just want to point out that they have it set to 2. Just be sure to either renew or have your URL set to auto-renew if you only select 1 year but want more!
Also, if you want to make your information private, click the second bubble under "Protect your personal information." I have a few domains that are public, and I have a few that are private. I decided to make my business sites private to ensure that people can't find my home address through the WhoIs look-up. WhoIs is a website that pulls public records from domains. It can have information like your email and home address. If you want to keep that private, be sure to buy the protection! Below is an example of my WhoIs report for the Grant life. And yes, I have the protection.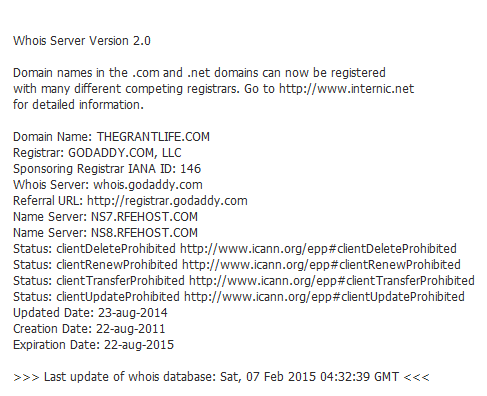 And the third thing before you finally buy – double check your price. Make sure everything adds up and then head on over to the purchase screen. You will have to either create a new GoDaddy account or enter your existing customer information. You can then either pay with a credit card, PayPayl, gift card or even a checking account. Read and agree to the terms and hit "Place Your Order"
Congrats! You have officially bought your first custom domain name!
Next week I'll show you how to set it up with a Blogger or WordPress blog, so be sure to either join or Facebook group or sign up for email updates below.