Hello All! I am Janiene from A Bunch of Bishops and I'm here to share one of my birth stories with you. I am a Mom of 3 and I have had 3 very different births. I find it funny that my birth stories match the personalities of my children – coincidence, maybe – but still fun to think about!
When I found out I was pregnant with my 3rd child I wanted nothing more than to birth at home. Without going into too many details about my first 2 births, I never wanted to step foot in a hospital to birth a child again. I have a friend who was a licensed midwife and she became my amazing midwife for my 3rd pregnancy. I still went to an OB and had that as a backup plan just in case something went wrong with either the pregnancy or the delivery.
My pregnancy was amazing with my 3rd child. I was sicker than I was with my first 2 but other than that – amazing! I found out that I was having a daughter and was nervous and excited. I will be honest with you all, I never wanted a daughter. But, God knows me so well and knew just what daughter to bless me with, and so I learned to trust even more in the sovereignty of God through this! 🙂
On to the good stuff…
All my pregnancies go "late".
I hate due dates and what it does psychologically to the Mom (and what it does to Dr's once you pass said "due date"). Now on my 3rd baby, I knew there was nothing "wrong" with the size of the baby – I just have big babies…there is nothing "wrong" with the size of my pelvis – 2 other babies passed through just fine…there must be something "wrong" with the whole practice of assigning a "due date". I talked to my midwife about it and she said back in the day they used to give you a birth month – so that is what I started to tell my family…I am due in April – some time in April 🙂
On April 15th (almost 2 weeks past my due date) I started to have some slight menstrual cramping.
I sat on my exercise ball and just rested and let my belly hammock forward so that my daughter would be in the best possibly position. I went to bed around 10:30pm and was awoken at 5am with some pretty strong cramps. I went to the bathroom and drank some water and tried to go back to sleep. My cramps started getting more painful and consistent and then before I knew it I was having pretty regular contractions.
I let my husband sleep and got my kids up and ready, fed them breakfast and called my sister to take my kids to my Dad's house. I knew this was the real deal 🙂
I called my midwife at 10am and asked if she could come over. I then called my best friend Stacy and asked her to come. Stacy brought me Starbucks ice – what a perfect best friend. Stacy has been at the births of all of my children – she is an amazing support in labor & delivery! My husband and my midwife set up the birthing tub. Once filled, I hopped in and relaxed through my contractions. Here is one of my favorite photos from laboring in the birthing pool. I was in the middle of a contraction and Stacy was pushing on my lower back to relieve the pressure and ease the pain…
I labored until 3pm and I felt ready but my water had not yet broken. I was not surprised seeing as how my water never broke on my first 2 births either. My midwife checked me and the water bag was in the way of my daughters head. My midwife did not want to break my water unnaturally so
she recommended that I walk around and allow my water to break naturally. Ummm, this was not a fun part of the process for me. I wanted to get the baby out but she was blocked by the bag of water. I tried and tried but nothing. I finally asked her to check me one more time to see if the baby's head was further down. Right when I laid down and before she got a glove fully on, my water burst! I rushed (well as much as a huge pregnant lady can rush while about to push) over to the tub and pushed a few times but something didn't feel right. I would push and my daughters head would come out and then spring back up. My midwife checked me and then told me to get out of the pool and sit on the birthing stool. I sat on the stool and she told me to get the baby out with one push. I prayed and took a breath and pushed my sweet daughter out with everything in me. My daughter came spinning out and we saw that the umbilical cord was wrapped around her neck. My midwife was there to catch her and hand her to me. I snuggled her tight and my midwife gave her a breath and she pinked up and opened her eyes. She was so calm and so quiet – and so beautiful. She was not quiet in a bad way, she just seemed to be taking in the moments and I could feel her sense of calm and comfort in my arms…
into the world (via our bedroom, haha)
at 5:02pm on April 16th, 2011.
While I moved over to the bed to rest and all, my husband got to snuggle his sweet daughter. It was a bright spring day and the weather was perfect for her arrival!!
My boys came home and met their new sister…
My midwife asked me how much I thought she weighed and I said that I thought she looked smaller than Owen and so I was guessing 8-1/2 lbs. She just laughed and said I was almost a pound off. I was shocked when she told me that I just homebirthed a 9lb 7oz baby! Wowzers!!
My favorite things about this birth…
~worship music played the entire time~
~I was able to close my eyes and labor uninterrupted~
~I was able to have the birth that i wanted~
~I did what felt right for my body~
~my midwife stayed with me for like 6 hours after the birth and gave me such tender, attentive, amazing postpardum care~
My daughter is 15 months old now and such a wonderful addition to the Bishop bunch…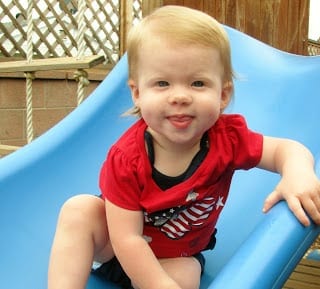 Thank you Kelley for letting me share my amazing birth experience with your readers. And thank you to you all for reading it! 🙂