When Kelley asked me to share my birth story, I was a little intimidated! My first thought was that my birth story wasn't all that interesting. But, then I realized that was silly…all birth stories are interesting!! A baby entering this world is never boring. 
First, I guess I'll share a bit of my history. I've been a nurse for 9 years and, while the bulk of my experience has been in the Neonatal ICU, I've also worked in Women's Services. Plus, I spent a year working as a nurse in Sudan, Africa and while there I assisted 5 women in the delivery of their babies. Through all that, I've seen my fair share of babies being born and I've witnessed everything from all-natural, mud-hut deliveries to scheduled hospital inductions to emergency cesarean sections.  Because of my past experiences, I approached my own delivery with a very open mind. I knew from experience that the higher my expectations were, the more I'd be disappointed. I was open to letting things unfold as they did and not forcing anything. 
I had a very easy and comfortable pregnancy, but towards the end of my pregnancy, I began developing hypertension and was put on modified bed rest. The doctor said I could make dinner & go to the grocery store…but I couldn't strip my hardwood floors or redecorate my bedroom (wow, did he know me, or what?!).
At 38 week my doctor decided to induce me due to the increased blood pressure. My hubby and I checked into the hospital on Sunday night, February 20th and I was given a medicine to soften my cervix. I was only dilated to a 1 and not having regular contractions. Through the night, I was very uncomfortable and barely slept, but I still wasn't having significant contractions. In the morning around 8, the doctor came in and broke my water and started pitocin. I also got an epidural at that time. I spent the next several hours visiting with family and reading magazines. Around lunch, my husband was going to get food with our family, but first the nurse wanted to check me. I was hoping to be at a 4, because that's when things start getting serious! She told me to guess how far dilated I was and I guess a hopeful 4. Nope. I was actually a 10, complete and ready to start pushing! What?! 
My quickly hubby ate a peanut butter snickers as his lunch plans unraveled! My doc came in and told me that it would probably take over an hour of pushing since I was a first time mom, so he would come back and check on me later. As soon as the nurse got set up, I was given the go ahead to push! I gave 3 pushes and the nurse told me to stop as she paged the doctor. He came in, I pushed twice more and my daughter was born!! What a life-changing moment that was. 
Yes, I had a very easy delivery, but the post-partum recovery was the toughest part of the entire process! I still cringe when I think about it…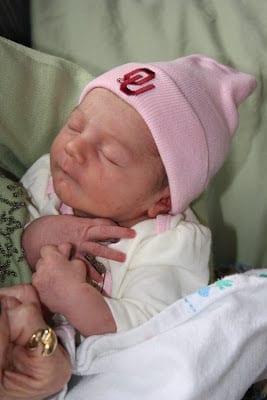 Oh, but, sweet Merritt Oliva was so very worth it! My little peanut was 6 lb 2 ounces and 18 inches long. I look at that face and just melt!!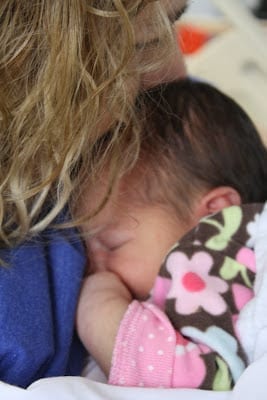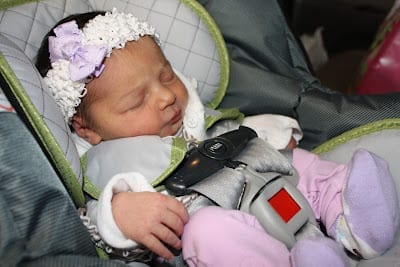 Thanks for sharing my story, Kelley!! The birth of my daughter was the most defining moment of my life and I'll never forget it!
—
Thank you for sharing your story Emily!  Make sure yall check her out over at
52 Mantels
!