Im going to be honest.. finding the perfect dress was the number one thing on my wedding to do list. I didnt want a dress that everyone else had.. I wanted something unique and gorgeous.  I avoided the big box bridal stores mainly because of their horrible customer service.  [Whole other story here.]
My mom flew up to Michigan a few weeks later and we went back to the shop.  I showed her the dresses that I liked but wasnt in love with and started to get disappointed.  The owner of the small shop told me 'Try on a dress that you would never wear to your wedding.  Youll be surprised at how different they look out of the bag.'  
I didnt even look twice at this dress the first time around.  And now I dont know how I could live without it.  It has to be the most gorgeous dress in the world.  Well, not the world.. but that I own.  I love every single detail.  And then some. 
Drop waist, corset top, lace and bead detail.  The top was like a glove and the bottom was flowy and light.  
And it was super fun to put on!  Thats my amazing sister-in-law all up in business making sure my layers were just right.  I love her.  
My bridesmaids wore long navy dresses with sand colored sashes.  I told my bridesmaids that they were lucky I picked out such cute dresses.  I was kidding, but I really loved them.  I wanted one myself.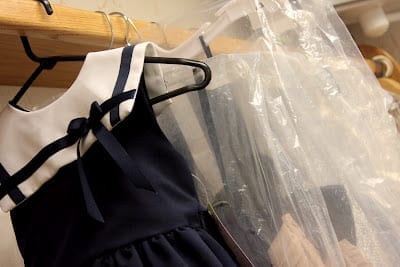 Love my girls!  From left to right – amazing co-workers, Ryon's cousin, me, college bestie and Ryon's sister.  And Ryon's youngest cousin was our flower girl.  Such a sweetie!  She wore a little nautical dress I found at a boutique.  
I am very lucky that Ryon's cousin, Kristin, is a hair stylist.  She was such a blessing!  She tried out different styles for my hair a few months before the wedding and we decided on this curly, bumpy one.  She is amazing!  My hair stayed through the ceremony, pictures and dancing.  I had my makeup done at MAC before heading to the church.  
I loved the something old, something new, something borrowed and something blue factor of my wedding.  I made sure I had all each of them before I walked down the aisle.
My something old:  My grandma's ring in my bouquet (on the right)
My something new: My necklace from Ryon (sapphire tear drop)
My something borrowed: my hair clip, from my high school best friend
My something blue: My undies.. shhh 😉
My momma and daddy!  Momma and I got her dress a few days before the wedding.  Were shopping buddies.. forever and always.  Daddy's suit is opposite of what the groomsmen wore.  I wanted him to stand out a little more.  Mission super cute parents – accomplished!  
Ryon's outfit was easy.. he wore his Navy blues.  [Who doesnt love a man in uniform?]  He wore his uniform for a couple of reasons.. 1. I made asked him 2.  The uniform matched our theme.  Heck, it was our theme.  3.  It was free.  I think number three was the main reason he wore it.  His groomsmen had navy suits and cream ties.  Perfection.  
Ryon's groomsmen from left to right: Ryon's brother, Ryon's cousin (his sister is the flower girl), my brother, Ryon's brother, our brother in law (married to Ryon's sister.. the one who was all up under my dress), Ryon's best friend from school and my future husband!  
Our beautiful wedding party!  And my dress.. oh I love my dress!  Our first Christmas as hubby and wifey Ryon made me a shadow box for my dress.  Its cedar, has a glass opening and I get to look at my dress everyday!  Best Christmas present ever!
Make sure you hop over to Liz's site to see more of her wedding!
This post is sponsored by: