I am the queen of "lets start a recipe and worry about ingredients later". Sounds silly, right? I just always assume that I have things like eggs and butter on hand. And we normally do, but sometimes it just seems to disappear. So I start pulling out things to bake or cook and guess what's missing? Eggs. Or vanilla extract. Or buttermilk. Does this ever happen to you? It does? Phew. I'm not alone then! And since I'm not alone you will absolutely love these free ingredient substitution printables.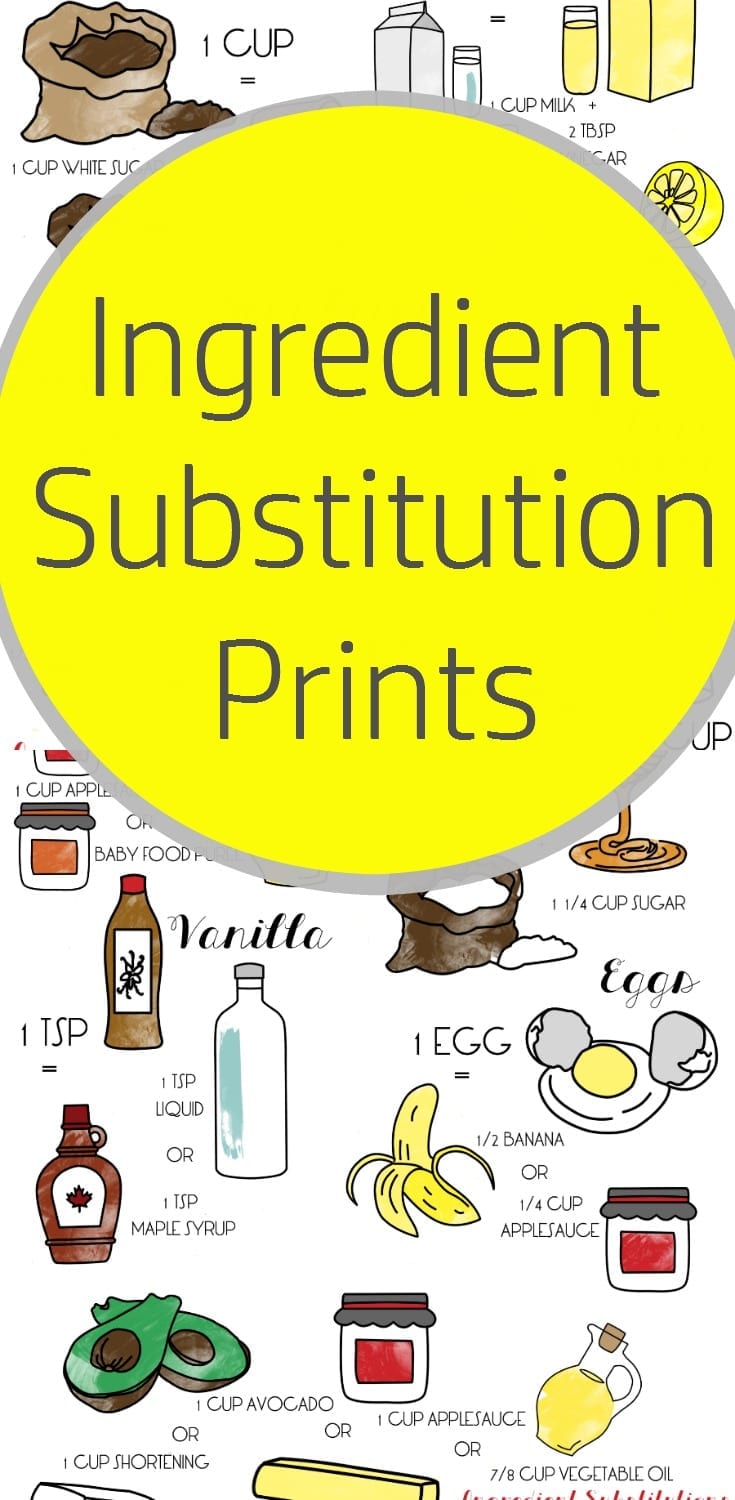 Aren't they cute?! My friend Karly designed them! I have big plans for my printables. Like they are going to hang in my kitchen! A totally practical, super adorable and way handy decor item. [Can you tell I'm sorta excited about these?]
That's right. There are two freebies and two super easy ways to get yours. And then hang them on your walls like me! Or keep them in a drawer or a cookbook. Whatever your substitution heart desires.
And because I don't want you to miss out on the ingredient substitutions you can use, here is a [not as pretty, but totally handy] list of them items on the prints.
Vanilla – equal maple syrup or liquor
Butter – equal shortening or 7/8 cup veggie oil or 1 cup applesauce or mashed avocado
Egg – 1/2 banana or 1/4 c applesauce
Honey – 1 cup with 1.25 cup sugar and 1/3 water
Oil – 1 cup applesauce or baby food puree
Brown sugar – 1 cup white sugar + 2 tbsp molasses
Buttermilk – 1 cup milk + 2 tbsp lemon juice or white vinegar
Sour cream – greek yogurt
Heavy cream – 3/4 cup milk + 1/3 cup butter
Corn syrup – 1 cup sugar + 1/4cup liquid
To recap:
Subscribe below for our emails. [You can unsubscribe at any time. Pinky swear.] Happy baking/cooking/creating new recipes from the substituion queen! [I just dubbed myself a queen. Just go with it.]