Im obsessed with crosses.  Its true.  [And you thought it was only anchors!]  Last month when our
Texas Bloggers
was having a skype date all the girls commented on the crosses behind me.  I gave them a mini tour and promised to share more later.  Well today is later.  If that makes sense.. just say yes.  

This is our living room full o' crosses.  I wanted a fun pattern and my momma helped me make this wave that goes all around the room.  [Yes my living room is
teeny tiny
.. but I love it.]  
This is the back wall of the living room.  Its also the wall that my video cam points towards so this is what you see when/if we skype.  
This is the main wall of the living room.  I have been collecting crosses for almost ten years now.  Each one is special to me and reminds me of an important time in my life.. although they all special since they represent Jesus dying for our sins.  [Got serious about my faith there.]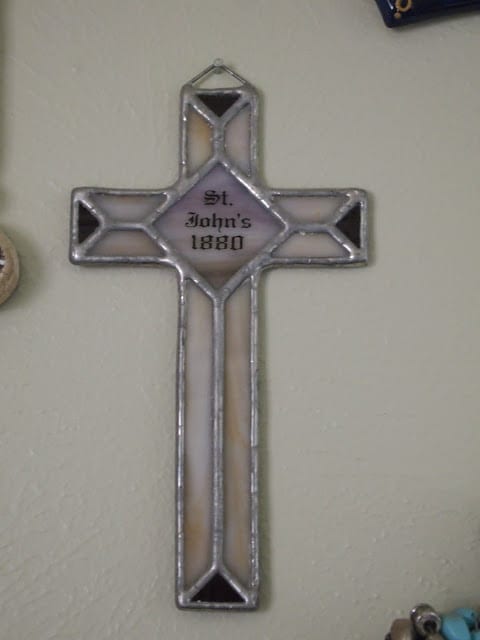 Hands down my absolute favorite cross in my collection.  It is stained glass from Ryon's old church that was destroyed by a tornado.  He told me that in the old church people saved up money in order to buy the stained glass windows and that etched in each window were the names of the people who donated.  I love that.  Ryon and I were married in the new St. Johns in 2009.  I love that too.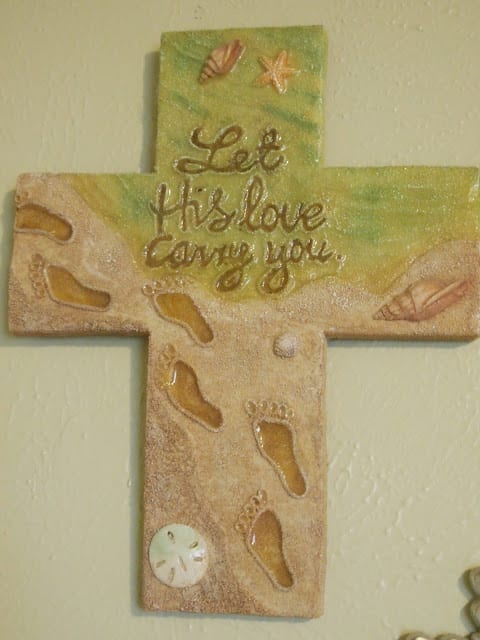 I bought this cross at a little boutique in town with my mom.  I love shopping with my mom and I love the message on the cross.  Plus its beachy.. which we all know Im nuts about.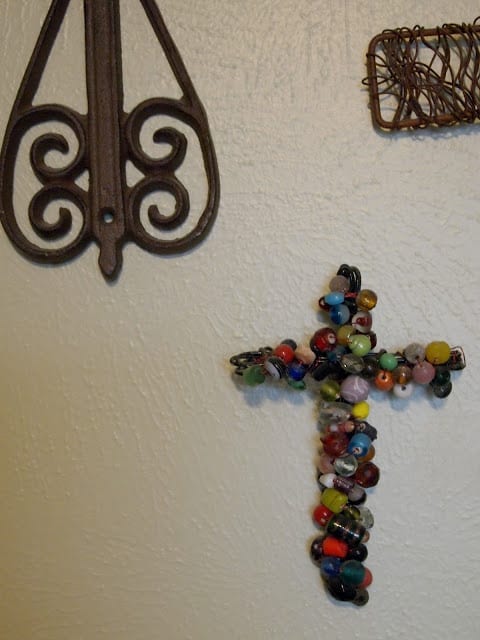 This little guy was my first attempt at making a beaded cross.  I have this problem where I see something I like and I instantly want to make it myself.  Beaded crosses are just one of my many diy projects that I pick up and put down and pick back up again.  Watch out.. you may see a beaded cross in the loveables store soon.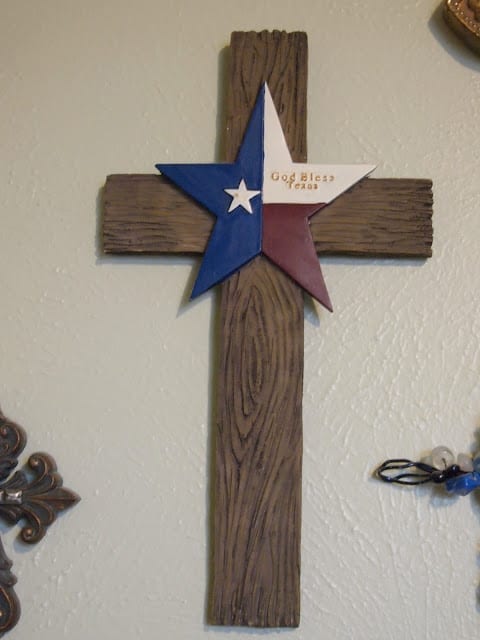 God Bless Texas cross was the last cross I bought in Texas before moving to Michigan.  I stopped by my aunts flower shop on our way out of Texas and my aunt gave it to me as a going away present.  [Ok.. so I didnt buy it.].  It hung proudly in our Michigan apartment and now its back in the great state of Texas.  [No offense other states.]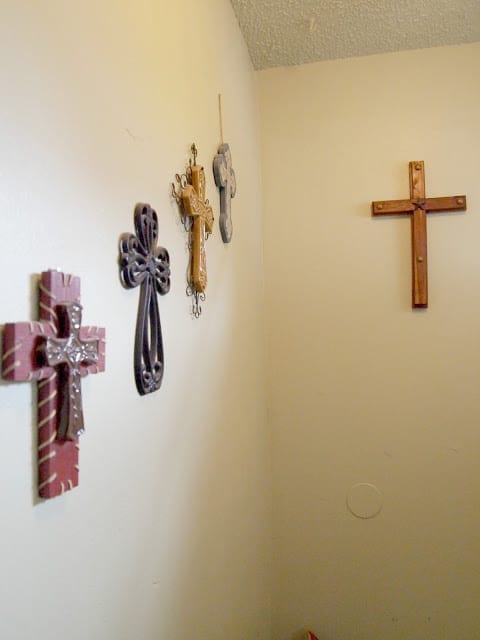 These are my entryway crosses.  Maybe I should have started with this?  Nah.. too predictable.  Im pretty sure all four of those crosses on the left came from Hobby Lobby.  Hi fifty percent off all wall decor.. nice to see you again.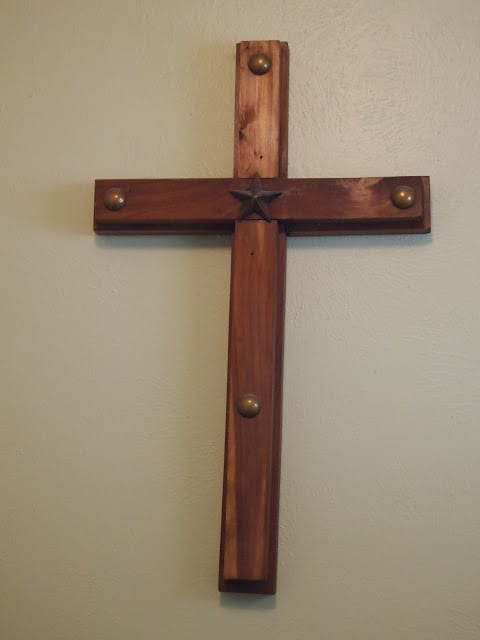 My sister in law [my older brothers wife] gave me this beauty one Christmas.  Its cedar and huge and gorgeous and I love it.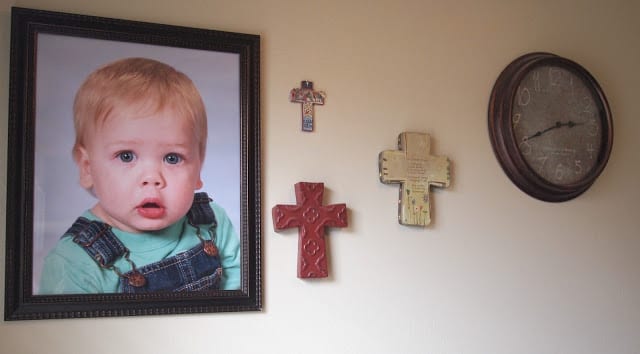 Onto our spacious dining room.  [Aka eat in kitchen.. aka tiny.]  I dont have many crosses in the dining room but I really wanted to show these pictures of the kids.  They are my favorite pictures ever and they are HUGE.  I cant wait til they are older and these pictures totally embarrass them.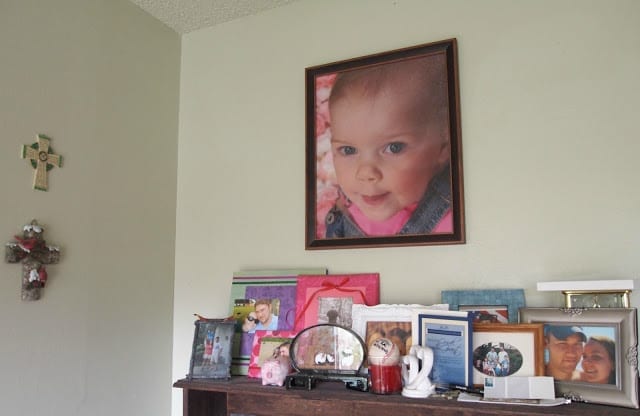 Few more crosses on the other side of the clock.. but more important our Ryley bear!  This was from her first birthday photo session.  She really didnt smile in any of her pictures.. but this was captures her personality perfectly.  Sassy and sweet at the same time.  [Ignore the mess underneath her picture. Thanks so much!]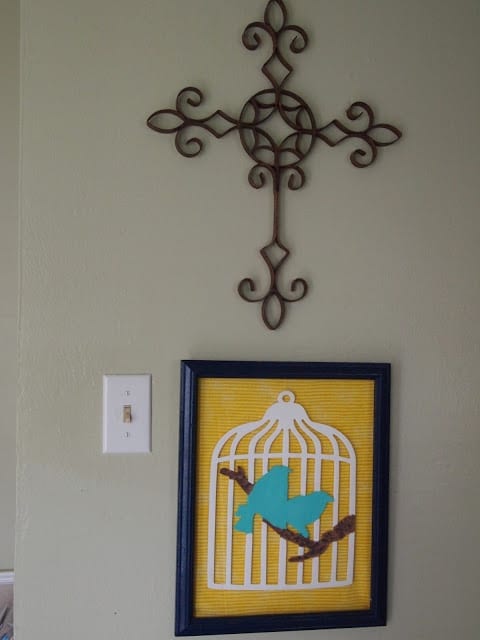 You may remember this big guy from my little birdie wall art.  Hes one of my favies too.  Im pretty sure hes an outdoor cross but I like him indoors.  And he likes it indoors so he stays.  
I hope yall like my tour of crosses!  I have to pack them all up and find a way to arrange them in the new house soon.  Just wanted to share with yall what they look like now and then maybe [mayyyybe] Ill show you how I set them up in the new place.  Ok.. I will.  You twisted my arm.  


.–[Lovely July Sponsor]–