Another Saturday morning, another day to share what's going on behind the scenes at the Grant house. I feel like this week passed at warp speed but I was still able to enjoy it. Here are a few things that I loved about this past week.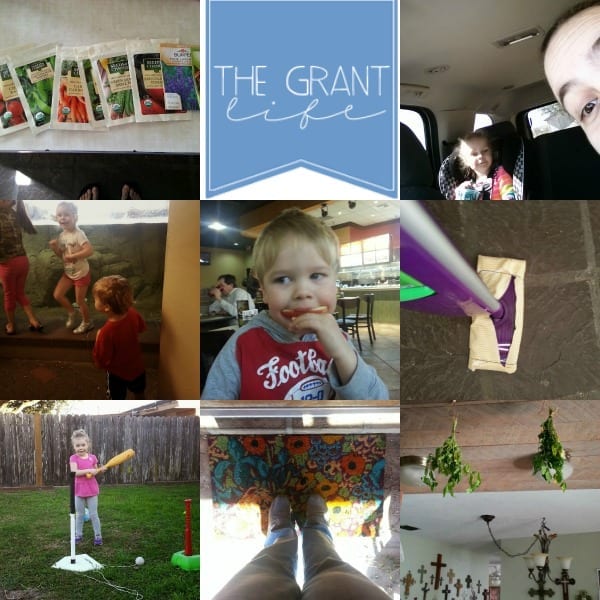 That we got a new ball and tee set for the kids and they LOVE it. Its super cute to watch.
That when Avery goes to hit the ball he tells every 'Scoot back. Scoot back.' and puts his little hand up until we are far enough back.
That Target clearance always knows what my house needs. [This time it was a new doormat. Whoop!]
That my kids know Target as the popcorn store. [Ooops.]
That I snipped my fresh herbs that were growing in the windowsill and hung them up to dry. [This is my first time growing herbs and drying them so Ill report back with how it goes.]
That we picked out our seeds for our garden this spring. [And by "we" I mean Ryley and I.]
That the Texas State Aquarium was having dollar day this past Monday.
That I was crazy enough to go alone with two kids.
That both kids had such a blast it was worth it.
That every time we see an airplane in the sky the kids say its going to Michigan. [Airplanes only fly to Michigan in this house. Shhh don't tell the kids otherwise.]
That I made my own Swiffer pads and refill solution this week. [Whoop!]
That I also made this berry banana bread from Being Cheap is Easy and it was SO SO good!
That Ryley loves staying the night at my parents house. [She even has her own suitcase and everything!]
That Avery kinda misses her when she's gone.
I think that's about it this week. What are you loving?