Oh my goodness. What a week it has been! I have loved so much this week, mostly the time spent with family and friends. Ill try to break it down a little more and share what I'm loving this week.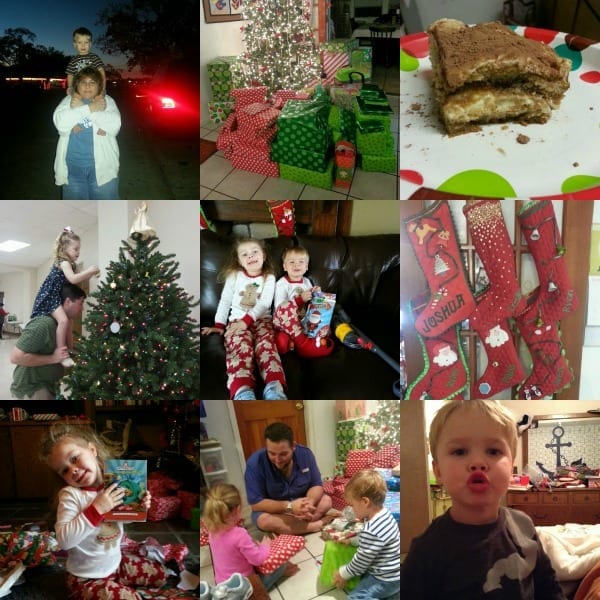 That Christmas Eve service was so beautiful. [Even if I had to listen to most of it from the cry room.]
That services at 7 at night only happen once or twice a year.
That the kids went right to bed after service because they were so excited.
That after the kids went to bed I wrapped presents until almost 3 AM with my mom. I remember her staying up late with my grandma and even though I'm exhausted for a bit I love that we wrap together as well.
That we also made 5 homemade stockings this year! It was on the agenda for last year but got neglected and this year we [mostly my mom] cranked out 5 new stockings! [That are oh so beautiful!]
That I put all of Ryon's presents in one box so it looked like he only had one present. [I'm hilarious yall! He laughed too.]
That my dad was more anxious to have the kids open their presents then the kids.
That people were so very generous this year. I may have cried the whole time I opened presents.
That my moms neighborhood is decked out in lights every year. They even have a parade. It so fun.
That my mom was off all week and helped with the kids while they are out for winter break.
That Ryon had a good birthday.
That his favorite part of his birthday was snuggling with the kids and them yelling "Happy Birthday daddy!"
That the kids have toys that keep them happy and quiet for long periods of time.
That I finally found a RSS reader for my phone so I can stay up to date with my favorite blogs.
That I'm slightly addicted to essential oils and I am slowly growing my collection thanks to my friend Jana!
That Hobby Lobby has their Christmas stuff on sale and we bought more wrapping paper. [Its the BEST paper and at $2.60 a roll, well its the cheapest too!]
That time with my family and lots of laughter was the best present I got this year. [Cheesy, but its true!]
So what are you loving this week?