Disclaimer:  This is a sponsored post as part of the Shaklee Corporation blogger program.  I have received free products, online support and incentives for participating in the Shaklee Corporation blogger program. My opinions are my own.  I am also a Shaklee Independent Distributor.

Im losing.  This statement can be applied to many things.  Such as Im losing my mind or Im losing my money [kids are expensive yall!].  What Im currently losing is weight.  Im down 9 pounds from last month thanks to Shaklee.  At one point I was down to 199.4 so I bought new shoes since I met my first big goal – lose 10 pounds.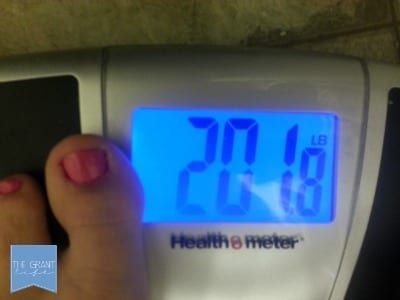 I have followed the Shaklee 180 program for a month and have seen great results.  The amazing thing is I havent worked out in a while.  Im simply losing body fat on the program and by making health-ier choices.  Im not going to lie, the other night I had sweet potato chips and cookies for dinner.  I just make sure to take a Shaklee Metabolic Boost after each meal and drink tons of water.  I mean tons of water.
Sounds crazy, right?  Im just happy that even though I have an off day that I am able to continue to lose weight.  The last few months I have been working full time and I havent been able to work out.  I hope to get back into my workout routine and post even better results next month.  I personally dont feel any smaller or think I look like Ive lost weight but my clothes are very loose and friends tell me I look skinnier.  And I might have kissed them.  [Kidding!]
My beginning measurements were:
Chest – 43′
Hips – 46′
Waist – 44′
Arms – 14′
Thigh – 25′
My current measurements are:
Chest – 42 1/4′
Hips – 44 1/2′
Waist – 41 1/2′
Arm – 14 1/2′
Thigh – 24 1/2′
My goals for this next month are to continue to drink water until it comes out my ears and get back into my work out routine.  Im going to start the couch to 5k program again and try the naturally sisters April challenge.  I hope to post even better results in my next update post!
Question – What are you doing to stay fit?