Last week I showed yall how to set up Google Analytics.  It takes less then 5 minutes to set up and is one of the most beneficial things you can do for your blog.  It gives you so much information that you can use to better your site.  Today, Im going to go over what a few of the numbers mean, how to find your referring sites and your top keywords.

When you log in to your analytics you are taken to a front page that shows all your stats.  All of these numbers tell you something different about your site.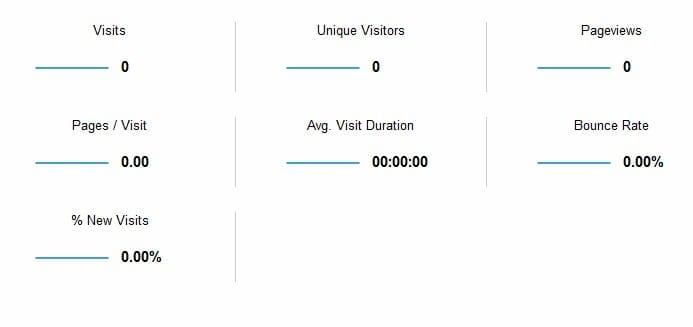 Visits: Number of times someone visits your site.
Unique visitors: Number of times someone visits your site, but each IP address only counts as one visit.  So I can visit your site 100 times but I will only count as one visit.
Pageviews: Number of pages viewed per week/month.  How many times do they click next page or go to another blog post.
Pages/Visit: The average number of pages viewed per visit.  Its good for this number to be high.
Avg. Visit Duration: The average time that people are on your site per visit.  Its good for this number to be high, it shows you have good content that keeps readers interested.
Bounce Rate: The number of readers who read one post on your site and leave.  Its good to have a low bounce rate.
New Visits: New readers to your site.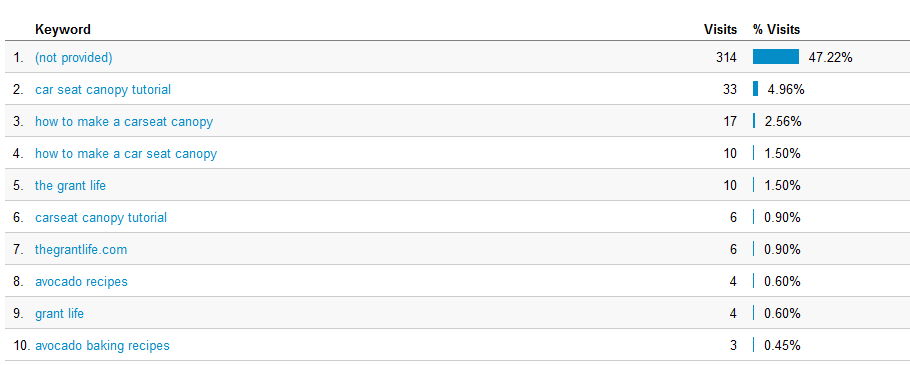 Go to the left site of your page and click on traffic sources>overview.  This will bring up the top keywords that people use to find your site.
This is great information to use for future posts.  A few of my top keywords are from the car seat canopy tutorial and the avocado posts I've shared.  People are searching for these topics and ending up on my site, which is awesome!  I may do more posts on both just to increase my rank on both subjects.


From the main page click on the traffic sources>sources>all traffic.  This will show you all your referral sites.
As you can see Pinterest is my top referral, by a lot!  The columns on the right show the average pages per visit, duration, percent new visits and bounce rate.  Its nice to see your top referrals and use that information to make your site better.  For instance, I need to find a way to lower my bounce rate and keep the Pinterest traffic on my site longer.
What is your favorite feature in Google Analytics?