Have a foodie in your life? These gift ideas for foodies are just what you need to buy them something awesome and unique! Let me share some gifts for your foodie ranging from under ten dollars to over one hundred. You are sure to find the perfect foodie gift!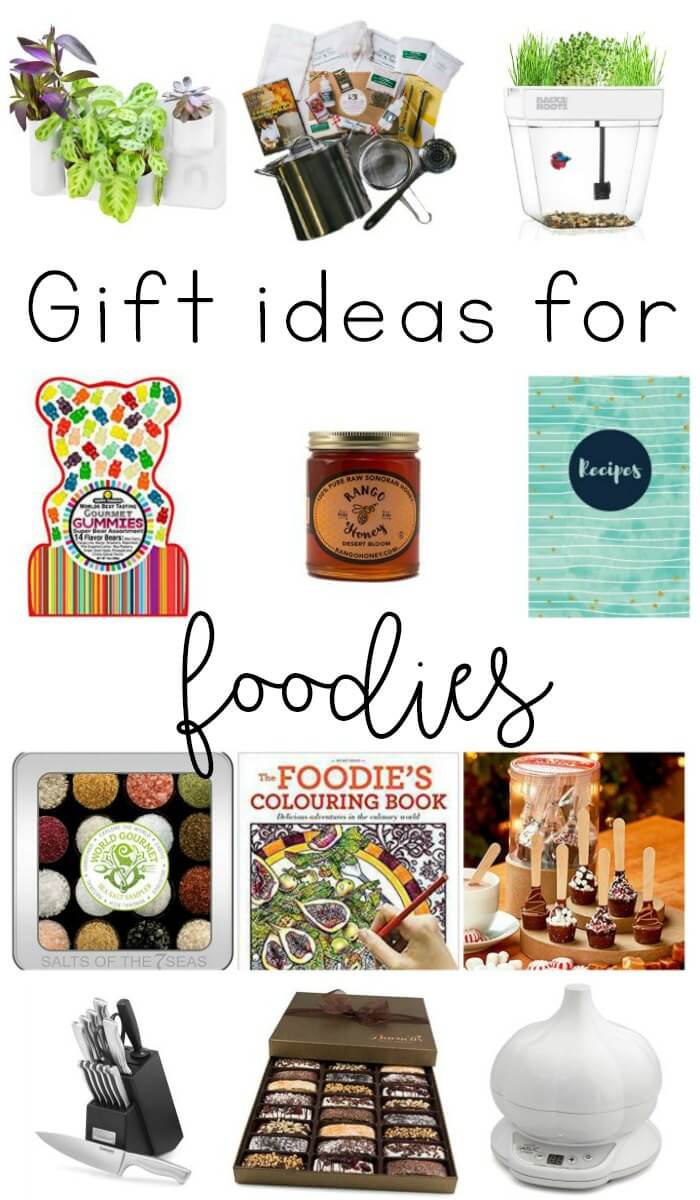 It's not surprise that I love all things food related. (And coffee too! Check out my coffee drinkers gift guide!) My favorite spot in my house is my kitchen, I love to try new cooking gadgets and my all time favorite thing to do is cook for family and friends. Do you have someone like that in your life? Then let me share my favorite gifts for foodies with you!

Gifts for Foodies Under $10
Gourmet Gummy Bears – Any foodie on your list will love The World's Best Gummy Bears.
Food for Thought Crosswords – Foodies will enjoy these 72 tasty puzzles that feature food-related puns and themes ranging from easy to more difficult, so there's something for every solver to enjoy.
Blank Recipe Journal – Foodies can keep recipe notes for all their favorite "go-to" recipes in one handy book.
Venezuelan Chocolate Bars – If your foodie loves chocolate, give them one of these Gearharts Fine Chocolates Venezuelan Chocolate Bar-Criolla.
Desert Bloom Honey – Any foodie will love Arizona's award winning honey.

Gifts for Foodies Under $25
Infused Gourmet Sea Salt – Foodies will love have fun Exploring these delicious gourmet salts and find your favorites.
Hot Cocoa Makers – Foodies can make a gourmet cup of hot chocolate with toppings–the perfect holiday drink that's easy to make.
TruffleHunter Truffle Condiment Selection – These delicious Truffle Condiments include truffle honey, salt, and mustard.
Wooden Spoon Set – Oliva Italiana 7 Pc. Tool Set has amazing versatility with 6 utensils, and has a stunningly simple design aesthetic to be used as a functional piece of kitchen décor.
The Foodie's Coloring Book – Foodies can rejoice and relax as they color in a variety of food themed images, take the foodie quiz, laugh at the foodie alphabet, and join the adult coloring book craze sweeping the world

Gifts for Foodies Under $50
Express Garlic Roaster – This cool kitchen gadget roasts garlic in just 27 minutes so your favorite foodie can get cooking quickly.
Gourmet Biscotti – Let your foodie indulge in twenty-four gourmet biscotti bedecked with six decadent flavors.
15 Piece Cuisinart Knife Set – Every foodie needs a great set of knives! Superior high carbon stainless steel blades for precision and accuracy make a wonderful foodie gift.
Chef's Choice Knife Sharpener – Pair the knife set with this knife sharpener so your foodie can keep their knives sharp.
Jerky Kit – Let your foodie make their own jerky with this dehydrator and jerky gun set.

Gifts for Foodies Over $100
Urbio wall planter – These are magnetic plates with cups that are perfect for herbs. Add a plate to your wall and then any size cup you want. Move them around as often as you like! This is a great way to keep fresh herbs nearby.
La Paella Kit with 14-Inch Carbon Steel Pan – A great gift for anyone who loves to cook this paella set includes an authentic Spanish carbon steel paella pan, rice, saffron, smoked paprika, and paella cookbook.
10 pack of Gourmet Popping Corns – Popcorn will never be the same once your foodie tries these 10 different types of popcorn.
Sous Vide Precision Cooker Bluetooth – Sous vide is the newest at home cooking technique. Help your foodie master this cooking style with a bluetooth cooker.
Back to the Roots Water Garden – Foodies can grow their own microgreens and keep a pet fish at the same time with this water garden.
Complete Cheese Making Kit – This is an all in one kit that includes everything your foodie will need to make their own cheese.