Im so excited!  [And I just can't hide it!]  Its the first day of red, white and blue week on the ole blog!  Im going to be sharing some festive Fourth of July recipes this week.  I love to cook, especially for holidays.  Its so fun to make a big meal that you know family and friends will enjoy.  It makes my heart grow ten sizes.  Here is a sneak peek at the recipes for the week:
[Ps.. I quoted two different movies/tv shows just in the intro.  Can you guess them?]
Don't you feel patriotic now?  [And hungry.]  Im going to start with the red, white and blue stars on the right.  Also known as Fourth of July pancakes!

Fourth of July pancakes are also regular Bisquick pancakes that I dyed and used a cookie cutter on.  But Fourth of July pancakes sound a whole lot fancier, don't ya think?  These bad boys were a lot of work though.
Ok, it really wasn't that hard.  I made one big batch of pancakes and then split them into three different containers.  I dyed one red and one blue and left one plain.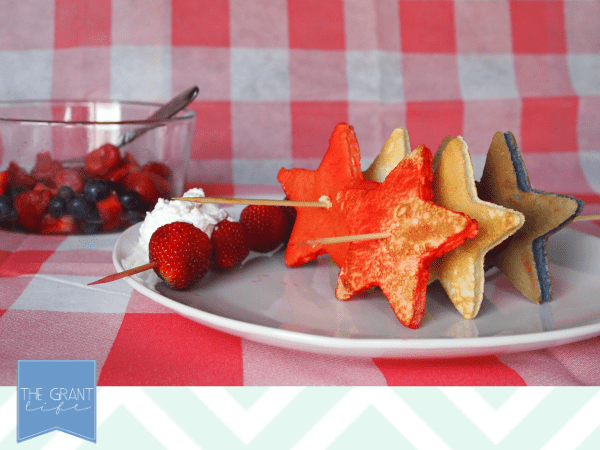 I cooked them as I would a regular pancake [even though these ones are super special] and then used a cookie cutter to create the star shape.  I thought it would be cute to put them on skewers with fruit between the pancakes.  And it was!  I added some fresh fruit between the pancakes to give it some extra color.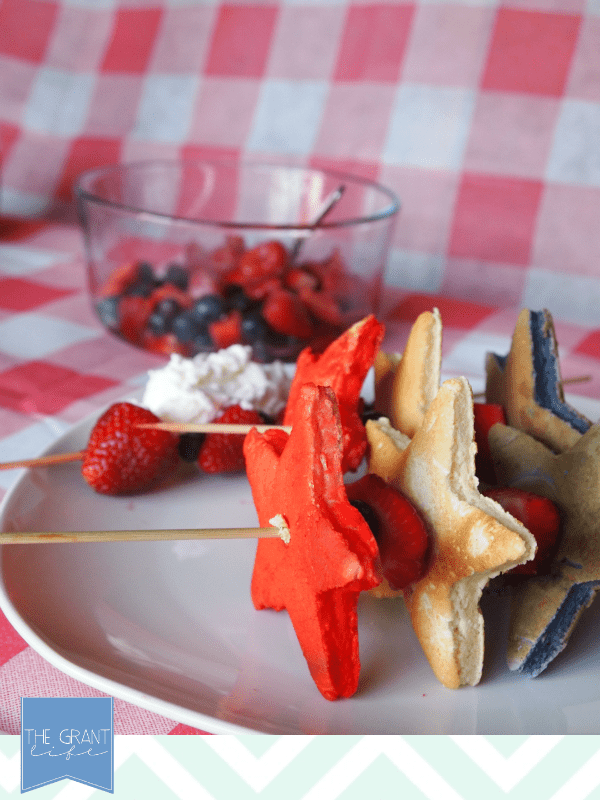 Add a dollop [or more] of homemade whipped cream and you have a great start to the Fourth of July!  Because homemade whipped cream makes everything better.  [Everything.]
Do you go all out for holidays?  [Honestly, this is my first year trying fun new recipes like this.  I think I like it.]
Oh and be sure to stop back by tomorrow for another easy red, white and blue recipe!