I'm pretty sure that I have a cookbook hoarding problem. When we go to the book store, I always make a bee-line for the cookbook section. No matter what book store. I love going to Half Priced Books and finding cookbook gems. I go through the shelves like I'm searching for dinosaur bones. Basically, I get all up in the cookbook shelves biz-ness. Do you have a cookbook hoarder in your life? Good! Here are a few of my favorite cookbooks that I keep on hand at all times.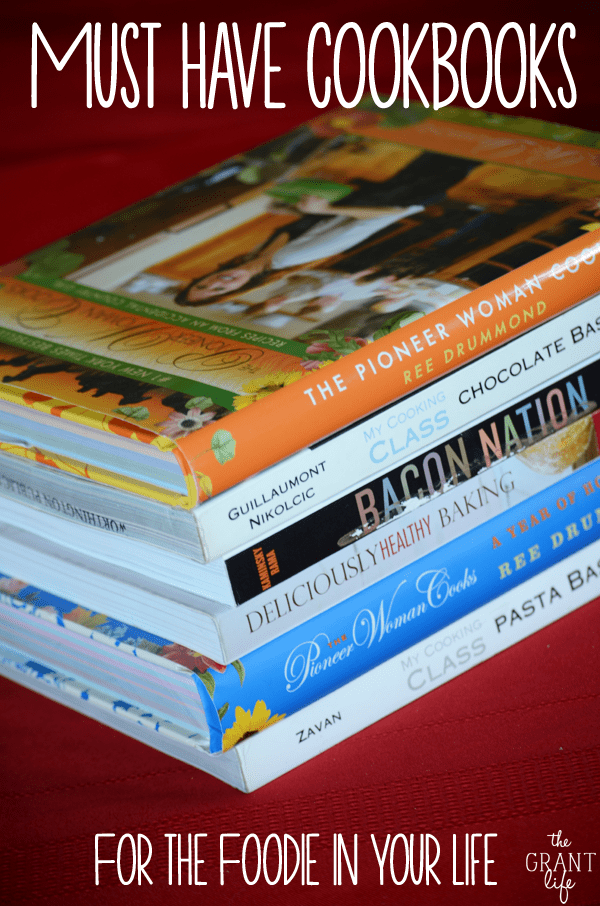 And ps.. this post contains affiliate links. That means if you make a purchase, at no cost to you, I will receive a small percentage for advertisement. I only recommend products that I trust and believe would be of value to others. Enjoy!
The Pioneer Woman: A Year of Holidays by Ree Drummond – First, I LOVE Ree! She's so down to earth and man, can she cook! Second, there are STEP BY STEP photos of every recipe! That's sort of her thing and its kinda awesome. [Ok, way awesome.] I also have Ree's first book Recipes from an Accidental Country Girl.
Sauce Basics by Keda Black – I think this is my all time favorite cook book. It is another step by step book that breaks down all kinds of sauces. Chocolate sauces, cream sauces, pasta sauces, meat sauces. Anything that can be sauced, they break it down for you. I love the My Cooking Class series and I also have the Pasta Basics, Cake Basics and Chocolate Basics.
Bacon Nation by Peter Kaminsky – I won this book in a giveaway hosted by my foodie friend Julie and was so excited! A whole book about BACON! I immediately made one of the pasta recipes with bacon in it, because, well I'm Italian. And a carb-o-holic. And because bacon rocks my socks.
Artisan Bread in 5 Minutes a Day by Jeff Hertzberg – I first started reading the Artisan Bread in 5 blog before I found the book. I would scroll through page after page of delicious bread recipes on their site. Then my good friend Bobbie gifted me their bread cookbook. I was in heaven! I poured over the pages and started trying new recipes. This is a great one to have on hand for sure. They also have a gluten free version too! [Score!]
Grocery Gardening by Jean Ann Van Krevelen – Yall, I seriously LOVE this cookbook! It's like a gardening and cookbook combined and is full of so much good information! And great recipes! I actually read this book like normal – from start to finish, dog earring the recipes I wanted to try. It's in a really cool and easy to read format. Jean also has a gardening blog too if you want to check her out!
Taste of Home Slow Cooker: 431 Hot and Hearty Classics – I actually don't own this cookbook, my mother in law does. I poured over this book when I was at her house. I have at least 3 sheets of paper with hand written recipes that I want to try soon. To say this book is FULL of recipes is an understatement!
Mac & Cheese by Ellen Brown – The ultimate comfort food cookbook! I think I drooled through this whole cookbook after I bought it. I love this book because it teaches you how to make the perfect mac and cheese and then gives you a bunch of recipes to recreate. It will keep you busy in the kitchen for awhile!
One Pot, One Bowl by Kim McCosker – This is literally my motto in the kitchen – one pot! I grabbed this gem from the used bookstore and have tweaked a few recipes from it. It's also a four ingredient cookbook, which is always fun. Less dishes and delicious recipes are always a winner in my book!
Pickles and Preserves by Parragon Books – Out of all the books mentioned, this may be the cutest one of them all. It has great recipes, but it also comes with gift tags for your pickles and preserves! And they are cuuuute! It's like a gift with a gift inside so you can make gift for others! [Makes sense right?!] I've made the vanilla fig jam in the book many times and its amazing.
I bet you're wondering – what cookbooks are on your wish list, Kelley? That's a great question! And any [husbands] that are reading should know that I am currently eyeing:
No pressure or anything.
Oh and be sure to sign up for our emails! Ill send more foodie recommendations your way!