Something pretty amazing happened this week – my "Easy Thanksgiving Ideas" board was featured by Pinterest. To be honest, I didn't even know it had happened. My friend Bobbie messaged me and said I better check Facebook, so I did. People were congratulating me on the feature. My hands went numb and I my mind started to race. No way. There was no way that I was featured again. Yes, again. My "Easy Halloween Ideas" board was featured not even a month prior. So I sat down and started thinking. Why was Pinterest featuring my boards? I came up with 5 points to help get you noticed by Pinterest.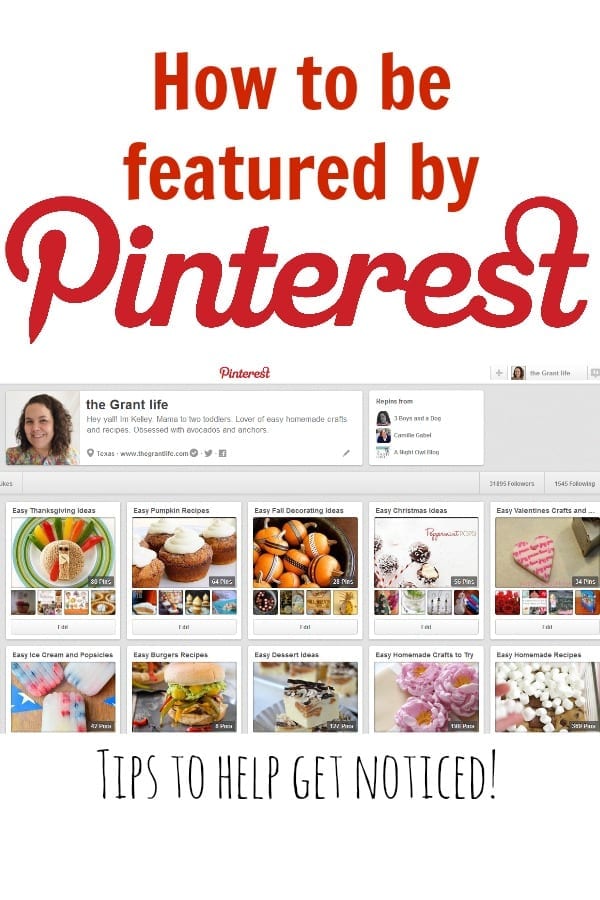 1. Board Names are Key
Your boards need to be unique, searchable but also stay within your blog's branding. A board called "Food" is not going to get noticed by anyone. Think about what words you use when you are searching for something. Use those words in your board titles. All of my boards focus on my blog's brand – easy and homemade. Those are also words that I use when Im looking up ideas for crafts or recipes. So I made them my board names Makes sense, right? Clear as mud? Great. There's more.
2. Board Descriptions Help Too
When someone is searching on Pinterest they are showed a pin from your board based on your board title or your board description. [If they click "boards" up top.] So expand on your board name in the description field. I made sure to use my keywords over and over. 'Easy", "homemade" and "ideas" are consistent in all of my board names and descriptions. I think Pinterest gets it that I like "Easy homemade ideas". And that's a good thing!
3. Arrange your Boards to Perfection
I have my boards in seasonal chronological order – meaning the most current holidays or events are up top. Those are the boards that people are most interested in so give the people what they want. Personally, I hate seeing group boards and "My blog posts" boards up top. Move those to the middle or bottom to make room for the boards that people are searching for at the moment.
4. Board Images Need to be Relevant
And not only relevant to the board but eye catching as well. Make sure it draws the reader in long enough to click follow and repin a few things. Also, be mindful of the size of the image you pick. Don't pick a beautiful image that is cropped in half. Choose one that fits the preview window and amplifies what the board is about.
5. Keep it Simple
Pinterest is a great tool for bloggers because it drives traffic to our sites. [Tons and tons of traffic!] It can be overwhelming to think about everything you need to do in order to be featured, gain new followers, increase your traffic, etc. But you know what I did special in order to be featured? Nothing. I didn't pump up my boards or pin a ton of things at once at peak times. I stayed true to my blog and my brand. That's it. Sometimes simple is best.
Easy enough, huh? Just a few simple changes to your Pinterest account and you could be well on your way to being featured. And I hope you do get featured, because its pretty awesome!
If you would like more blogging tips delivered to your mailbox, sign up below!