Make this bacon fat popcorn at home.. in the microwave!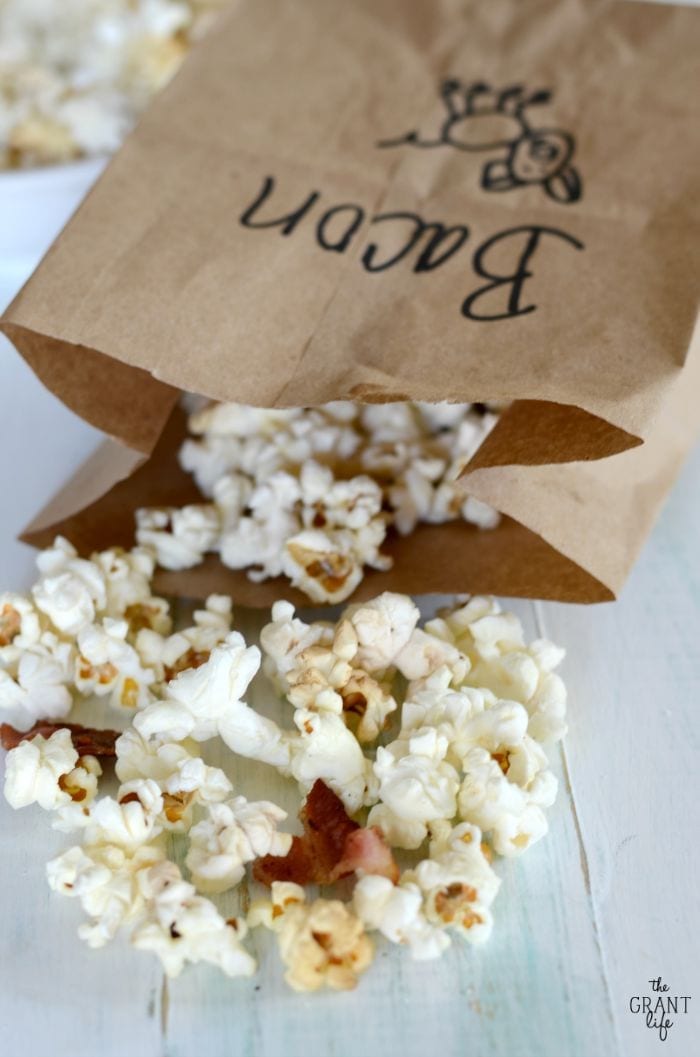 Today is the last day in the Bacon month series. Insert sad face here. I love (LOVE) me some bacon and it was fun to create new recipes with it. Don't worry – my recipes with still have bacon in them. I'm not quitting bacon. It's just not national bacon month all year.
Most of my recipes I make, photograph and have ready at least a week before I post them. I had the idea to make this microwave bacon fat popcorn but just kept procrastinating making it for some reason. So an hour before I had to leave for a real estate party, I was in the kitchen frying up bacon and makin' popcorn.
In heels. I had just bought new heels from Kohls for $4 (!!!!) and I was trying to gauge how badly they were going to hurt my feet before the event. I'm not saying bacon fact popcorn needs to be made in heels, but it might help the flavor a bit.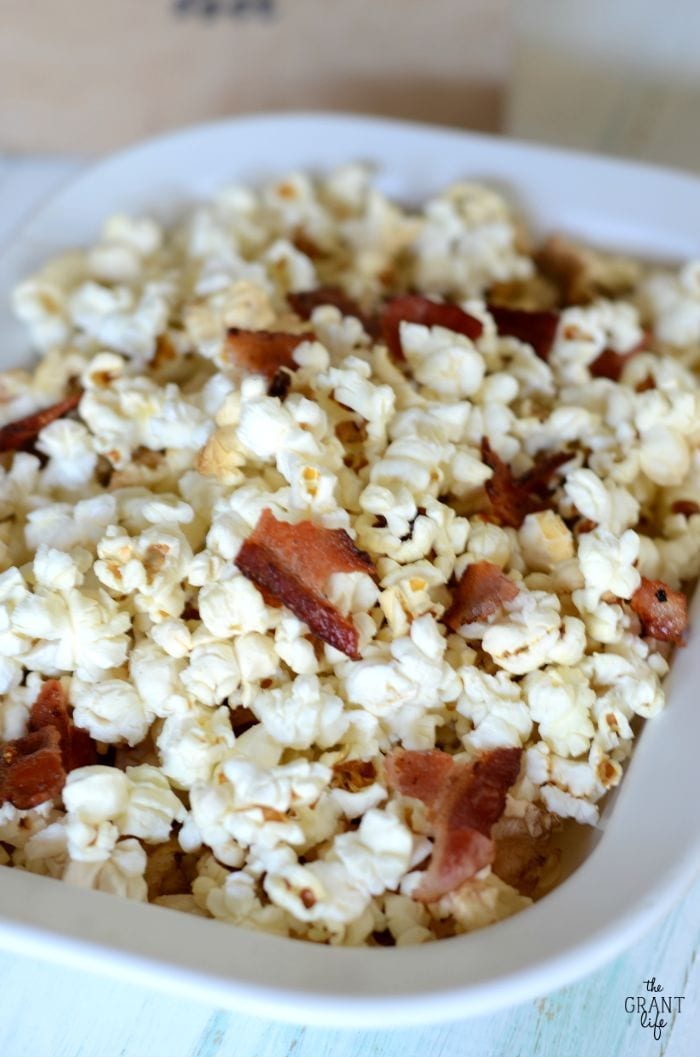 Totally kidding. Bacon fat popcorn comes out with amazing flavor all on its own. The shoes didn't really help that. But I did wear them all night comfortably. Maybe the bacon fat helped make my shoes less painful. Eh? Eh?
Yea, not likely. When I was making the bacon and then the popcorn I changed out of the outfit I was going to wear to the party and put on something else. I didn't want my whole outfit to smell like bacon or popcorn. I put my pants in the living room so I could iron them after though. And I realized at the party I smelled like bacon fat popcorn. I'm not sure anyone else noticed. Not that I would have cared really. It's a pretty delicious smell if you ask me.
But I just have to warn you that your clothes will smell and you may get hungry for bacon fat popcorn after its gone. You've been warned. Oh and when made in the microwave, the paper bag will come out full of grease. It's grease, of course it's going to soak into a paper bag. (Psst.. I used a new bag for the first picture. And yes I doodled a pig on it.) And last – you may never make regular popcorn again. Bacon fat popcorn for life. Ok. That's all the warning I need to include for this recipe. Enjoy!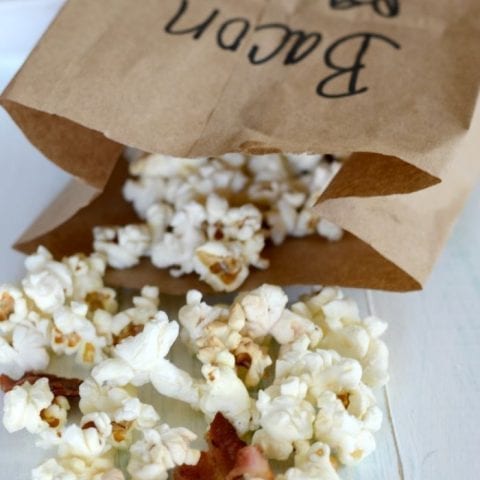 Bacon fat popcorn
Ingredients
1/2 cup of popcorn kernels
1ish tablespoon reserved bacon fat
3 slices of bacon, cooked and crumbled
1 brown paper bag
Instructions
Place the popcorn kernels in the paper bag.
Add the bacon fat and fold over the top.
Microwave for 1-2 minutes, listening to the kernels.
Remove from microwave, add the crumbled bacon and enjoy! (Bag will be steamy so be careful!)
And check out these other awesome bacon recipes!
Loaded Potato and Chicken Casserole
BBQ Pulled Chicken BLT Sandwich
Wedge Salad with Bacon & Bleu Cheese