Hey yall! Welcome back to another post in the Learning to Blog series. Yahoo! Today we are going to be talking about what to do after you have written a post. You had the great idea, you wrote it up – now? Let's talk about how to promote your post.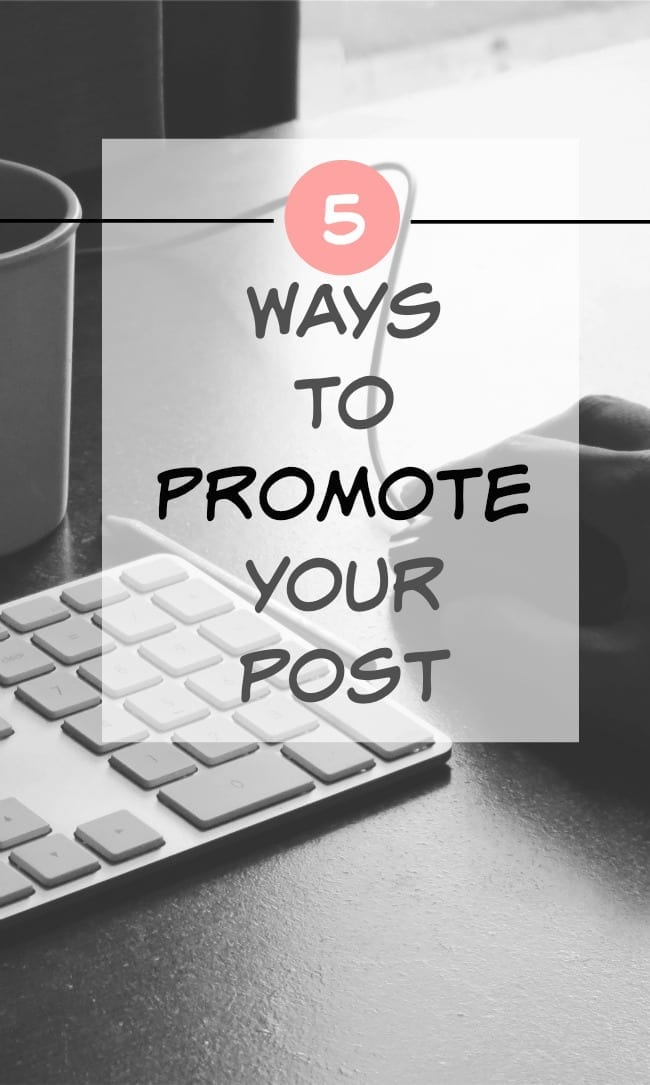 For me, I promote my post 5 different ways after its live.
Social media
Email list
Submission sites
Link parties
Group shares
Some of these are easy and just take setting them up (like the email list). Others are a daily task that will help grow your blog. But don't feel obligated to do all of these to promote your post. Pick what you are good at/enjoy doing and go from there. If link parties aren't your thing – don't worry! There are plenty of other ways to get your content out to world wide web.
1. Social media – When we discussed picking a name for your blog, I mentioned that it would be best to grab the social media accounts with the same name as well. Now that you have your blog post up it's time to share it with your social media followers. Let them know you wrote a new post and tell them a little bit about it to build interest. My most used social media networks are:
Pinterest (my favorite!)
Facebook
Instagram
Twitter
G+
I have found over the years that not all social media networks are the same and need to be treated individually. What that means is don't do a media blast of your new post with the same wording and picture on all of your social media networks. Pinterest likes big pictures and longer descriptions. Facebook prefers small images and descriptions. I can dedicate a whole series to social media and blogging, so be on the look out for a follow up post.
2. Email list – Your email list is your most valuable asset as a blogger. I repeat, your email list is your most valuable asset as a blogger. Social media numbers are great and all, but they can be taken away overnight. One small change in the terms of service on any of those sites can result in a lose of followers or traffic to your site. Your email list is yours. You can take it with you if you move to a new website and it can not be taken away from you. (Unless you fail to pay your provider or obtained the email addresses illegally.)
So find an email distribution provider that you like and get it set up asap. Tell your followers that they can now receive email updates and direct them to your new email list. Some of great email list providers are:
Some are more user friendly then others, but take a look around and find one that you like. Then get going on building your email list!
3. Submission sites – There are many sites out there where you can submit your post for it to be featured. If its featured you can potentially have a surge of new visitors to your site. (Which is a great thing!) There are sites for almost everything – food, fashion, weddings. Find the one that you like, create an account and add your links.
As you can see, there are plenty of sites to get submit your posts. Maybe spend one day a week submitting your posts to these sites to help promote your post. And if your post isn't accepted, don't feel bad! Some of these sites are tough to be featured with, but that doesn't mean your post isn't great. Keep trying and keep producing great content.
4. Link parties – A link party is where one blog allows other bloggers to share their posts on their site through a "link up". It's similar to a submission site, but everyone gets featured! You add your link using a widget and your post will appear on their site. It's a great way to promote your post help increase traffic to your site. Again there are link parties for everything so find one in your niche and get linking!
Here are a few to get you started:
5. Group sharing – In order to group share, you need to find a group of bloggers willing to share. Get a group of your bloggy friends together, start a private Facebook group and promote each others posts. It's really simple and its one of my favorite ways to help grow my site.
Why do I like it so much? Well, because I get to find new content to share with my readers and I get to help out my bloggy friends. It's a win-win for everyone really.
There ya have – 5 ways to promote your post once its live. Is there anything you would add that you do differently? We'd love to hear it! Be sure to join our Learning to blog group and if you'd like, sign up for email reminders.