Ahh!! Christmas is FOUR days away! I always think that Im done shopping/wrapping/cooking and it never fails that I have more to do. Some days Im just ready for a nap! But through it all I am more excited then anything. I can't wait for the kids to open their presents and see their little faces light up. Its one of the things I love the most about this time of year. And here's what else I'm loving this week..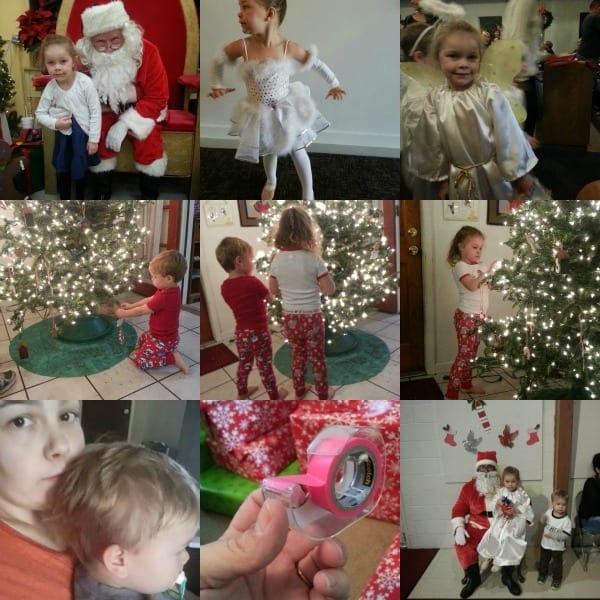 That Ryley danced her little heart out at her recital last weekend!
That the next day at the grocery store a lady stopped us and said how awesome Ryley was at the recital!
That our recital dress is now our favorite dress up outfit.
That most of my wrapping is done and all my presents have been bought. [I think.]
That washi tape fits in a regular tape dispenser! Thanks for the tip Adrianne!
That we are having Christmas at my parents house and my moms making lasagna!
And also that my mom is taking the whole week off of work. [Yay!]
And my dad too! [Double yay!]
That the kids Christmas performances went well at school. [Although I couldn't see or hear Avery at his.]
That the kids love decorating the tree and they helped decorate grandma's yesterday.
That the big sparkly bow on the front of my car has made it the whole month of December.
That the kids have 2 [or 3] sets of Christmas jammies!
That the kids got to see Santa more then once this year. [Although Avery was a little scared of him.]
That telling Ryley Santa is watching and she better be good still works! [Mom win!]
That my friends will come over for our 3 [or 4th?] annual cookie exchange and Christmas light walk tonight!
That Ryon took both of the kids grocery shopping this morning and I was able to get some work done! [Including this post!]
That Christmas is next week! Happy birthday Jesus!
That's just a few things I'm loving this week. What are you loving?