Its Monday!  And its the last week of September!  [What?!]  Im not sure where the month went but Im exited its officially fall and hopefully that means cooler temps.  [Im sooo over 95 degrees!]  Im going to share with yall a new sponsor promotion and our menu this week before I go do a happy dance outside.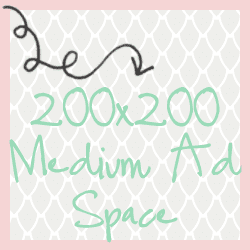 Anyone who purchases ad space at regular price for October will also get a FREE 20 minute blog consultation with me.  We can go over blog design, blogging tips, best practices, social media, Facebook, twitter, or anything else you want more information on.  The consultation can be a skype chat, email back and forth, twitter, AIM [old school!] or even a phone call.  Its up to you!  Check out my rates and shoot me an email if you have any questions.
Enough business talk, let's get to the food.. right?!  Oh and then check out my goals for the week.  And then link up your recipes or menu for the week! 
Breakfast
Eggs in a hole 
Breakfast tacos
Dinner
Baked Mac and Cheese
Date Night!
Taco Salad
Stuffed Peppers
Goals
Work out 4 times this week
Eat better [aka leave the sweets alone!]
Take the kids to the park twice
Finish my book 

-[Lovely September Sponsor]-