Hi All!! My name is Jill and my home is at Two Yellow Birds Decor. I am so excited to be here at The Grant Life for the labor and delivery series. Kelley and I have become blogging friends over the past few weeks. She is seriously amazing! This is such an awesome thing that she has put together so we can learn from each other.
My first pregnancy was in 2007/2008. When it got closer to the due date, which was June 24, 2008, we started going to the doctors every week as everyone does. We had an appointment on June 17. Up to this point my sweet husband had come to every appointment. He was so excited to be there to support me. He was not able to come this day because he was stuck at work.
As I was there the doctor checked me over and nothing was happening to me. I was not dilating and my cervix was not softening.  I was really disappointed. I heard many people saying that they were dilating weeks before their babies were born. I just wanted that to be happening to me. But it wasn't.
As the doctor was checking everything he got concerned that I might have the starting stages of toxemia. If you don't know what that is, its where you retain lots of water, have high blood pressure and have protein in your urine. It is harmful for the mother and baby. The mother can have liver failure, and cardiovascular issues. For the baby is prevents blood going to the placenta which means its hard for the baby to get oxygen and food.
He was very worried about the toxemia so he told me that I needed to go to the hospital to be monitored. Well, with this being my first child and not being totally in the know I asked him if I had to go right now. He said, "Oh, Yes!" Of course this just had to be the one appointment that my hubby was NOT at. I was a serious wreck. I was crying and hysterical. I called my hubby when I got done to let him know that I had to go to the hospital. He could not leave work at this point so he called his Mom and then I called my mom and thank goodness they both came to my rescue.
My sister in law gave my husband a huge guilt trip so he ended up coming too. We all sat there the rest of the day. I was hooked up to machines being monitored.  I did have a couple little contractions and at one point my blood pressure went really high. After a day and a half of being monitored, the doctor came in and we discussed everything that had gone on. They decided that I didn't have toxemia. I was extremely happy at this point!! The doctor then said, "Why don't we just have this baby while you are here so you don't have to come back!!" You don't even know how happy I was. I had been talking with my family about this. I was due in 5 days. I didn't see the point of going home and then coming back a few days later. I am so glad the doctor was on the same page as my husband and I.
Since nothing had been happening to my body in getting ready for labor they had to put something in to soften my cervix. I can't remember what it is called, but it was almost like a tampon. That had to be in for 12 hours. They put it in at 3:00pm so that meant at 3:00am they were going to come in and officially start me. My in laws and parents were at the hospital until about 9:00pm. They then decided they all needed to go home and get some rest because they knew they would be back very early in the morning. Dave and I tried to get some rest before our baby girl arrived.
At 11:30 that night I woke up with the most excruciating pain I have ever felt in my life. I had never felt contractions before so I had no idea what they really felt like. Well I was having contractions. It seriously was the worst pain I have felt in my life. I woke my hubby up and he came over to me. I then made him grab a bag because I started throwing up and throwing up. I could not stop. He called our nurse. She never came. After what felt like FOREVER, but I think it was like 5 or 10 minutes my husband called again. They said she was assisting in another delivery. He told them that I was is so much pain and needed help. So they sent another nurse in.
She decided that she needed to check me. She said I was dilated to a 4 and was in the starting stages of labor. Then she also said something I will never forget…"That does not feel like a head." No wonder nothing was happening to be before. She had never turned like she should have. She decided that she needed to take an ultrasound to confirm it. She did and sure enough my little baby's head was up. The doctor came in and also confirmed that.
I didn't know things could change so quickly when it comes time for delivering the baby. After the doctor was talking with us and us making the decision we decided that it was best if we did an emergency c-section. I was totally not planning on this happening. But it was best for the baby and me. My husband called both of our parents to let them know that things were changing.
They got me prepped for surgery. Because I was in the beginning stages of labor they wheeled me back to the operating room. I was in my bed still. All I can remember from the ride down there was white. It was so extremely white and had the most wonderful sterile smell. It smelled so clean. I was starting to fall asleep at this point. I still don't know how it happened. I am in labor and falling asleep. CRAZY!! I do remember them transferring me to the operating table and I do remember getting the spinal block from the anesthesiologist. They had me sitting up leaning over on a pillow which was on a table. Then I remember going completely numb after that from the waist down.
After they let that set in for a minute they started surgery. My eyes where closed at this point, but I know I was not asleep because I remember everyone talking. I remember one of the doctors saying, "That was a good contraction." I remember thinking..really, I didn't feel that at all.  After a couple of minutes our sweet little Kaitlyn was born. At 12:47am to be exact. It then look awhile to get me stitched back up.
I remember my hubby sitting right next to my head with Kaitlyn and I know the anesthesiologist was sitting on the other side of me making sure everything was going well with the anesthetic . After a couple of minutes I remember hearing my hubby say, "I don't feel good." Then I remember the anesthesiologist tell him that he could hold Kaitlyn and that he needed to lay down. (I later found out that he got sick from seeing the blood on the floor. The actual surgery didn't bother him, but just seeing everyone walking around in it.)
After they were all done we went back to the labor and delivery room. I really don't remember anything after that. The anesthetic made me so sleepy. Later I found out that both my parents barely made it in time when Dave came out with Kaitlyn. I was the first one to have a C-Section on both sides so this was all new to them as well. They didn't realize how fast it went.
I am going to share a couple of pictures.  Everything happened so fast and we didn't think to ask if we could take a camera back in the O.R. to get pictures. So we don't have any right after she was born, which I am sad about now, but we do have lots from the hospital.
This was right after she was born. As you can see I am OUT!!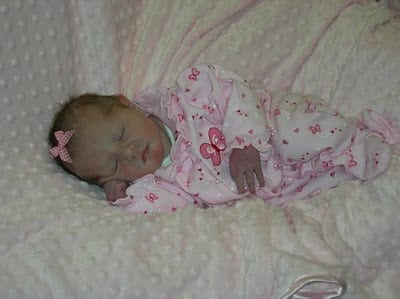 Sweet little Kaitlyn…7 lbs 7 oz 21 in long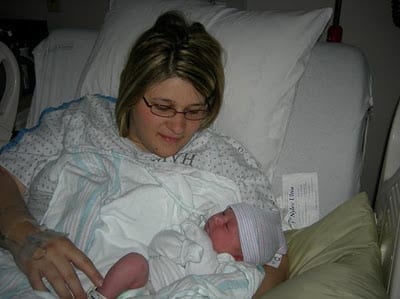 I am finally awake to meet my baby girl!
I hope you all had fun reading my delivery story!! Thanks Kelley for an amazing opportunity to be able to share my story with others!
—
What a beautiful baby girl!  Thank you Jill for sharing your amazing labor story.  
Ps.. want to share your story?  Or join the Mommy Panel?  Great!  Send me an email .. thegrantlife(at)yahoo(dot)com.