Hi there!  I'm Brittney from
Third Time's a Charm
, and I'm excited to share my Labor of Love story with you today.  Thanks to Kelley for organizing this and all of the work she puts into it!
Where to start?  I guess with our preparation.  I am a planner.  What did that mean when it came to having a baby?  It meant I wanted to know the gender, I read several books, we attended birthing classes, First Aid and CPR classes, and infant safety classes and went on a tour of the Labor and Delivery floors of the hospital.  I can still hear people saying to me, "it doesn't matter what you do, nothing can really prepare you!"  In my head I would think, "Really?  You're really saying that to someone who's already a little scared about the thought of something relatively large coming out of a small opening?"  I understood the point they were trying to make, but I still felt a little better with every book I read and every class I attended.
My husband's in the National Guard and every summer has to go for two weeks of training.  Of course our due date was right during that time!  He was going to be about 3 hours away, but wouldn't have any cell reception.  I did not want to have my baby without him there!  We made the doctor aware of the situation and he said as long as my body was ready he would induce me before my husband had to go. 
Fast-forward to my 39 week appointment.  I had long since passed the "are we there yet?" stage.  I was huge, miserable, and getting more nervous about my husband being gone.  He would be leaving in about 4 days.  However, if we could get that baby here before then he would have 10 days of paternity leave to be with us. 
Everything was good at my check-up and the doc said we could schedule a time to induce me.  Halleluiah!  My husband started talking about setting up a time in 2-3 days.  My doc said how about tonight?  Uh…wow.  You should have seen the terrified looks on our faces.  It all of a sudden became VERY REAL!  We swallowed the lump of fear in our throats, said ok, and left to go finish backing our hospital bags. 
I remember every one of those last few check-ups being a little…um, shall we say, "messy."  But I remember thinking that this one was more so than usual.  Silly me I should have realized what this meant.  We were only a few blocks away from the hospital when the doctor's office called and to say "GET BACK HERE!  YOUR WATER BROKE!"  Really!  Can you believe that?  My water broke during the check-up, but I was so freaked out about getting induced that night that I didn't realize what was going on.
So back to the hospital we went.  One of the nurses met us at the door and took us right up to labor and delivery.  Turns out my water had ruptured high, and was more of a "leak" than a break.  That made me feel a little better about not realizing what was going on.  I was having only small contractions at the time so my husband and I casually (is that a weird word to use during labor?) hung out and kept chatting while we waiting for the doc to come and really break my water. 
The doc came, they put me on Pitocin to increase the strength of the contractions and my husband set off for a quick trip home to get our bags.  Dumb move on our part.  We live about 45 minutes away from the hospital.  I was amazed at how strong the contractions got in a short amount of time.  First I was breathing a little harder during them; then I started grabbing the side rail on the bed; next I was groaning during them and unable to speak.  I called my husband and the conversation went something like this, "Where are you?"  "Just coming out of the canyon.  Why?  Are you okay?"  (That's still 15 minutes away from our house.)  "You haven't made it home yet?"  (Give the guy a break, he'd only been gone about 20 minutes so he was making good time.)  "No, do you need me to turn around?"  "No, just hurry!"  That last comment was said through gritted teeth as another contraction started.
Let me say I had THE BEST nurse!  I was planning on getting an epidural, but wanted to wait for my hubby to make it back.  She helped me through the contractions and told me he would understand if I went ahead without him. I waited as long as I could then we started preparations for the epidural.  My hubby made it back into the room just before they inserted the needle.  My nurse had one of my hands, and my hubby the other.  I had FANTASTIC support.
Unfortunately thinks didn't calm down at this point.  The contractions still weren't strong enough, so they upped my dosage of Pitocin.  However this didn't seem to agree with the baby.  With every contraction her heartbeat was dropping drastically.  It was such a helpless feeling to watch the heart rate monitor.  My husband is a strong man and doesn't stress easily, but I could see the worry in his eyes as he watched her heartbeat plummet.  Even now 20 months later my eyes are watering as I remember this part and the fear I felt.  My heart was full of prayers, "Please Heavenly Father, please let us get her here safely."
My nurse was great through it all. She talked to us about possible causes, comforted us, and did all she could.  They turned me on my side, put me on oxygen, anything they could do.  But nothing was working.  My little one just wasn't able to handle the strong contractions.  So they lowered the dosage of medication to decrease the strength of the contractions and give her a break. 
After a rest we tried again.  Same result.  Talk began about a possible c-section.  During the weeks leading up to delivery I had studied the stages of labor again and all that was going to happen.  I DIDN'T review any information on c-sections.  Whoops!  But I remember feeling so calm as they talked about a c-section.  I said I was willing to do whatever it would take to get her here safely. 
They prepped me, my doc came and talked to me, and after about 8 ½ hours of labor they wheeled me in for surgery.  My husband was there by my side holding my hand, stroking my hair.  I had a great team working on me.  I even got to watch part of it through the reflection of the giant lamp above me.  Strangely enough it didn't bother me.  And my husband who is military tough and has his EMT-Basic certification enjoyed watching every moment.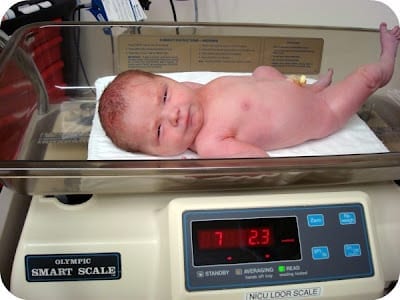 As they pulled her out I remember thinking, "Cry!  Where's her cry?!"  It took only a few seconds, but there is was!
The hardest part was not getting to hold her right away.  They showed her to me, and my husband started taking pictures so I could see more of her.  They had to take her into NICU, as they do with all c-section babies so I had to be separated from her at first.  My husband made sure I was okay, and then followed them into the NICU.  It was so fun to see the caring father side coming out in him so quickly.  You see, he was never going to get married, let alone be a father.  The military was always going to be his life and he wasn't going to have time for these kind of attachments.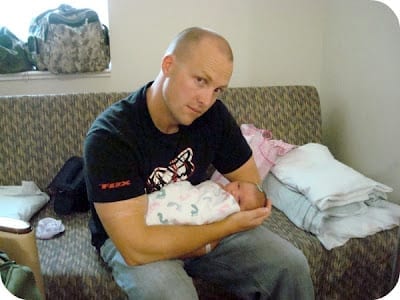 After I spent some time in recovery and her in the NICU, I FINALLY got to hold my little one.  She is now a healthy, active, happy 20 month old who brings so much joy and laughter into our lives every single day.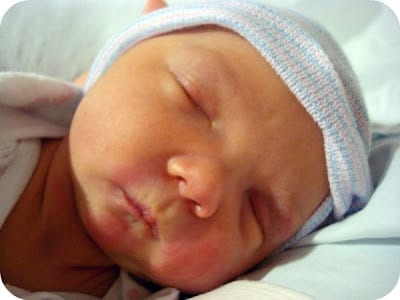 Indy Carmela – 7lbs 2 oz, 20 inches
Such a sweet baby girl!  They are such a blessing!  Thank you for sharing your story Brittney!