Hey Ladies! I'm so excited to be here with you today, sharing one of my birth stories. Since I was a little girl, I'd always dreamed of being a mom and also having completely natural birth experiences. I know, that sounds crazy, right? Well, I always wanted to fully experience the birth of my babies and thankfully, God has blessed me with two amazing kids and also, two amazing and all-natural births. It was hard to know which birth story to share with you today so, I decided to share the birth story for our youngest child, Paisley. Enjoy!
Saturday, October 23rd, I was 6 days over due. I woke up at 4:30am to use the bathroom and couldn't seem to fall back asleep. After laying there for about 15 minutes, I realized that I was having some light contractions, about 7 minutes apart. I waited for awhile before waking Jeremiah up to make sure that I just wasn't imagining the contractions. Indeed, it was real. Hooray! I was actually in labor!!!
I woke Jeremiah and told him that I thought something was definitely happening. We got up, had some coffee and some breakfast. While I ate my Cheerios, the contractions started getting more intense and closer together. I called my midwife about 5:30am and told her I was in labor. She was excited and warned me not to wait at home too long because she knew how fast my labor with Judah was. I told her I wanted to take a shower and get ready and then we'd head off to the hospital. I called my mom, told her to head on over to our house (to be with Judah) and then got in the shower. Contractions increased and got more painful. I got ready and I could tell that we really needed to leave the house soon.
We left the house about 6:45am and got to the hospital slightly after 7am. The drive there wasn't very comfortable but, it seemed to go fast (maybe that's because Jeremiah did go fast!). My sister was also on her way to the hospital to support me during labor. My midwife, Natalie told the front desk that they didn't need to monitor me in triage because she knew that they'd be keeping me. So, they went ahead and took us to our room. Natalie met us in the room and told the nurse that she didn't need to prep me for an IV, I loved that! I can't stand IV's, they totally gross me out and I didn't want ANYTHING being placed on me or in my veins. Yuck.
About 8am, I finally got into the jacuzzi tub. I worked through contractions in there with towels on me and Jeremiah and Sally in the room. They brought me tons of water to drink and a Bakers cookie to eat. If you know me really well, you know that I have a thing for Baker's Cookies, it's quite ridiculous. The nurse only came in to monitor Paisley's heart beat about every 15 minutes and each time, it showed that she was handling the contractions just great! Contractions were very close together and it was very intense. At one point, Jeremiah turned some music on and we listened to "Lifesong" by Casting Crowns. Going through a contraction while listening to that song was really emotional, in a good way. It made me cry and it was such a special moment.
At 8:50am, I told the nurse that it felt like the babies head was basically between my legs. She ran to have Natalie check me and sure enough, I was fully dilated! I remember saying "Thank God!!". It had been so intense that I'm glad I progressed fast. I got on the bed and pushed for 3 contractions and then Paisley Rae was born at 9am!!!! 8lb, 8oz and 18.5 inches long.
She is perfect and so healthy. Jeremiah, Judah and I are totally amazed by her.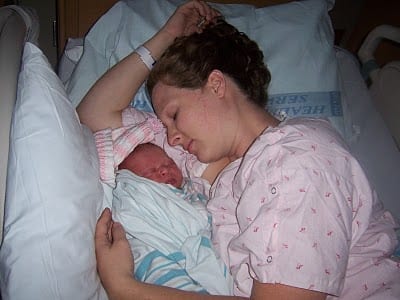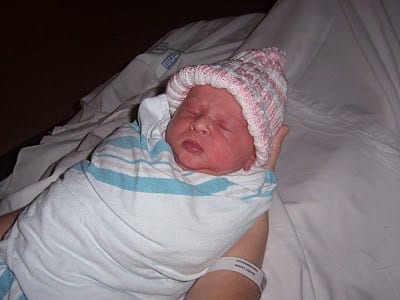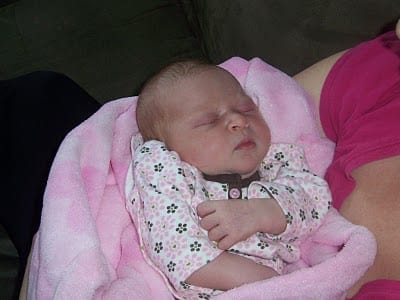 A little about Angela:
Angela's Adventures
is written by Angela, a stay at home mom of two little ones. Angela loves writing about daily life with her 3 year old and 1 year old and also, her crafting and cooking adventures. Creating tasty recipes and making her home beautiful, without spending much money is a passion of hers. To read more of Angela's Adventures, please visit her blog at
https://www.angelastrand.com/
. You can also find her on
Pinterest
or
facebook
.