Hey yall! First, I am dubbing today the first real day of fall for the Grants. We bought our first pumpkin of the season and its cool enough for our windows to be open! [Insert squeal here!] I may bake something delicious today just because my windows are open and it feels wonderful. Second, cooler weather means its almost Halloween! Ok, not almost, but in a few weeks. And if your are like me, you wait to the last minute to make your kids costumes. Seriously, last year I was ironing and sewing the day before. I knew what the kids would be, I just waited til the last minute to make their costumes. [High five for procrastination!] The thing it – I don't know what Avery is going to be this year! Ryley is easy – princess or ballerina. Or a princess ballerina. But Im not so sure about little man. Thats where yall come in! I am hosting the second annual Halloween costume contest!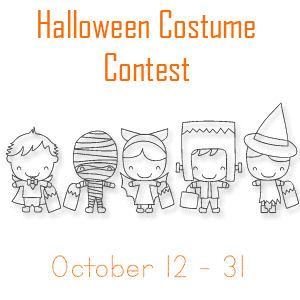 So here is the rundown of the Halloween costume contest:
Link up starts October 12
Link up your costumes from the 12-26 [two weeks]
Voting starts the 27th and runs til the 31st
The costume with the most votes wins a $25 Starbucks gift card
If you have a picture of your costume but are not a blogger or have not posted it, email it and we can add it to the link up!
Costumes can be ones from previous years or ones from this coming up Halloween.
Handmade or semi-handmade costumes only.
Each person will be allowed to vote 3 times a day.
Invite family and friends to vote for your costume to increase your changes of winning!
If you have any questions – let me know. I want everyone to participate who is interested!
Hopefully everyone has a costume idea after the contest. I can't wait to see what everyone shares!