Mojitos are a classic summer drink. Whether you're on a rooftop overlooking the city or by the pool, they always make for a great time. Let me show you how easy it is to make a classic mojito at home!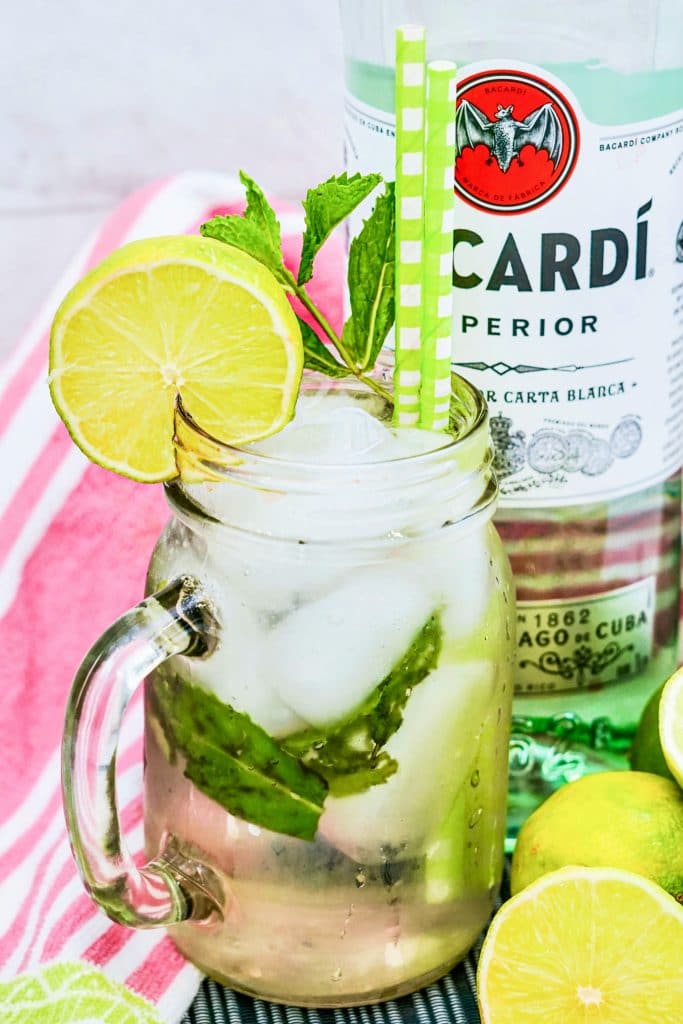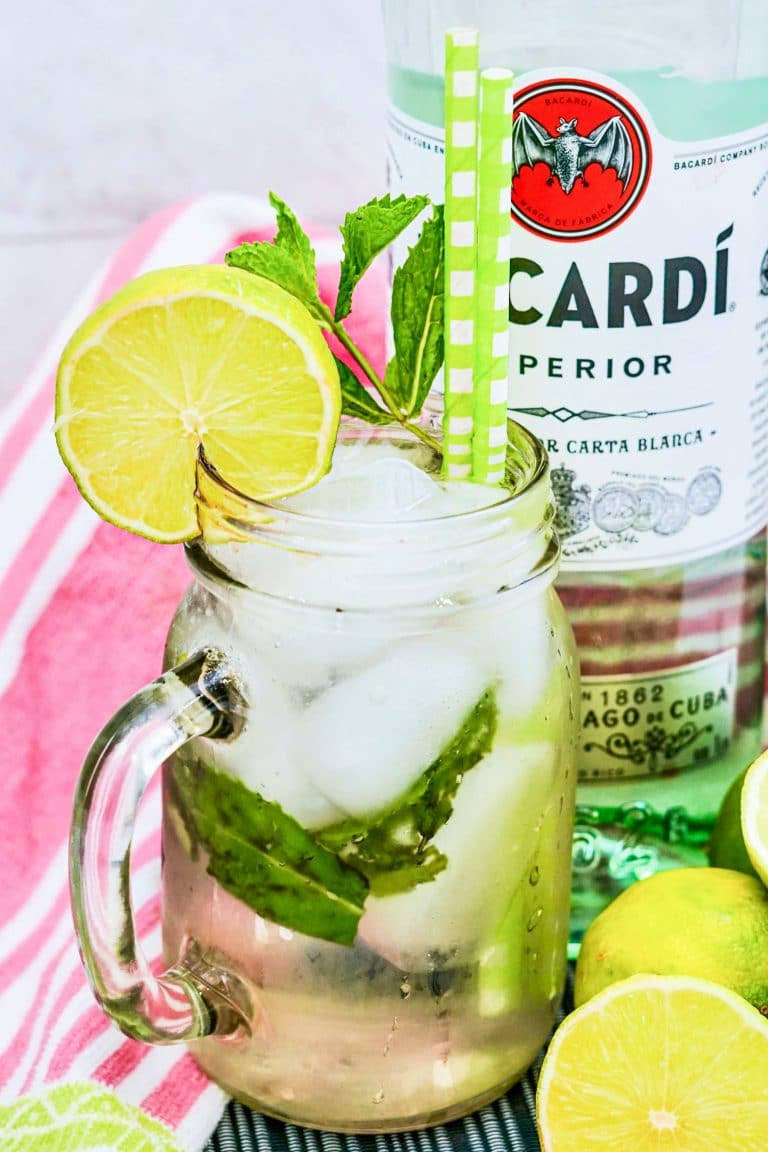 I remember the first time I attempted a mojito at home. I got everything together and was so excited! I started taking all kinds of pictures with my little Blackberry phone to one day post on my little blog. I never ended up posting the first one I ever made years ago, but I am super excited to finally share my favorite mojito recipe with you! I hope you enjoy it as much as I do!
What is a Mojito?
A Classic Mojito is refreshing, flavorful and perfect for any occasion! It is one of the most refreshing cocktails you'll ever enjoy. It's perfect for a hot summer day, or any time you need a little pick-me-up. Made with rum, mint, lime, and sugar, the Classic Mojito is both tart and sweet.
The key to making a great Classic Mojito is to muddle the mint leaves well, so that they release their flavor. Additionally, you want to use fresh mint leaves and lime juice, and of course, good quality rum.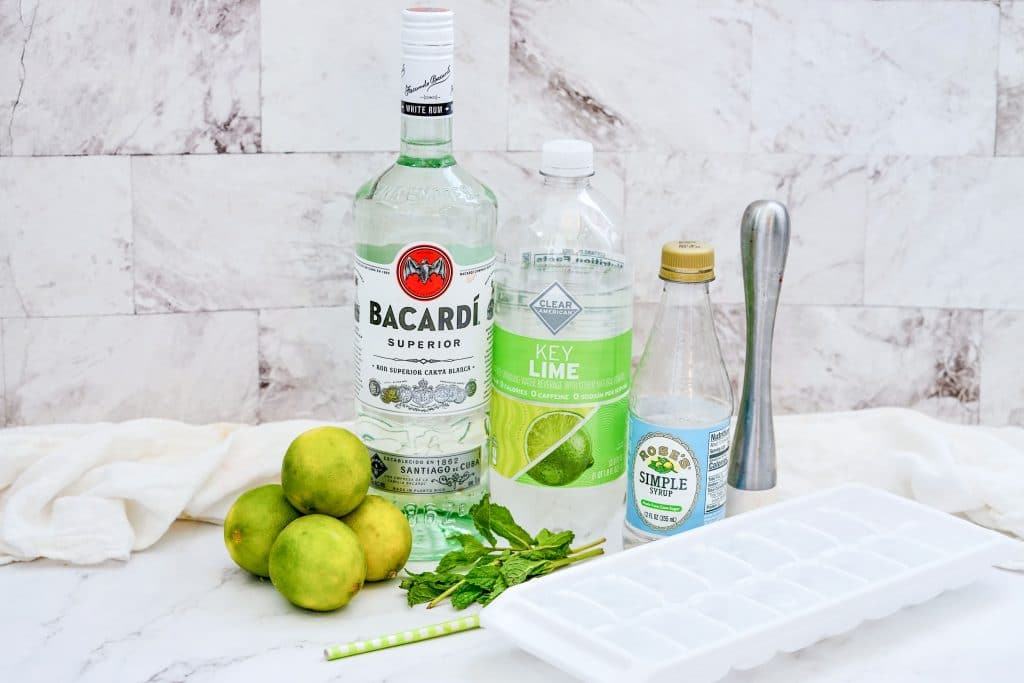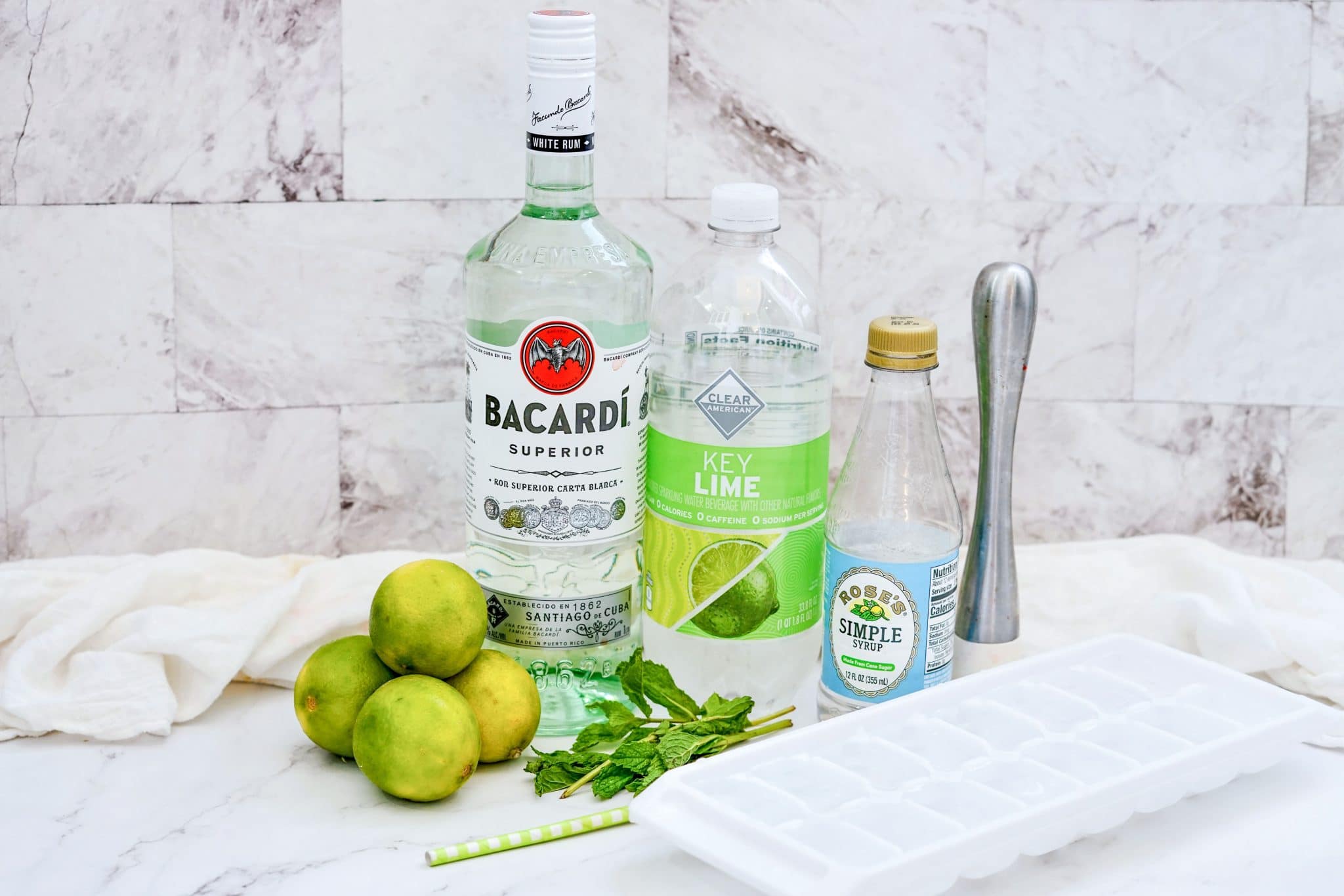 Classic Mojito Ingredients
For a refreshing summertime drink, you'll only need a handful of ingredients. Here's what you'll need:
Mint leaves: Be sure to use fresh mint leaves for the best flavor. You could use mint extract, but it won't be the same flavor.
Lime juice: You can use fresh limes or bottled lime juice. I think fresh is best.
Simple syrup: Simple syrup is a sugar syrup that is used in cocktails, coffee, and baking. It is made by dissolving sugar in water.
Light rum: The best light rum for this recipe is Bacardi. It's smooth and affordable, but you can use any light rum that you prefer.
Flavored sparkling water: You can find flavored sparkling water at any grocery store next to the regular waters and gatorade.
Ice cubes: For a cool, refreshing drink, you'll want to add a few ice cubes.
Lime slice: This is totally optional, but a lime slice adds a nice garnish to your drink.
You will also need a muddler for this cocktail recipe. A muddler helps to bring out the fresh mint flavors by crushing the leaves together with the lime juice. It's an essential for any home cocktail bar!
How to Make a Classic Bacardi Mojito
A classic mojito is refreshing, flavorful, and perfect for hot summer days. Follow the steps below for a cool, refreshing drink!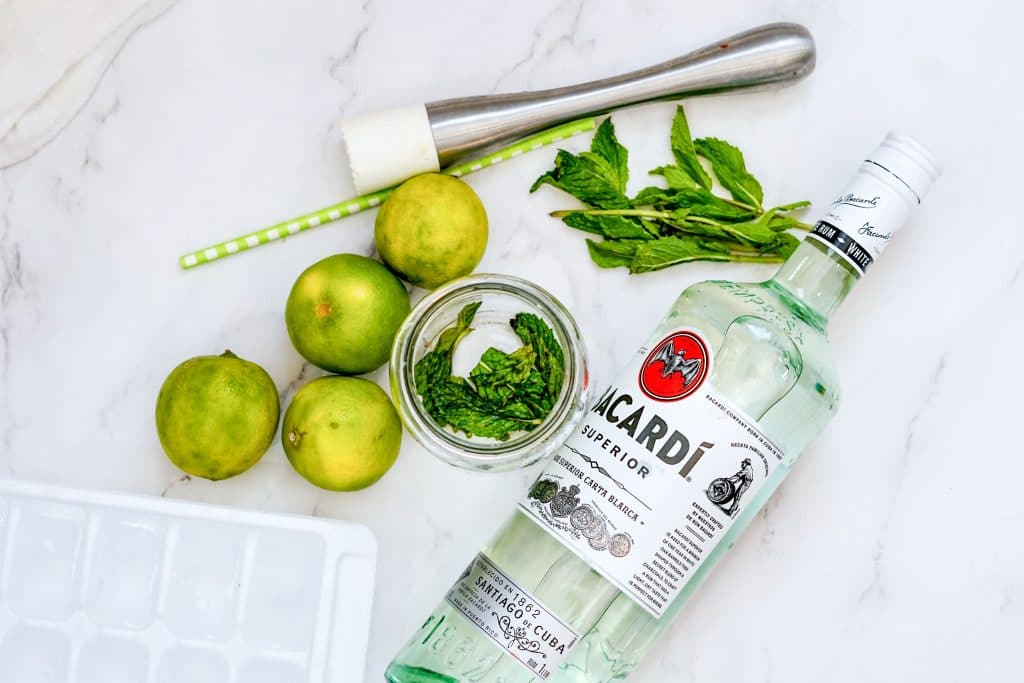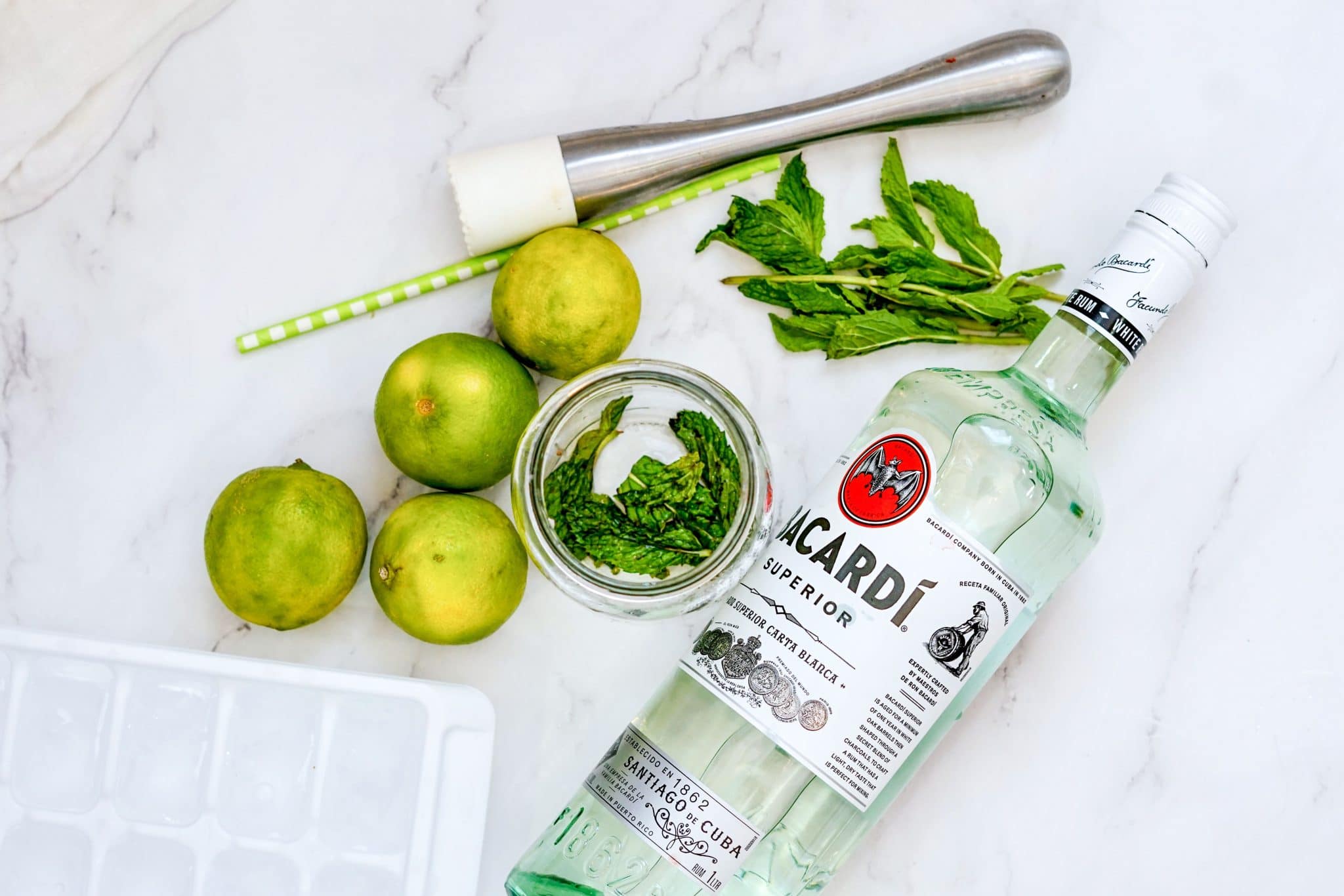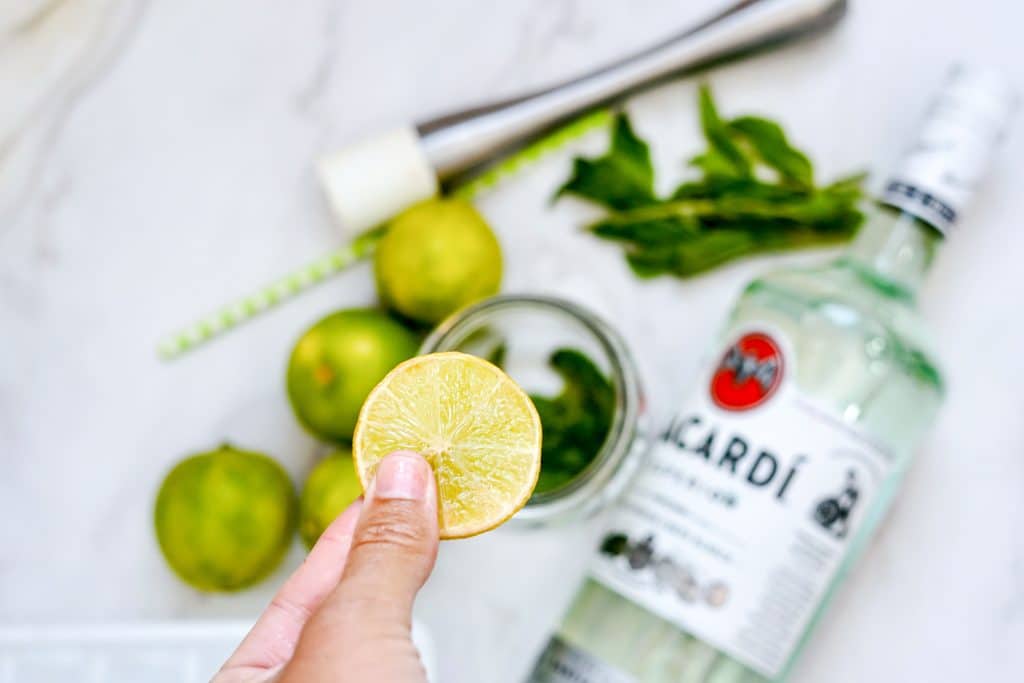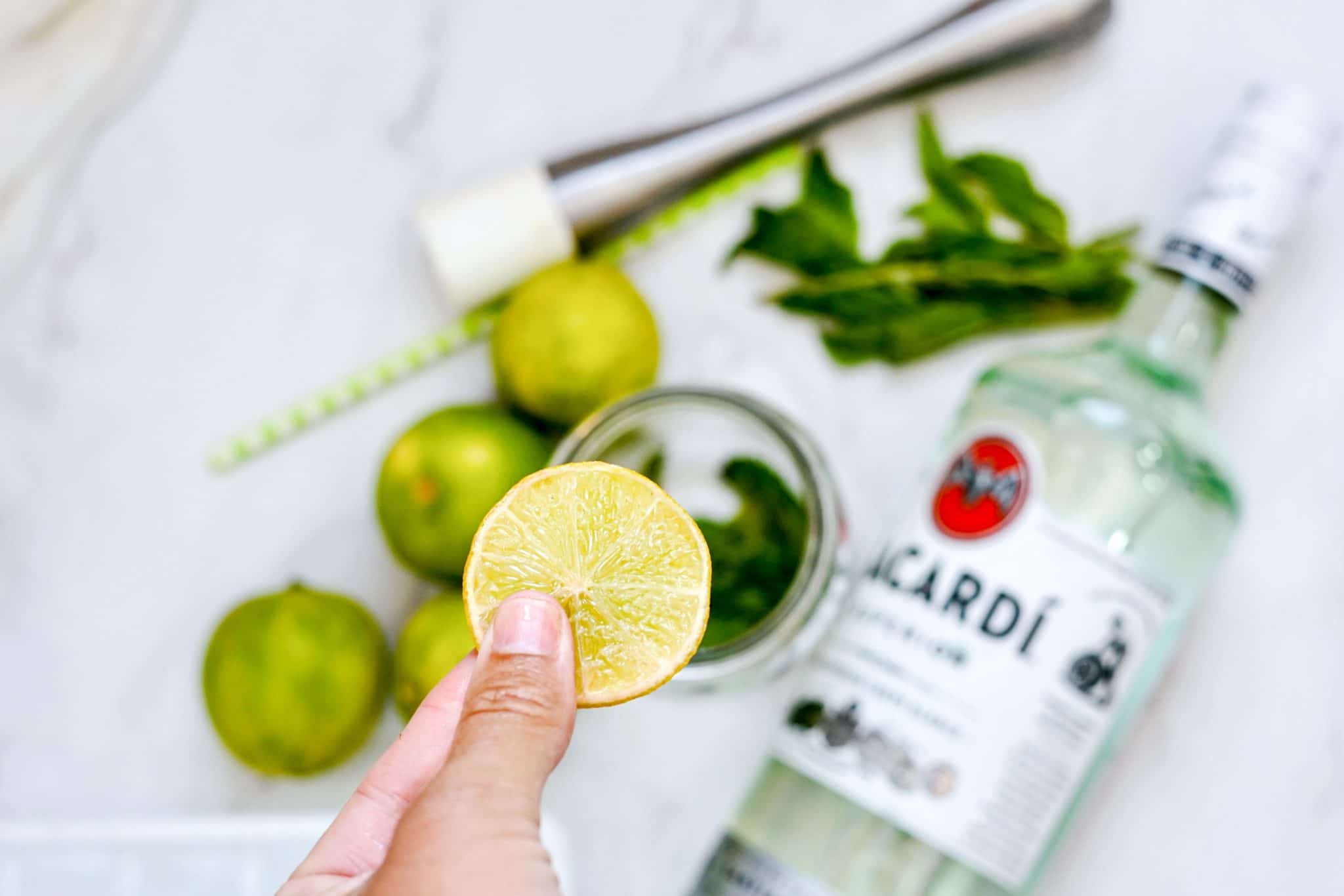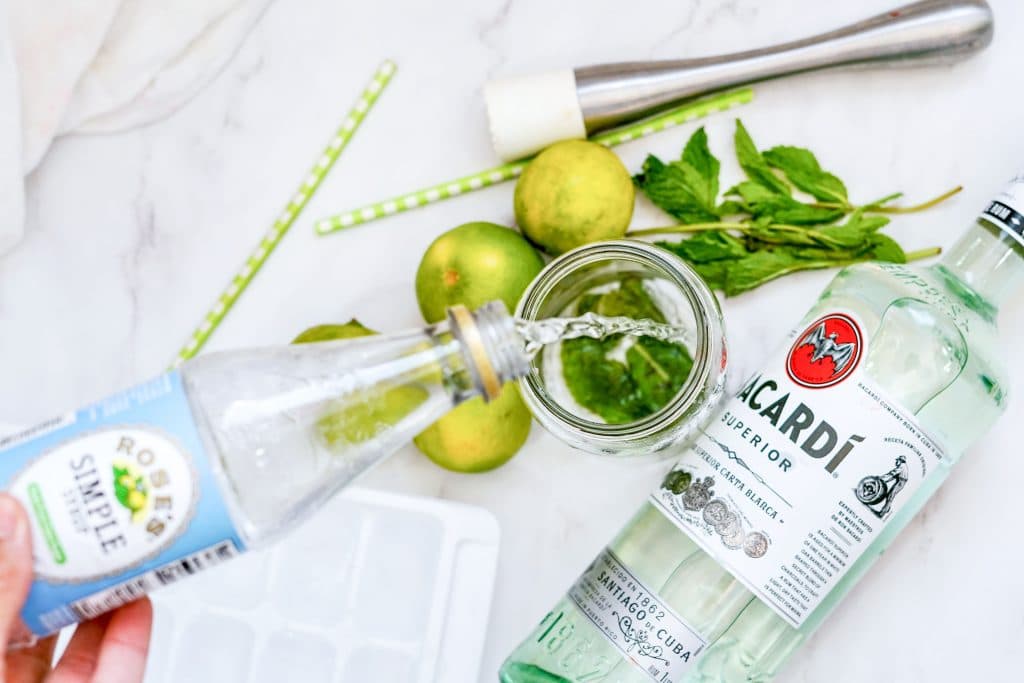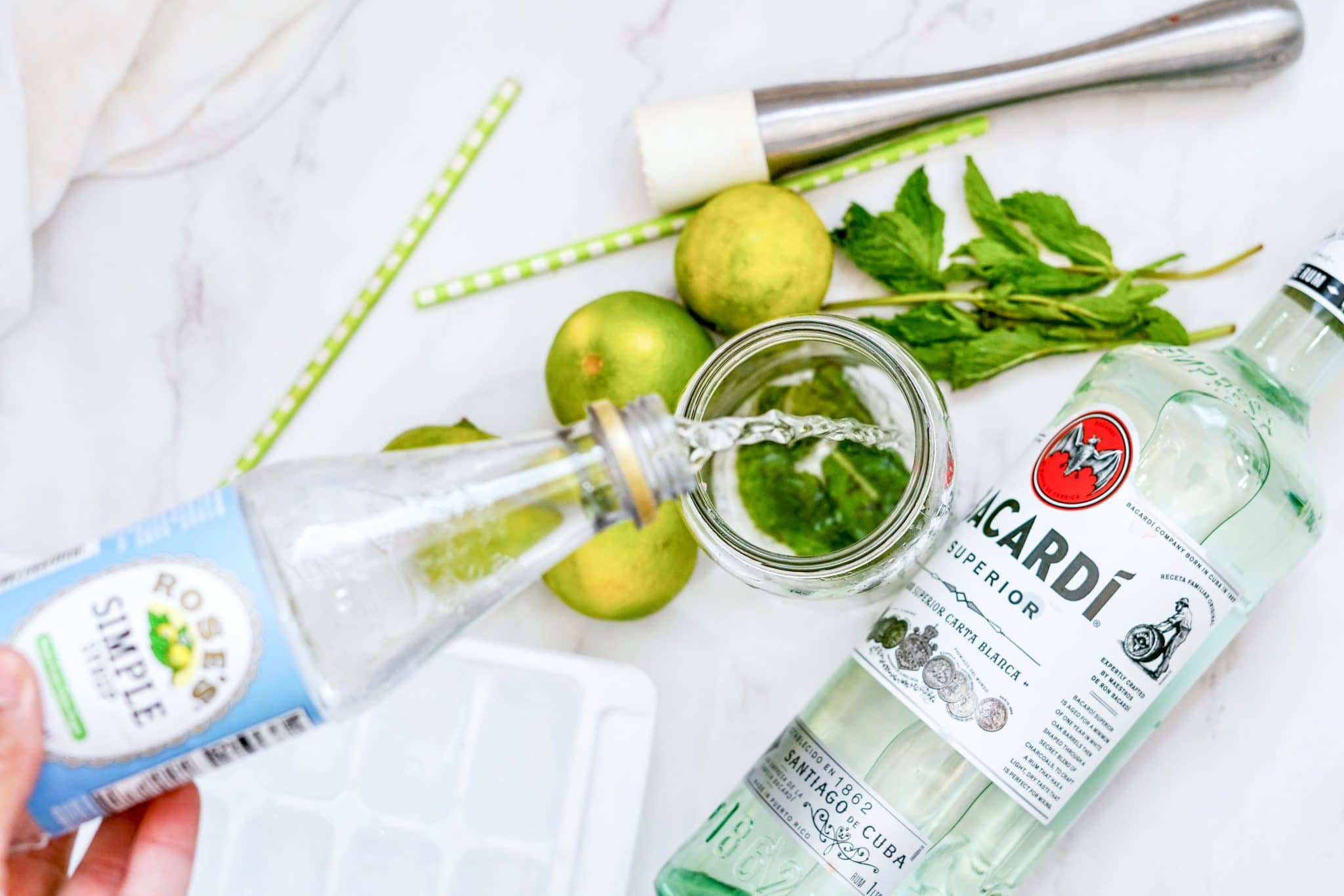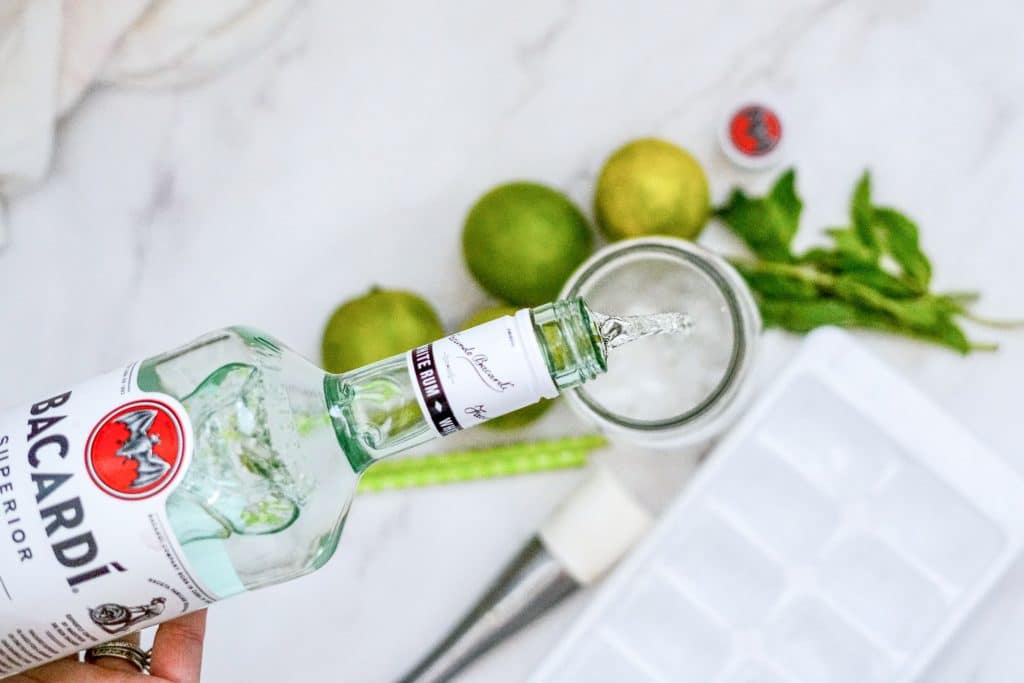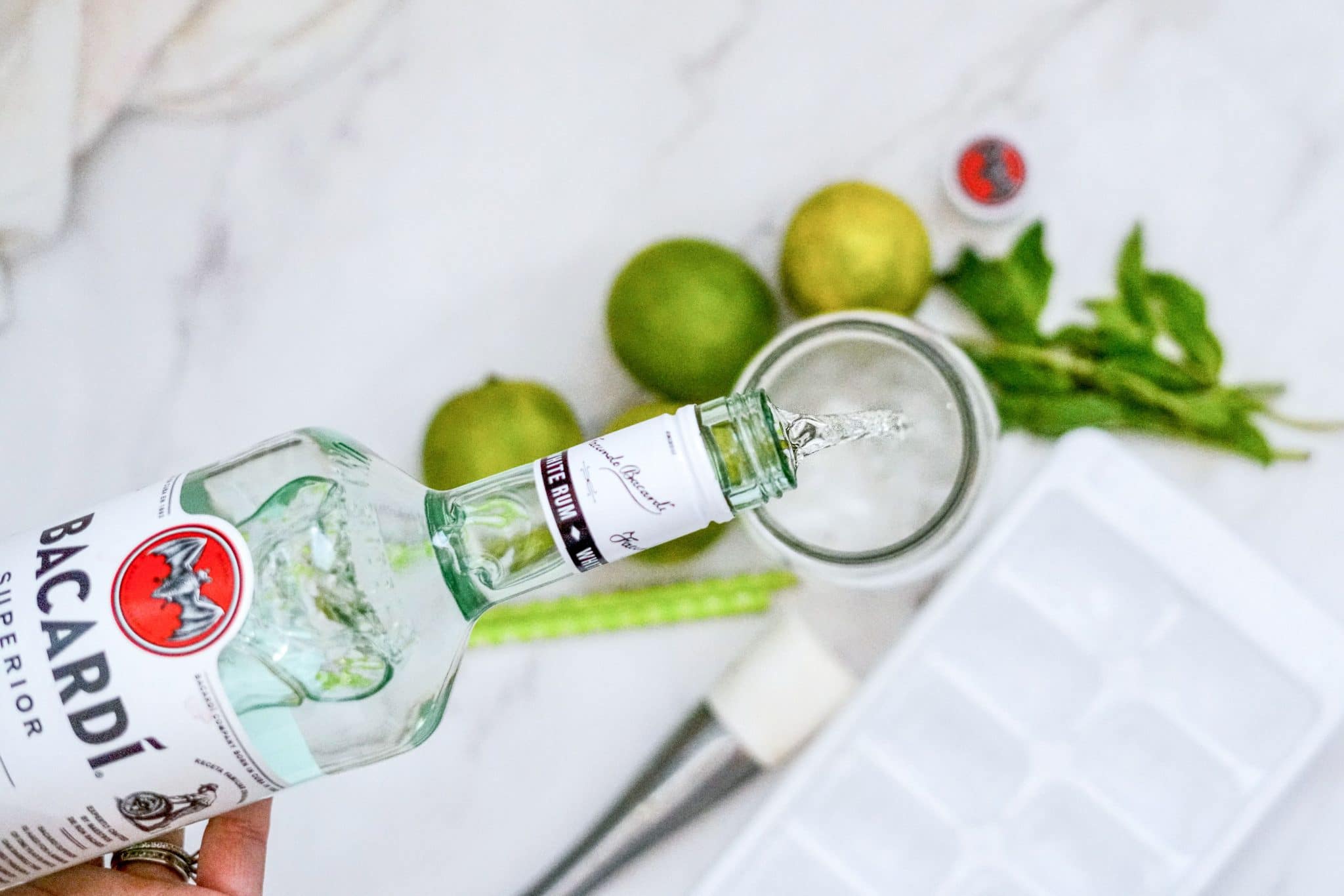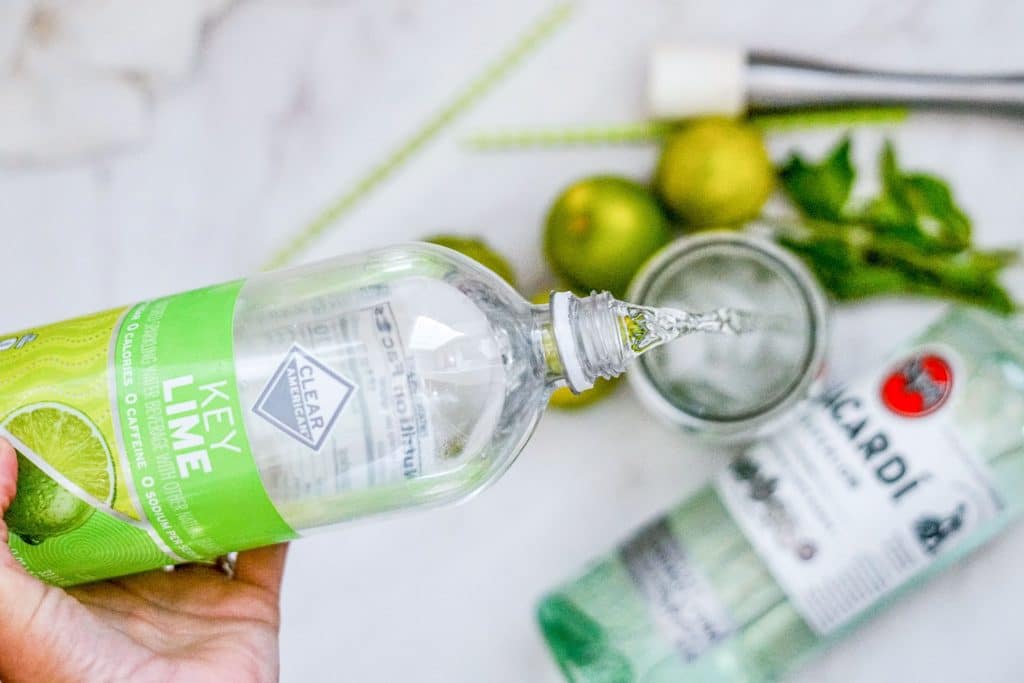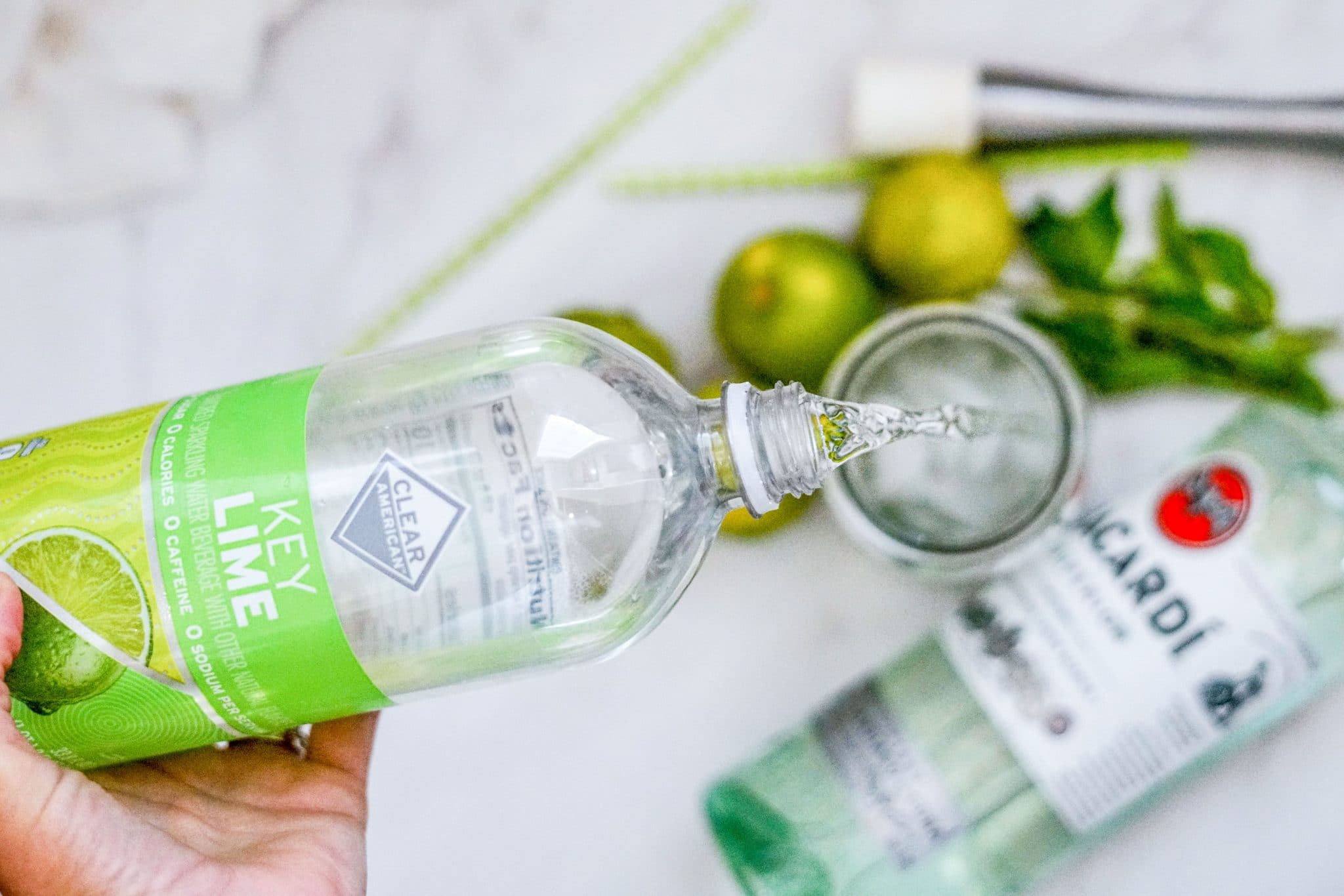 Step 1: Muddle the Mint Leaves
First, place the mint leaves into a glass. Squeeze the fresh lime juice in and muddle it together.
Step 2: Add the Alcohol
Next, pour in the simple syrup and the light rum into the muddled mint and lime juice.
Step 3: Add the Ice and Water
Add in a few ice cubes, and then top the glass off with flavored sparkling water. Stir everything to combine.
Step 4: Garnish and Enjoy
Garnish your glass with lime slices and Enjoy!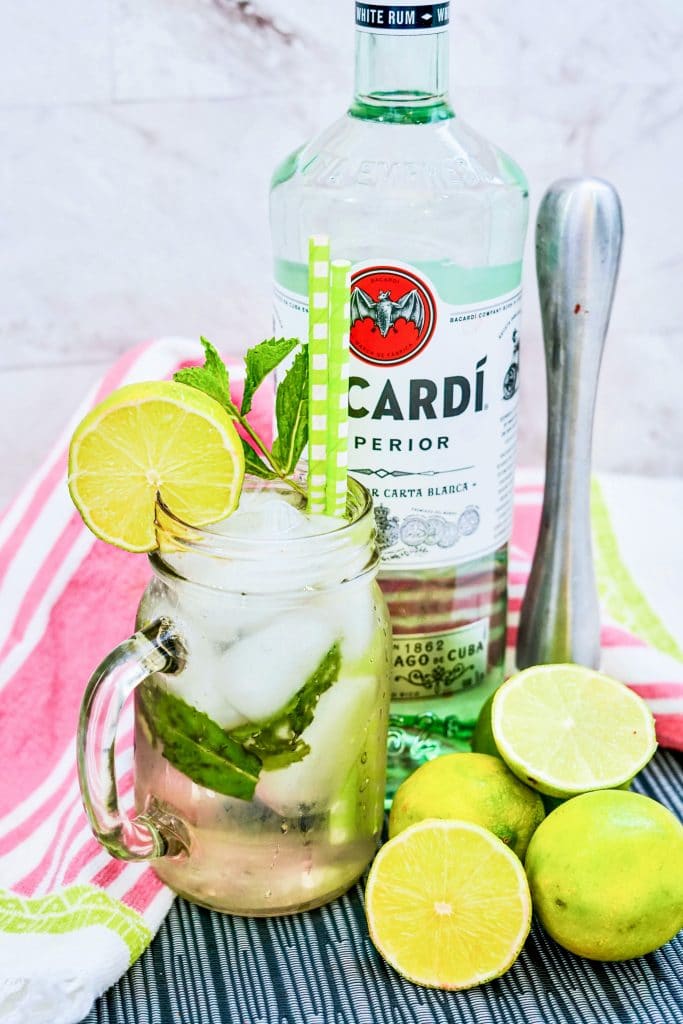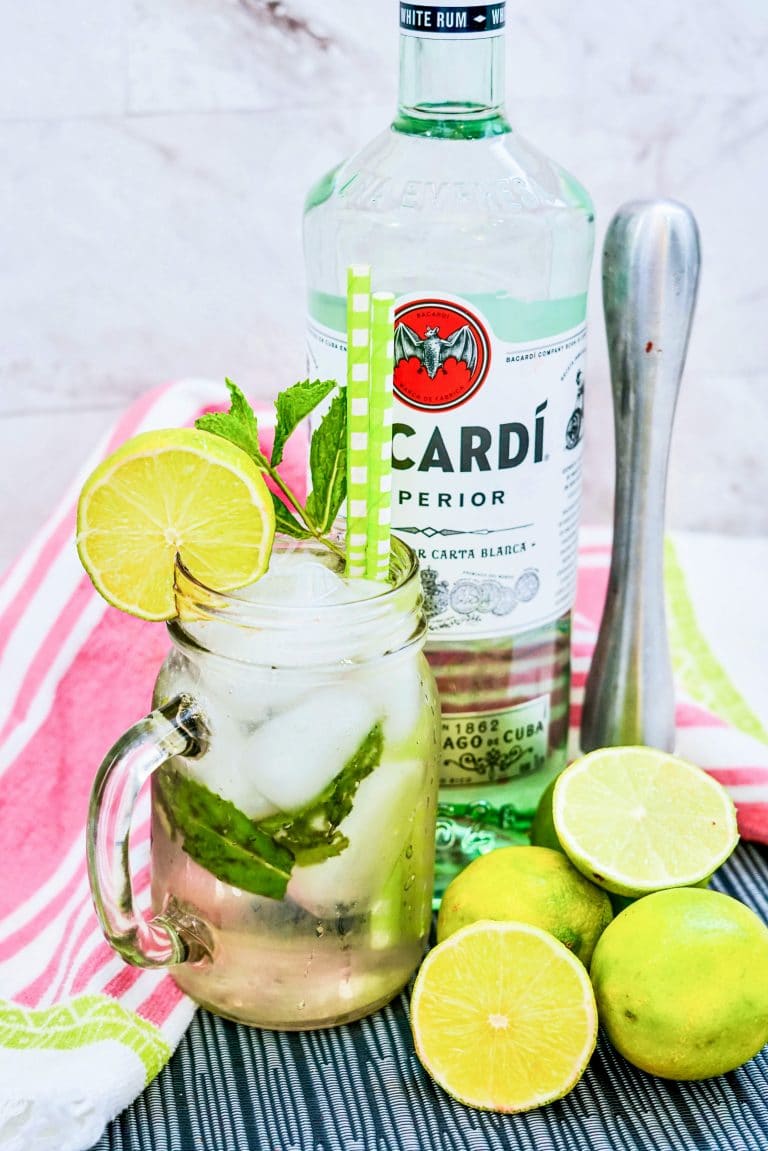 Mojito Variations
There are endless possibilities for Mojito variations. For a fruity twist, try adding muddled strawberries or raspberries to the mix. Or, for a more exotic flavor, muddle some mango or pineapple. If you want to add a little heat, try using a spicy rum or adding a dash of hot sauce. And don't be afraid to experiment with different types of sugar, from traditional white sugar to brown sugar or even honey. The possibilities are endless!
What is the Difference Between a Mojito and a Cuban Mojito?
Classic mojitos are very refreshing, and perfect for a hot summer day. They are made with white rum, sugar, lime juice, sparkling water, and mint. Cuban mojitos are very similar, but they also include a little bit of Angostura bitters. This gives the cocktail a slightly different flavor, and makes it a little bit less sweet. Overall, both types of mojitos are delicious, and it just depends on your personal preference as to which one you prefer.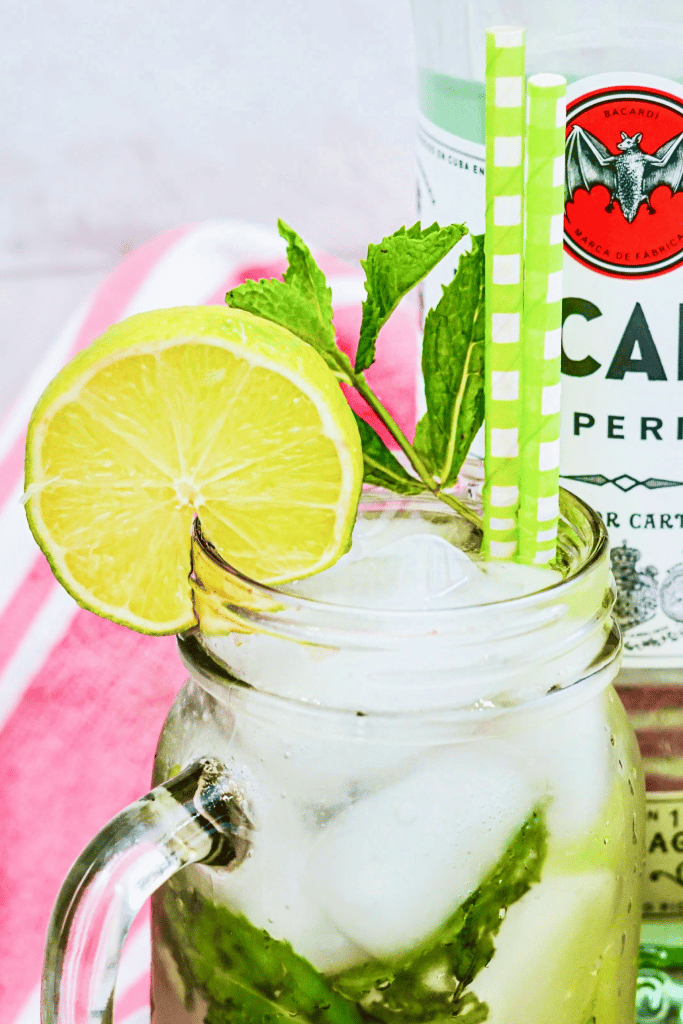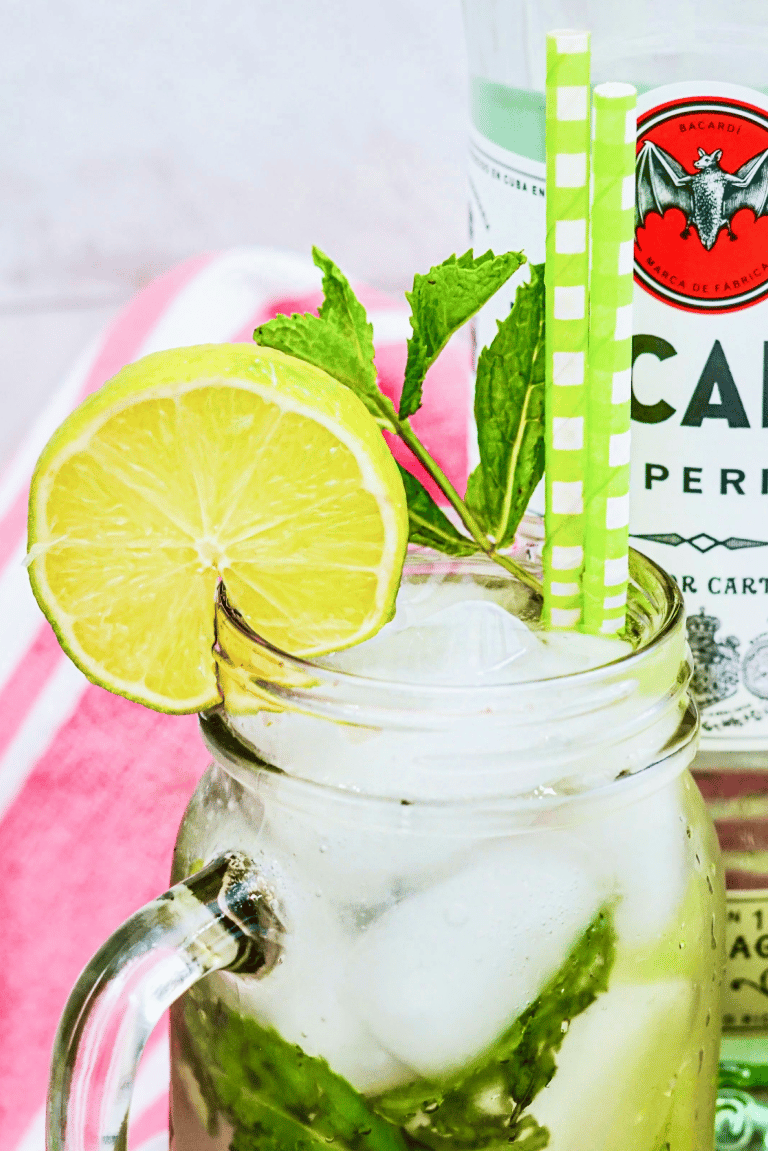 Which Rum is Best for a Mojito?
For starters, it's important to use a light rum. Dark rum will add too much sweetness and can overwhelm the other flavors in the drink. While there are many different types of rum available, we believe that the best rum for a Classic Mojito is Bacardi.
White rum or silver rum are both good choices. As for brands, there are many excellent options on the market. Havana Club, Bacardi, and Mount Gay are all popular choices for Classic Mojitos.
Can You Make a Virgin Mojito?
A classic mojito is a refreshing and delicious cocktail, but if you don't want it alcoholic, you can make a virgin mojito. To make a virgin classic mojito, simply muddle fresh lime juice and mint leaves and then add sparkling water and enjoy. If you're feeling fancy, you can rim the glasses with sugar or garnish with strawberry slices.
Other drink recipes to try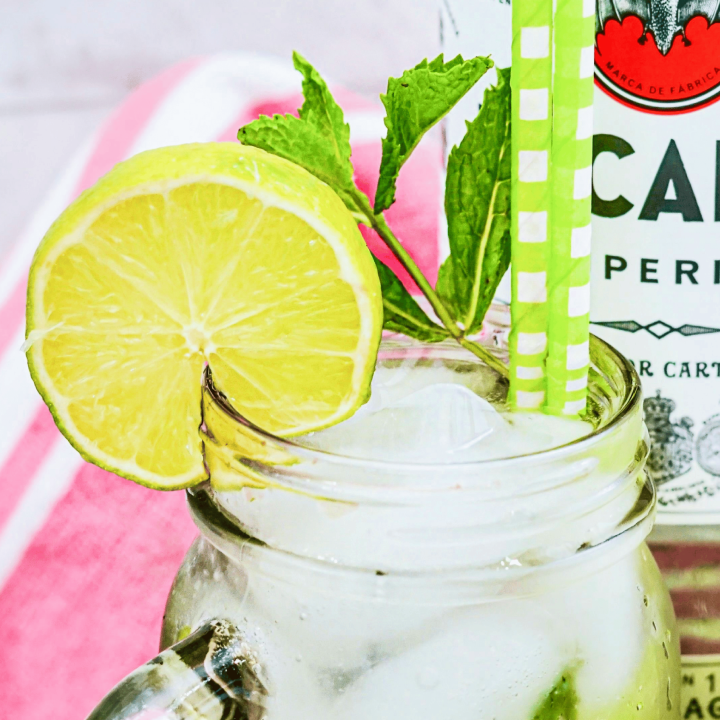 Classic Mojito
How to make a classic mojito with simple ingredients!
Ingredients
8 Mint Leaves
2 Tbsp Lime Juice
2 Tbsp Simple Syrup
2 Ounces Light Rum
Lime Flavored Sparkling Water
Ice Cubes
Lime Slice (Garnish)
Instructions
Place the mint leaves into a glass.
Squeeze in the fresh lime juice & muddle together.
Pour in the simple syrup & the light rum.
Add ice cubes.
Top off with lime flavored sparkling water.
Stir with a straw.
Garnish with lime slices.
Cheers!
Did you make this recipe? I'd love for you to leave a review in the recipe card above or the comments below. Want to make it later? Pin the image below to your favorite drink board!