Looking for a sweet treat that disappears off the plate? I've got you covered!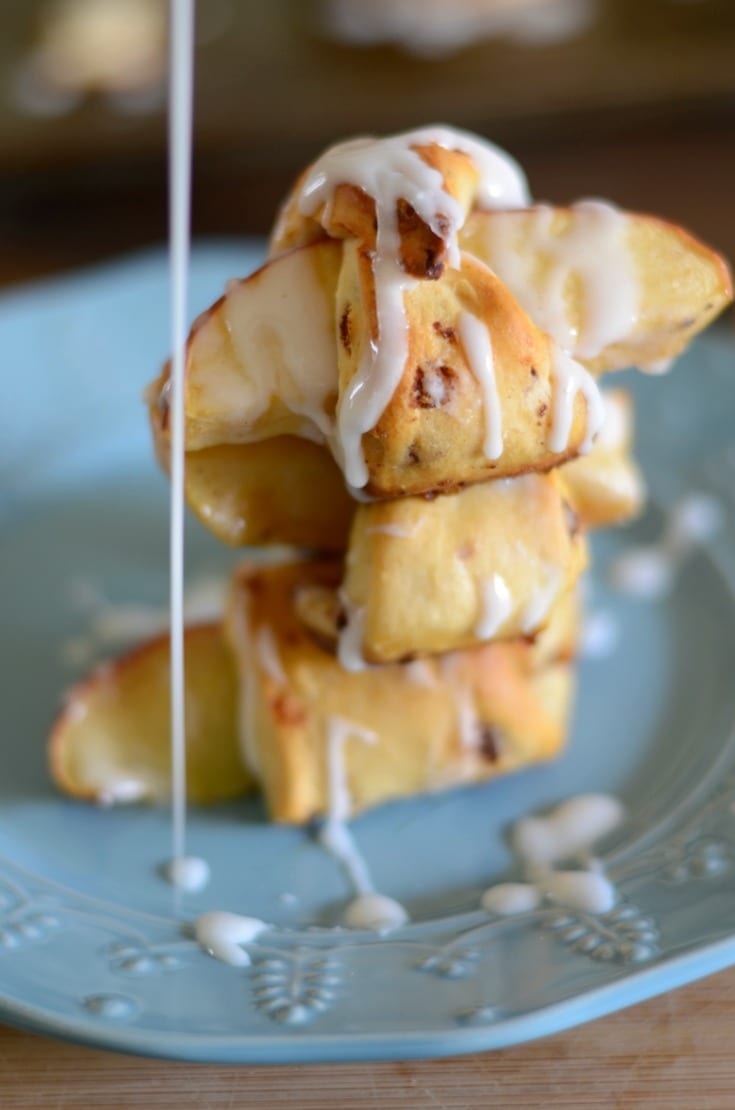 Thank you Pillsbury for sponsoring this recipe! All opinions and recipe creation are my own.
Hey there! Guess what? Its spring in Houston! I know, I know. I was as surprised as you that we even have a spring time here. I thought we went from winter straight to summer. Having this cool period in between has been really freaking nice.
We have been getting a good bit of rain too. Our chickens have been loving that! We let them out after it rains that they go crazy pecking at the ground and finding all the good bugs.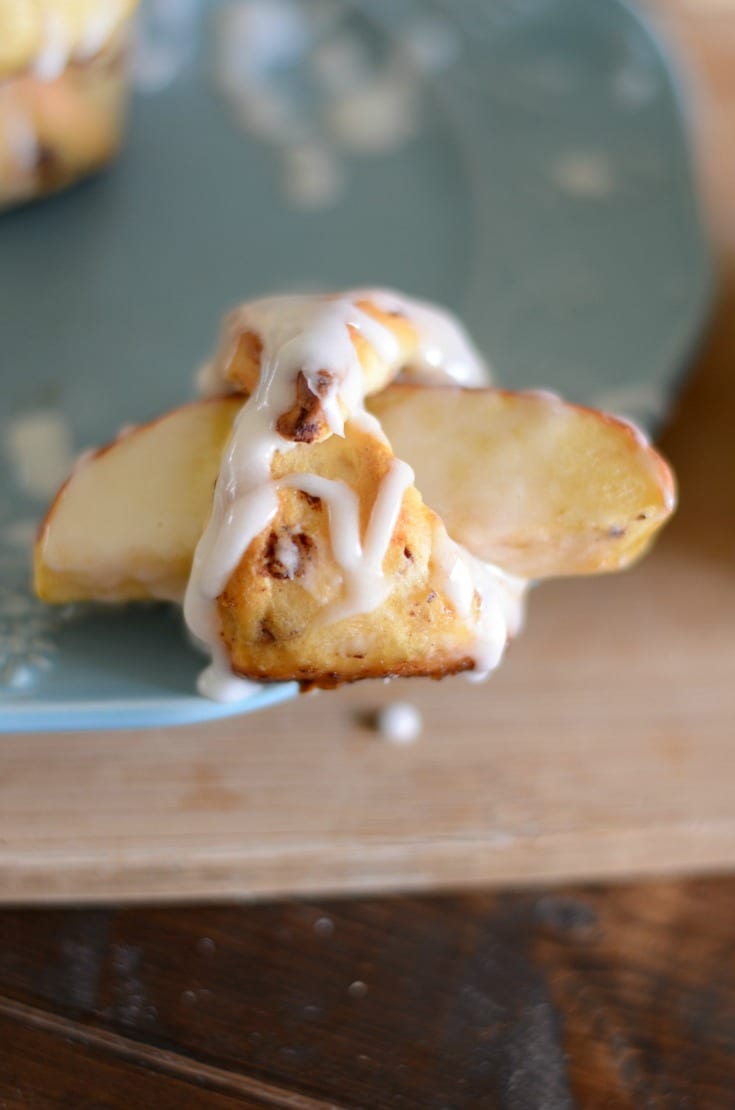 Even though we are getting more rain than I expected, we have been thoroughly enjoying the cooler days. The kids get to play outside more and we are even doing soccer at school 2 days a week! It's a soccer club for the younger kids to help them learn the basics of the game.
And I'm the coach! I actually pitched the idea to the school and they said "Sureeee, if you are free to take it on!' Of course I said yes! My kids love soccer and it's been fun to watch them play with their classmates. Everyone gets so excited on soccer club days, including me! We practice for a little under an hour and it's just enough time to teach a new soccer skill AND tire out the kids. SCORE! (I know, I'm soooo puny!)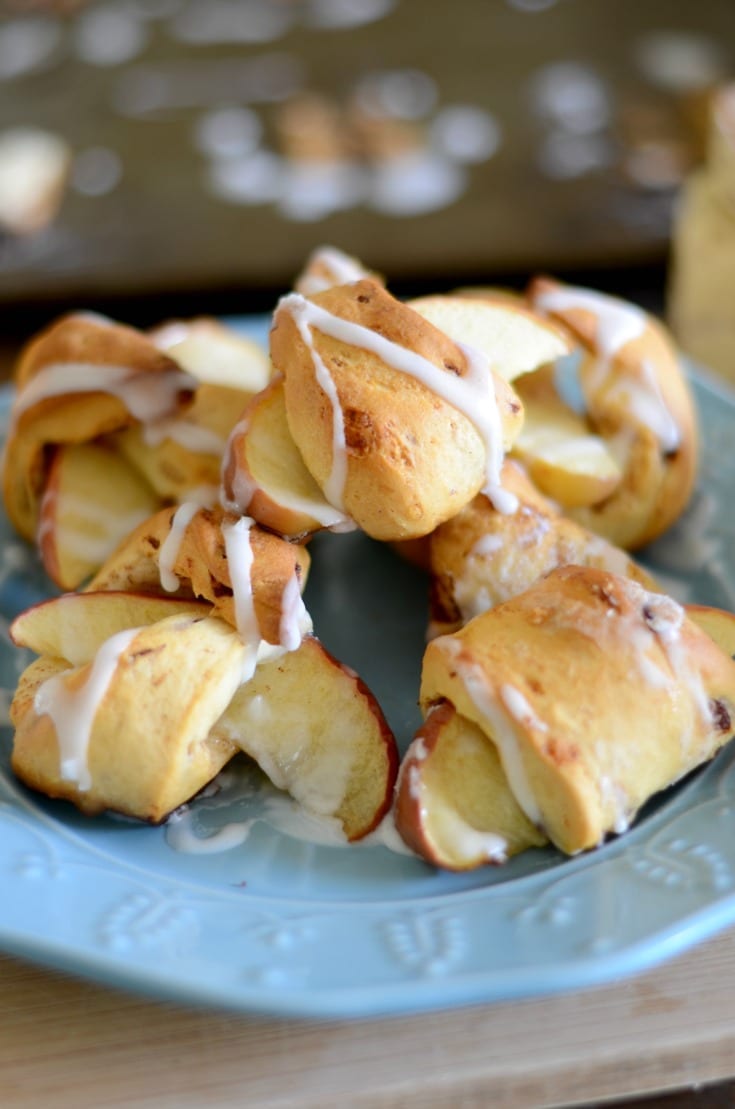 When the weekend rolls around we are all ready to relax. One of my favorite ways to relax is by cooking and baking. Sounds weird, but being in the kitchen within a time frame is the best way for me to wind down. The kids join me and we make a big ole mess and have a good time cooking together.
This past weekend we tested these cinnamon apple bites together. You can see their little hands in the video below! We used one can of cinnamon rolls (each cut in half) and 2 apples to make these bites. Everyone loved them and they seemed to disappear off the plate during the day. I think we had 2 bites leftover and someone had them for breakfast the next day. (cough me cough)
The little video below gives you a better idea on how we made these bad boys. Hope you enjoy them as much as we did!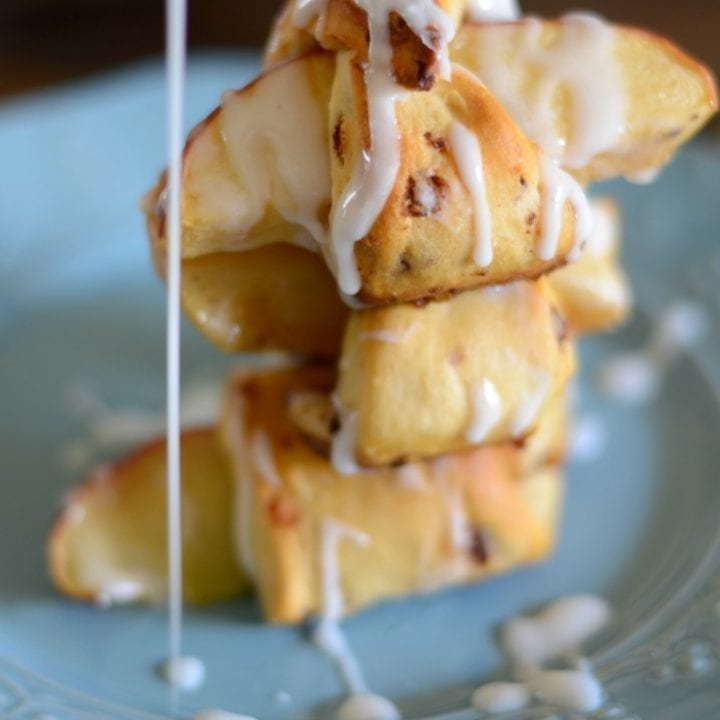 Cinnamon apple bites
Ingredients
1 can Pillsbury cinnamon rolls
2 large apples, sliced
2 tablespoons of melted butter
icing, from the cinnamon roll package
Instructions
Preheat the oven to 350.
Open the cinnamon roll can and remove one cinnamon roll. Flatten it out with your hand and slice it into two pieces. Take one piece and roll it around the apple, pinching the ends. Place on a greased baking sheet.
Repeat for the remaining cinnamon rolls and apple slices.
Brush the tops with the melted butter.
Bake for 15-17 minutes or until the tops are just starting to brown.
Remove, allow to cool.
Take the cinnamon roll icing and place it in a plastic baggie. Cut the tip to create a piping bag. Drizzle icing over the cooled cinnamon rolls.
Remove from baking sheet and enjoy!
Be sure to check out these other great recipes: