Looking for a sugar free pecan pie? We've got you covered!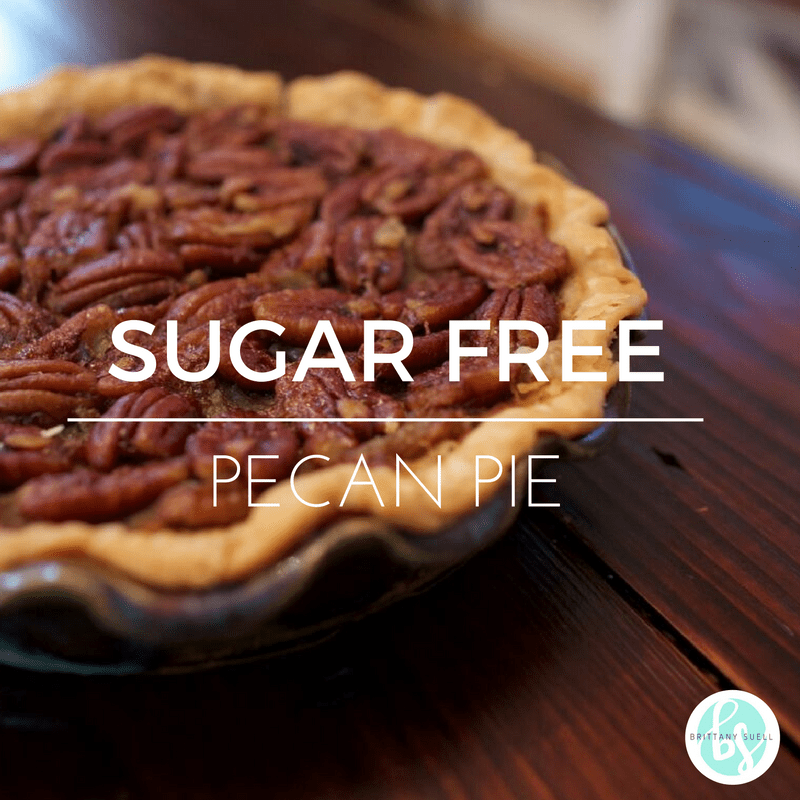 Hey yall! I have a real treat today. (Giggle. Pun intended.) My sweet friend Brittany is taking over the blog to share this delicious SUGAR FREE pecan pie! I don't know about you, but pecan pie is a MUST for Thanksgiving at our house. We have one every year. My dad makes it and I haven't gotten his recipe to make one on my own. I do KNOW it's loaded with sugar. That's the main ingredient in the pie! (Well besides pecans.) Needless to say I'm excited to try Brittany's version! Check out her sugar free academy too!
Two years ago I gave up sugar. I started in January 2015, and knew I had about 10-11 months to really get things under control, and have a good plan set in place for the holidays! I don't know about you, but around my home during the holidays, it means we are going to have lots of food, and even more desserts! Seriously, my family could feed the entire town with what all they cook! We have leftovers for weeks!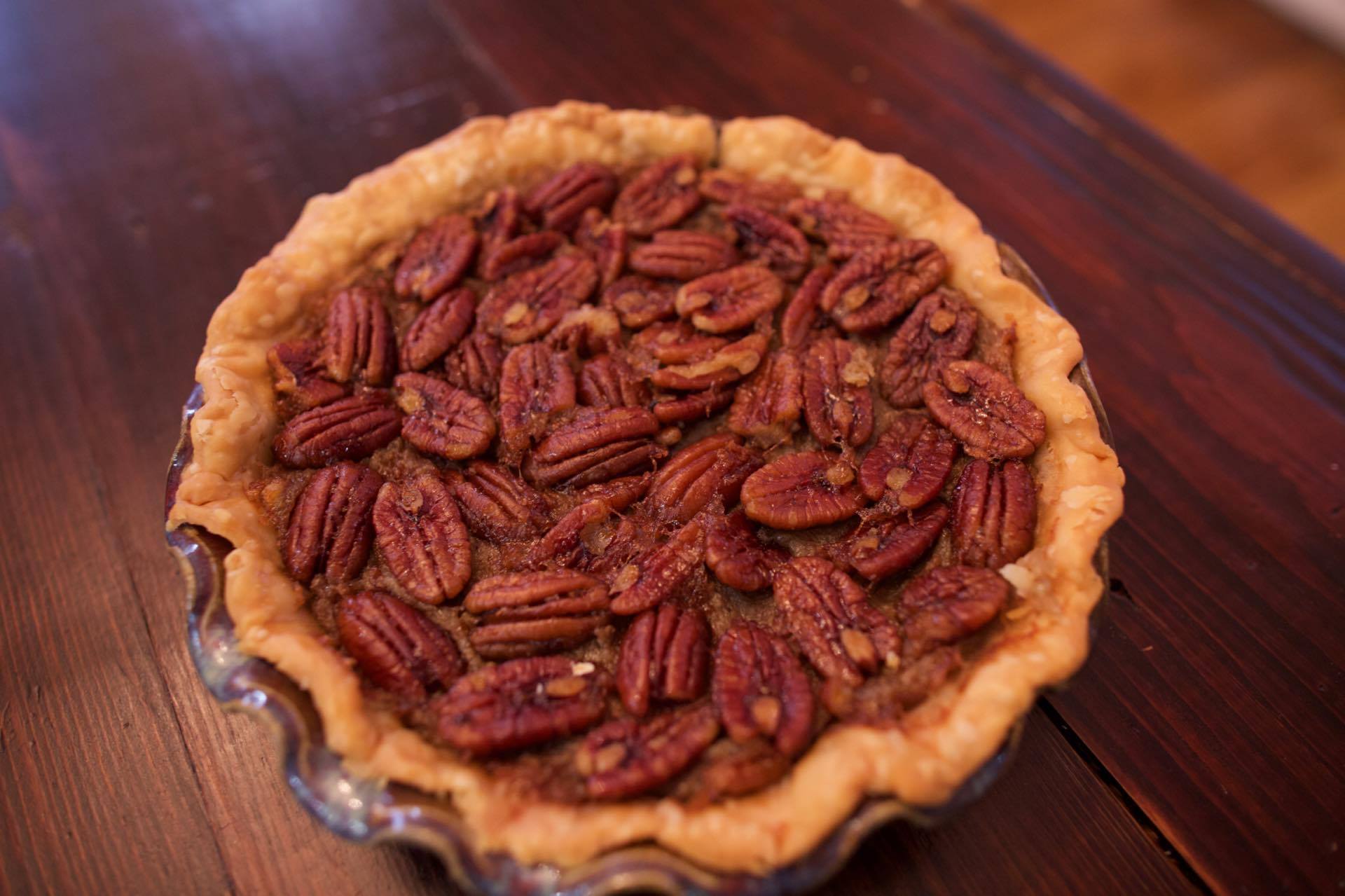 So when you think of Thanksgiving, what comes to mind?
Thankfulness
Time with family
Holiday shopping
Getting way too full
Naps
Pecan pies
What if I told you I could give you one of those things and have it be GUILT FREE!?!?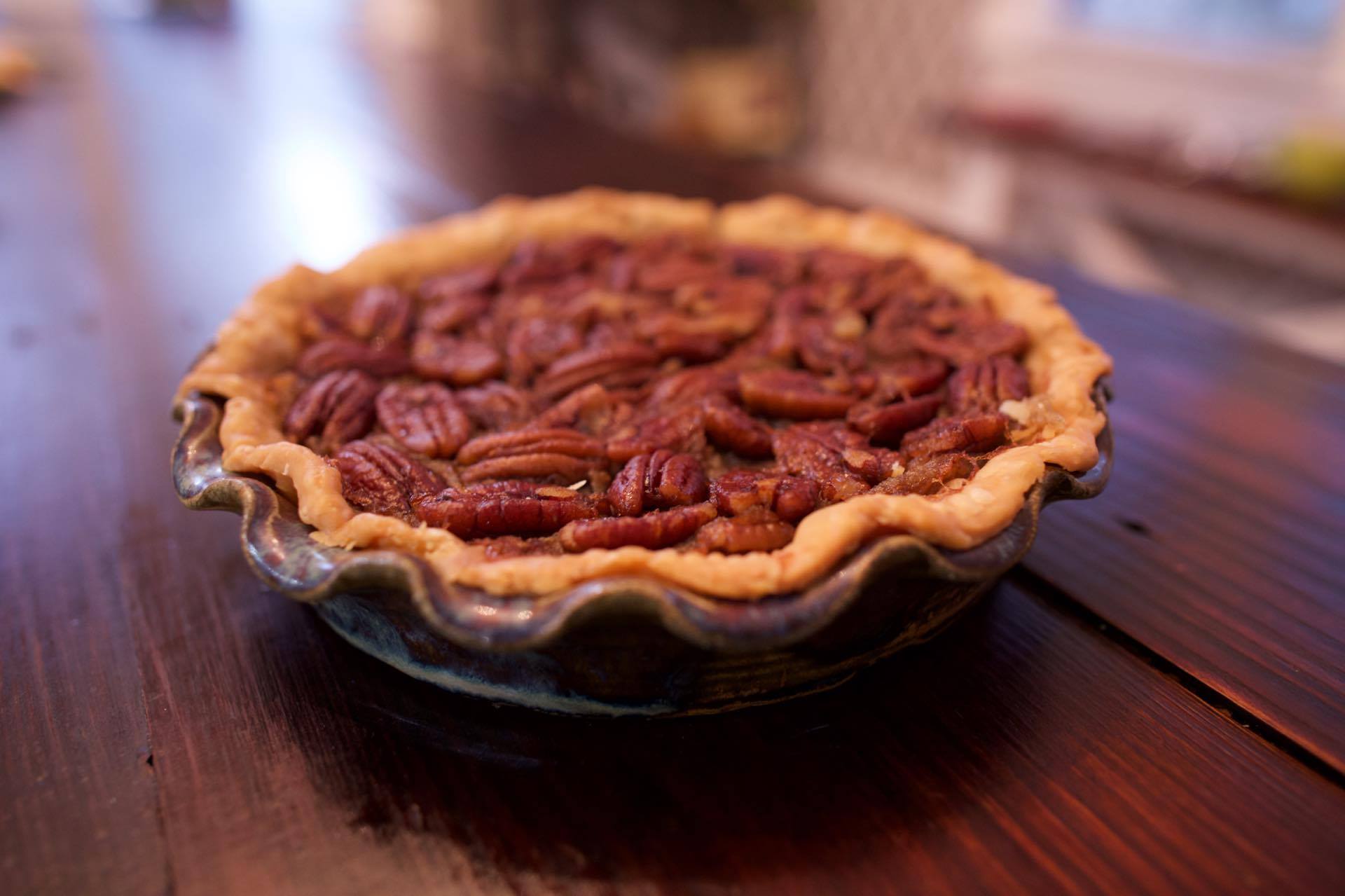 That's right! The year I gave up sugar I knew that I would have to be "well-trained" to really stay away from all the sugar at our family's Thanksgiving Celebration. So instead of setting myself up for failure, I chose one of my favorite Thanksgiving desserts and made it sugar free!
That's why I've added this amazing Sugar Free Pecan Pie to my Simply Sugar Free Cookbook that is on sale for pre-order right now! Full of 30+ recipes that are Sugar Free and delicious! My goal is to provide people with recipes that will make the idea of living a sustainable sugar free lifestyle…even during busy holidays like Thanksgiving a reality!
Not only does The Simply Sugar Free Cookbook feature some yummy sugar free recipes that you and the family will love, but I also share my own sugar free journey with you. Starting with my decision to challenge myself to a year without sugar, and what eventually drove me to create a lifestyle of living sugar free, and teaching others to do the same.
Grab your copy of The Simply Sugar Free Cookbook HERE, and get access to some of these amazing sugar free recipes to try just in time for the holidays!

So in order to help you get through the Thanksgiving holiday guilt-free, I'm going to be sharing a little sneak peek into my cookbook with you! Try out this Sugar Free Pecan Pie with your family this holiday, and be sure to tag me @BrittanySuell #SimplySugarFree when you make it!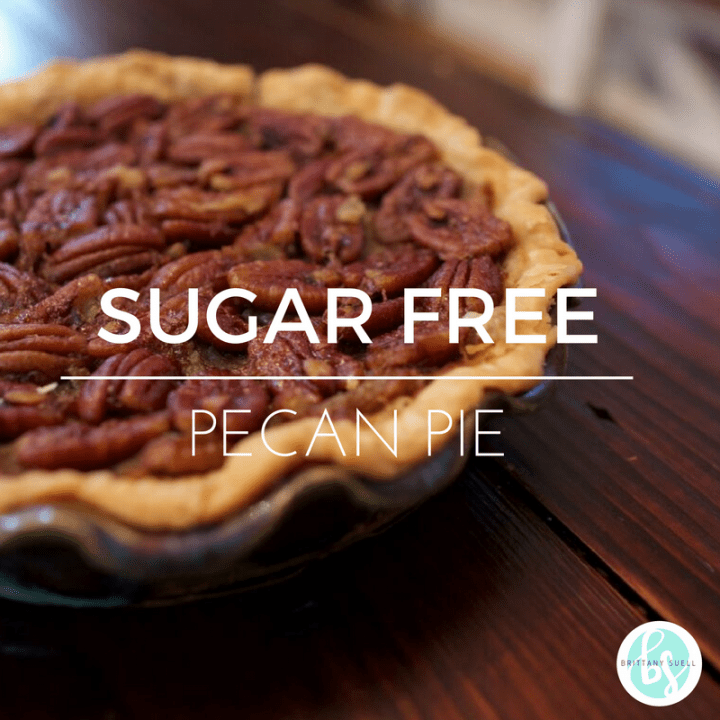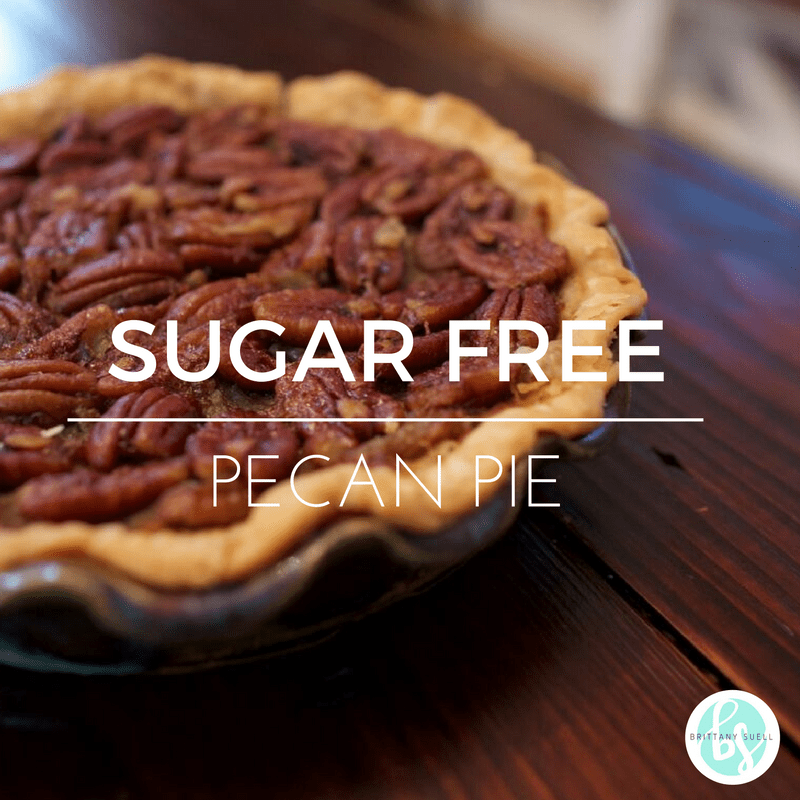 Sugar free pecan pie
Ingredients
1 frozen pie crust
5 tsp organic stevia
1 cup pure maple syrup
1 tsp vanilla extra
3 eggs
1 cup pecan halves
1/3 cup coconut oil, melted
Instructions
Preheat the oven to 350.
In a large bowl, mix eggs and stevia. Add in the maple syrup, vanilla, coconut oil and pecan halves.
Pour into pie crust and bake for 40-50 minutes or until pie is puffed and golden brown.
Cool for about 2 hours.
Enjoy!
Nutrition Information:
Amount Per Serving:
Calories:

288
Cholesterol:

61mg
Sodium:

129mg
Carbohydrates:

34.5g
Fiber:

.2g
Sugar:

24.3g
Protein:

2.8g
Want to know more about Brittany?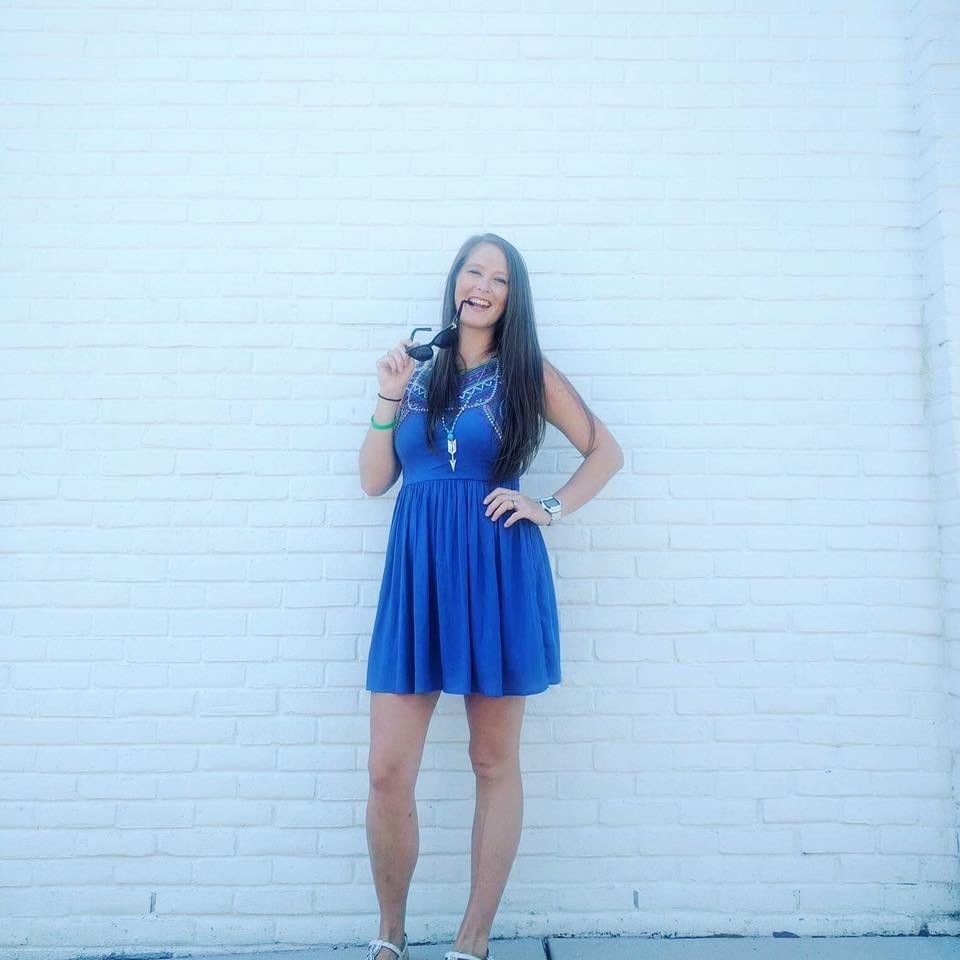 Hi, I'm Brittany. I am a wife to an amazing God-fearing man who has encouraged and pushed me along in my journey to create this Sugar Free Life for my family. I lead a busy life as a mamma to a brave little boy and a joyful baby girl. Both are raised in Texas. I love the outdoors, raising my chickens, and going home to East Texas never gets old. I am a fitness professional and creator of the 21 Day Sugar Free Academy, and author of the Simply Sugar Free Cookbook. I offer in person yoga instruction, group fitness classes, and online fitness bootcamps. I love coffee, traveling, the small adventures in life, and there is no dream too big for me. I am passionate about helping others live the life they are created to live! Watching my clients learn they can do more than they ever thought possible is truly fulfilling to me! I fully believe the Lord created each of us with a unique destiny and no matter how big or small your role looks in the eye of man, you were made for more! I love inspiring and helping others live in the fullness of their identity as well as offering simple solutions to live the healthy and fit life that they desire and deserve. I believe that when you are taking care of yourself and your health, you are happier and able to live your best life!
FOLLOW ME!
Looking for more pie recipes? Be sure to check out: